Weekend Round Up 8th 9th July
We have another bumper issue to publish, just from the last week alone, and as the last reports come in to give enough room for everyone's impressive endeavours, the report from Ironbourne is being published separately later today. Read on:-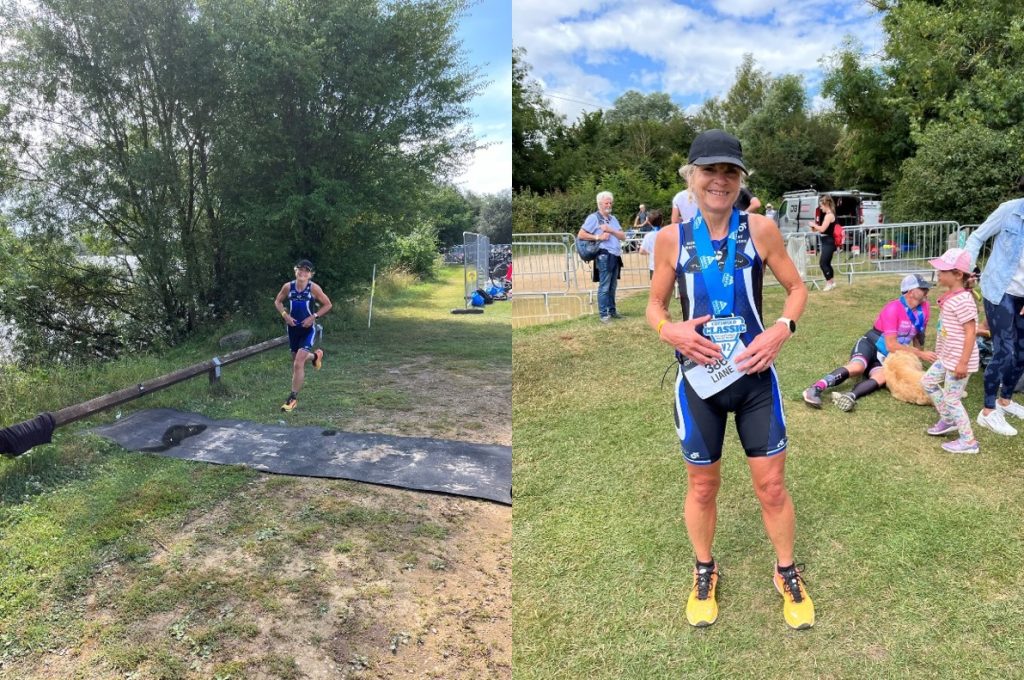 Liane
COTSWOLD CLASSIC MIDDLE DISTANCE
The Cotswold Classic will be remembered by many when it was the club championship 70.3 race in 2021 with 38 Tuffs on site, albeit the bike course had changed for this year. Liane Davids was our representative where she did rather well racing home 5th in her BTF category:-
"It was a very early start with the alarm set for 4am but it was great to see that the downpour we had seen the day before had cleared up, the Cotswold Water Park was showing itself in it's best light on a lovely morning.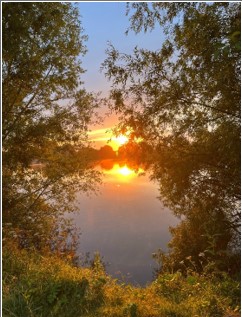 I managed to get a position right at the start of my wave and set off for a beautiful swim, nervous but eager to get going.
The swim turned out to be more tiring than I expected, that extra 400m on top of the 1500m I did at Eastbourne felt like a long way, but I was pleased with a time of 00:39:38.
Onto the bike, a little heavy legged from the swim, I was feeling the psychological effect of getting an early start in the swim. Overtaken by all sorts on their very flashy looking bikes which sounded like jet engines flying by me, I was beginning to feel very demoralised. I had also been told by everyone who did it the year before how flat the course was, but they decided to change it this year and added a few hills! However, my crew (AKA hubby Baz) came and found me on the course on his old bike and rode with me for a bit. He cheered me up by telling me how far ahead of my target time I was. That perked me up a lot and I came in with a very pleasing 03:06:25 for the bike split.
Then onto the run, normally the bit I love but it felt very different after 56 miles on the bike! 3 laps around the lakes, which was thankfully very flat. I started to get into it and even managed to overtake a few of those who had sped past me on the bike; that felt very satisfying 😊. I managed to complete the split in 01:40:34.
Having never done a middle distance before, I had no idea what my overall time might be but I was pleased with 05:36:06, although I wish I knew how to go faster on the bike! They gave me a huge shiny medal at the end too!
I really enjoyed this event, so friendly and well run. Would I do another middle distance, I don't know! It was very hard but you never know…..
Liane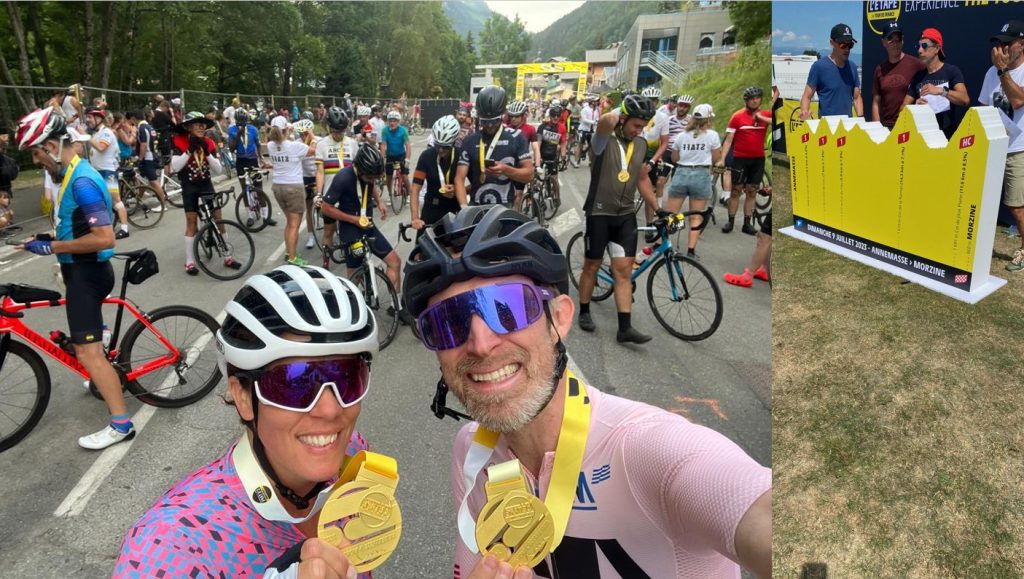 L'ETAPE DE TOUR
Whilst everyone is likely to be aware of L'Etape; it is worth setting out as some are likely to be inspired by the following report. L'Étape de Tour de France is an organised mass participation sportive allowing amateurs to cycle over the same route as a Tour de France stage. First held in 1993, it takes place each July, normally on a Tour rest day. Verity Lacey our ladies club captain took part this year and whilst she is still in France, continuing to pile up the miles, she has taken time to report in:-
I'm not sure what possessed me to think this was the event for me! A flat TT style ride yes, mountains NO!!
Anyway, I find myself at the start line with 16,000 other crazies in Annemasse to take on what will be stage 14 of the Tour de France; a mere 97 miles with just under 14,000ft of elevation in 40 degree heat!
Our start time was 8:15 and we were off pretty much on the dot. The pace was pretty rapid to begin with and we worked to get on the back of a group. First uphill section uncategorised (doesn't feature as one of the official climbs of the day) was a little 5km climb average 5%!
The first official mountain was Col de Saxel which started at 19.4K into the race, 4.3km at 4.6%. Official mountain number one done, not too bad!
Second official mountain was Col de Cou which hit at 40k. This was 7km and 7.4% and was pretty tough, mainly because in my head I thought it was only supposed to be about 5km long and a much lower average gradient. That was when the doubts on finishing this crept in.
Anyway onwards and upwards (pun definitely intended) to climb number three, Col de Feu just 5.8km at 7.8%. It was now starting to really heat up and keeping hydrated was getting tough as I was going through bottles quicker than there were water stops. Luckily there were a lot of locals out providing extra water not only to drink but tip over you.
Fourth climb of the day, the biggy! 14.3km at 7.1%. This was mentally and physically tough. When you have a section that is suddenly just 2%, you know you have to make the difference up somewhere. And yep, we did. Long sections with over 10% gradients and very little shade. This was the first climb I had to stop and take a moment to gather my thoughts. I really didn't think I would get up to the top of this one but pedal stroke by pedal stroke I made it. We took a long break at the top of this climb to try and cool down and just reset a little bit. I'm not sure I managed either to be honest 😂
Onwards we go, heading for the final climb, but first there was quite a long rolling section through the valley to get there. We found ourselves leading a small peloton of about 15 riders, none that fancied a turn on the front. For a short period I was back in my happy place, smooth tarmac riding a TT.
The final climb: we stopped at the last water stop at the bottom, I was pretty sure I was going to have to walk most of this as I knew the gradients at the beginning were well over 10% pushing 13% for the first 4km and then not dropping much below 10% thereafter. The Col de Joux Plane 11.6km at 8.5%.
We start, my plan was kilometre by kilometre. Ride 2 then take a breather and then start again. To my amazement I rode the first 5 km without stopping. At 6.5km to go, I stopped and walked half a km. I then rode again until I had just 3 km to go and walk to the 2 km to go marker. I was filled with hope when it showed the next kilometre averaged just 2% so I got back on and rode, the sign was not accurate, the gradient didn't drop below 10% but nonetheless, I was nearly there, I stayed on the bike and finally crossed the line where the timing chips were being stopped.
I think the saving grace on the final climb was that it became overcast so you didn't have the sun beating down on you.
The final part of the ride was neutralised as it was a narrow descent into Morzine and after the rider died on the Tour de Swiss, it was not sensible having a lot of tired amateurs racing down a narrow lane into Morzine.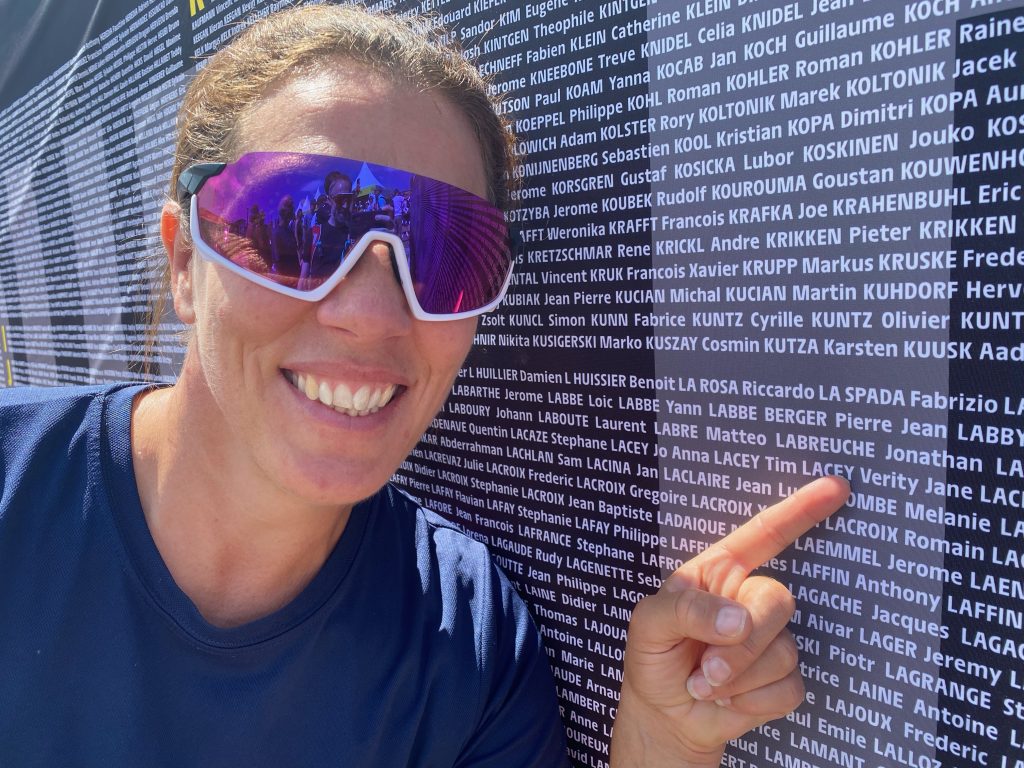 Overall I'm not sure I can say I enjoyed it, it was great to experience it and of course I absolutely loved the downhill sections. Everyone that took part seemed really friendly and I got chatting to quite a few different people throughout the day.
For anyone that likes mountains and riding uphill, this is definitely the ride for you! For me, I think I will stick to 1 mountain in isolation and Ironman events!
So what's harder, an Ironman or this? That depends on your strengths. I am not built for long mountain ascents, so for me this was really challenging. Not necessarily harder than an Ironman but this does not play to any of my strengths so it is both mentally and physically really challenging!
Next year, dedicated driver 😂
Verity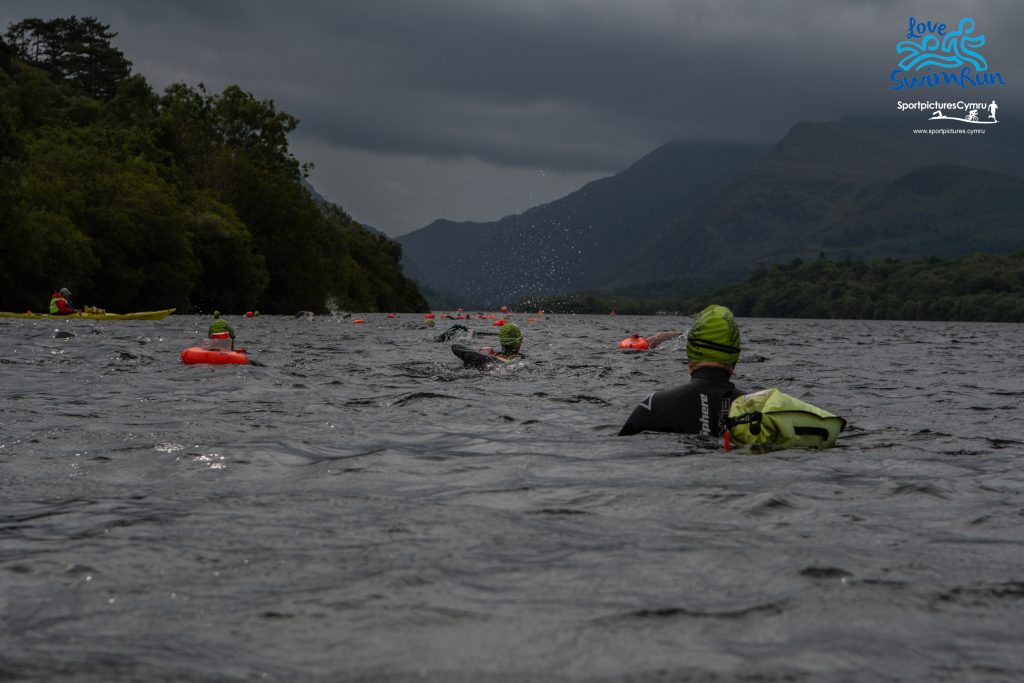 THE BIG WELSH SWIM
James Hodge has returned from his trip to Wales, swimming in Llyn Padarn, in Snowdonia National Park, or should we say Eryri National Park to align to the recent Welsh naming:-
"Having enjoyed the Big Welsh Swim last year the car was packed up ready for a return visit. The beauty of the Big Welsh Swim is not only that it takes place at the foot of Snowdon but there are a range of options wetsuit / non wetsuit, 1.5k, 3k, 6k & 9K. Something for everyone and there's plenty of time to complete. All but the 6k include a steam train ride to the other side of the lake for the start. I chose the 6k as less faff and wetsuit option. It is a time trial start as well with chip timing so you can make your way into the water at your own pace. I did and also slipped straight on my rear as I tried to make up a few places in the queue much to the amusement of the other swimmers.
It had been windy the night before and was still blowing strong during the event. I struggled with navigation and at one point was chasing a buoy being blown across the lake that had come adrift. There is an Australian exit at the far end which was an opportunity to pick up some energy in the form of sweets. The return leg was into a strong headwind and must admit felt like a slog. You can never lose sight though of what an absolutely amazing place it is to be swimming and I always make sure I take it all in usually along with a few mouthfuls of water.
I would like to have performed better on the day but really it doesn't matter when you are swimming here. Result 14th overall, 8th Male overall, 1st 50-59
The event takes place on Saturday and on the Sunday at the same location is Xterra Snowdon trail run race with distances of 24 hour, Ultra, Marathon &10k so you can make a weekend of it. I chose to cheer on friends who did with a nice seat and ice cream.
Doggy friendly location & can swim in the lake outside of race times also".
James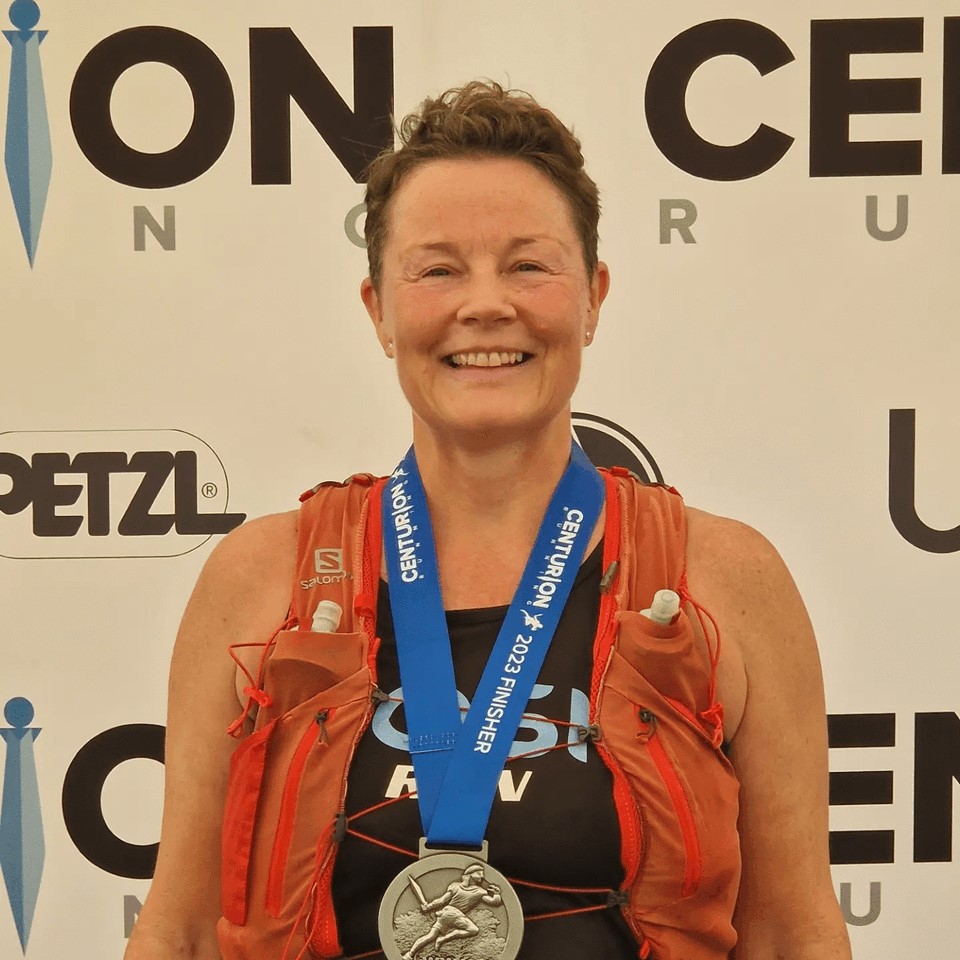 Wendy
WENDOVER WOODS WEEKENDER
Next up Thanks to Wendy Kane for reporting in from her weekend in the Chiltern Hills.
This was the first time Centurion had hosted a weekend full of running at the beautiful Wendover Woods in the Chiltern Hills. For those of you not familiar with Centurion, Wendover Woods is probably one of their most challenging courses! A beast of a 10 mile loop with 2000ft of elevation with some epic climbs and amazing descents. They had a 100miler, 50 miler, a night 50k and a 10miler. It was great to revisit the course after nearly 4 years, when I completed my 1st 50 miler, but this time only having to endure 1 loop of the course doing the 10 miler.
The atmosphere was great all weekend as we cheered on the other runners on the course and also there were workshops about crewing & pacing, The mindset for Ultra running and Coaches Q&A. Great chance to chat to likeminded people with all levels of experience, we never stop learning! I had an absolutely amazing run and I can't tell you how wonderful it felt to be running out on these trails again amongst some of my old Ultra running buddies, keeping my fingers crossed that after nearly 2 years off, I may now be able to start building back up to my favourite distances again!
Wendy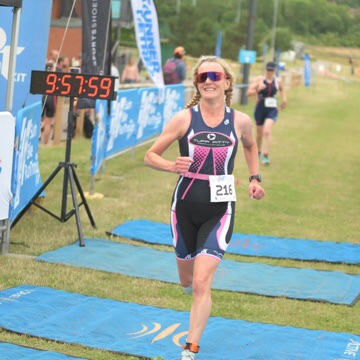 Sophie
GUILDFORD TRIATHLON
The Guildford Triathlon had the option of a Sprint Tri and also an Aquathlon. Rather than Guidlford Lido the swim was on Surrey University campus, the only indoor 50m pool in Surrey and completed with a 'scenic forest run'. Our representative was Sophie Garbo:–
I attended Guildford Triathlon today. It has been taken over by Run Through and is only their 2nd triathlon. I was worried as I've had a virus all week and wasn't feeling great.
We were told to register by 6.30am but the swim was taking forever and I didn't start until about 8.30. The men went first and we were told to seed ourselves. This wasn't wholly successful and the faster women ended up overtaking the slower men! My swim went as planned …about 12 and half minutes and felt very different as it was a deep 50m pool. There was a 300m run across grass to T1. I got lost last time so I had bought a new Elemnt bolt. This took a long to fire up and I had to use my watch for the bike. I had a fast bike leg, my fastest ride ever at over 28km/hr. At the end of the ride when turning right at a roundabout a car failed to stop and very nearly hit me. I managed to turn my front wheel away from the car's wheels and re-gain my balance. I was rather shaken up.
The run was a trail run. Fairly hilly with rough terrain through woodland and meadows. Very beautiful.
I was pleased as I was first in my age category, 23/83 women and 98/208 overall which is by the far the best result I've ever had.
I was wearing my new club trisuit, which is so comfortable, and lots of people stopped me and said they had links to Tuff Fitty!
Sophie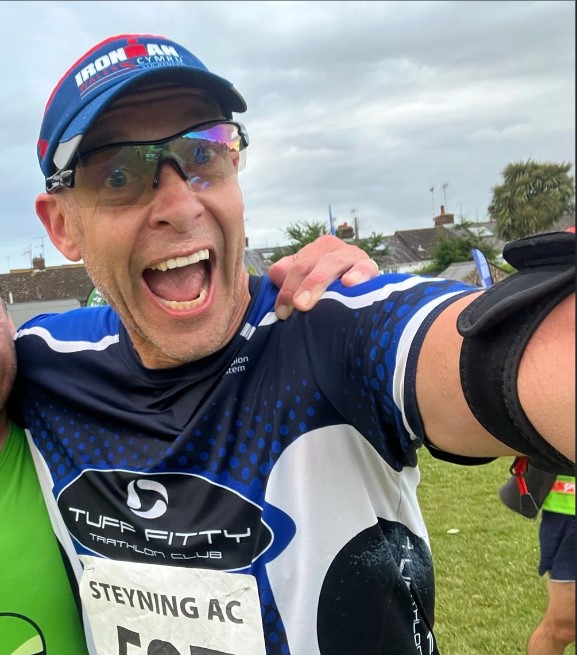 Chris Robinson
ROUND HILL ROMP
Wednesday 5th was the date for this Fun Run League fixture. Starting from Steyning High Street the only way is up as runners climb up to the top of the South Downs way before running down to finish on the playing fields. There were three club members running. Thanks to Chris Robinson who flew the Tuff flag completing the tough 10k course in a great time in 45:28. Danny Cunnett also did well under the Tuff banner to complete the almost 800ft of ascent in just 53 minutes. To complete the trio, Elaine Rousseau ran scoring points for her running club.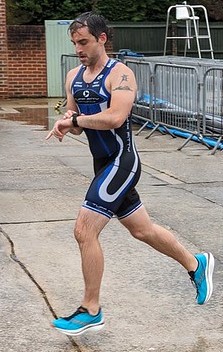 Ben Abbott
GUILFORD AQUATHLON
A series of Friday evening Aquathlon's at Guildford; the swim is in the scenic 50 metre Guildford Lido then a 5k traffic free round around Stoke Park before a run down the pavement to the finish and a well deserved medal. Ben Abbott is a regular attendee at these events and had another great result. With a distance of 500m to cover in the 50metre pool before the 5k run, it may suit some of our swim specialists and is a recommended event.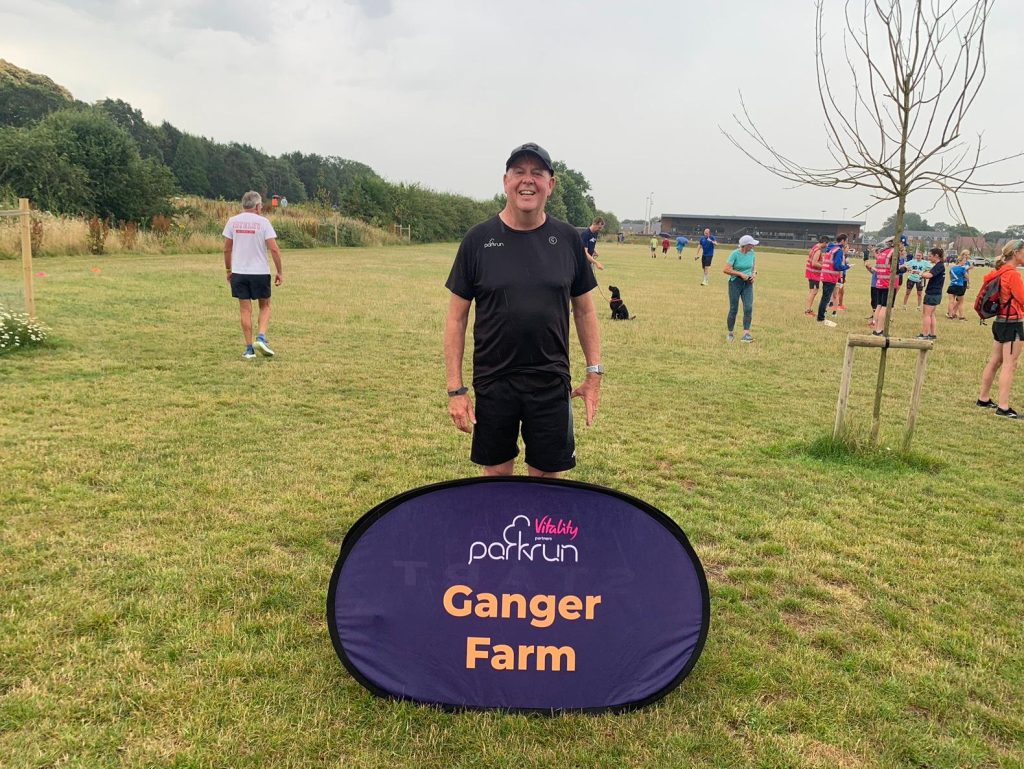 PARKRUN ROUND UP
Littlehampton parkrun was rather deplete of Tuff presence this week but what was lost in numbers was made up by a very strong run from Tom Frith who was home as first club member in a swift 20:02 which secured 7th position overall.
At Worthing parkrun a Worthing regular Les Pearce led the Tuffs home as he completed his 197th parkrun. Phil Turner was next, another one homing in on a milestone as Phil completed his 98th parkrun.
Bognor parkrun saw Katie Young in action as she racked up a high percentage age grading score. Will KIng was also running.
Lancing Green parkrun saw Tiff Orton cross the line as 4th female. Then Clive Harvey, Glenn Parisi and Jon Roper completed the Tuff quartet,
There was just one piece of parkrun tourism this week as Alistair Evans travelled to Ganger Farm parkrun – as per the above photo. Al ticked off his 20th different parkrun location on a 2.5 lap course just above Romsey in Hampshire.
Well done to all ten