Weekend Round Up 1st 2nd July
Phew, another week of incredible Tuff action from our members:-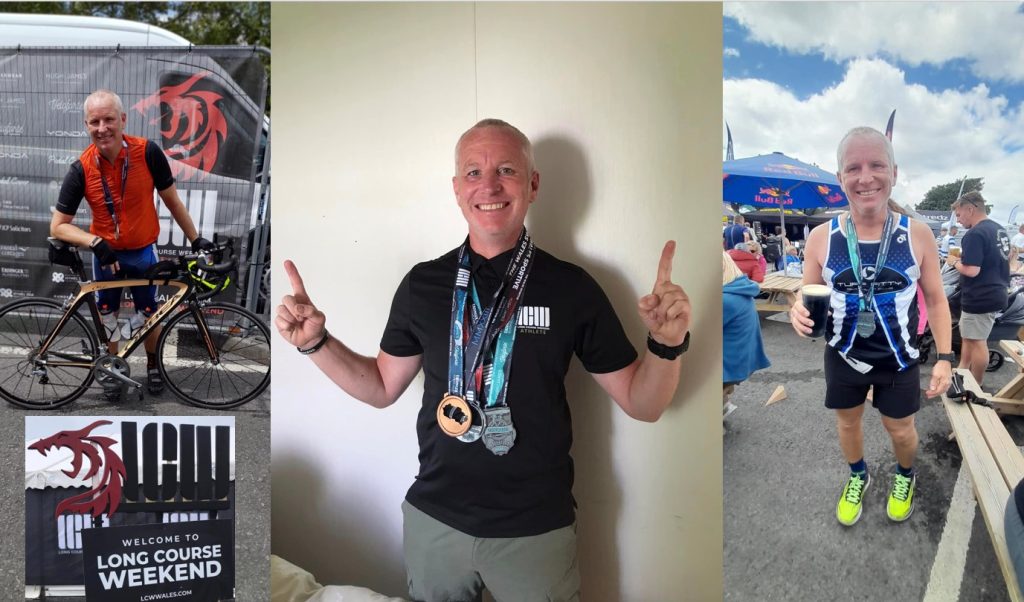 LONG COURSE WEEKEND – WALES
Long Course Weekend is a unique sports festival run by a company where over three days, athletes can choose events from three Triathlon disciplines (swim, bike, run) across different distances to create a tailor-made weekend course to suit themselves. For the bling lovers there is a medal for each discipline completed, but by going 'large' tackling the full Iron distances, then a fourth medal is awarded. Long course weekend is held worldwide in six locations with the nearest to the UK, Holland and Belgium, plus our home race; Tenby in Wales proven to be probably the toughest. Peter Littleboy attended this one and he successfully gained three medals as Pete explains:-
I signed up to this weekend pre covid and after rolling over from year to year I finally cashed in and it soon became apparent I wasn't going to do the full distance any justice as Ironman distance over 3 days or in 1, still requires Ironman training and so I dropped down to the half distance. With family members joining me for the weekend it was about enjoying the occasion.
So we arrived in Tenby Wales on Friday morning and with the sea swim not till 5pm we could take in the sights beforehand. The swim itself is either 1 lap or 2 and is a mass start and conditions were good. However at the turn buoys it was a punch up and I almost had my timing chip ripped off my leg and so I was pleased to finish in 41min. Then it was back to our caravan park for our chippy tea and get my bike ready for day2.
With an early start I was pleased the start line was just 2 minutes away, and as with the swim, it's the same route as the Ironman Wales with all the glitz and glamour. I was feeling good; however I didn't realise just how tough the hills, nay mountains, would be and add in the wind and rain, it's safe to say I was elated in not having to do a 2nd lap as 70miles in 5h35 was enough for me.
It was now time to enjoy a few beers and a meal in Tenby town particularly as the half marathon didn't set off until noon. However I had to catch a coach to the start which then meant two hours waiting around. However this passed quickly as the level of support and people present were brilliant and friendly. However this was a bit naughty and misguided because the run is very hilly, and it hurt with no shade from the sun; yes sun!
So to finish in 1h55 this gave me a grand total of 8h13 which was respectable 70 out of 108 or 51/70 in age. As for this event I would totally recommend it and I have no doubt I shall return as you can also do any of the disciplines individually. However doing 3 events spread over the weekend I did struggle with sleep but then who does sleep before a race? Well that's 3 nights in succession!. 🙂
Kind regards
Peter

JLL PROPERTY TRIATHLON
For the second successive week we had a Tuff in action at Dorney Lake. James Mapley took part in a Friday event and did very well, and thanks to him for reporting in:-
"I recently raced at the JLL Property Sprint Triathlon, hosted at Eton Dorney. The event is for people involved in the the 'property' industry with some 2000 people taking part over the day in relay, swim only, duathlon and sprint triathlon formats.
We were set off in waves with mine being the 27-28 category. Unlike my previous experience at Eton Dorney, this event started in a time trial format, with each participant starting their swim around 5 seconds after one another. I started first (purely because no one else volunteered) and had a clear swim round the 750m course. I had a good swim and knocked a few seconds off my previous time on the course. My transition was much improved and I headed out on the bike leg with the field spread-out. This event was draft illegal so I was allowed my TT bike. It was a fast and flat course, albeit exposed to the wind on the far side of the lake. The four laps quickly passed by before hitting the run. The run comprised two out and back legs alongside the corporate tents lining the pathways. The atmosphere was pretty good and i heard lots of cheers for "Malely", "Matley" and "Jim" which were close enough for me to acknowledge. The run was a little slow, however, I emptied the tank and finished 5th overall out of 987 finishers in the individual event. A good event. Next up is the Tuff BBQ and then a double weekender in Sunderland for the Standard and Sprint events".
James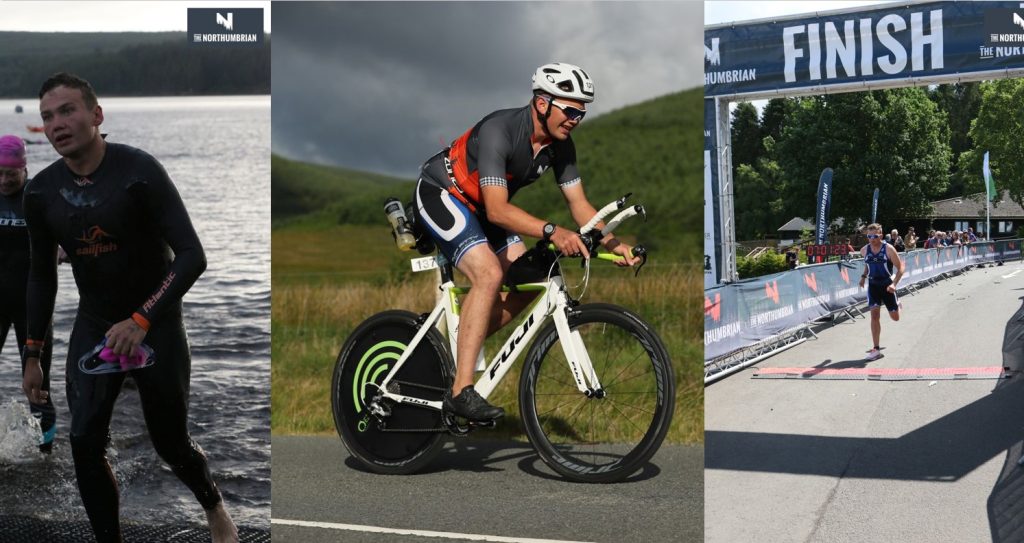 THE NORTHUMBRIAN
Home to England's largest forest and the biggest man-made lake in Northern Europe, Kielder Water & Forest Park is now the setting for a Middle and full distance Triathlon where we had Nathan Bilham in action who has reported in:-
The Northumbrian has the tag line the Ultimate Triathlon, the one you won't forget and the course lived up to its name.
This is only the 2nd year of this new event and I can only imagine it growing as it boasted amazing views, with a swim in Kielder Lake, an enjoyable bike route over rolling hills and country lanes, finishing with a cross country run through Kielder Forest. I had the choice of either a full or half ironman distance, I chose a 70.3 because i'm not fully mad yet, and only 15 brave souls took on the full with 13 completing.
It was an early start, like any triathlon, and the excitement was in the air, we had a countdown to hype music and the sirens blasted! Red smoke lit up the start line and we were off!
2 laps on the swim route and we were onto the bike, it was windy with gusts of 22mph winds, and my disc wheel gave a protest but I persevered, into T2 and my legs were dead but I pushed onto the half marathon run. Coming across the line in 6:59:01, I improved on my PB at the distance by only 6 minutes but then again for very little training I'll call this a win…but I'm paying for it now!
The event is still small at this time ..but I would definitely recommend taking on this one, but remember the midge spray!
Nathan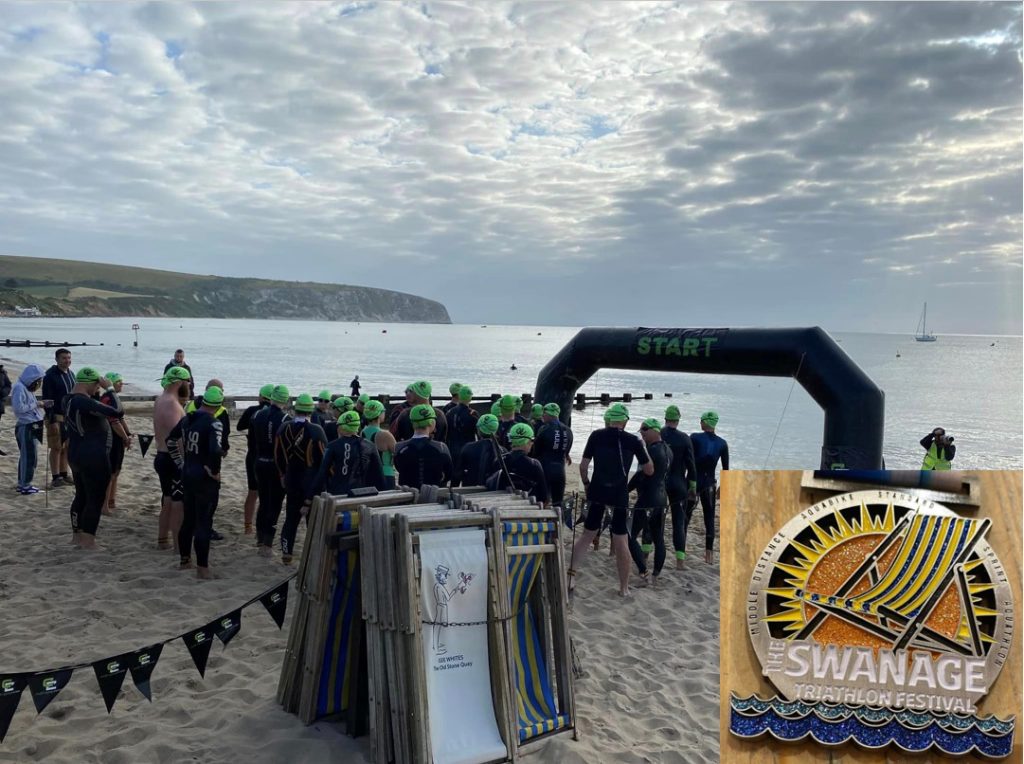 SWANAGE TRIATHLON FESTIVAL
Thanks to Anthony Towers who has reported in from a trip to Dorset – below. However whilst he mentions the sea was 'a bit fresh' he was too modest to state he undertook the swim without a wetsuit:-
A couple of weeks ago when I was passing through Swanage I stopped at the seafront to look at the sea. Calm and clean. Very inviting. It brought back memories of doing the standard distance triathlon there a couple of times, more than ten years ago.
A day or two later an email arrived from Challenge Events who now organise the event and it included an aquathlon as well as middle, standard and sprint distance triathlons and an aqua bike. I was tempted by the aquathlon as it would be a sea swim and 'run' up onto Ballard Down. With all the recent lovely weather it seemed an opportunity to revisit the venue, except without the bike and a hilly run route which I could just about walk or waddle. After entering, the nerves kicked in. Had to sort out BTF license, having kept up membership but not been to an event for a while.
The day before I wondered if I would go , feeling a bit off colour, maybe nerves!
Set off about 5am , took about an hour and three quarters. Time to register, sort out and suss out transition and watch the early waves start. Our turn was last at about 8am. A 750 metres swim and 6.5k 'run'. A bit fresh plunging into the sea but clear and flat with no current. Nice big red buoys to sight on, even without specs on. A rectangular swim course, the last 200 meters straight in and also dovetailing in with the standard distance swimmers. Up the short sandy beach over the road and up onto Sandpit field. Specs, shoes and hat on and onto the run course.
Through residential area heading north then alongside the main road towards Studland. Went past a couple of footpath entrances to the right and for a moment wondered if I had missed the turn for the shorter run and was on the long course. After about 2k from the run start there was a lay-by on the right with a drinks table and also gels. I was on the correct route. Then onto a footpath signposted for the obelisk. It was just a long flight of steps, quite steep and pace was just a walk. Kept it going. At the top over a stile then east, continuing to gain height. Best bit of the course with fantastic views over Poole Harbour and towards Bournemouth to the north and Swanage Bay towards the south west. Isle of Wight straight ahead but a bit hazy. After about 2k a sharp turn to head back downhill by a different path. Uneven and chalky so went a bit careful. At the road, turned left back towards the transition and FINISH line. Yippee. Nice blingy finishers medal.
At the finish table there was water, bananas, watermelon and a good selection of cakes. Also a box of T shirts from previous Challenge events you could help yourself to.
Met up with a couple of local friends afterwards for breakfast at the Salty Pig.
Really enjoyable event, low key, friendly marshalls and fantastic course.
Anthony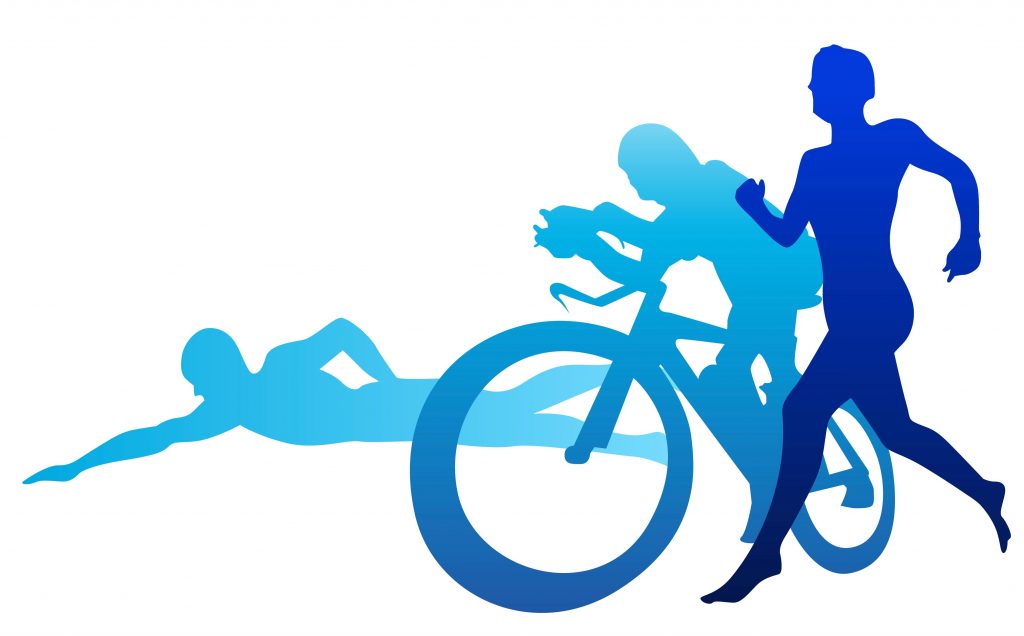 CHICHESTER TRIATHLON
With juniors racing on the Saturday, Sunday was the turn of seniors in a choice of either Sprint or standard Triathlon. The bike course went through Lavant, East Marden and Stoughton, before returning through Funtington & into Chichester. We had a Tuff duo compete – Ben Abbott who reports first and then Chris Evans who give his journey back from illness:-

"Attempting my first Triathlon since Covid, I thought I'd go with one that's familiar, The Chichester Sprint Triathlon, a previous favourite of mine due to it's hilly bike course. The race started with a 400m swim in the Westgate Leisure Centre Pool. There was a mixed ability group of swimmers in my wave with some people estimating 5 mins and others like me, a 7 min, but between us we managed to work out a good order and off we went. The swim part felt good and coming into T1 I felt fresh and looking forward to some hills out towards Goodwood on the bike. However, the wind had other ideas and decided to follow me all the way round and never gave me a helping push 😉. After a wind swept bike ride came the run, which has always been the part where I struggled the most, but has been something I have focussed on this year and I really felt that this paid off resulting in an overall personal best position of 23rd".
Ben
"The Mid Sussex try was my first full Tri after finishing my Prostate Cancer treatment (The treatment was very effective, my PSA level is only just measurable at 0.05, which is very good news) My 2023 swim time of 7:57 was actually slightly better than last time I did Mid Sussex in full back in 2019 (8:02)! Throughout my treatment my swim times in training, have hardly been affected despite my Testosterone being suppressed to less than 10% of normal levels, I think that reinforces the idea that swimming is all about technique".
"Last year I did the bike leg of the Mid Sussex as part of a relay team with two of my brothers, it'd taken me 1:21:30, this year I managed 1:05:37 and the bike leg was slightly longer! I put almost all of that down to my Testosterone level now being back in the normal range (about 13 times last years level) Unfortunately my run was worse than ever at 42:30, I've been having knee tendon problems for over four years now (Well before my cancer diagnosis and treatment). For a couple of years I did no running and have done very little in the last year. Back in 2019 my time of 35:53 included T2.
Chichester was enjoyable: My 400m swim was 8:21 I suspect being a 33.3m pool was why it was 24 seconds slower than Mid Sussex the bike leg was very scenic but not as quick as I hoped and my run was even worse (50:22) than Mid Sussex despite being very flat.
I wonder if I should concentrate on Aqua Bike events which the Mid Sussex and Chichester Tri's both offer!
Chris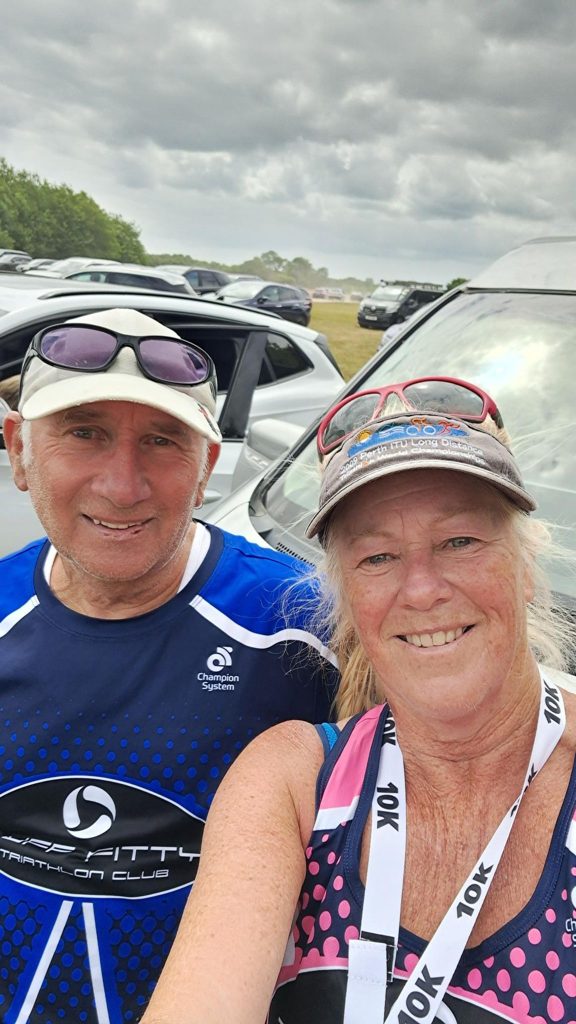 GOODWOOD RUNNING FESTIVAL
Run Through organise several runs around Goodwood Circuit – with the 17th September the date for the Goodwood Duathlon part of the South East Senior Series league. But back to last weekend and thanks to Colin Simpson for reporting on a successful excursion to the circuit by Sue and himself.
Sue and I travelled to Goodwood Race circuit on Sunday…the car one not horses!…to run the10k organised by 'Run Through'…this is one of their series of multiple races on the day from 5k to ultra and always well organised. We had marshalled at an earlier event so had free entries… As a warm up we 'paced' our dog at a windy littlehampton parkrun on Saturday…my 50th there.
At Goodwood the wind seemed even stronger and those who know the open ,wide undulating course will agree its a pb course….if its not windy!!
We both had fair runs …slower than hoped for but Sue managed a 3rd in age group and I was a surprisingly first in age group ( so another discounted entry )….
Kind regards
Colin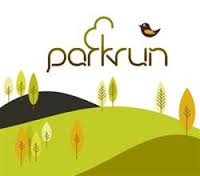 PARKRUN ROUND UP
At Littlehampton parkrun Steve Bridgeman was in attendance and then running together, Sue & Colin Simpson. Jenny Oliver was also in attendance at her home parkrun to complete a quartet of Tuffs.
There was also a quartet across at Bognor Regis parkrun. First Tuff home in a great 3rd female overall was Katie Young, Next home was Will King. Clive Harvey and then Alistair Evans completed the course. There were lots of runners in Hotham Park as Chichester parkrun wasn't taking place.
Maidenhead parkrun saw Trevor Harvey participate firstly on the organising team and then undertaking the run.
Once again Worthing parkrun had few Tuff attendees but Les Pearce made up for it with his 188th Worthing run to add to his grand total of 196 parkruns. Also running another Worthing 'home runner' as Vicki Hedger ran.
Seaford Beach parkrun saw Jeremy Garratt attend for the four successive week as he obtained his fastest time this year.
This still left Tuff capacity for parkrun tourism as:-
Steve Fryer returned to Killerton parkrun in the Exe Valley in Devon notching up his 8th run around a one lap course on National Trust land.
The Tuff who ticked off the furthest parkrun this week was Nathan Bilham who ran at The Pastures parkrun. The course is run, perhaps unsurprisingly, on grass pastures, within sight of Alnwick Castle on the Northumberland coast.
Congratulations to all fourteen who ventured out.