Ironman Italy is centred on the ancient fishing village of Cervia with the course taking place along the coastal Emilia-Romagna region. The 2.4 mile swim starts on the beach at Cervia before running into the Adriatic sea for the 2.4mile one lap swim. From the promenade the bike course enters the countryside of Romagna and the Salt Pans Nature Park, home of pink flamingos. The route is a two lap course to complete the 112 mile cycle before arriving back in Cervia. The marathon course takes runners around Cervia, and the canal port and medieval city walls to complete the 140.6 miles and become an Ironman.
Our Tuff representative racing was Mark Dinsdale. Having extended his race with a holiday he has kindly reported in with his Ironman story.
The following article should really carry an Ironman 'caution sign'. Why? Well 2023 has been a great year with a further four club members becoming an Ironman this year for the first time, but there are others who have said; 'Could I' 'Should I'. Mark's report sets out his thoughts on approaching an Ironman and how he got caught up in the Ironman razzamatazz. The following is a compelling read and may inspire others to embark on their own Ironman journey.
Congratulations Mark from us all – His report follows:-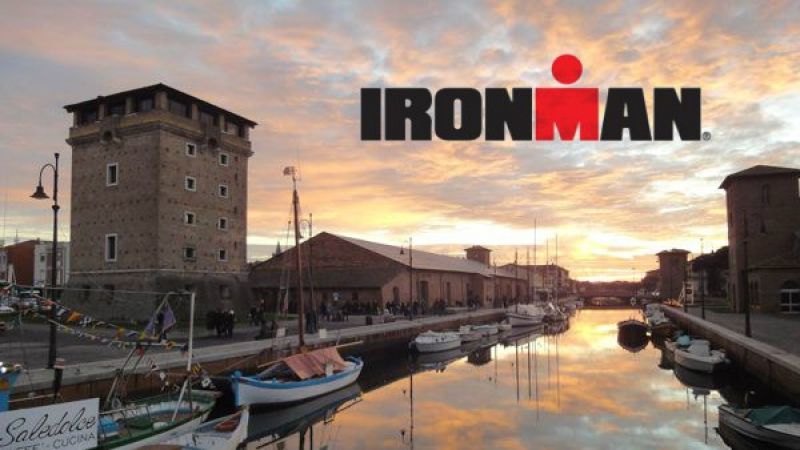 Cervia Canal region
IRONMAN_ITALY – EMILIA ROMAGNA SEPT 2023
As a more mature Triathlete (62) and someone who only started in 2019 – with no swim/cycling background and a couple of half marathons over 30 odd years ago – this was going to be an interesting journey!
It started when my daughter and her husband decided we would all, as a family, complete the Blenheim Palace sprint Triathlon in 2019, after that I was hooked – from there it eventually took me to entering Ironman Italy. As CPL said to me – if the itch to do a full distance event is there then you have to scratch it!
I downloaded an online 6 month 140.6 training plan but, I quickly realised I need a lot more rest and recovery than the plan gave me – so after some modification the journey started. I didn't follow the plan exactly but, I would try and ensure I did the main sets each week, especially the long bike rides and brick sessions and my goal was purely to complete the IM – I had 16 hours!
Travelling to the event was relatively straight forward – easy jet into Bologna – 7 min electric shuttle to the central station and a 1.5 hour train journey to Cervia. I personally have never experienced anything like it –the buzz in the Airport, on the flight and train was amazing – everyone was heading to the event and everyone wanted to share their Tri experiences. I appreciate any IM event is expensive and IM don't get everything right but, from my point of view, what an event – it was like the IM Circus had come to town!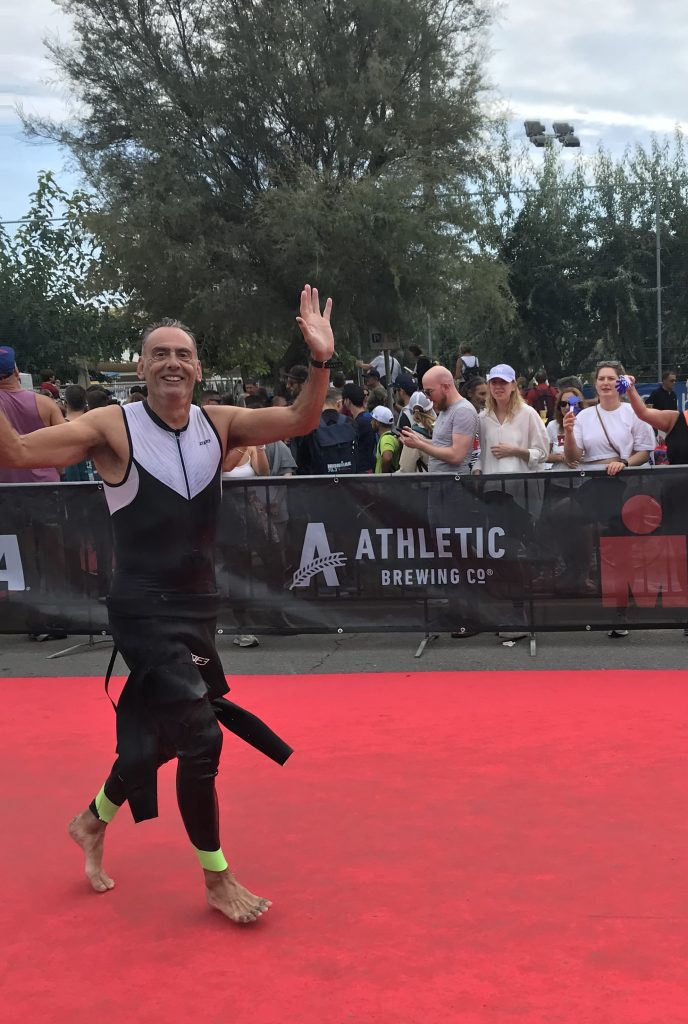 THE RACE – Friday, bike racked, transition bags in place all ready for the early Saturday start. There was some debate on whether it would be too warm for wet suits but, fortunately other than the Pro's we could wear them – which was great news as the sea was awash with jelly fish! The razamatazz at the start was just insane – Italian Airforce fly past, brass bands and the usual IM motivational talks. Bang – we were off – well the Pros were off I waited another 15 – 20 mins before I got into the water. The swim went to plan – Jelly fish didn't cause too much of an issue – just a tingling sensation on hands and feet – and I entered T1 reasonably relaxed.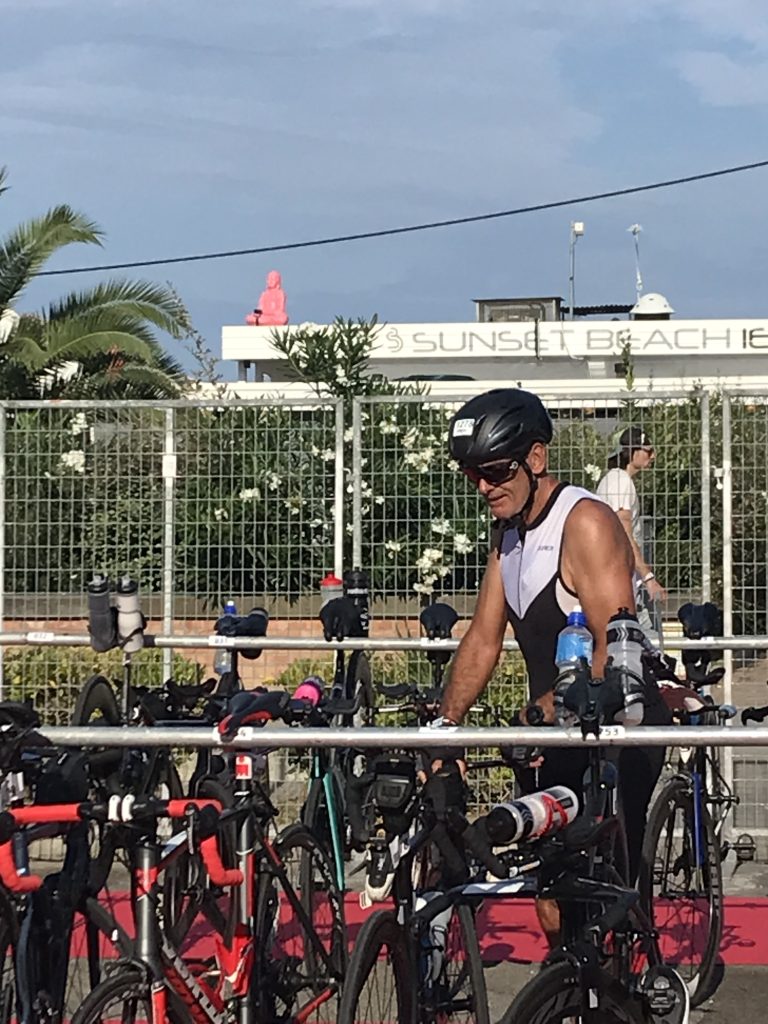 The 2 loop closed road bike course was relatively flat and other than the heat – it was high twenties on the day – again went to plan. As I came into T2 I noticed my partner, or as I now call her 'support crew', she shouted out my time and I realised I had just under 7.5 hours to complete the marathon and meet the 16 hour limit – I felt positive, if I didn't do anything too stupid I should be getting the T shirt and medal.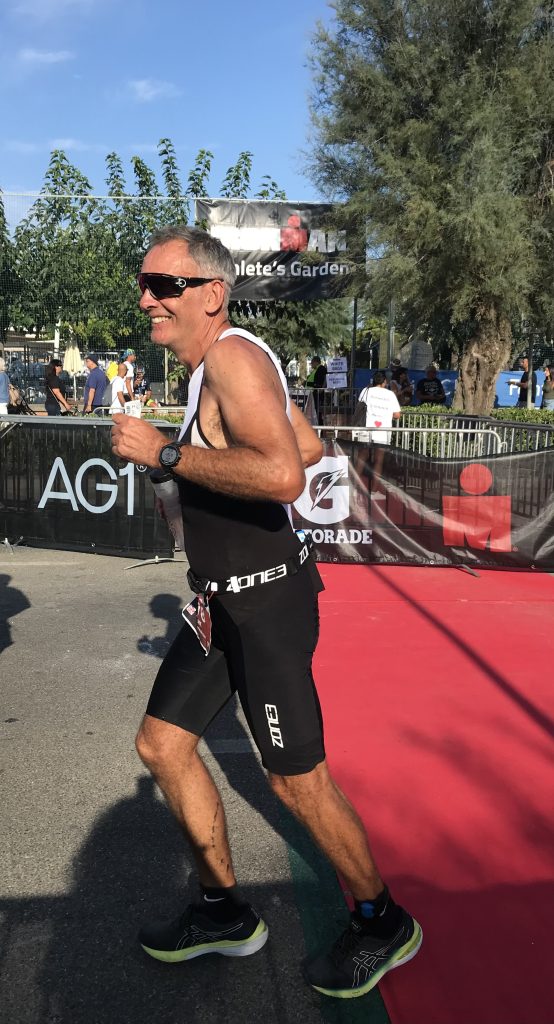 The 4 lap run course went through the town and harbour area – majority was lined with supportive crowds – in my mind I had decided this was just 4 x 10km. The third loop was a struggle but, by the fourth I knew I would complete – running down the red carpet and hearing them announce me as an IRONMAN just felt so good and I was nearly two hours under the time limit – which made me feel even better.
I don't know why but, I have always struggled to call myself a Triathlete – probably because everywhere I look they seems to be young amazing athletes – but, now I am an IRONMAN – so by default I think that makes me a Triathlete.
I don't get too involved with a lot of the Tuff Fitty weekly activities as I am very fortunate to be able to train during the day but, I do want to say I still value being part of the club – when I have needed key advice/information/support Clive H, CPL and the spond community have been there- so a big thank you!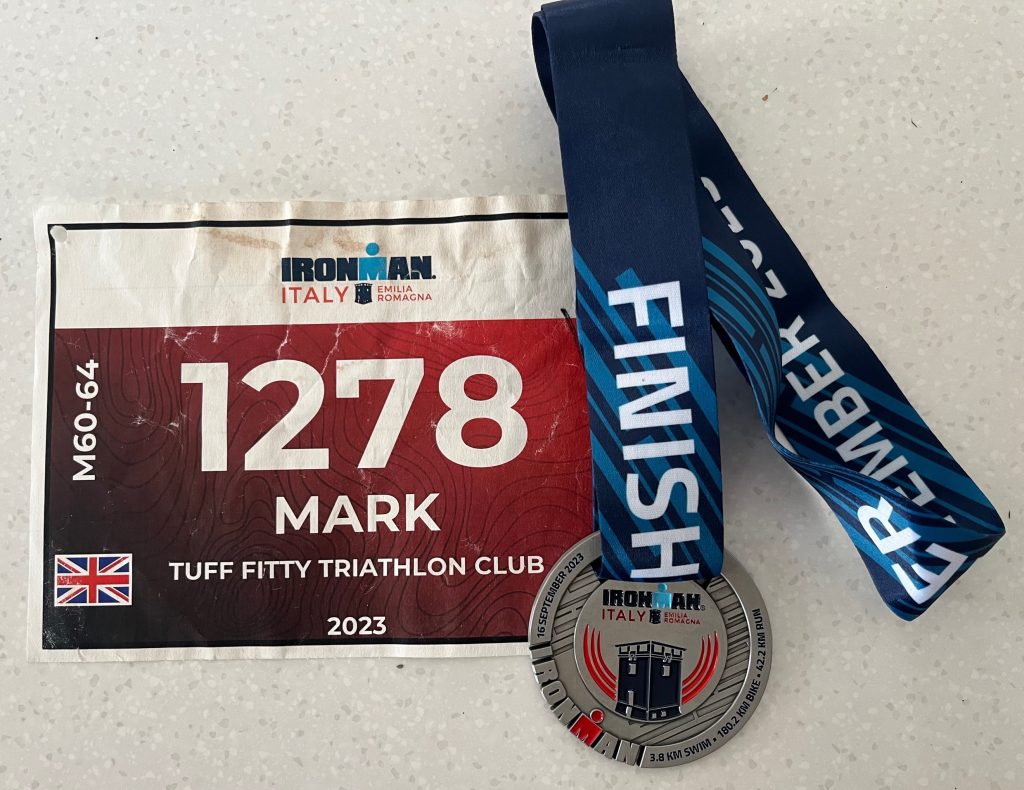 ……… finally, what next??
Mark