Weekend Round Up 30th Sept 1st October
Heading into October and there is no let up in the wide variety of achievements gained by club members. The largest Tuff attendance occurred at Tuff's Welsh Weekender where wild swimming, Gorge walking, Climbing, Mountain Biking and Orienteering were undertaken in a packed programme. Such a weekend justifies a separate report which is being compiled separately. This still leaves the following :-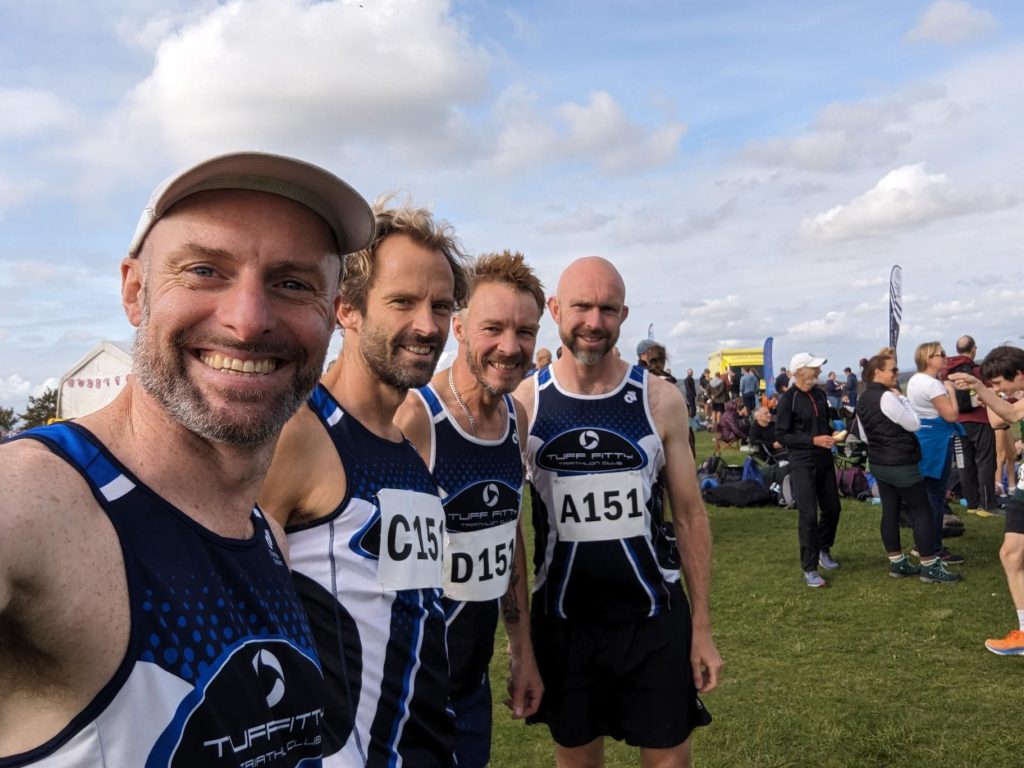 Alex, Jon, Simon & Mark
SUSSEX CROSS RELAYS – GOODWOOD
Separate from the annual Sussex Cross Country league, every year there is also the Sussex Relay championships. Held at Goodwood teams had to comprise four runners, each running approximately 4,000m, so it looked to be fast and furious! Thanks to Mark Walford for assuming a Captain's role, cajoling to gather an impressive speedy foursome of Mark Walford, who handed over to Alex Webb, then Jon Cassell with Simon Thistlethwaite taking the glory leg to finish. Also present but competing under their running club banner, kudos goes to Kate Cooper and Simon Grundy in their respective teams. The Cross Country league proper starts on Saturday 14th October where we require both men's and Ladies teams. Don't be put off by the extraordinary exploits of our gallant relay team as Mark reports:-
"Last year we had a 4 man team for xc relay and having all done well we were shocked to hear if we had podiumed we wouldn't have been allowed due to non matching tops. Also finding out we would have been bronze in the Vets category if I were 1 year older added to this frustration. This year I decided let's ger us back together.
"Everyone seemed up for it until we got there and we realised its best part of 4km flat out against Sussex best and on trails. But pre race banana and post race chocolate purchased eased the pain. My plan was go out hard and see what I had left. Handing in our team sheet same order as last year and after help from our chairman we was all in matching tops. We saw Kate who was racing as a Harrier but we still supported her. Then time to set off, logic goes out my head and race mode entered, get through the first km under 3.30 I thought, this isn't a pace to keep, 3.45 next km then it hit me and the elevation changed all up hill now. A sickening feeling in the stomach but push through keeping my place and not losing time to anyone around me. Upon getting to the top of the hill I was relieved to see a little out and back taken off the course so I knew it would be under".
"Passing over to the awaiting Alex after 3.5km I had jelly legs and couldn't stand properly for about a minute. Finding Simon and Jon I was glad my go was over but didn't wanna scare them. Alex came in at the same pace as me as he passed over to Jon. Alex found a fence to lean on for several minutes before joining us. I think the stories worried Simon as he had a last minute run to the toilet. Jon passed over in the same manner as me and Alex and same result, Jon was on his knees for about 2 mins. Seeing Simon cross the line in the same state I can honestly say we left it all out on the course. Sadly no podium but not for want of trying, but it was a good afternoon mixing it with pure runners. Like always, I said never again, but that evening I was already considering the XC season. Next year let's get more teams; you don't have to run till you throw up to enjoy the race; but a challenging course and team component is a nice touch"
Mark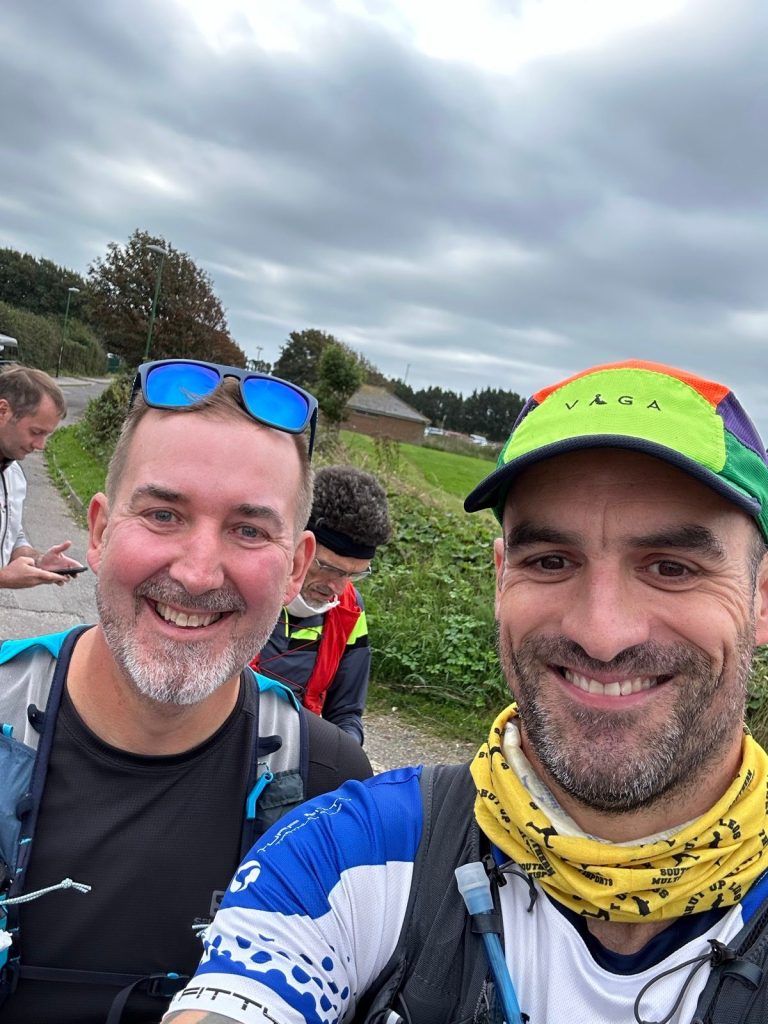 James & Jon
DOWNSLINK ULTRA
Organised by our very own Jay McCardle and Danny Cunnett at Sussex Trail Events, the Downslink Ultra was celebrating it's 10th anniversary year and for a change the race of 38 miles was in the 'other' direction – St Martha's Hill in Surrey down to Shoreham-by-sea. Jon Babbage and James Hodge took on this anniversary challenge. Jon Babbage had been suffering from Covid and having returned a 'clear' test before the weekend wanted to have a go. Jon stated he was disappointed because as the miles racked up he realised he was not at his best due to after effects. He decided to be sensible and curtailed his run. However huge kudos as Jon still covered over 21 miles; a distance many of us would be absolutely delighted with (and in a good time as well). Congratulations to James Hodge who completed the full distance. Jay, Danny & Chris do put on cracking events at Sussex Trail Events and their next one to watch out for (will sell out) will be their popular Darklink headtorch 10k in December.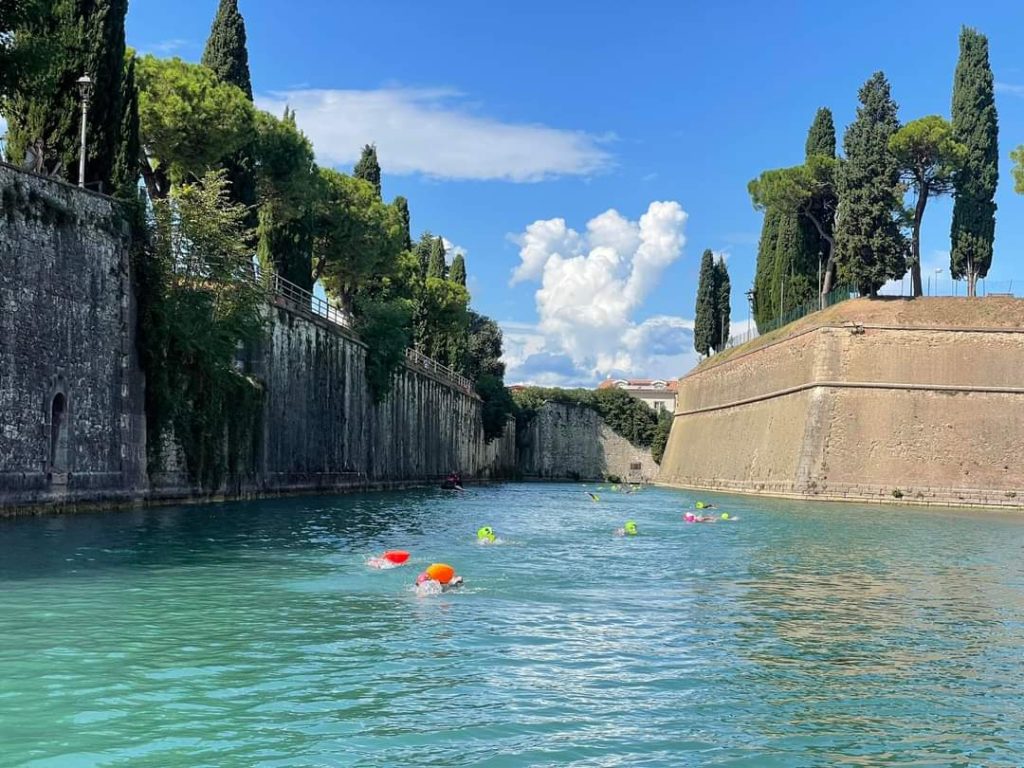 ITALIAN OPENWATER TOUR – PESCHIERA DEL GARDA
The stunning banner photo this week and above is from a Weekend of swimming by Susan Douglas who attended Peschiera Del Garda in Italy. Accompanying these scenic shots, Susan has reported in:-
"Back in Italy, this time in the UNESCO heritage fortress town of Peschiera at the foot of lake Garda.
I was doing 2 swims, 5k on Saturday and 3k on Sunday, both courses taking you out into lake Garda and back through the high (and I mean high) walls of the ancient canal system.
Saturday morning the sun was shining and the water apparently 24c. A good mix of skins and wetsuits and as far as I could tell the only non Italians were myself and a gent from the US. He approached the waters edge saying "All Right! We got this" punching the air. I, of course being British with a little more decorum, slipped quietly into the water for the start.
It was a lovely swim, the lake section was a little lively, but predicable and I was able to admire the mountains in the distance. The canal section was a bit daunting with the high walls, bad luck if you had enough and wanted to get out! Of course there was safety cover, so no risk really.
Sunday was again lovely and sunny, but with quite a breeze, so the Lake Garda wasn't quite so friendly and no admiring the view this time. Once back in the canals all was calm and I could appreciate the ancient fortress and the walls looked less scary.
The Italians are very fast swimmers, so I was only ever going to be ran, but I did come 4th in the over 50's in the 5k and 7th in 3k, so not last at least".
Susan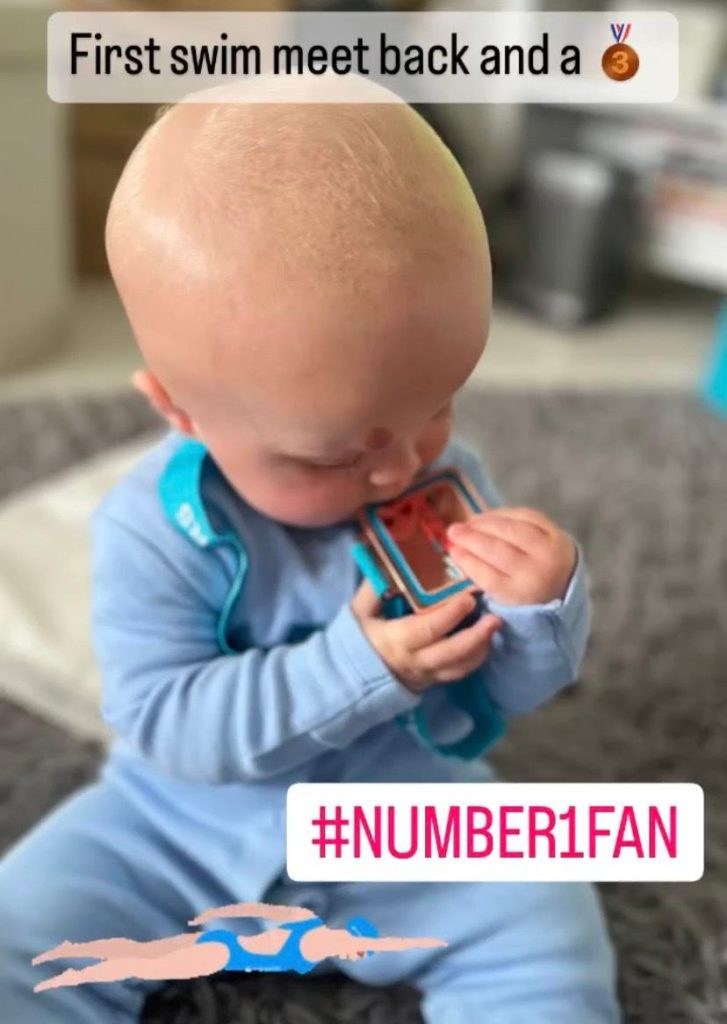 SOUTH EAST MASTERS CHAMPIONSHIPS
The South East Region Masters Short Course Championships were held on Saturday at the K2 centre at Crawley. Covering 50m, 100m, 200m, and 400m events. our representative was Amy Kidd who entered two events – the 50m and also 400m, both front crawl. Amy has been powering along at Tuff swim training, and is already signed up for the Long course Championships 20th and 21st of January. However Amy is very modest about her results as she is still some way off her quickest since the arrival of Georgia, so the editor had to push Fraser to get something to recognise her following super results-
Amy was back in the pool racing yesterday (post Georgia) at the South East Masters Championships and pulled out a 31:69 for 50m front crawl and 5:19.37 for 400m front crawl. Her number 1 fan, Georgia gains the above photo as she bites into mum's bronze medal which she won in the 400m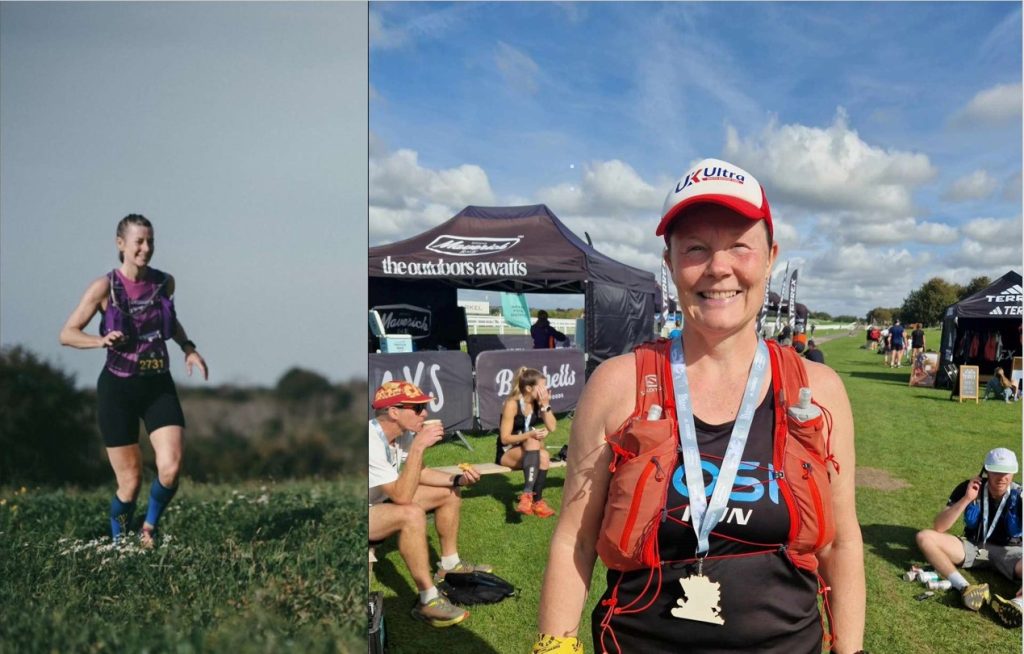 Dominique & Wendy
MAVERICK ADIDAS TERREX X SERIES SOUTH DOWNS
Starting from Goodwood Race Course, runners had a choice of four routes to choose from, all of which the organisers said "Packed a punch". We had two Tuffs running – Wendy Kane and Dominique Noiret. Dominique has done very well in her short time as a Tuff and is clearly modest as she neglects to say she was 3rd in her age category. Wendy also had a good race running home 4th in her age category. Pleasing to report we have two reports; first from Dominique and then from Wendy
Maverick's was a definite challenge 2 days after the Hour of Power track relay, the taper went out the window, legs were tired the hills were steep! Was a race of mind over matter, somehow got through it! Have never been happier to see a finish line 🙂
Dominique

This was my first time doing a Maverick race and there are a good choice of them all over the country. This event was The Maverick Adidas Terrex X Series South Downs 2023. It had a choice of 4 distances starting at 10 miles, 15.5miles, 26.2 miles and 34 miles. I was running the middle distance which was 15.5 miles. They all started at Goodwood Racecourse, where there was also a good collection of trade stalls and food and drink. Once you were over the start line you were running along the race track and then straight out onto the trails that weave through East Dean and up onto the Southdowns Way. I loved the course as it took you along some lovely wooded trails, but also had some short sharp climbs that made your lungs burn and some long drawn out climbs that went on what seemed like forever! But as with every up hill there had to be some down hill. The course was really well marked and even had 2 aid stops which were heavily sponsored by Precision Hydration, so you weren't short of electrolytes on a hot day, also layden with a really good selection of snacks. Great atmosphere at the start and the finish and really well organised. It was so great to be out on the trails doing what I love best on a sunny day and would definitely do another Maverick Event!
Wendy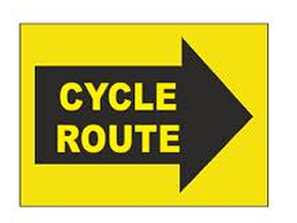 SURREY TOUR SPORTIVE
A cycle sportive taking riders around the Surrey hills area of outstanding natural beauty with a choice of routes covering 88km, 120km & 160km. Our cyclist pedalling here was Andy Ward who completed 88K covering 845 m of vertical ascent. Impressive on the conclusion of Andy's 2,000 burpee's challenge during September for Help The Heroes.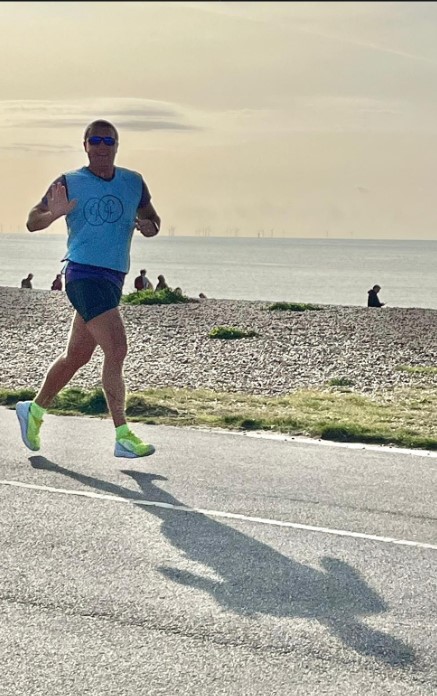 Flying feet from official pacer Fraser at Littlehampton
PARK RUN ROUND UP
Littlehampton parkrun saw some excellent results starting with Steve Fryer. Whilst just two weeks away for his 36 mile charity run here , Steve still found time for a swift 20:10 to cross the line 8th overall. Colin Simpson finished his 240th parkrun and then Emma Hinton finished as 8th female. There was a fantastic time from Fraser Kidd in 25:00. Yes, it is understood that we are accustomed to seeing Fraser return a much faster time, but this week he was one of the formal pacers complete with tabard, and a clue is in his time – he wore the 25 minute pacer bib – finishing spot on, and even his 1k split times only deviated by one or seconds either side. Steve Bridgeman was our next Tuff home and then Linda Wright who completes our six Tuff runners.
Worthing parkrun saw three members running. Both Edward Lay and Phil Turner ran, both on separate pacing duties for other runners. Elaine Rousseau also ran completing her 162nd parkrun
Preston Park Parkrun saw Richard Jay in action – the location of Preston Park is well known to many Tuffs as it is where Brighton Marathon starts from.
The following parkrun tourism also occured.
Alastair Evans attended the Lymington Woodside parkrun where the course is a three lapper around Woodside Park.
Having attended half of the Tuff Welsh weekend, Trevor and Clive Harvey attended the Penallta parkrun. This is a scenic rolling course around Penallta Country Park at Ystrad Mynach Caerphilly. A very well organised event including motivational music at the start (although not as motivating as Barry's track night playlist)
Tourists of the week go to Sheila Bailey and Kate Evans, whilst not as far into Wales as Penallta Park, they embarked on a day trip to take in the iconic Severn Bridge parkrun. The run starts on the Welsh side of the Severn and runs out onto the older Severn Bridge crossing. The route takes runners just over halfway on the bridge into England and the counties of Gloucestershire and Avon before turning and running back into Wales.
Great parkrunning from the fifteen