Weekend Round Up 7th 8th October
Unusually for Tuff Fitty the weekend was quiet by usual standards, although Saturday run, Saturday swim and Sunday's cycle hill climb recce, still gave members plenty of scope to keep training. For the two Tuff's racing there were impressive results:-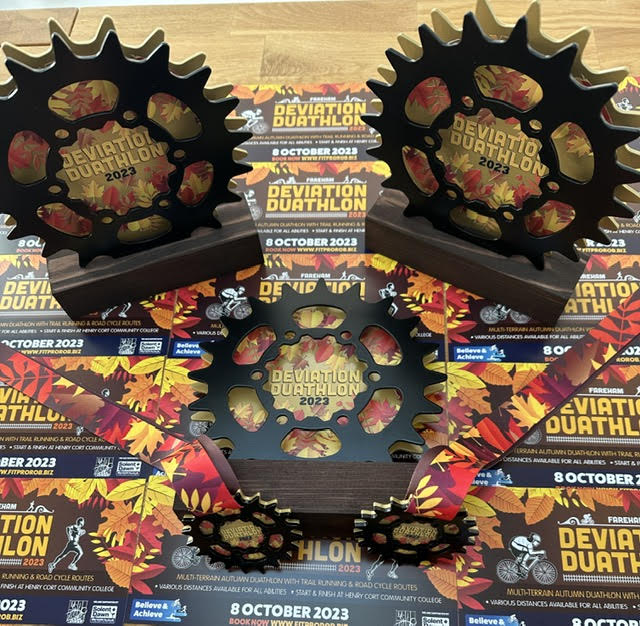 DEVIATION DUATHLON
Located in Fareham the Deviation Duathlon had a choice of three courses to enter – short course, medium or Long course which comprised 7.5k/26k/5k. The run sections were off road trail runs, with the cycle road based. Mark Walford doesn't appear to have stopped racing all year and here was again having entered the long course event. Mark explained the event was very low-key with 72 entrants and whilst not a BTF event he recommends it. In true Mark style he stated "I clung on for the win" but this hardly does his result justice as he raced home 1st Vet, and 1st overall with a margin of 2min 37 over second place and 13 minutes ahead of the first senior – congratulations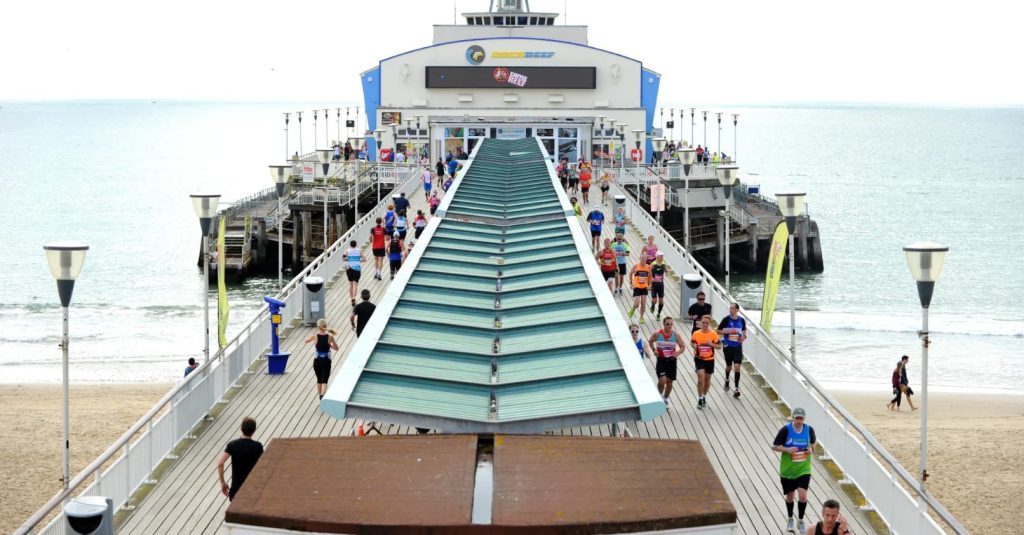 RUN BOURNEMOUTH SUPERSONIC
Starting on the border between Poole & Christchurch Bay at Hengistbury Head, The Bournemouth 10k takes runners 2km along the cliff tops before dropping down onto the promenade at Bournemouth. Runners then sight on Boscombe Pier and a then complete a circuit around it. The next landmark is Bournemouth pier and a circuit around this second pier (pictured above) brings runners to the finish.
Fraser Kidd was our participating Tuff and he did very well finishing in a swift 42:38. Fraser reports "It felt reasonably comfortable and enjoyable, at an event I attend each year. Hoping to get back under sub 40 in the new year!"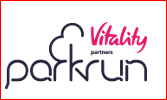 PARKRUN ROUND UP
Worthing parkrun saw the largest number of Tuffs this week. Led home by Simon Grundy in a swift 19:48. Strong runs from Edward Lay notching up his quickest Worthing run this year in 22:27 with Dave March just 8 seconds behind. Les Pearce was our next runner and then Phil Turner on pacing duties. Kate Evans saw our sixth Tuff runner to finish.
Littlehampton parkrun wasn't such a strong place for Tuff spotting this week but there was a good time from Emma Hinton on the comeback trail. Clive Harvey was next and then Alistair Evans completed his 145th parkrun.
Across at Lancing Green parkrun there was good running from Katie Goddard & Catharine Western. It was a strong result from Katie making her parkrun debut whilst Catharine ran this course for the first time adding to the her parkrun venues already completed.
Maidenhead parkrun saw Trevor Harvey arrive early for course set up earning a volunteer credit and then lining up on the start line.
Well done to all twelve parkrunners.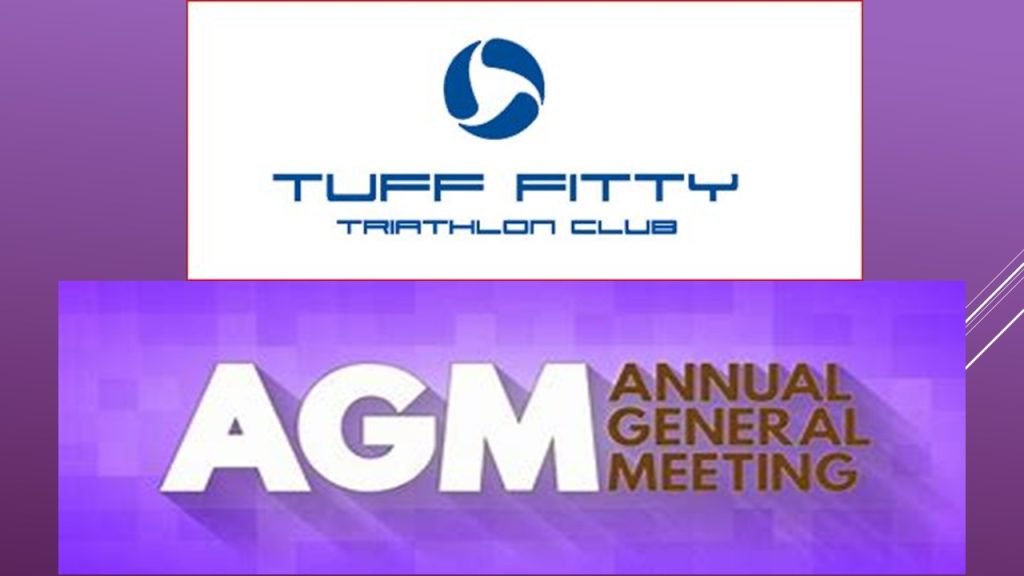 ANNUAL GENERAL MEETING
Don't forget this coming Friday 20th October is Tuff Fitty's Annual General Meeting. The venue is changed from previous years as your committee are looking to make the evening more social. The location is The Fox Pub above Angmering with the AGM itself held in the marquee. Start time is 7pm and if anyone has items for the agenda please pass to our Secretary by close on Tuesday 17th October. Please email: secretary@tufffittytri.club
Your club is run by it's members for it's members so do please come along and show your support for your coaches and committee; and rest assured there will be NO pressure to volunteer, so you can come and listen with a glass in hand and enjoy the evening.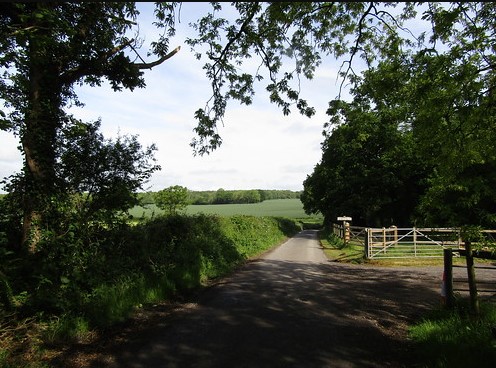 TUFF FITTY CYCLE HILL CLIMB
Sunday 29th October will see your club's Cycle Hill Climb take place. Following the successful reconnaissance trial last weekend, it is a super course. Cyclists will meet outside The Fox Pub, (you are welcome to ride or drive there) before riders congregate in Swillage Lane for the Hill Climb. It is worth pointing out the hill climb is further across from the pub, opposite Dappers Lane, and not the hill up the side of The Fox -which is steep!. The Swillage lane route is circa 0.5 of a mile and can easily be ridden seated so the event really is suitable for ALL Tuffs of any ability. Importantly after each rider has had a couple of hill climbs – the finish line outside The Fox then becomes our breakfast location as the entry fee (£5) provides participants with a Breakfast Roll (Bacon, veggie or Vegan) with Coffee or Tea. Following this there will an optional further ride for those wishing to top up their Sunday mileage. NOTE:- Please book the Spond event before Thursday 26th October to ensure there is sufficient breakfast for hungry Tuffs 🙂 )

TUFF FITTY AWARDS EVENING
Tickets are on sale for THE event of the year. Being held on Friday 1st December, the location is The Venue in Worthing, a grade 2 listed building having received an extensive renovation; consequently the dress code is 'Dress to Impress'. – The Tuff Fitty Awards and social evening. Doors Open at 6:45 with the evening meal served at 7:30pm. With a range of features throughout the evening, plus an on-site bar; everything is set for a fantastic evening – one which we hope you will be able to attend. The link to purchase your ticket(s) is HERE
There will be an awards section where an array of notable Tuffs will be recognised. There is one category which is awarded by you – the Tuff membership. This is the Members Member award where you can nominate a deserving Tuff – the link for you to cast your vote is HERE – please vote for someone you think deserves recognition.
The evening will include a raffle where tickets can be purchased in Sold in blocks of 5 @£5.01 each – the link is HERE
The Venue does have a capacity constraint and therefore it is best not to leave booking your place for too long. Your committee and Coaches look forward to seeing you there.