Weekend Round Up 18th 19th November
Still plenty of Tuff activity before we move into the busy December calendar
TUFF FITTY'S SUSSEX SAUSAGE SIZZLER SPORTIVE 
Thanks to Clive Patterson-Lett for organising this event and he reports in with details of the morning's ride as follows:-
A brilliant turn out of 30 Tuffs plus a few guests, braved the chilly (but sunny) conditions at the 2017 Sussex Sausage Sizzler.
I tried to give a little briefing about road conditions, riding etiquette etc but Tom Gray just ignored me and carried on talking the whole way through!
Jon Frost asked the first silly question of the day ("are we going clockwise or anti clockwise?") I didn't get the opportunity to respond as there was some vociferous feedback to his question from the other riders.
Anyway, we rolled out from Littlehampton at 8 sharp with the TIITs shooting off the front followed by Jon Roper and a few others. "Great I thought, they listened to what I had said about the ride being self supported, knowing the route and splitting into groups of 5 or 6" (so as not to piss off too many Sunday drivers!) However as we went through Middleton, Felpham and on to Bognor Sea front I looked back to see 20 plus riders sat in a line with some very irate drivers stuck behind them!!!!!.
We wound our way out of Bognor only to see the TIITs stopped at the side of the road whilst Wardy mended a puncture in his 14 year old rear tyre!!!!!!!……………..you know me I never  miss the opportunity to offer a bit of "feedback"……..so took the opportunity to take the piss as we rode by……………….. I'm sure someone checked they were all OK?! But it was reported that having mended the flat Andy suffered another puncture a short time later!!! For those wanting a tip for a good winter tyre I would recommend these:
http://www.wiggle.co.uk/schwalbe-marathon-plus-smartguard-rigid-road-tyre ………………..Not the fastest but great puncture protection over the winter months.
Anyway back the the Sizzler.  Having reached Hunston, Cliff Thomas could take the abuse from those Sunday Drivers no more, and sprinted to the front to explain his Sunday ride was not panning out as he hoped as he was hearing swear words from passing drivers he  hadn't heard in years! I thought the roads were just quiet for a Sunday but Cliff informed me that was because all the drivers were stuck behind him at the back!!! To address the issue we pulled over and the advice to split into groups was repeated. We split into 2 groups with Cliff taking the lead of one and me the other, endeavouring to keep the other group in sight as we rode but with a big enough gap to let cars pass.
Along to Bosham , up over the A27 through the lanes to West Stoke and Lavant it was at this point that we picked up Nige Smith and Martin Butcher who had started with us but were riding in the opposite direction!!!! I had designed the course and it definitely wasn't me that was off course!!! Nige and Martin joined us and as we skirted Goodwood Joe Pascoe and Nicole P-L suddenly realised we were on the home stretch and could smell the sausages so put the hammer down! We recrossed the A27 at Boxgrove and made our way back to LA through Barnham dropping Nige off as we went, having sat at the back all day Joe decided to give it "Billy Big Bollox" at the front. I regretted waiting for Tom Gray (yes him again!) at Ford Lane, I slowed to give him a wheel to pace him back to the others, but instead of easing up to my back wheel he just smashed past me to catch the group!!!!! ( no respecter of age that lad!)
A  brisk ride back to LA and the Mewsbrook Cafe arriving in well under 3hrs for the 45 miles was pretty respectable. A variety of fried food, toast, tea cakes etc was consumed by all with Mark Day putting away a massive fry up, I should point out that he and Bec had not joined us for the Sizzler,but rode over from Worthing for the food!!!!!
2 of the expectant Tuff's, Cathy and Catharine joined us as well as Steve "Wiggy" Custance with dog Riley to round out an enjoyable morning ride.
Mewsbrook Cafe are happy to have us back and I've discussed a Sausage Sizzler Special Deal with them  for next time…………………………….. January '18 anybody?
Clive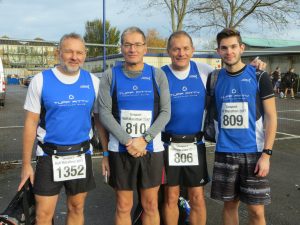 GOSPORT HALF MARATHON
Booked before the Sportive date was announced a quartet of Tuffs headed to Hampshire as Stuart Harvey reports:-
Making the drive down to Gosport on a beautifully clear M27 with Trev, Clive, and Glenn in tow, the mood in the car was pretty quiet. Had we made the right decision to do this? When mentioning it to anyone in the previous couple of weeks that we were doing the Gosport half, this comment was met with sharp intakes of breath.
"Oh, not Gosport, that's a horrible, boring one" was the most common reply. "Yeah, it's awful, through industrial estates, disused garages and at one point I'm pretty sure you run through a glue factory!" was even quoted. With all this positivity in mind, we got to Gosport absolutely PUMPED!
Arriving at the start and gestured into the car parks by a friendly hi-vis, the road kept going and going, "Are you sure this is the car park?". Slowly, the road became not a road and before you knew it we were driving on a pebble beach. Parked literally in the back of beyond, albeit with great views of the Isle Of Wight, we dumped the car on the beach and headed for the start line. (So far the event living up to its pre-race billing.)
Arriving at race HQ, a local secondary school, after a couple of miles walk from the car park, things were starting to look up. Well catered for in terms of toilets and a slick process for bag drop, getting sorted pre-race was effortless with an eagle-eyed Glenn even spotting a sign for a 'Free Massage'. Peering around the door to the room it was totally empty. Result!, we thought and duly hopped up on the tables for some pre-race therapy.
Legs warmed we were ready to go. Assembled on the start line there was a slight delay due to marshalling problems, which set back the start by 15 mins. Being the highly trained athletes that Tuff Fitty members are, we brushed off this minor inconvenience.
Then it was time. The moment the massaged legs had been waiting for. We were off. Following a two lap, out and back course, that went essentially all the way along Gosport seafront, it was very fast and pleasant with very little gradient change. With some decent sights along the way, the course even passed the Gosport hovercraft museum giving you the chance to spot the massive cross-channel whoppers from years ago. All along the course, there was some great support and well-prepared water stations. Steel bands and other music spots helped us along further still and with the weather conditions almost perfect we had stunning views across the Solent to the Isle of Wight.
Coming across the finish line we were all handed a rammed goody bag, and if you like your goody bag full of edible items you are in for a treat with this one, with the bag even featuring homemade cake! The medal though, let's be honest is what we really do it for, was a real chunker and pretty colourful to boot to.
Given the pre-race billing, I think it's fair to say that we all enjoyed the event. The route must have been changed considerably to last year as there really wasn't anything that bad about it, I'd probably go as far to say I enjoyed it more than Brighton half from a route point of view. If you are looking for a quick, fast and flat half marathon I'd recommend this one. Parking was a bit of a nightmare but that didn't overshadow the event too much and was a reasonable price to enter.
I was very pleased with my time, achieving my half marathon personal best to date, clocking in at 1hr 37mins 42secs. Glenn Parisi also had a strong race coming in under his sub-1hr 50min target at 1hr 47mins 41secs. Following Glenn was a lesser know Harvey, Paul Harvey who is a member of a club in Southampton.  Next was Trevor and then  Clive. An enjoyable day of racing had by all.
Stu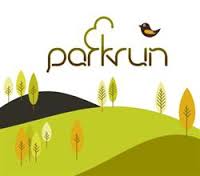 PARK RUN
Quite quiet on the Park Run front at this week. Our sole Tuff out appears to be Antony Oliver in a good 22:33 at Worthing. Perhaps he is getting his training in whilst he can pending his and Cathy's imminent arrival.