Weekend Round Up 11th 12th November
After a very quiet weekend for race action last weekend, plus atrocious weather there is an abundance of news to share this weekend:-
SUSSEX CROSS COUNTRY LEAGUE RACE #2: ARDINGLY
Adrian Oliver works tirelessly to gather teams for the Cross Country League and in addition has collated the following report and pictures of the second fixture of the XC season-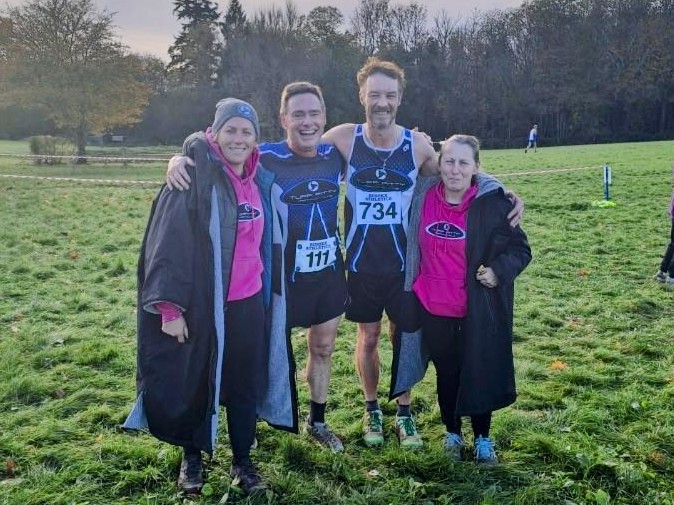 Once Ness had finished testing her coffee-proof bag, the fearless, elite and hard-core Tuff Cross Country veterans gathered in the TFCT (Tuffs Fitty Chocolate Transporter) to make their way up to Ardingly for the 2nd of the Cross Country Season's races. With the recent rain, thoughts of buffalos wallowing in mud were at the forefront of our minds. Saturday morning's early frost did not help, but as the glorious sunshine established itself, and the thoughts of post-race chocolates helped focus our minds – time to race.
Pre-registered online for the modest fee of £6, the registration was the usual process of collecting our individual race numbers. Clive had thankfully posted that the race route had been slightly changed from previous years but still consisted of a "shorter" 2km loop and a "longer" 3km loop – both loops included the same uphill slog. The ladies ran 5km consisting of one 2km and one 3km loop, while the men ran one 2km and two 3km loops.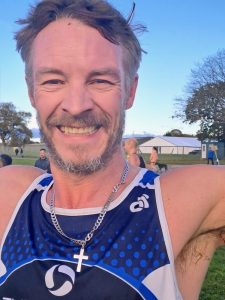 Having eyed up the usual scantily clad competition (that was just the men!), and more importantly for Simon Thistlethwaite, the chocolates, it was race start. Ness and Vicki's deep discussion was rudely interrupted by the sound of the starting pistol – off went charging some 140 gazelles across the savannah of Ardingly.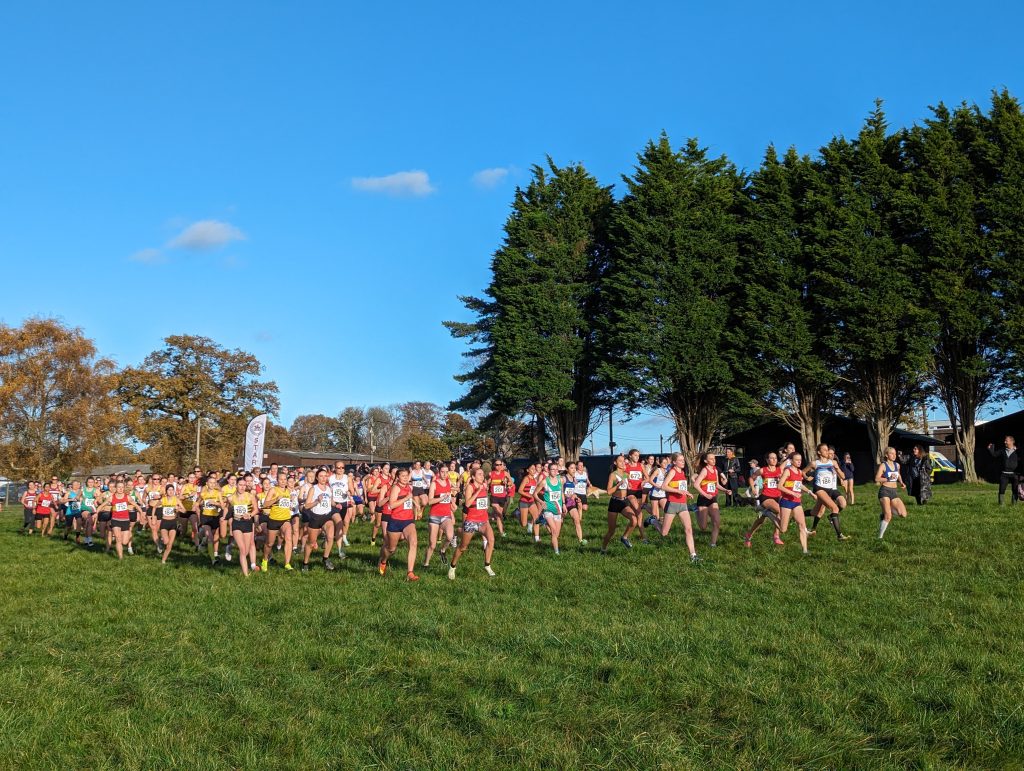 Having endured the many earlier races, the course was starting to feel more swamp-like than savannah. Despite that, Ness and Vicki kept their exhilarated smiles throughout while the leading girls and ladies turned themselves inside out for that extra place, with the winner finishing the 5km in 19:09 while Ness and Vicki finished 1 second apart in 30:55 and 30:56, 28th and 29th in the "old" category.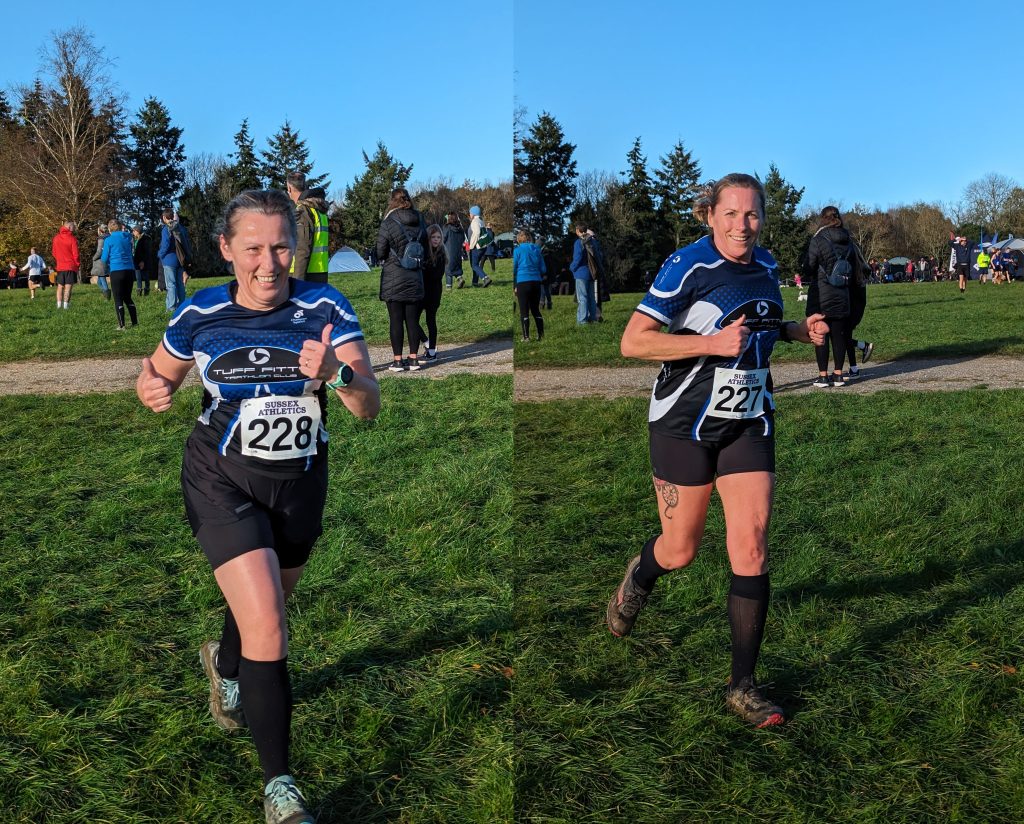 Next up were the men. Colin Simpson, racing for the competition (Brighton Pheonix where he has life-membership, having served for many years), and Adrian Oliver push their way to the back of the race, while Simon Thistlethwaite pushed to the front.

Adrian Oliver managed to avoid being lapped at the end of his 2nd lap as the first man finished their race in 25:41. Simon Thistlethwaite completed his race in 34:24, Adrian Oliver in 40:44, and Colin Simpson in 44:47, 1st in the V70 age category!
Thanks to Colin for his thoughts on the afternoon:-
"After tail walking at Littlehampton parkrun I journeyed to Ardingly for the Sussex League xc".
"I have to enter these for my first claim running club (Brighton phoenix) but also ran with a tuff vest underneath…".
"This was another 5m course of clumpy grass, hills and mud and the standard in these races is high…some of the best in the county including slim youngsters!! All the Tuff runners acquitted themselves well and were encouraged by Sue on camera and support duty…"
"When i registered my number was last on the list hinting that I was maybe the oldest in the race. It turns out there were some other over 70's but think I was first so pleased with that….albeit there were only half a dozen runners behind me !!!!" (Editors note, Colin was first in age group with the second age grouper 3 minutes behind 🙂 )
Colin
For the team results:
Ladies were 24th in Division 2, and 22nd in Vets
Mens were 18th in Division 2, and 21st in Vets
Further photos available in the Flickr album here.
The next Cross Country Race is Saturday 2nd December – yes the afternoon after the Tuff Fitty Awards Celebration. Location is Stamner Park, Brighton.
Adrian
(Editor's note) Kudos to fellow Tuff Steve Feest who was in attendance with his running club – Worthing Gazelles – the new name of Goring Road Runners.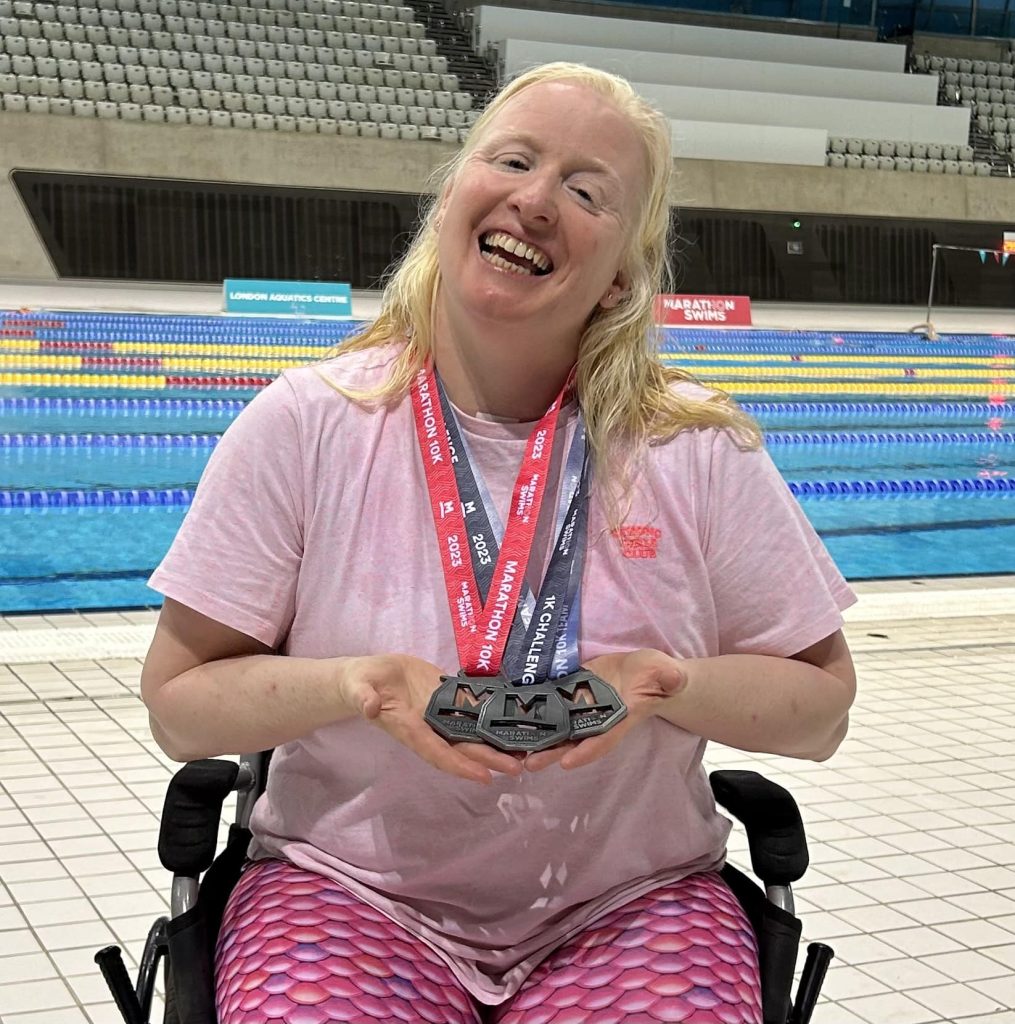 Helen Bull
LONDON MARATHON SWIMS
Billed as the ultimate swimming challenge, this Swimming Marathon was held at the London Aquatic Centre in the Queen Elizabeth Olympic Park. The distances range from the ultimate Marathon swim 10k (10 course laps), Half Marathon 5k (5 laps) and the 1k Challenge (1 lap). Each competitor wears a timing chip as they are timed into the pool for the snake swim format across the lanes until the exit at the far side. In the Team 10k Relay we had four illustrious Tuffs (in alphabetical order) Angela Barber, Helen Bull, Will King & Katie Young where each swimmer notched up 5km. This 'Fantastic Four' also tackled the individual 1k swim where Angela was 2nd in her age group, Helen was third in her age group, Will 6th in his age group, and a tremendous swim by Katie, as she swam home 2nd overall and 1st in her age group. Helen then went for the treble swimming the individual 10k to amass an amazing 16k and she still had strength in her arms to pen the report below. It was also pleasing to see Oliver Thomas at the aquatic centre. Whilst he has had a busy few months which conspired to keep him out of regular swim sessions he still jumped in and swam 7.5k straight out the box. Inspiring work from the Tuff quintet; inspired? well 'registration of interest' is already open for 2024.
"My friends are used to me doing stupid things but I think even they are starting to get smart when I ask if they fancy 'a little trip out'! Some how we all ended up doing multiple events last week at the London Aquatics Centre as part of the 2023 Marathon Swims event. Will, Katie & Angela all did 6km – made up of an individual 1km and 5km as part of a 10km Team Relay. It is an awesome event & a staple in my annual events calendar. The atmosphere is always buzzing, competitors all supporting each other & endless reminders of all the incredible history that this pool has seen. I decided to take on 16km which is the furthest I've swam in a single day. Really couldn't have done it without the incredible hands on support of Angela, Will and Katie. I got kicked hard in the elbow in one of the early kms as I was over taking someone which nearly scuppered things but thankfully completed it. Go large or go home right?!?
Helen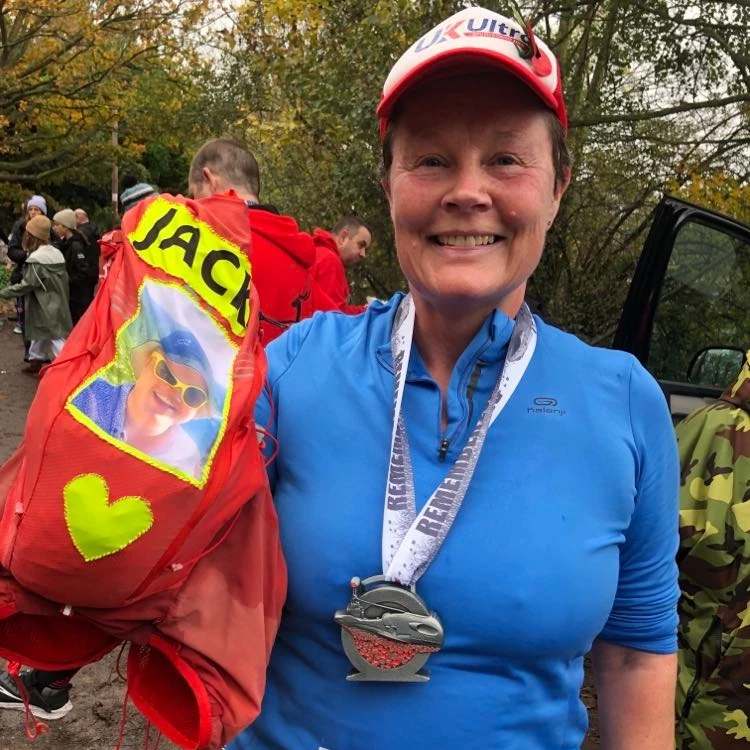 Wendy Kane
PHOENIX REMEMBRANCE HALF MARATHON
For those that like a big medal Phoenix Running always deliver chunky bling. The off road trail course, along the Thames towpath, used laps to build either a half or full marathon. There were over 350 participants and our representative was Wendy Kane who ran the half in memory of a very special person, her son Jack. Thanks to Wendy for sharing her very poignant morning race.
On Remembrance Sunday I took part in the Phoenix Remembrance Half Marathon. The day had a very special meaning for me too as it would have been my son Jack's 29th birthday and on the 7th November it was 7 years since we lost him, So this seemed like the perfect tribute run. There was the choice of a half marathon or marathon and the course was set along the canal path of the Thames in Walton-on-Thames, 2 laps for the half and 4 laps for the full. A very relaxed and friendly event with a fantastic aid station full with cakes and sweets! The klaxon sounded at 11am and the whole race stopped and everyone stood still for the 2 minute silence. This gave the race such a special feel for everyone. The medal was a very special memento of the day and also the heaviest medal I've ever had, come across, about an inch thick!
Wendy
TEAM GB AGE GROUP QUALIFICATION
2023 has been a great year for members of Tuff Fitty racing in the Great Britain age group teams, including some for the first time. As members will have seen your club will be running a seminar to explain exactly what is entailed once you have sought out qualification races. More details on this initiative soon, but we are delighted that two more Tuffs have been notified that they have qualified to race next year – more terrific news.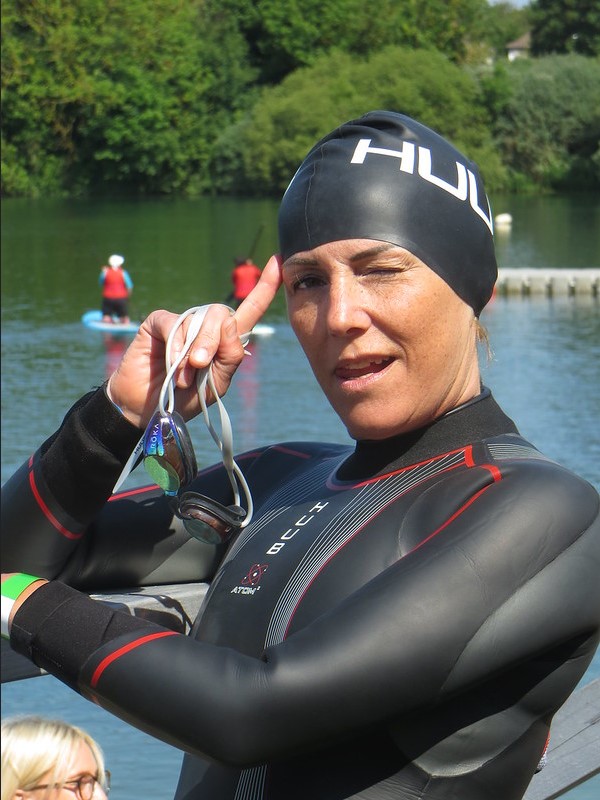 CAREY WOODS
Carey has had a great 2023 season and as well as currently working on her BTF coaching qualifications, she did rather well in September's Brighton & Hove Triathlon racing the Aquathlon event. Carey raced the Sprint Aquathlon and finished 3rd female overall and 1st in her age group which has earnt her qualification.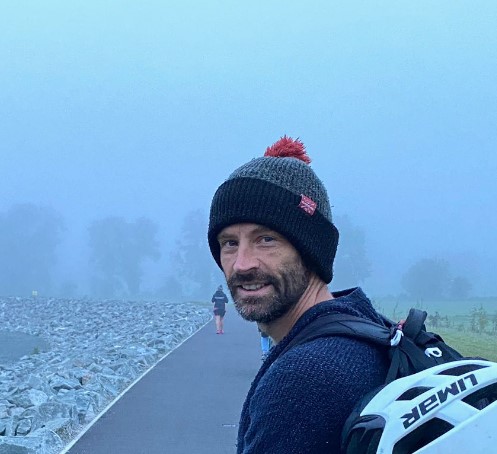 JON CASSELL
Jon travelled to Wales for the Lake Bala Triathlon, also in September to race across the Standard distance Triathlon. Unfortunately thick mist meant the event was turned into a Duathlon. Jon had a great race, and as we know, is a great swimmer, but missing this discipline there was quite a delay whilst the qualification slots were allocated. So it is fantastic news to report he is heading off to the European Standard distance Triathlon Championships in 2024. Jon is another Tuff who has completed a great 2023, not only in his racing but also as he is already well into his Tuff coaching career having qualified earlier this year.
Huge congratulations to both Carey & Jon on their success and good luck for their GB adventures in 2024.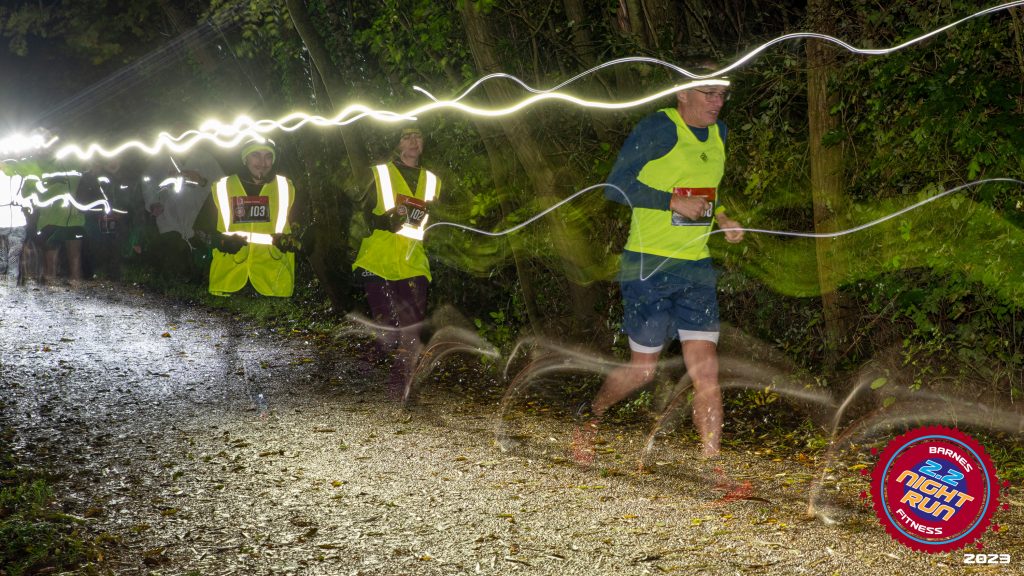 DINTON COUNTRY PARK HEAD TORCH RUN
Trevor Harvey was out in the recent poor weather at Dinton Country Park and he has reported in:-
A headtorch run at Wokingham was cancelled a couple of weeks ago due to storms. As such, it was rescheduled and at a days notice, having checked the weather forecast I entered.
The forecast was wrong – on the day it was bitterly cold and p***ing down. As such there were a lot of no shows, but still plenty for the two races – a) as many 2.2 mile laps of the lakes in Dinton Country Park that you could undertake in 1 hr 22 minutes, and b) a 5.1 mile two lapper around the lake. I elected the 5 miler.
Well organised, with a florescent medal and fruit at the end…and luckily showers to clean and warm up afterwards…….just as the rain eased!
Trevor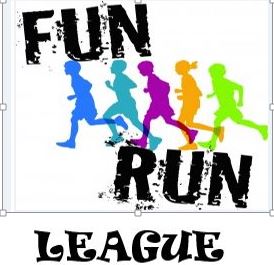 GUNPOWDER TROT
The Gunpowder Trot is a staple fixture of the West Sussex Fun Run League at Horsham. A 4.5 miles course on mixed terrain around an undulating course. This year there were two members running. In a strong finish time Colin Simpson was flying the Tuff flag and Steve Feest ran under his running club banner. Colin reports:-
"On Sunday 4th as part of my drive to get fitter this winter I decided to enter the fun run league gunpowder trot at Denne park Horsham. This is a course well known to me as the Sussex masters xc champs used to be held there. I therefore knew it would be muddy and hilly…and it was.. I ran as a Tuff; has the club considered entering this league? All the runs tend to be 'Tuff' so ideal for triathletes."
"I declined the option of flying up the first 1 in 3 hill with the leaders and settled into mid pack….where I stayed ! Not disappointed with my run but aware that I need more hill work and longer runs to complement my flat parkruns…
Colin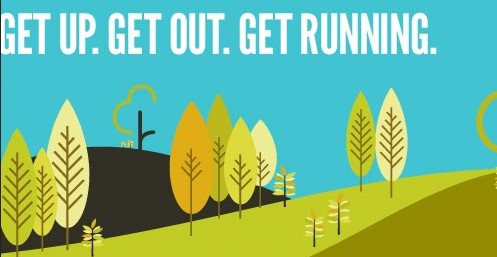 PARKRUN ROUND UP
SATURDAY 4th November
Storm Ciaran had swept through at the end of week making many seafront parkrun courses impassable. Some intrepid volunteers were out on Friday to clear the shingle including three Intrepid Tuffs. Unfortunately another band of rain swept in with Worthing & Bognor parkruns cancelling the evening before, with Littlehampton, Lancing & Hove Prom aborting theirs on Saturday morning. Colin Simpson provides more details on the new parkrun discipline of shingle shifting:-
Fri 3rd Nov…a few of us Sue (Simpson) Alistair Evans, and myself joined others to sweep the pebbles off the seafront for parkrun but unfortunately the weather cancelled all the seafront parkruns ….so no time to find a replacement
Colin
There were just Three Tuff parkrunners this week. We must start with a super run at Itchen Valley Country Park parkrun. James Mapley ran this one and promptly romped home in FRIST position overall. Whilst a one lap course, the route covered a bridle path, lots of technical turns and forest trails. Splattered in mud, James completed the course 14 seconds ahead of the second placed runner. Up at Maidenhead parkrun numbers were understandably the lowest for three months but Trevor Harvey ran at his home parkrun.
Torrential rain was falling at Preston Park parkrun but as 9am approached with runners sheltering under the pavilion, the rain stopped. Clive Harvey was on the start line on this course and it remained dry & mild for the duration of the run, so it was just a case of puddle hopping before the rain returned on the drive home.
SATURDAY 11th November
What a difference a week makes; whilst the temperature had dropped significantly, at least the sun was shining for this weeks parkrunners.
Littlehampton parkrun saw the largest Tuff roll call this week; a week which saw a new course record of just 15:00, an improvement of 2 seconds. Our runners were Sue Simpson, Alastair Evans, Chris Evans, and Colin Simpson who also earnt a volunteer credit for being tailwalker, saving himself for the afternoon's cross country. Kudos to Fraser Kidd who was also in attendance earning a volunteer credit for pre-course set up. Well done to all five.
Bognor parkrun in common with the other venues saw much larger attendance numbers with the more suitable conditions. Running here were Clive Harvey & Jason Rae.
Worthing parkrun unusually saw just one Tuff run in the calm but sunny conditions. Edward Lay showed it was a case of quality over quantity finishing in a swift 21:52
Maidenhead parkrun further inland saw temperatures of 3 degrees and overnight ice but Trevor Harvey made it out to his home parkrun.
We just had one instance of parkrun tourism this week. Netley Abbey parkrun was the choice of Nathan Bilham. Held in Royal Victoria Country Park on the edge of the Solent in Hamble. This was Nathan's first visit here adding to his tourism total.
well done to all thirteen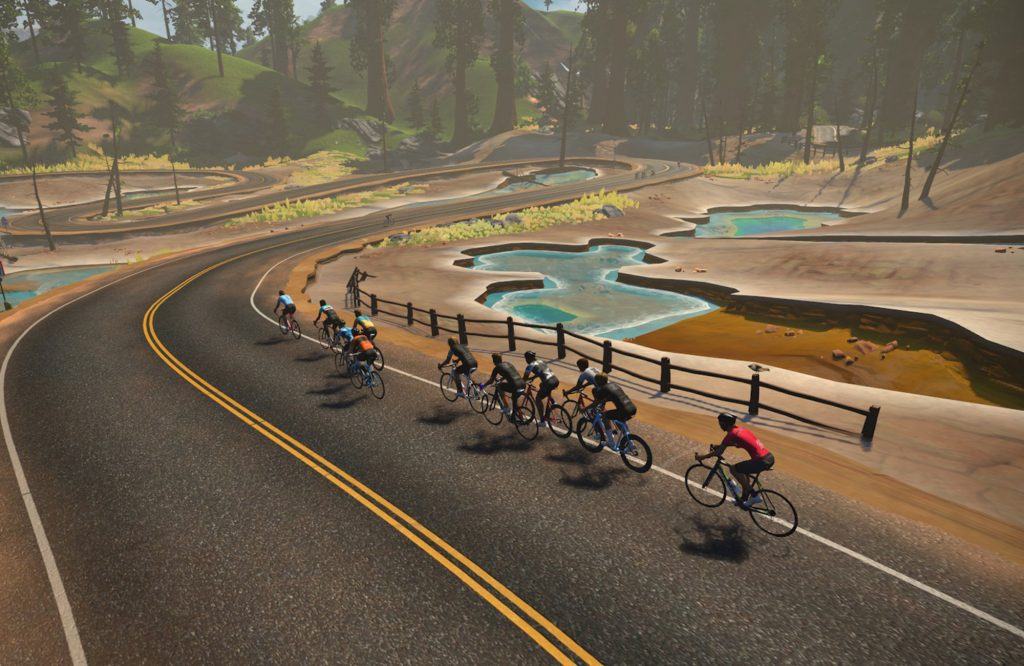 TUFF ZWIFT RIDES
Tuff Fitty's regular Tuesday evening Zwift sessions are well established again for the winter season. Our club has many people who subscribe to Zwift so why not jump in the saddle and join in?. There are a few misconceptions to dispel. Firstly that as all the rides are set up in our own Club ride only your fellow Tuff riders will be on screen. Significantly there is a band that groups all our riders together. Your power output will be accurate but provided you keep pedalling the Tuff peloton keeps all the riders together so to those club members who are reticent thinking, "I'll never keep up" come and have a go, we are kept together. If you haven't logged on to the Tuff Ride leader, there are guidance notes on the Spond event. More importantly all the riders already signed up really would like to welcome more in the saddle – there is plenty of experience regarding set up so let us know, ideally in advance, and guidance can be given to get the ride ready for you for the 6:30pm pedal off. There is a Discord link which can be a useful aid to the hour's session so people can interact on the ride. Discord is purely optional. You may like to use Discord and join in the chat, Use Discord to get advice as you sign up for the ride and then go on mute or turn off, or simply ignore Discord and enjoy the ride quietly or perhaps your own choice of music. TUff Fitty look forward to seeing more in the saddle this week 'cos as the saying goes; Winter Miles, Summer Smiles'