Weekend Round Up 28th 29th October
The end of British Summertime, (and poor weather) this weekend didn't stop a lot of Tuffs getting out and about.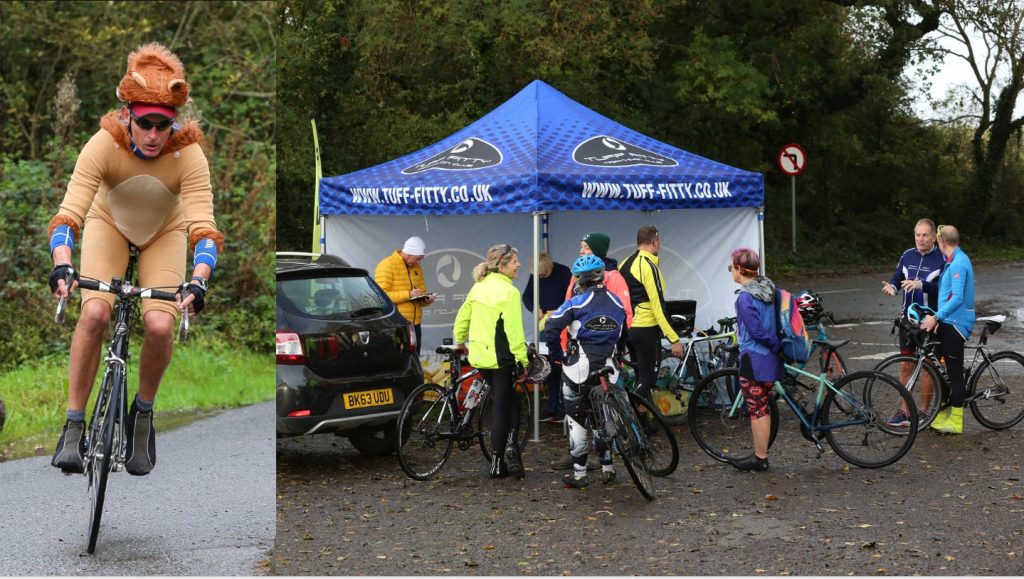 TUFF FITTY'S HILL CLIMB
A recce of a new session for Tuff's – our inaugural cycle hill climb was successfully completed on the 8th October and the scene was set for the event to be fully rolled out this weekend. Sandwiched between Storms Babet & Ciaran, the rain provided the course with a good soaking beforehand. Thanks to event organiser Mike Barrett as his logistical skills seem to include the weather as Sunday morning dawned to reveal dry race conditions.
It was gratifying to see a good turnout and after the riders had tested the half mile route to see what was entailed, Mike explained how the event would unfold. With communications open between Mike at the finish line and Iris Bennett at the start riders were set off at minute intervals. Riders were also given the option of being held by Clive Harvey clipped into the saddle ready to power off the line.
Our intrepid climbers in alphabetical order were Bary Davids, Chris Evans, Claire Moyle, Ed Lay, Emma Kuusela, James Togneri, Janet Shepherd, Liane Davids, Mouse Reilly, Ollie McDonald, Simon Thistlethwaite,  Tom Frith, Tom Goddard & Verity Lacey.  Clive undertook one run and Adrian Oliver kept arriving all round the course on his Brompton bike, videoing, and squeezed in a timed climb, doing rather well on the time sheets despite his choice of steed.
First three gents up the hill, l to r – Tom Frith, James Togneri & Ollie McDonald –
There were terrific times from our riders. In the men's race, the above three pictured, Tom, James & Ollie, crossed the line just one second apart. Tom holds our Tuff course record of 1 minute 41 second with James & Ollie so, so close behind, both on 1:42. Tom Goddard wasn't to be left out as he stormed up the hill in an aero position in 1:44. Special mention must go to our ' King of the Climb' Tom Frith as he entered into the spirit of the event dressed as a Lion. Everyone was worried as to whether Tom's tail would get caught in his spokes, but he proved to be the "mane man"'!.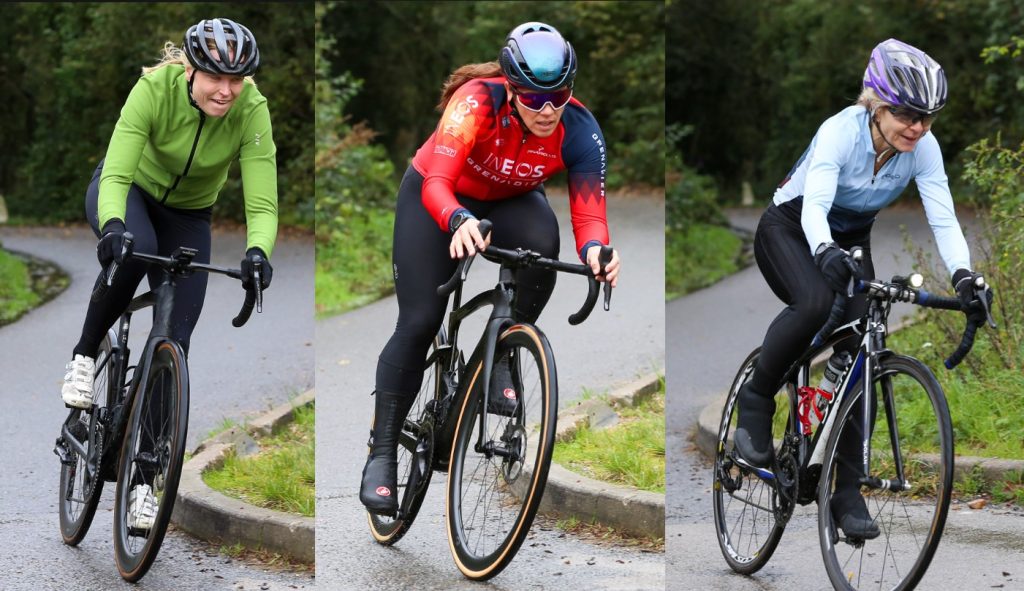 First three ladies – l to r Emma Kuusela, Verity Lacey & Liane Davids
The ladies were not hanging about either with some scorching times up Swillage Lane. Emma Kuusela has set the ladies record at 1 minute 52 seconds. Why record the times here? Well the positive feedback has been so strong that Tuff Fitty's hill climb will return when no doubt more Tuffs will be fancying their chances to trim these times.
Not everyone was able to ride for a variety of reasons, injury or other commitments yet it was pleasing to see several more turn up to support and assist in making the session a great success. Andy Gomm, Jon Roper, who was busy with his camera; pics below, Les Pearce, Mark Walford & Tiff Orton,
Back on the finish line the Tuff Gazebo was a hive of activity led by Jenny Oliver who was cooking the superb breakfast baps for the hungry attendees. Egg, or bacon or sausage, or 'oh go on then, all three'. Tiff was helping to keep the tea and coffee flowing. Just as Breakfast (seconds) were being finished the rain started to move in which meant soggy canvas had to be loaded into Adrian's car; and those who had ridden to the start would get a soaking on their ride home.
Thank you to everyone who made the event a success, but especially Mike and Iris for the excellent organisation; Jenny and Adrian for the large logistical operation both before, during and after, cooking, washing and drying everything.
Click on the photo below for a compilation of the photos and video.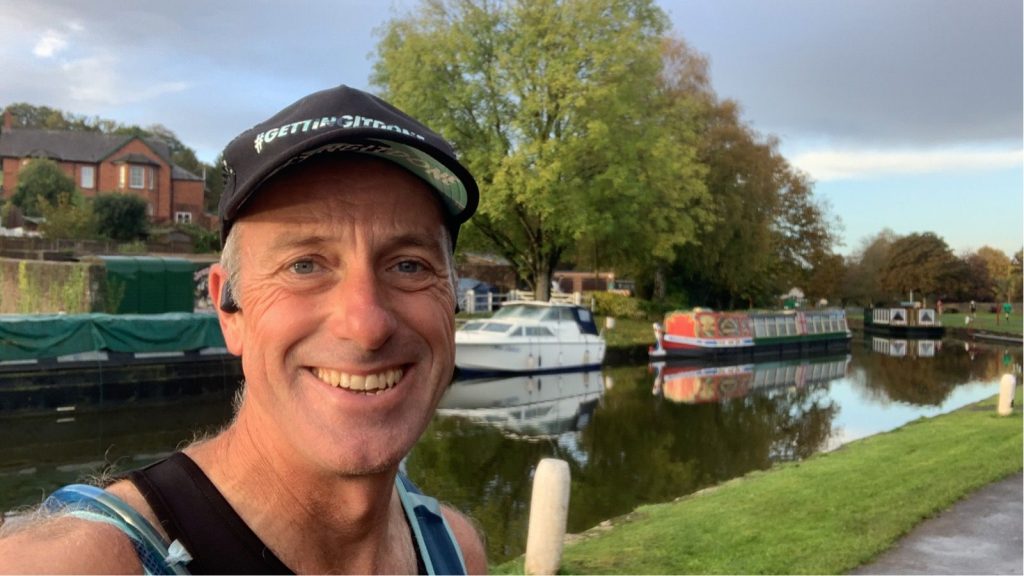 Steve
GRAND CANAL CANTER
Starting in Tiverton at the canal basin, there are a choice of distances along the Grand Western canal. As our runner was Steve Fryer, it was perhaps expected he choose to race the marathon, which was a two lapper along the canal, and off the back of his recent Ultra ran well finishing 3rd in his age group – with Steve reporting:-
"I must say I love this part of the country. It's a great event with a choice of distance 10k, half marathon, and the full marathon. Along the great western canal footpath. From Tiverton to Stamford Peverell. Twice for the full. It's run twice a year spring and autumn, I ran it in the spring in 4.04. I managed to knock it down to 3.52. Unfortunately I hobbled home, cramping up after running an ultra marathon 2 weeks before. Highly recommend if you fancy a weekend away in Devon"
Steve
COACHING QUALIFICATIONS
We are delighted that five of our members are now well underway working through requirements to gain, or upgrade their British Triathlon qualifications. We look forward to formally announcing these once they have qualified. There is good news to report already in respect of Dave March and Liane Davids.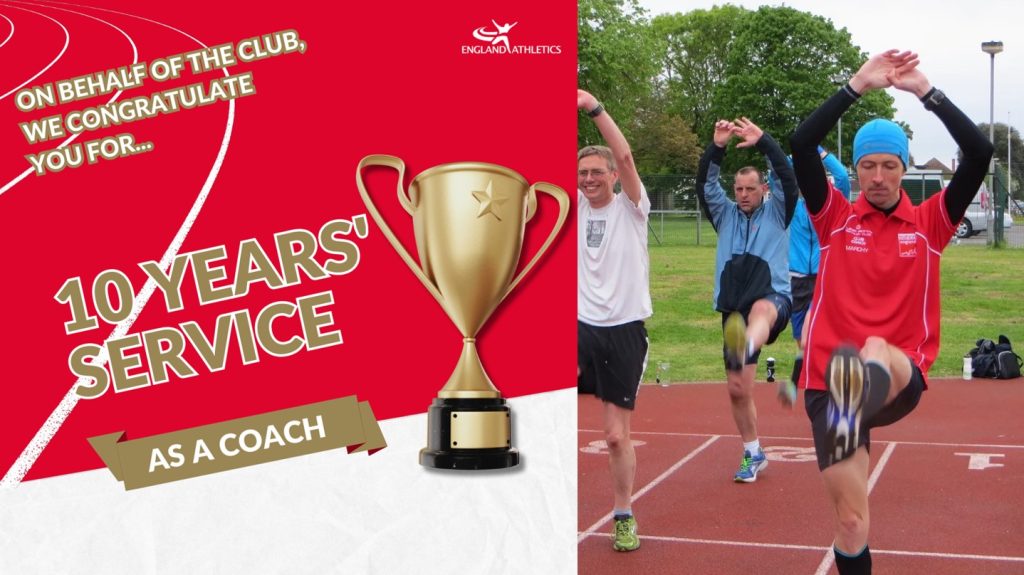 Dave March (hope he doesn't mind the photo where he was leading track back in May 2016!)
It was in 2012 when Dave March became a Tuff, as he stated then, to help his prep for the Brighton Marathon. At that time he probably didn't anticipate getting so heavily into coaching, but that's what he did, becoming such a huge asset as a coach as well as such a valued Tuff. The timing of this write up is that Marchy's achievement as a coach have just been recognised by England Athletics having completed 10 years. In fact when Dave first joined our club he was already an accredited England Athletics run leader, so his experience started before then. With various changes to our coaching schedules there was a long period where Dave was our sole track coach. Not content with the EA coaching badge he has continually researched ideas for our benefit. On behalf of us all, congratulations Marchy on your huge contribution, support and guidance.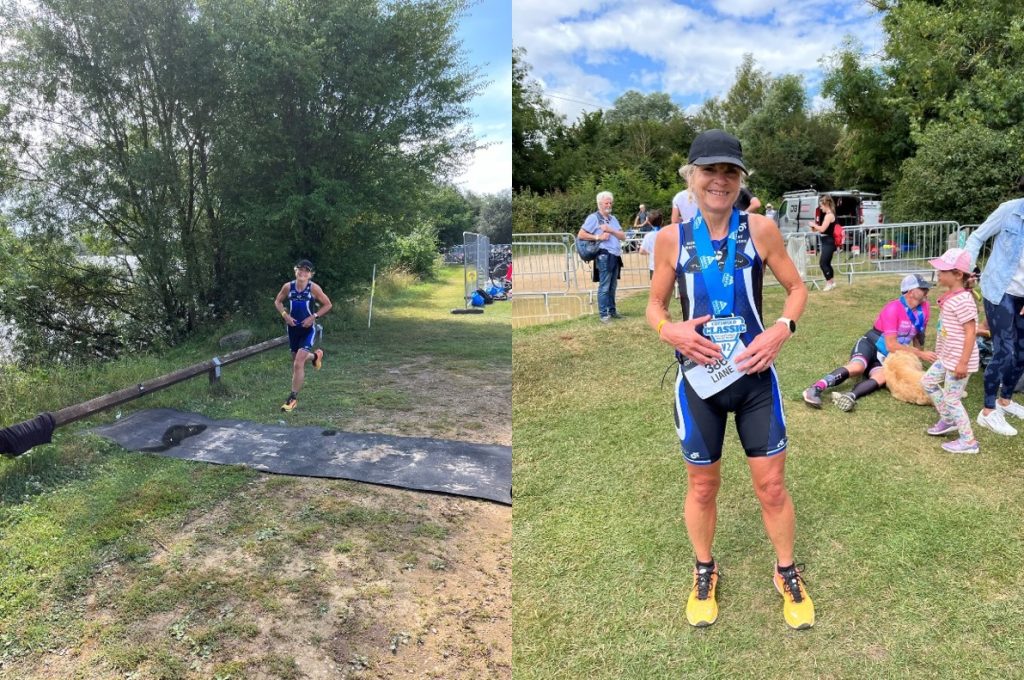 We are also delighted to share the news that Liane Davids has successfully passed her Run Leader qualification with England Athletics. This qualification is just one of several qualifications Liane already holds relating to her personal training and spinning work. Liane has been central to the highly successful strength and conditioning sessions held on track, along with Barry & Leah which received so much acclaim. Congratulations Liane and thank you for taking this course for our benefit.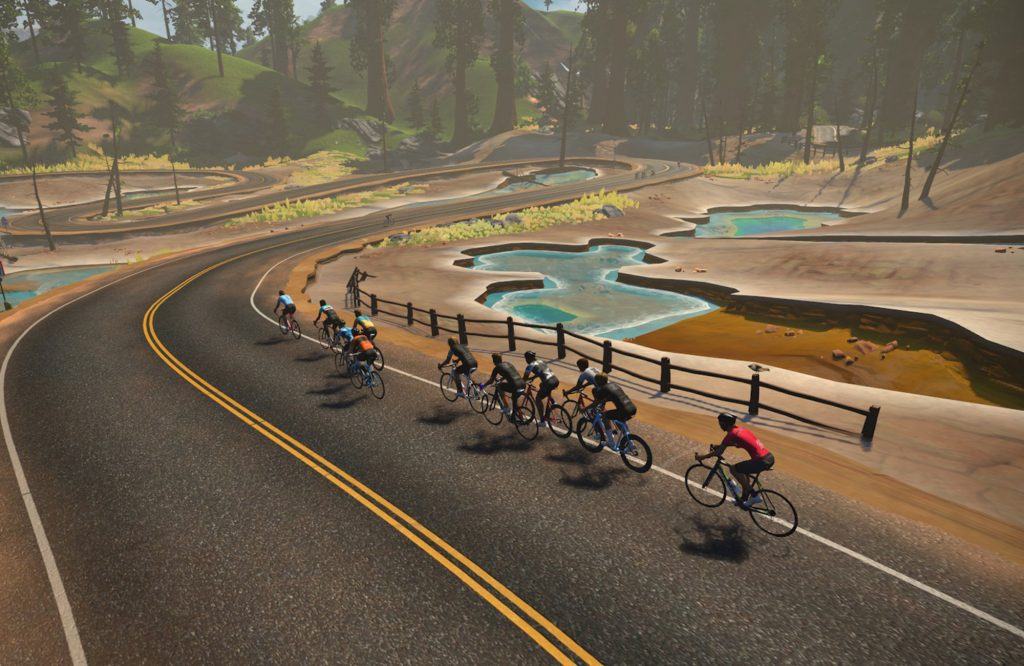 ZWIFT RIDING
January 2023 was a significant milestone as that signified the 100th Zwift club ride. Such rides continued through until our traditional Summer break and we have been extremely grateful to Richard Hobbs for setting these up and leading the rides. As the darker, cooler nights return, Tuff Fitty's regular Tuesday Zwift rides have resumed at 6:30pm and steadily over the last couple of years gradually more and more have been migrating onto Zwift. If you have a basic turbo trainer and are prepared to pay the monthly subscription, Zwift is a brilliant way to deliver on the 'Winter miles, summer smiles' mantra. There is plenty of experience within our club for those who wish to find out what equipment you need. Registering has changed slightly in that participants now need to 'find Zwifters' of Tuff Fitty to join the notfications. Coinciding with Tuff's Autumn Zwift rides resuming we have received a report from Mark Sole who nicely extolls the motivation of Zwift on one of his challenges:-
FRR – FLAMME ROUGE RACING – ZWIFT TOUR
8 stages in 9 days, with a total riding over 400km with 6,128 metres. It's a tour where they try to design it to be hard but do-able with normal lives.
Stage 1 – 56km 578m Stage 2 – 62km 483m Stage 3 – ITT- 42km 195m Stage 4 – 45km 309m Stage 5 – ITT – 25km 515m Stage 6 – 37km 1622m Stage 7 – 93km 2177m Stage 8 – 43km 249m You don't have to complete all of them, it's mainly about team points, after 2 rounds I found that I was leading time for the GC in my class, so I thought ok, I'll see how tomorrow goes!! That went OK but then the next day was Beccas birthday, I had the day off work, she was saying to ride, but I decided not to complete the stage that day, I was 2 seconds behind, but heading to more climbing, the new leader was 10kg lighter, what chance did I stand in the mountains! However, the last race each day was 0230hrs. The next day, I just happened to wake up at 0215hrs, so jumped into the garage and on the bike. So I gave it a go, which made work fun! But the GC was back on. I pulled out a bit of a gap, managing to hold max watts per kilo for the class. Then the next day it was ventoux where somehow I took a 10 minute lead! So after that I was assigned a domestique, to draft the flat bits of the five horseman route, which is for when the four horseman route isn't hard enough!! You complete a hilly kom, then with volcano, epic, Alpe du Zwift, then to the hilly kom. My assistant was superb, in the flats he was holding 3w/kg, so with me in the draft I was around 2.5 meaning I could push the hills!! Any way, I managed to win overall by about 48 mins and took the polka shot jersey!! There is another tour at the end of November. Its hard, but good fun and a different challenge. If anyone wants to join the next one (you don't have to complete them all), give me a shout. Have a look at www.flammerougeracing.com
Mark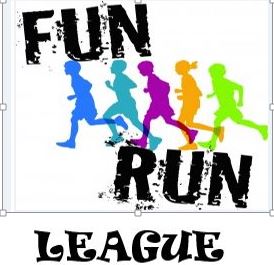 STEEPDOWN CHALLENGE
Well done to Kate Cooper who ran the Steepdown Challenge and to Elaine Rousseau on the marshalling team. Starting from Lancing Manor Leisure Centre, (a venue many Tuffs will know from a previous cross country course) the route is just 5 miles but packs 172 metre climb to Steepdown Trig point.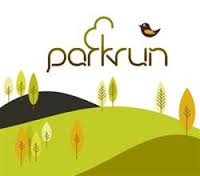 PARKRUN ROUND UP
Whilst Littlehampton parkrun was cancelled in advance because the promenade was being prepared for the (cancelled) bonfire, Bognor was called off on Saturday morning due to the puddles and overnight rain. Two local venues down and atrocious weather no doubt caused the lowest number of Tuff parkrunning this year with 'tourism' almost getting top billing
Worthing parkrun did go ahead in atrocious conditions and running were Steve Feest with Edward Lay just behind.
Maidenhead parkrun saw Trevor Harvey gain a volunteer credit for pre course set up and a run credit for completing the course just before rain hit Berkshire.
Clive Harvey attended Hove Park parkrun and whilst this was around wide paths, the venue was no escape from torrential rain & wind with water flowing across the undulating route.
Furthest tourism this week saw Sue and Colin Simpson run at Southall parkrun. Situated between the M40 & M4, this was Colin & Sue's 446th parkrun between them – most impressive. This took the tally of the total number of different parkrun locations completed by Colin up to 76 with Sue not far behind – now that's parkrun tourism. 🙂 Colin has reported in as follows:-
"Whilst visiting an old school friend for his 70th birthday….Sue and i decided to try out the local parkrun…"
"This was Southall parkrun located about 1 mile from where I spent my school years so well known to me albeit the area has changed a lot (not for the better!!!)"
"The parkrun is in a lovely park (no toilets though!!) and is 3 flattish laps of a twisty loop mostly on tarmac… it was damp and slippery with leaves but at least no gale force winds. Quite a low key event with only 69 finishers this week and i had a good run in 21st …24.40. Sue decided to volunteer as the tailwalker with our dog which was appreciated…there was an abundance of squirrels to keep Diggy occupied but also numerous rats scurrying around oblivious to all except for Sue' shrieks!!! Maybe take our cats next time…"
"Back to a nice wet and windy prom next Saturday…"
Colin
Well done to all six
Saturday 14th October is the date for the second fixture in the Sussex Cross Country league – this time at Ardingly. Tuffs required for the ladies (5k route) & Gents (8k route) please with start times 2:05 and 2:35pm respectively.
Bookings are now open for Tuff's Resolution 'Power Hour' swim held at Littlehampton Wave on the 6th January 2024. The event will no doubt fill so if you want to kick start your swim training for 2024. do please click on the Resolution Spond Event to attend. (usual swim fees apply). The format will see pre-allocated teams punch out continuous 25m swims in a rotating relay format for the hour to see which team can prevail.