Ironman 70.3 Stafford & Cotswold
It has been another busy weekend for Tuff Fitty members, so yet again we need to break down the action into two parts. This round up covers the Middle distance events.  At Cotswold 113 Middle Distance Triathlon, held at Ashton Keynes Water Park, a Tuff duo did well:-  Phil Baker & Steve Cathcart.
Up at Ironman 70.3 Staffordshire,   Tuff Fitty had four competitors, Alister Marchant, Craig Hunter, Clive & Nicole Patterson-Lett.  Great work from Alister in completing, despite work pressure keeping him away from training sessions.
The first report is from Nicole covering Stafford and then Phil from his race near Cirencester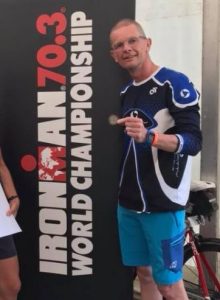 IRONMAN 70.3 STAFFORDSHIRE
We booked Staffordshire 70.3 ages ago – just checked, it was right back in Sept 2017!
Anyway it was based at the picturesque Shugborough Estate, we'd have the new motorhome by then and it was a practice run at the distance before most of Tuff Fitty head off for the Weymouth 70.3 in September.
By the beginning of this year the course had been changed dramatically (not the swim bit!) and we now had a very split transition. Apparently last year's race left too much mess at the site, the National Trust have taken it over from the council and were having none of that. Bit short sighted in my view given their target market is dying out but hey!
The good points:
– We caught up with the legend that is Craig Hunter (of Kona & Tuff Fitty Q&A night fame) at racking and despite racing ridiculously fast he made time for an encouraging shout for me on the run, and no doubt a sarcastic comment for Clive.
– Clive PL had a great swim – getting a bit close for my liking – and managed an uninhibited one whilst I took a bad line and got battered quite a bit.
– Clive PL had an awesome bike, really strong given the atrocious road surface, continuous hills and lot of tight corners (even more exclamation marks on the course signage than in this race report!!!!)
– I got round the run course keeping strictly to 3min run/1min walk watch beeps – more than 30 times through and then a run (of sorts) for the finish line. All in my new 'special' shoes!
– The giveaway bag was quite decent for a 70.3
– Lucy Gossage (filed under awesome/ girl-crush etc.) is a friend of a friend, so we all struck up conversation … I must now be a friend by proxy as she said bye to me after the awards ceremony – super-star-struck! [However, I did beat her again in the swim!]
– Clive PL fulfilled an ambition he thought he might have to bin following his bike accident 3yrs ago, and qualified for the 70.3 World Champs in South Africa this September (very proud wife).
The less good points:
– Along with most of the other competitors we spent Saturday trying to suss out the logistical nightmare that was dropping bags and bikes off at various far flung locations, where you had to park even further out from each. (Plus we had Eddy the motorhome, so we had to double check for height barriers each time!)
– The(essential) briefing was a TV in a tent, the info was downloaded hrs later than programmed and then it was just a PPT presentation of what we already had on email
– The swim start was delayed by an hr because of fog … and there was talk of cancelling the swim (!)
– The first 10 miles of the bike had lots of massive pot holes, speed bumps, gravel and very tight turns, plus you had to weave round all the nutrition, bottles and puncture repair kit that was flying off bikes, and look out for the drafting packs of 'non-swimmer bikers' that were hurtling past.
– The next 45 miles of the bike were very technical, steep (tough up and scary down!) and there were lots of 'offs', though thankfully not Clive, Craig or me.
– Once onto the run it was impossible to get into any rhythm as to make up 13 miles through the town centre of Stafford we just did loads of mini out and backs round cones and tight corners. You saw lots of other runners all the time but our Strava animal shape (Chris Robinson!) would have been akin to a spiky hedgehog!
– The awards ceremony was delayed by over an hour, nobody official had a reason why, and they still played lots of video footage of the event we had just done for the first half hr. Then we were told all about the delayed start, the tricky course, how wonderful everyone was etc. … we were there!!
The real points:
– We both completed (that was the extent of my goal this time) and finished with smiles, groans, hugs and tears.
– The medal is pretty chunky
– Met up with loads of great friends we hadn't seen for a long time including ex-Tuff Russ Reardon, Andrea and their lovely family who kindly put their BBQ on hold 'til late Saturday night so that we could join them. And Julie & Pete – she won her age group! – who are sooo much fun, and have qualified for the World Champs in S.Africa too, so we're having evening FaceTime calls to work out logistics now.
– Had another great adventure in Eddy the Motorhome.
– Lots to learn from and try to get right for future 70.3's (i.e. for Clive pacing, for me – run for a bit longer, don't keep daydreaming and looking at nice houses on the bike course, don't leave the bike garmins in the van, try not to lose your bright pink bike and spend nearly 8mins in transition running up and down the racks like a crazy lady … I could go on! )
Nic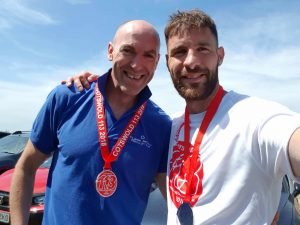 COTSWOLD 113 70.3 TRIATHLON 
Signed up for this half iron distance race in preparation for the Outlaw in late July. Seven weeks until the big one, so ideally timed to break up the training and a much needed test of progress. One of our newer Tuffs, Steve Cathcart (also doing Outlaw) was doing the race too. Wasn't quite sure how to play this one. Training load has been high since the New Forest Sportive/Brighton Marathon weekend. Lots of double ride weekends, decent amount on the TT and been hitting the hills hard. Gran Fondo Sportive last weekend as well. Recently, I've not been swimming great, but OK. Running has been steady but slow. Biking on the other hand has been strong, so there was a very strong temptation to smash bike. Up at 03:20 to get a light breakfast down with a strong coffee. I was in wave 4 of 8 with a start time of 06:30. Whilst the customary faffing in transition was under way, it was announced that the start time was being put back 30mims to allow the fog on the lake to clear. I hadn't noticed to be honest, I was in my own bubble. No worries, extra time to queue for the loo. Another announcement, a further hours delay! Now an 08:00 start and it may be 08:30 they said…..and maybe a reduced swim of 300m. Not great. It was cold so walked the half mile back to the car. Met up with Steve and discussed tactics. Not race tactics, food tactics. Do we eat more? I'd finished a light breakfast before 4am and by 8 or 8:30 I'd be starving, but the only thing i could get down was a few ShotBloks. Coffee would have worn off as well. I resigned myself to go with the flow and make the best of whatever transpired. What will be will be. Fog did lift and at 08:00 I was off. Wave 4 of 8 with about 120 in each wave. Had a pretty good swim, coming out to a split of 37:51mins. Out onto the bike. Still cold and it took a good few miles to warm up. The course is flat with just one decent hill on each of the two laps. Resisted the urge to blast it, plan was to hold back to pace it evenly. Felt comfortable and holding a good speed. No need to burn any matches, I would need them later, no doubt. Bike course was a tad short at 54.6miles by my gps and Strava confirmed it. Strava also told me (Strava segments for total course and for each lap) I had done the second lap 29 seconds faster than the first. Perfect. 2hr 48mins with a 19.5mph average. Took a mile or two to run off the solid quads out of T2 and settled into a steady pace. The run was a mix of lakeside paths and roads, but was now into the heat of the day and the sun out. Great crowd support and the marshals were encouraging all the runners. The event had a lovely feel to it. Professional, super slick, but very friendly and personal. Got slower as halfway passed, but pressed on to finish the run in 2hr 02mims and a finish time of 5hr 36mins. A PB by just over an hour. Felt really good to put some recent disappointing tri results in the past. I'd seen Steve on the run and given him some words of encouragement, which must have helped as he scorched it in 4hr 56mins. A highly recommended event.
Cheers
Phil B.