Weekend Round Up 2nd 3rd September
Phew, it's warm out there but still no let up from some great Tuff action as follows:- .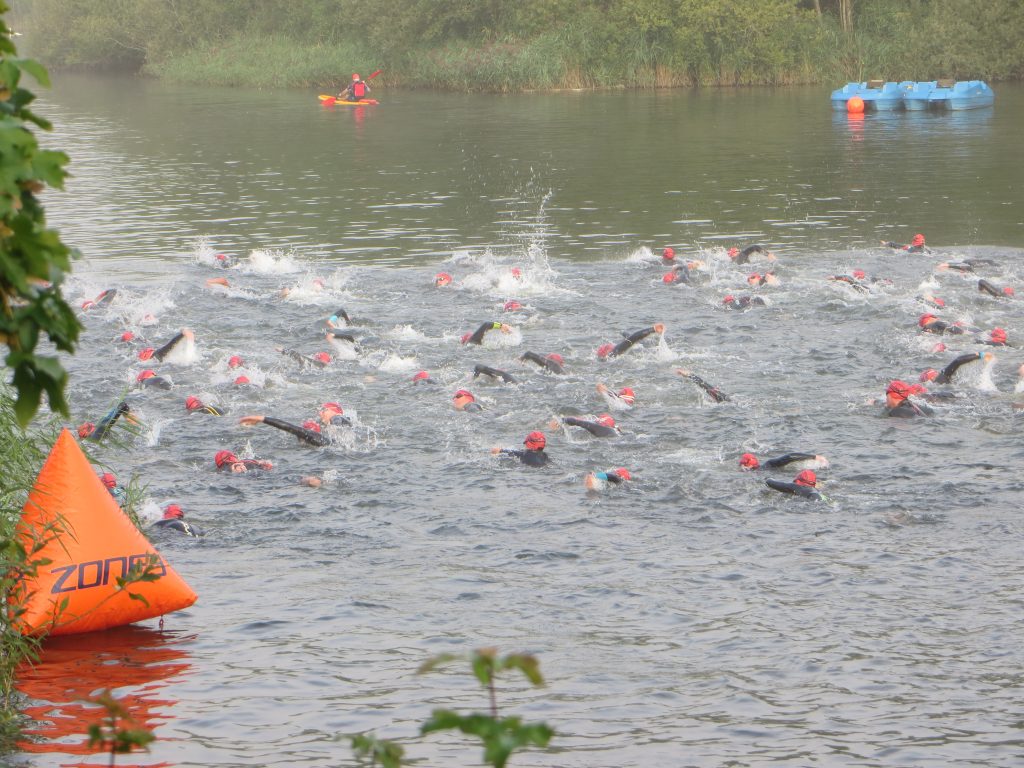 SOUTHWATER RELAYS
As everyone converged on Southwater Lake, low lying mist gave rise to thoughts as to whether the start would be delayed. However it cleared to return clear blue skies in time for the 8am start; From that point the heat continued to build, especially when the third leg athletes were out on the course. The move in recent years to having a 'dead zone' between the change over ensured that everyone had the same distance to swim, especially as the traditional jetty was deemed off station due to a wasps nest, rather than running from a handover pen.
Well done to Team Tuff where some great times were set; first time Southwater'ers and plenty of smiling faces as the course covered the 400m swim in the lake, an 18.5k cycle to be followed by a 3.8k (very undulating) run.
Tom Frith had the Tuff race of the day finishing in 58:37 to be followed by Simon Thistlethwaite & Mike Barrett as our top three. Verity Lacey, Clare Worgan & Iris Bennett were our top three female finishers.
The full roll call of our illustrious Tuffs were Tom Frith, Simon Thistlethwaite, Mike Barrett, Adrian Oliver, Mark Sole, Nick Francis, Verity Lacey, Clare Worgan, Iris Bennett & Carey Woods. There was close racing throughout, with good times from Darcie Lacey, Sophie Garbo, Ness Green, Vicki Hedger, Wendy Kane, Kate Evans and Elaine Rousseau.
Many will have forgotten that not only was this a personal, 'did a Tri, got the T-shirt' event, but also the event was part of the British Triathlon South East Region Senior series. We are grateful to those who re-jigged their team personnel to have the mixed team requirement to score and therefore points were amassed for the league. It was a stipulation that the team name should have had a nod towards their club, but the chair has identified our Tuff teams and submitted these to ensure our points count; so a big thanks to all our Tuff participants. We should strive to get our teams aligned earlier next year as several missed the cut off with the event heavily oversubscribed.
Together with seventeen Tuff racers, Dom Amey, Colin & Sue Simpson rode up to cheer Mark Walford brought his family and as usual some of the Raw Energy team were in action – Debbie Boxall, Tiff Orton, Trevor Harvey, Jon Roper and Clive Harvey on the race logistics side. Well done to all 26.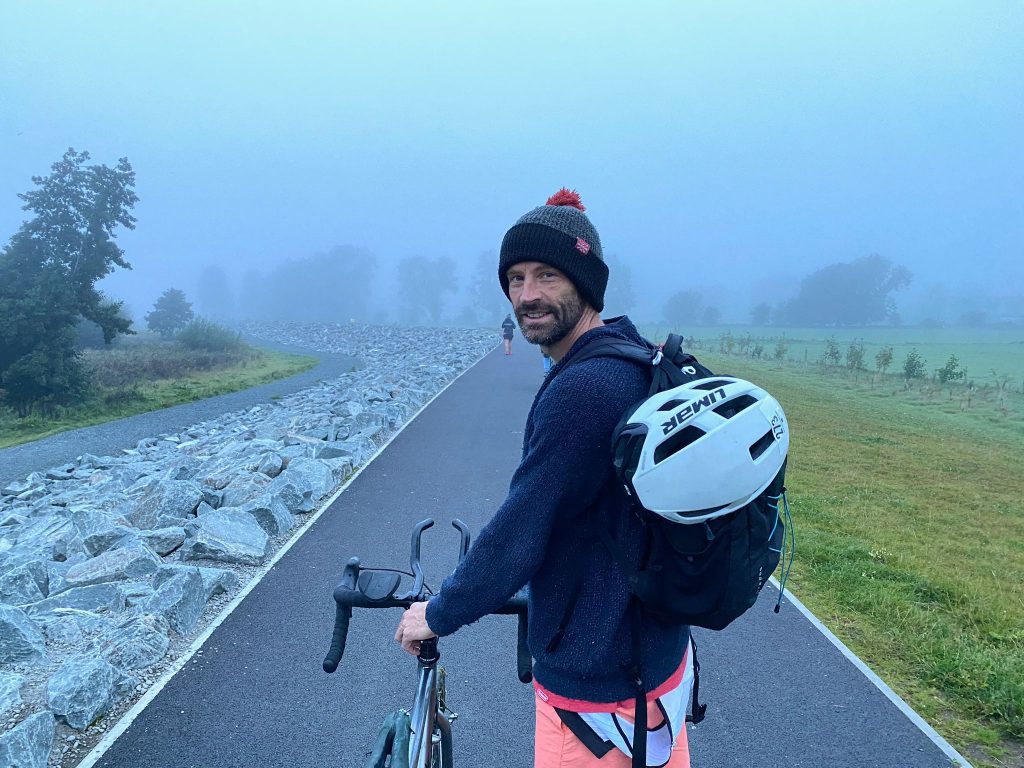 Jon
BALA STANDARD DISTANCE TRITHLON
The Bala Triathlon was set to be a lake swim of 1,500m but as you will see from the above photo, the mist put paid to that turning the event into a Duathlon. A first run then led to the scheduled bike route which was a closed route out and back fast course. A flat 10k completed the course. It was a competitive field as the event doubled as BTF Age Group Team qualifier for the European Championships. Jon Cassell has been achieving quick times and we are grateful to him for reporting in. Jon points out hindsight is a wonderful thing because if they had waited an hour conditions would have been perfect for the swim.
" The swim was cancelled due to mist on the lake, literally couldn't see the lake and after Ironman Cork no risks were being taken, and rightly so. Became a duathlon. 2.5k run than usual bike and run.
"First run was total chaos, 500 competitors in a mass start. Wasn't sure how to pace so went just under 10k pace. Nightmare transition shoe fell of bike clips as jumped on bike, had to jump off and go get it. After that settled in and smashed the bike, averaged 38kmph and finished in 59 mins for 38k, slightly shorter than 40. The run was tough but solid, 4.02 pace.
49th overall, age group not been confirmed yet and British Tri have got to decide if still counts as a qualifier as no swim.
Was totally gassed at the end. Maybe could have done a little more on first run. But overall pleased, bike very pleased and glad run stronger.
Jon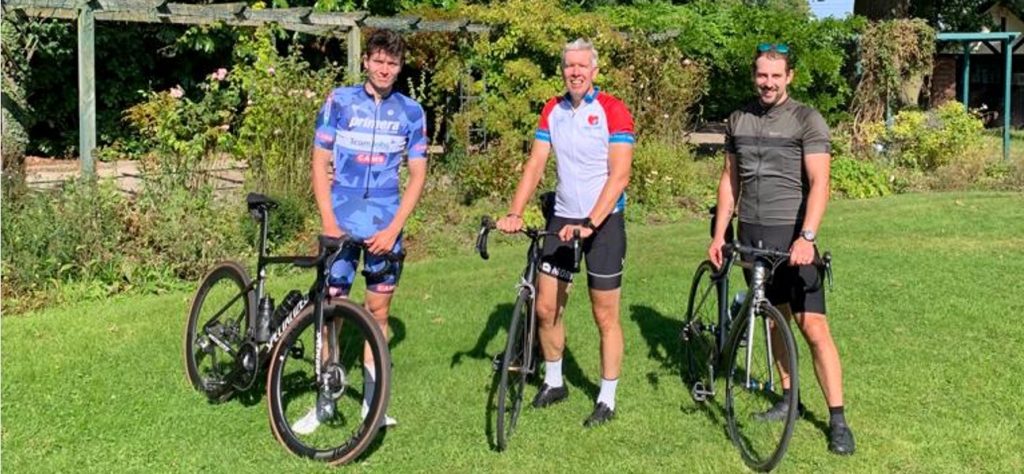 CHARITY BIKE RIDE FOR LITTLE HEARTS MATTER
The following is an epic ride behind which is a very sad story relating to James Togneri's family. Rod Hutchinson, as a surgeon saw first hand the devastation that affected people of all ages through being born with half a heart. Rod threw himself into charity work for Little Hearts Matter. Sadly dying this year, his family members took part in a charity ride from Utrecht in the Netherlands to Stafford in England. James has a busy schedule coming up, not least his Aquabike World Champs in under three weeks. He is self deprecating in saying he only joined the charity ride for the last day, but the 100 miles ridden was a third of the total and was not without its challenges as you will read. The JustGiving page is here
"Rod was my wife's uncle , he was a general surgeon and unfortunately died from cancer . I only joined the last day as work and life etc But The last day of the ride was from Huntingdon to Staffordshire. I took part to show support as a family member , wow what a great route and roads was absolutely beautiful .
My rear derailleur broke at 80 miles so the last 30 miles I was stuck in 1 gear (the big one ) so the hills were very taxing and my quads were cramping a lot . But i'm not one to quit especially for charity so I carried on and grinded my way through the rest knowing it was for a good cause".
James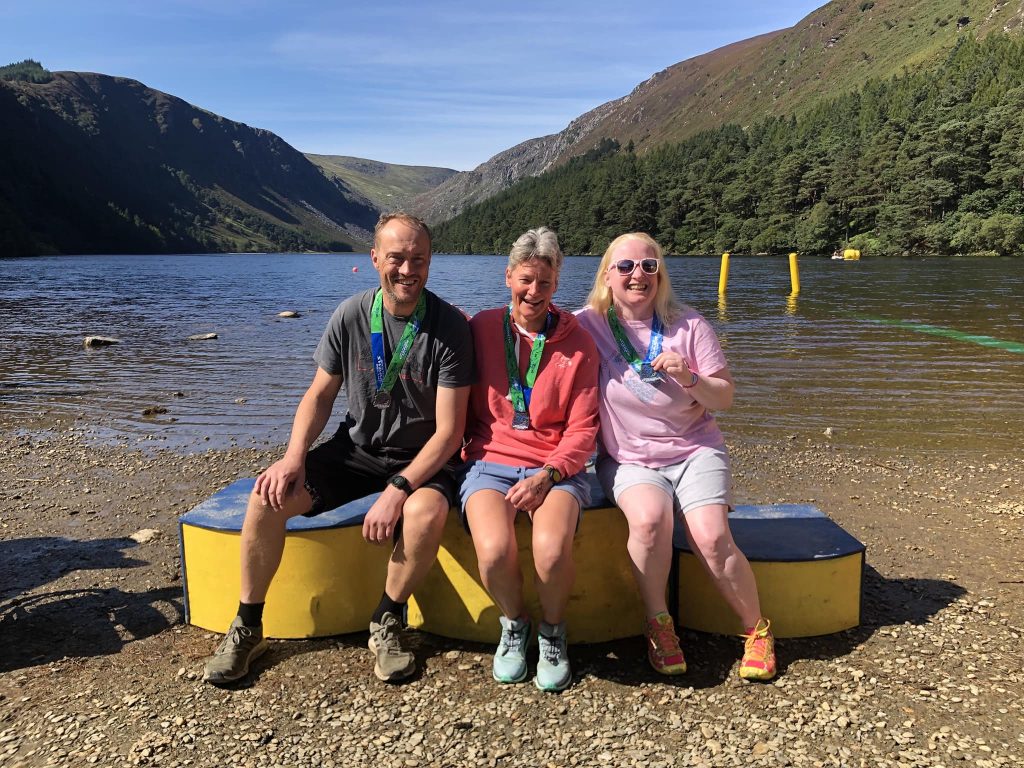 GLENDOLOUGH NATIONAL PARK SWIM
On the edge of the Wicklow Mountains in Ireland is the Glendolough National Park – Glendolough meaning 'glen of two lakes' this scenic race is constantly sold out where competitors can choose between a choice of swims – 750m, 1,500m or full Iron distance 3.9k. This year Helen Bull and Will King entered with their friend Jo and as you might expect, being Tuffs they had entered for the full 3.9k distance; all swimming well. Not content with being in the water, the next day they took a kayak trip 'on the water' but promptly ended up 'in the water again'! Helen reports:-
"Will asked for a lemon drizzle cake for his birthday but instead I thought swimming in a lake in Ireland was way better!! The weather Gods really shone upon us and it was a glorious day for this 3.9km race. Thus swim is beautiful although the pack start was a bit aggressive! We had a lovely swim and collected our bling at the end.. highly recommend this swim to everyone!
Helen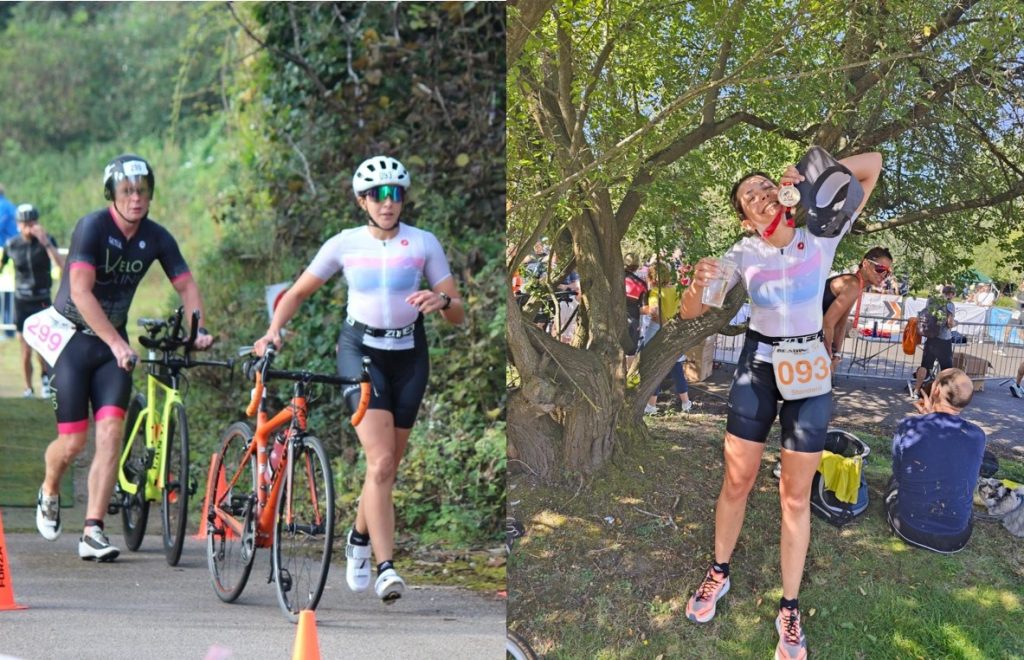 READING TRIATHLON
The Reading Triathlon is a very significant event in the calendar as it was here in Reading 40 years ago that the first Triathlon in the UK took place. Back in June 1983 it was the setting for the British Triathlon Short Course Championships. Alongside today's recognised routes of Sprint & Standard there was a replicate '1983 course' comprising a 1,600m swim, 41 mile bike and 13 mile run. We are delighted that Isis Panossian Solato was flying the Tuff name in the results having raced in the Standard tri. Isis reports that she really enjoyed the event and has another one coming up at Dorney Lake on the 17th Sept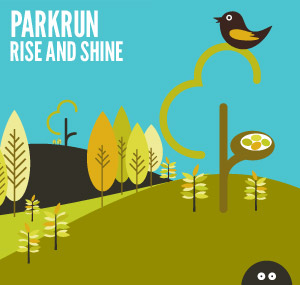 PARKRUN ROUND UP
Bognor Regis parkrun had the most Tuffs in attendance this week. Katie Young, back from international duty was fourth female home, matching her PB exactly of 22:40. Colin Simpson had a strong run finishing just 19 seconds off 1st in his age group. Clive Harvey was our next runner and then Sue Simpson who had ridden over with Colin completed the Tuff quartet
At Littlehampton parkrun it was a family outing as Amy & Fraser Kidd ran together pushing daughter Georgia.
Worthing parkrun saw Les Pearce back to his local parkrun; Ed Lay was next on pacing duty. It was a milestone day for Phil Turner as he crossed the line to notch up his 100th parkrun – congratulations Phil
Maidenhead parkrun saw Trevor Harvey in action around Braywick Park and nature reserve.
Seaford Beach parkrun had a Tuff participant in the form of Jeremy Garratt
This still leaves space for some great parkrun tourism
The first tourism occurred in the New Forest at Brockenhurst parkrun where Nathan Bilham ran 22:14; a four lap course around playing fields at Brockenhurst College.
Ashton Court parkrun is situated on the Ashton course estate just outside Bristol and it was here that Alistair Evans completed his 140th parkrun.
Even further west there is a parkrun at The Eden Project parkrun. Sheila Bailey ran here around a route from the top of the crater before running down and zig zagging around almost 3 laps in the crater to finish outside the Biomes.
Congratulations to all fourteen.