Weekend Round Up 18th 19th August
Whilst the weather is now starting to cool off, still Tuffs in action along the South Coast:-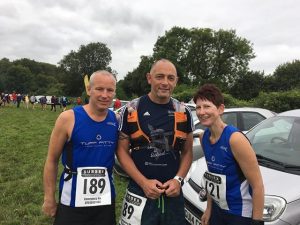 DOWNLAND CHALLENGE / 13 THE HARD WAY 
Two races from Chris, Danny & Jay at Sussex Trail Events. Jason Rae ran in the full marathon – the Downland Challenge, and running concurrently was the ever popular 13 The Hard Way half marathon. Pete Littleboy reported in from that where Rachel Brunning was also running, chalking up yet another Half for her tally.
The start is from a field in Clayton and the only way is up, with a lung busting climb to the top of the Downs and along the South Downs Way.  It was a great result from Pete ranked 26th home, even if he was listed as 'Guff Fitty'!   Jason's report is first, "Downland Challenge Marathon (and a bit-27.5m)" with some of the photos replicated by permission of Jon Lavis, followed by Pete's report:-
"This weeks last minute run was the Downland Challenge brought back to the running calendar by Sussex Trail Events.
Having called Jay on Friday to ask about places for the run I was told there were places but the run is Saturday not Sunday. I went to Tesco's and got the things all runners eat for breakfast – You know, rice pudding and pork pies.
I drove over on the Saturday morning, parked up and collected a number. I saw Rachel Brunning and Pete Littleboy and we huddled in for a famous Rachel Selfie. That was the last I saw of them as I had opted to do the longer of the 2 runs which was basically the 13 the Hard way then on to the turn point at Southease along the SDW. The weather was ideal – slightly overcast and a bit of breeze, the feed stops were as amazing as ever which usually means cheap cola and watermelon in abundance. The marshals are all familiar faces who fill bottles , check you're ok and generally lift your spirits. The hill directly beyond the A27 at Lewes towards Southease is very big and trails round forever but once beyond this the turn point is 2 miles down hill.  The only bad thing about out and back runs is everything you have the pleasure of running down you have to trek back up.
I was at the turn point feed station for so long that Jon Lavis the guy who takes all the great photos of the STE runs asked if I'd stopped for a 3 course meal.  All these runs are so different and I will never ever win one so its more of a social day out for me .
I paired up with a guy I've ran a few marathons with for the last 12 miles which really helps to motivate each other. Soon the finish was in sight and as I crossed the line instead of the usual dust collector or medal you get at most runs , I was given something far more practical – A Pint glass and a bottle of beer. A bottle opener was also at hand so before I'd had time to stop my watch I was sipping my first beer. I bet Pete Littleboy wishes he had done the longer run now !!!
A great event form Jay, Chris and Danny as usual with Grant Smalley also there marshalling."
Jason
"I entered this race having never raced it before and it being organised by Sussex trail events I knew it wouldn't disappoint and it didn't. However being warned or wound up by past competitors (Glenn) about the brutal uphill start with its own king of the hill challenge and with the hills of hassocks SDW trail and I had every intention of not walking any of it but with 1,713ft of elevation on a 13.7mile out and back  course I took no shame in doing so and the horror stories were true it was brutal, but beautiful as seeing the rolling hills of the South Downs in 1 direction and Brighton seafront in the other And so fully intend to return and beat my time of 2h02″
Pete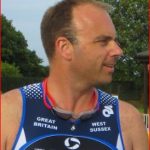 RINGMER DUATHLON
Hedgehog Tri staged their annual races at Ringmer with an assortment of Triathlon & Duathlon Distances. Two competitors have since enquired about coming along to club sessions which would be great, but one established Tuff; Antony Oliver, reported in from his race which unfortunately had a sad conclusion; get well soon Antony:-
"After being beaten by the Ringmer standard distance Tri back in 2017 (DNF due to a calf issue 3kms into the run) I did have some reservations about returning. This year I decided to give the duathlon a go, since my love of Lido swimming had not increased over the past year or so.
Going into the race (6km/24km/3km) I knew there could be a few issues as unfortunately, I had yet again been nursing a lower right calf niggle for the past two months. I decided to push forward, hoping that it would all be resolved by game day but my leg had other ideas…
This year I found that the event was better organised and more people competing. In my duathlon group (16 in total), we hit the run at 7:45am (mass start), nice to start an event dry. About 2kms into the run, my leg started to let me know that it was unhappy. After six slower than usual kilometers, I finished, grabbed the bike and proceeded to try and pull back some time (lost time is lost time…). I managed to overtake four of my fellow duathlon compadres which felt great and my leg seemed very happy until….T2.
After getting off the bike I found that right leg was not cooperating. I took one step and it felt like a knife went through the side of the muscle. The look on my face must have summed it up as the marshal asked if I was okay to run. I pushed through and it ended up being one of the worst three kilometer runs of my life. I managed to finish the run, then got escorted off to see the medical personnel who were very nice. A trip to my doctor on Monday morning confirmed that I had torn my right leg soleus tendon and I can no longer run for the next 3 to 6 months.
So, no more park runs or track sessions for me in 2018 but I can still swim and ride so I guess swimming has had the last laugh 🙁 "
Antony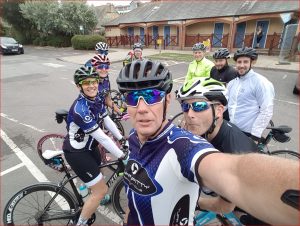 WEYMOUTH 70.3 RECCE
With a lot of Tuff Fitty Training sessions staged every week, such sesssions are not normally reported on here. However on Sunday several met up down in Weymouth Bay to undertake a recce of the bike course of Ironman 70.3.  This event, being held on the 23rd Sept, is the Tuff Middle Distance Club Champ race, and has gradually caught the imagination with a steady rise in the number of Tuff's registering. We are pleased to welcome our newest member Phil Gamble who is racing the event, and is now doing so as a Tuff.  Whilst up to tier 4 pricing there are still spaces………?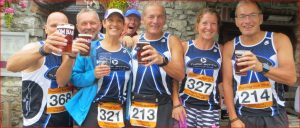 TUFF FITTY CLUB KIT 
The latest kit order will be closed this Saturday evening 25th, so if you wish to order please do so promptly. The Champion order system is now also the portal through which to order the latest Tuff running vest as the previous Royal Blue one had become prohibitive to produce. Please note the plain blue vest is still official kit and can still be worn, but as you look to purchase some gear, (or have a birthday looming) why not join the increasing number of members racing in the vest oozing street cred – why not order in time for the new Cross Country season starting in October.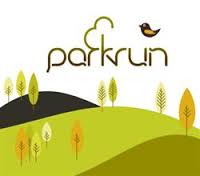 PARK RUN 
Just six club members spotted out Park running, as listed below. Don't forget the new Lancing Park Run commences Sat 25th August
At Worthing Park Run, Amanda de Ridder, Francis Blake, Cathy Oliver & Elaine Rousseau ran. Up; at Bushy Park Run, there was a very 'strong' performance from Andy Strong in 20:52 & Kirsty Keith notching up her 65th Park Run.