Tuff Weekend Round Up 18th/19th June
With 16 Tuff's at the river swim, that justifies its own write up. However there was still plenty of other good work with Tuff's training and racing from Cows to Cowes.
Over at Bognor Park Run, the legend that is our very own Bob Thomas finished his 11th Bognor run. Closer to home at the new Worthing Park Run, Danny Cunnett was first Tuff in just 19:43. Simone Scott returned for her second week crossing in almost the same time as last week to attain 4th female home. Dom Amey completed the Tuff Trio running with his son.
The biggest shout of the weekend needs to go to Gavin Sewell who undertook the Wiggle Long One Cycle Sportive. Gavin is continuing his build up to Ironman UK. Whilst that is just 4 weeks away he clocked up 126 miles on this Sportive, so surely Bolton won't present a problem. The race blurb stated "The Long One will show you the best of what West Sussex and Hampshire have to offer – and then both the North and South Downs, the course is so long. Nine major climbs and five other significant ascents will come before you as this mega-mile epic unfolds" Total climb 8,208ft. Gav completed in just 8:47; congratulations.
This was not the only Sportive, on Sunday there was The South Downs Epic Mountain MTB Sportive. Starting off from Fontwell Race Course Gary Edge reports Myself, Glenn Parisi and Claire Bridges entered the Southdowns epic MTB event choosing the Standard (28 Miles) distance
An extremely undulating course (2 of the hills I never actually saw anyone manage to ride up) with some great flowing down hills made for a very enjoyable event. Only downside for me was a puncture which cost me enough time to miss out on a Silver award but it just means i'll have to try harder next time 🙂
So where do Cows/Cowes come into it. Well over on the Isle of Wight  Nicole Patterson-Lett, Jon Roper & Tiff Orton took part in a Ride around the Isle of Wight.
And the Cows? Rachel Brunning reported in with a close encounter of the cow kind on the traditional Saturday morning run.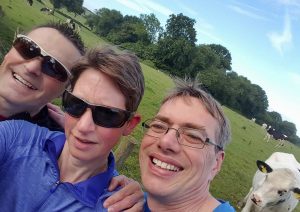 Following the herd, Steve Rachel & Graham!