Weekend Round Up 27th 28th May
Whilst a bank holiday weekend, there were still plenty of Tuff's out and about:-
SUPBIKE RUN
Tiff Orton reported in from a trip to Wales:-
Jon and I travelled to Llangedfedd Reservoir in South Wales for our second year competing in an off-road triathlon made up of a Stand Up Paddle Board (SUP) followed by a Mountain Bike ride (MTB) and then a trail run. We had a choice of the Warrior; 3K SUP, 15K MTB and 5K trail run or the Barbarian; 6K SUP, 30K MTB and 10K trail run. I opted for the shorter Warrior whilst Jon 'Fivecakes' Roper challenged himself to the mighty Barbarian.
Arriving on Friday afternoon, Wales did not disappoint with it's beautiful scenery. We unpacked and cooked up some tea in the campervan and then we headed to the local pub for a pint (or 2!).
Saturday morning we did have a couple of showers (well it wouldn't be Wales without rain would it?!) and we had a MTB skills course booked in with Spike who had a tash to rival Marchy's! After the skills course we then rode around the MTB course for the race on Sunday. The course had plenty of climbing which I really enjoyed and then plenty of descending which Jon really enjoyed! I ended up having to walk a couple of the descents as they were too technical for me but as I had been told at the skills course; if you make a decision that it's too much then just get off and walk, and that's what I did.
When we got back we then had a Masterclass for the SUP which was great fun. We were taught some more advance skills on the SUP like the rudder turn and also the more advanced pivot turn – the pivot turn leading to us both getting wet! Great fun though and we felt ready for the race the next day.
Race day and the loveliest thing about the #supbikerun events is how chilled out and relaxed it is. You rock up for registration and then calmly get yourself racked up and prepared ready to start. In Jon's preparation he managed to tear a fist sized hole in to the bum part of his wetsuit. With his bum poking out he asked if it was big enough to notice?! Er yes!! When ready, we had to queue to wait for a SUP board as we didn't have our own. Many wanted to go in pairs so had a longer wait but I managed to nab a solo board so off I went first. Going up to the buoy was fun and fast, not realising how much of a tailwind I had. I turned at the buoy and boy was it hard work coming back. I had to get on my knees which proved quicker and I started to overtake more people. I saw Jon on the way back and warned of the head wind when turning. He said if really bad he'd drop down to the short race – not that he did, he's a Barbarian you know! Coming off the SUP I made my way to transition to get ready for the MTB, wetsuit off, baggies on, shoes on, helmet on and I was off. Although I am not the most confident MTB'er I was determined to go as fast as I could and I must say I loved every minute, even walking the 2 technical descents – I even managed to overtake other competitors! Back in I went off for the run which was lovely. The sun was out which made it hot hot hot and the run goes alongside the reservoir and I could see people still out on the SUPs (hoping Jon wasn't one of them!).
Now I was finished, I waited for Jon on the last descent to come off the bike. I cheered him on and coming out of transition I asked him if he wanted me to do the second lap of the run with him. Looking tired he said yes please! I went back off to transition and got changed again and walked to the end of the first lap. I saw the Tuff kit approaching and we steadily made our way round the second lap. Jon had an amazing ride on the MTB but his legs were tiring so I kept him going on that last lap.
Crossing the line in front, I then gave Jon his medal (we know the organisers so they said it would be nice for me to hand his medal over) and said "I need some water! I'm knackered!" He was allowed to be being a magnificent Barbarian.
An absolutely fantastic race and so well organised by the #supbikerun team. I managed to finish 19th out of 80 women in 2:40:12 so was very pleased. Jon finished in 4:33:32 coming 27th in the men. I can thoroughly recommend this event to anyone wanting an off road experience – they even have SUP boards that hold 8 people so perhaps we could get a Tuff Fitty team together for next year?! What fun!
Tiff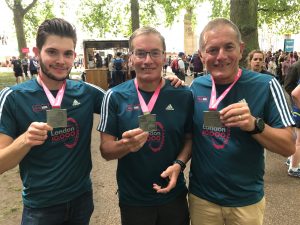 LONDON 10000
Trevor Harvey reports in from the capital:-
If you fancy experiencing all the sights, sounds, support and organisation of the London Marathon, without the hard work, then you should try the Vitality London 10,000.
A trio of Harvey's took part on Bank Holiday Monday for the London 10k.  On closed roads, Clive, Stuart and me, (oh and plus some 12,000 others), started on The Mall, running through Admiralty Arch, and past a host of landmarks; Trafalgar Square; the Old Bailey; Guildhall, Bank of England, St Paul's, Whitehall, Parliament Square to finish in front of Her Majesty's pad, Buckingham Palace.
A well organised event by the London Marathon Company, with a good medal and quality Adidas T shirt.  After my Geneva injury, my Doctor said don't run for a month.  The race was after 3 weeks – oh dear, always listen to the Doc, I got to 1.75 miles before it went again, but all Harvey's finished, with another pb for Stu pushing his time down to 44:16.
So, as mentioned, a bit like the London Marathon without the extra 20 miles and having to run round Docklands!  Tuff trip next year?
Trev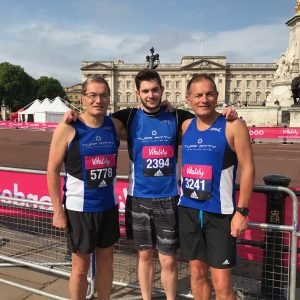 Trev, Stu & Clive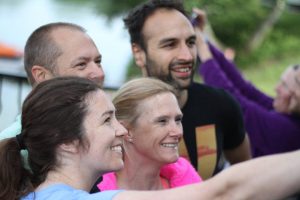 Mark, Catharine, Bec & Tom
TRIBAL SPORTS FULL & HALF DISTANCE SWIMS
Catharine Western reported in from Westhampnett Lake.
"We enjoyed the Chichester swim, the water was surprisingly warm! The distances were 'a bit' off…Tom's watch recorded that he swam 5k instead of the advertised 3.8k?! I managed to leave my open water goggles in Greece so I had absolutely no idea where I was going, particularly after the rest of the field zoomed off! It was a good warm-up event to do before the middle distance and ironman events start for the year. Plus we got a medal 🙂 "
Catharine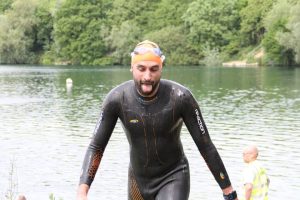 That was a long way, says Tom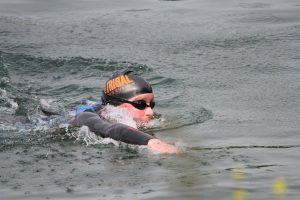 Leanne in action
Leanne Levitt also reported in:-
"As some of you may know that I have been in rehab for a serious reoccurring arm injury from 20yrs ago when I had to go through Xrays, Docs appts, physios etc and having injured it a year ago again with more Xrays, Docs appts, Massage, Physio and 6 days a week rehab in the gym I was just pleased to be on the start line   After a year of being coached bacl to fitness by Kev and having to be in a lane down to continue my rehab…..I am SO pleased to be there, but having not being signed off by the physio to race 100% yet but able to swim 80% I just planned to get in the water have a paddle round and enjoy it….
I hadn't tapered for it, woke up on in the morning feeling knackered from the swim the night before plus biking and running but when I got there on the morning with all the excitement and the lake like a swimming pool……my body and mind had other ideas and having a look at the competition I decided to go for it!!  I had a strong start and was 5th on the 1st lap and tried to tag onto some feet but with my arm not 100% yet and not enough endurance I started to tire on the 2nd lap and ended up 8th overall and 4th lady
I was chuffed to bits to be back out there not just paddling round but actually racing with more to come the stronger I get!!
Special Thanks to:- Coaches Kev and Chris, Lane 2: Tom, Suzie, Lizzie and Debs for her ongoing support. I look forward to seeing everyone out racing soon and hopefully also Lane 1"   Results below:-
Middle Distance Swim  1,900m
Leanne Levitt
38:08:00
Steve Feest
44:02:00
Mark Day
51:15:00
Catharine Western
58:49:00
Full Distance Swim 3,800m
Tom Gray
01:33:14
Mark Buky
01:42:55
Bec Day
01:54:29
Ian Bayley
02:21:47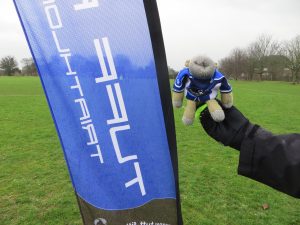 CLUB SPECIALS
What better than being part of a Club to help you towards your goals. Some particularly strong swim and run splits at recent events highlight the benefit of our structured sessions – thanks coaches. However there are additional features to keep the training fresh as follows:-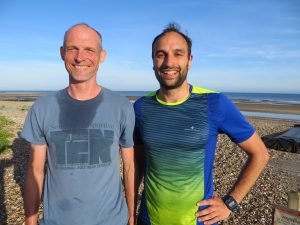 Tom one and Tom two who were one and two
GO ON SCRAM
A variation to Saturday Swim training where we held a SCRAM which stood for Swim Coaching & Run Around Mewsbrook.  Swim coaching continued as usual but prior to the end those who wished, stopped, guzzled a drink and got ready for an Aquathlon. A 400m swim was followed by a loop of Mewsbrook Park and out and back along the seafront prom for a 5k run.  Thanks to our swim coaches extraordinaire Kev Pearson & Chris Levitt for supporting this initiative and to club captains Joe Pascoe and Catharine Western for supporting Clive Harvey with the organisation and split timings.
It proved a beautiful evening for the run and some good split times. Whilst we will declare the winning time here the rest of the times have been sent individually to competitors as the aim is to encourage club members to come along and have a go in a non-pressured environment. Tom Frith recorded a 6:28 swim split and then transition and 5km run of 20:01 to record a total of 26:29. Tom Gray pushed hard for 2nd position, Susan Douglas 1st lady home. A special mention to Wendy Frost who entered as her first tentative steps back after injury.
The concept worked well and it is likely to be staged again. Why not come along next time and get a great training session and experience the superb swim coaching on offer.   Come on SCRAM.
Please note that our Monday Evening run is now starting from it's summer route of outside the World's End pub by Patching Pond. This is to take advantage of the lighter evenings and the chance to run off road.  See our website for details.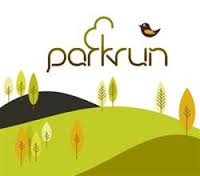 PARK RUN 
Club members out at Worthing Park Run.  Clive Patterson-Lett crossed the line in 19:40.  Nicole Patterson-Lett attained a PB on this course as she continues her comeback in 22:13 – 5th female home. Good work from Cathy Connor clocking up her 38th Park Run, 17 of these at Worthing.