Arundel Lido Wetsuit Swim
The above shot of a lot of Tuffs dressed in rubber could well boost our viewing figures.
With the triathlon season getting underway this coming weekend, and several club members undertaking open water events in May, our traditional early season visit to Arundel Lido was a great chance to see if the wetsuits would still fit for the set tasks ahead.   The Lido opens to the public this coming Saturday (29th April from 10am) but before the water hits full operating temperature, Tuff Fitty book the lido representing a great chance to test out the suits.   With the artic winds blowing down the country, it was definitely a case of 'better in than out' and at 26 degrees conditions in the pool were perfect. Jason Rae popped in to say hi after his London Marathon adventure, but seeing lots of Tuffs ploughing up and down decided to join the action even though he hadn't brought his wetsuit.
It was decided the top photo would make a good Tuff pose for this article, but the one below shows how it started to become unstuck, proving once again that where we amass a group of Tuffs, a good time is had by all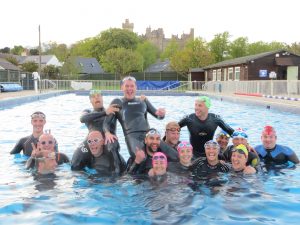 Some attended to build up their training for their forthcoming Ironman adventures, whilst others looked upon the evening as a chance to vary their training. Then of course there was Tom Goddard and Joe Pascoe who are in training for their Breca Swim Run on the Gower Peninsula. This necessitates them running and swimming as a pair, so they kept pace together ploughing up and down, then jumping out and running around the Lido complex , jumping back in and swimming some more before getting out for another run, a ritual they kept up many, many times.  They both wore their bespoke swim/run shortie wetsuits; very smart; they are sure to do well come August.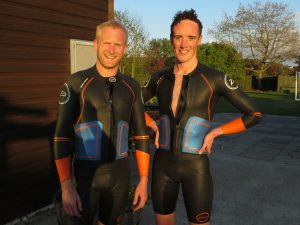 Joe & Tom in matching suits
No lane ropes were in place replicating conditions likely to be met in open water swimming, and a few mass starts were held.  Some serious distances were covered with Tuffs accumulating a lot of lengths. It was getting dark as the last swimmers emerged from the warmth of the water.   Then it was into the cabin for teas, coffees and devouring the range of biscuits brought along for the hungry Tuffs.
With thanks to the Lido Manager Nikki Richardson for working with us to run the evening; keep an eye out for forthcoming dates when we will be staging our popular Tuff Fitty Summer events.  It is a sure sign that summer has arrived when you see Triathletes wandering around with red raw necks from wetsuit rub, something we may have started early!
For more shots of Tuffs in rubber, here is the gallery:-