Southwater Relays 4th September
Southwater Relay Match Report by Chris Robinson
"This event, the most crazy triathlon event I'm aware of, needs to continue into the future".
The race briefing concluded with this remark by the head race official.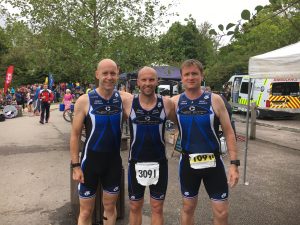 "Tuff Nuts"  Chris Robinson, Matt Whittaker & Gavin Sewell
This is my first season of Triathlons, and throughout the year people have been talking about this event, saying "you've got to do Southwater". So I took the advice and booked, and they were right. The race official was right too. This event is unique, fun, and although bonkers, it really works.
For those unaware of the format. There were 116 teams of three triathletes. A mass start sees one member of each team do a short triathlon before handing over to the next team member who repeats the course and hands over to the third who does the same but crosses the finish line.
The course is a 400m lap of Southwater Lake, then a 17.6km fairly flat ride, and a 3.7km run (two laps of the park).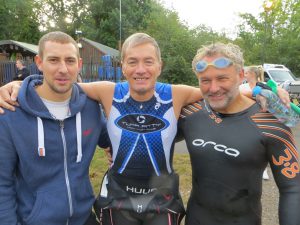 Tuffy McTuffface" James Togneri, Trev Harvey, Glenn Parisi
The great thing about Southwater Relay was how it was actually a good spectator event, with a central area from which you could see the handover, watch the swim and run to transition, cheer people come in after their rides (in my case to the sound of Clive Patterson-Lett shouting "nice socks Chris") and then see people at the start, middle and end of the run.
So there was continuous cheering from friends and family, and visible tension as people in wetsuits waited their turn to jump into the increasingly muddy waters of the lake (a big pond really).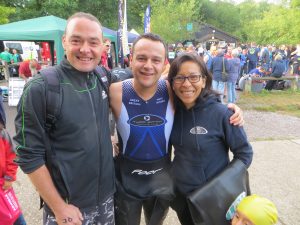 Matt & Debra Cauchy-Duval with their friend, Ben 
It was an eventful day with the race officials confusing people about whether to stop at certain traffic lights or not, and randomly handing out time penalties. Furthermore our elite team, Tuff as Old Boots (Joe Pascoe, Tom Goddard and Ian Thompson) experienced a mechanical failure on leg one, and a return of Tom's bronchitis on leg two. Really bad luck there. Gutting for them and meant we sadly missed out on a top ten or possibly even top five spot.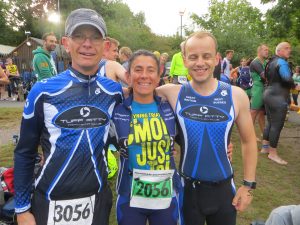 Clive Patterson-Lett, Miki Floyd & Ollie McDonald
In the end it was my team (Tuff Nuts: Gavin Sewell, me (Chris Robinson), Matthew Whittaker) who were the first Tuffs home, in 13th, closely followed by "P-L-S" (Ollie McDonald, Micaela Floyd, Clive Patterson-Lett) who came 22nd, with Tuff as Old Boots arriving 24th.
Tuffy McTuffface (superb name, with a triple f in it too) had a last minute change of line up as Clive Harvey dropped out as there were not sufficient numbers  for another team with James Togneri, joining Glenn Parisi, and Trevor Harvey who came in 69th, with Tuff Totty (Mark Day, Simon Thistlethwaite, Chris  Evans) coming in 78th, No Tuffing Chance (Nicole Ewer, Rebecca Day, Tom Gray) coming 81st and our only all-ladies team of Tuff Kitties (Catharine Western, Wendy Frost, Katie Goddard) arriving 86th.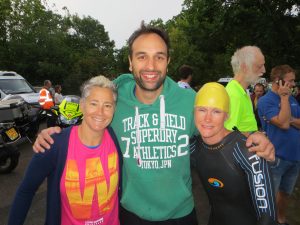 "No Tuffing Chance" Nic Ewer, Tom Gray & Bec Day
Good to see Jon Roper, Nicole Patterson-Lett, & Andy Vincent ride up to cheer, Tiff Orton, Coach Kev Pearson, Tony Morgan, Maynard Floyd and Andy Strong who came over to support. Also Clive Harvey who got their early to stake the Big Tuff Fitty flag at the top of the rise,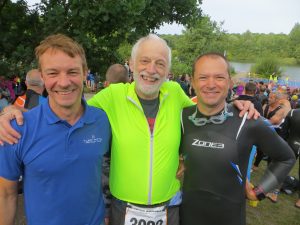 "Tuff Totty" Simon Thistlethwaite, Chris Evans and Mark Day
My lasting impressions of the day? Other than the flavour of Southwater Lake, which really lingers. Well, first and foremost there was the atmosphere and buzz, with 348 excited competitors, friends and family all crammed into a small area by the lake. Secondly, the climb at the start of the run, just before the legs had a chance to acclimatise to running – everyone commented on this, it was really tough first time around. Finally, the camaraderie amongst Tuffs, as we helped each other prepare (thanks Kev for the wetsuit tips!), shared experiences, hugged, congratulated, took selfies, and cheered. Love you guys!
Chris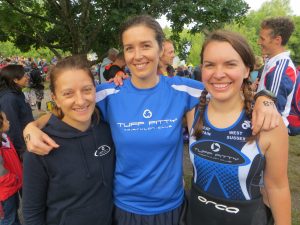 "Tuff Kitties" Wendy Frost, Catharine Western & Katie Goddard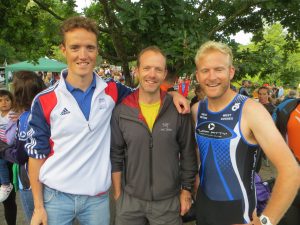 Tuff as old Boots" Tom Goddard, Ian Thompson & Joe Pascoe
| | | | |
| --- | --- | --- | --- |
| Pos. | Finish time | Team | Team members |
| 13 | 02:55:59 | Tuff Nuts | Gavin Sewell, Chris Robinson, Matthew Whittaker |
| 22 | 03:02:41 | P-l-s | Micaela Ollie McDonald, Madeddu Floyd, Clive Patterson-Lett |
| 24 | 03:03:28 | Tuff As Old Boots | Joe Pascoe, Tom Goddard, Ian Thompson |
| 69 | 03:28:41 | Tuffy Mctuffface | Glenn Parisi, Trevor Harvey, James Togneri |
| 78 | 03:36:40 | Tuff Totty | Mark Day, Simon Thistlewaite, Chris Evans |
| 81 | 03:38:29 | No Tuffing Chance | Nicole Ewer, Rebecca Day, Tom Gray |
| 86 | 03:41:22 | Tuff Kitties | Catharine Western, Wendy Frost, Katie Goddard |

Tuff Fitty members also appeared in two other teams:

| | | | |
| --- | --- | --- | --- |
| Pos. | Finish time | Team | Team members |
| 68 | 03:27:50 | The Mexican Sandwich | Ben Brown, Debra Cauchy-Duval, Matthieu Cauchy |
| 109 | 03:59:10 | Charlie's Angels | Paul Cushway, Steve Feest, Michael Hartnett |