Hang Over 5 – New Years Day Run
There were several tales of very late nights comprising cosy dinners, partying, or simply staying up with a bottle or several; but hey! we are Tuff and as the rain spread across Hillbarn Recreation ground, the number of Tuffs not put off by a bit of rain or a late night steadily increased. The occasion was the first race of 2017, the appropriately named Hang Over 5 mile.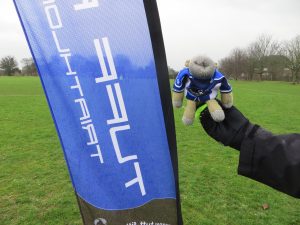 Tuff Tony on the look out for fellow Tuffs
Club mascot Tuff Tony was one of the first on the scene, having dragged  Capt Joe out for this off-road, muddy run up to Cissbury Ring and back. The Tuff flag was already flying and the maximum 500 entry limit was soon reached.  This included 23 Tuffs running; 26 if we include three other members who raced under their running club colours.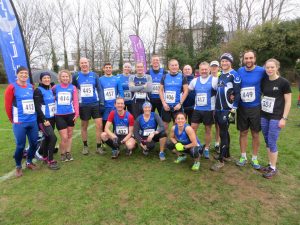 Tuffs on parade: l to r – Huw Williams, Wendy Frost, Susan Douglas, Jon Roper, Paul Martin, Catharine Western, Trev Harvey, Graham Liddell, Clive Harvey, Danny Cunnett, Glenn Parisi, John Gatland, Joe Pascoe, Tom Gray,  & Alice Gatland.   Front Row l to r:- Dave March, Tiff Orton, Miki Floyd.  Not in the photograph:- Debbie Gatland, Barry McElearney, Grant Smalley, Mark Pickett, Rachel Brunning, Linda Cooper, James Oram & Nicole Ewer.    It was also good to see Steve Feest and Tony Pearce cheering on the competitors.
It was pleasing that the rain stopped as the starting gun went, but the damage was already done with a 0.75 mile run around Hillbarn Rec already very slippery. From there the only way was up over a course that would take in 621 feet of climbing. Joe did well as first Tuff home, 12th home overall in just 35:24.  Alice was our first Tuff lady with Miki following behind. There was a good performance from Dave March despite placing himself well back in the starting pen and having to work his way up the field as 2nd Tuff home with Danny Cunnett 3rd.   Most of the Tuff contingent managed to stay on their feet despite the wet chalk and slippery mud and then there was the final descent and sprint across the playing field to receive the cheers of fellow Tuff's in crossing the finish line.
Many were pleased with their times ahead of the formal results, but all could count themselves well pleased in having "raced every day this year" and given their New Years Resolutions a great boost.
Some of our Tuff Ladies ready for the start.
The rain resumed as the runners crossed the finish line, but it was proved once again, that get a group of Tuff's togther and whatever the weather, a good time is had by all.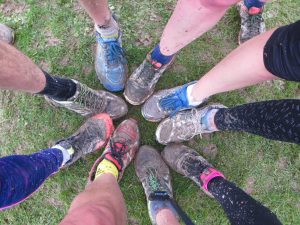 What's a bit of mud between friends?
The Tuff training calendar gets back into full swing from Wednesday 4th January (Track night) when Tuff Fitty would be pleased to welcome anyone else along so we can play our part in helping you meet your 2017 goals.   Happy New Year