'Chestnut to Paris' Charity Cycle
Six months ago, I was sat in the pub with my brother Steve discussing what we could do for Chestnut Tree House (CTH). We discovered the 'Chestnut to Paris' bike ride, 200 miles in 3 days.
Full of enthusiasm we signed up there and then. When my brother came back from the bar having re filled our glasses with orange squash he was laughing, so I asked what tickled him and he replied he doesn't own a bike! Great start!
Thursday 6th October we made our way to Chestnut Tree House where the guys from Global Adventure Challenges where on hand to brief us and check us in. This was then followed by a tour of the hospice. This will be one of the most humbling experiences of my life. We are able to embark on this challenge knowing we had done it for all of the right reasons. Sally Gunnell OBE is the patron of CTH and would be joining my brother and I along with 16 other cyclists on the journey. Sally gave a motivational speech before we headed off on our first 40 mile leg to Portsmouth.
Sadly, we had our first incident when a lady rider hit a pothole going through Goodwood. Battered and bruised she dusted herself off and got on with the job in hand. A very brave lady who continued to entertain  throughout the trip! We made it to the Ferry terminal in just under 3 hours. We now had several hours to kill before the overnight crossing to Caen. I will let you use your imagination as to what we chose to do to pass time.
Friday 7th October. The 05:30 ferry alarm sounded, we disembarked the boat and made our way to our bikes. It was FREEZING. This was (for me) the hardest part of the challenge. I just could not get warm. Luckily I was able to access the Luton van carrying our gear and put on more layers before we started the 94 mile leg to Evreux. The banter from the other riders made the journey fly by. There were some good climbs and some really great descents. The views were spectacular and we rode through some of the most picturesque villages I have ever seen (quite the contrast to Paris).  A few mechanicals along the way that were dealt with promptly by the very competent leaders. We eventually made our stop in Evreux. An evening meal then bed. Alarm set for 06:30 to start the final leg into the Capital.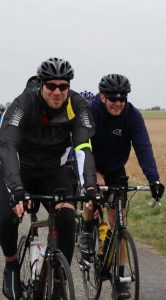 Saturday 6th October. Everyone was in really high  spirits as we set off on the 74 mile final stint. The sun was making an effort to break through and I had learnt my lesson to 'layer up'.  We pulled up 5 miles short of the Eiffel Tower to re-group and decided we would cycle around the Arch De Triomphe twice to really experience it. We then continued our route to the finish line at the Eiffel tower where the support team were waiting with Champagne and medals.
The great news is that as a group we raised over £30,000 for CTH. Steven & I,  are still a little way off hitting our target so if you would like to sponsor up the link is www.justgiving.com/brockbrothers
I can really recommend this challenge. The experience will stay with us for a life time. The guys at Global adventure Challenges are logistical geniuses. If you are thinking about taking on something similar I would recommend this company. Be it for charity or a tick off the bucket list you won't regret it. We certainly didn't…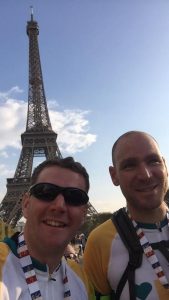 Congratulations to James & Steve
James Brock