Weekend Round Up 22nd 23rd April
One of the highlights of the weekend was the London Marathon where there were great runs from the intrepid quintet of Dave March, Simon Thistlethwaite, Becky Lintott-Clarke, Jason Rae & Jason McCardle. Please see the separate report to follow highlighting their achievements.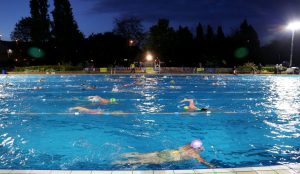 2SWIM4LIFE
Susan Douglas reports in from 2Swim4Life
What: Swim 24 miles in 24 hours, 1 mile per hour.
Where: Guildford Lido 50m pool, temp 19C
How: Part of a team of three "Meat and Two Veg", so swimming 1 mile every three hours, 8 miles in total. Those of you who know me won't be surprised to learn that I had eight different items of swimwear, 4 bikinis and 4 swimsuits!
9am Saturday morning the first wave of swimmers started their mile, the sun was shining and the mood optimistic, how hard can this be.
I won't bore you with eight tales of swimming a mile, to be honest the swimming was the easy bit. We were given the suggestion of recalling the letters of the alphabet per length rather than trying to count to 32, we all know how easy it is to forget where you are, and this was especially likely to be the case for my 2am and 5am swims. Anyway it worked and I just had to count for the last six lengths.  The time between swims passed reasonably quickly, mostly spent chatting, watching my fellow swimmers, trying to decide what to eat and in the end I ate a bizarre concoction of crisps, biscuits, cake, bananas, most of the time I didn't know what I wanted.  I tried to sleep but I was too awake after my swim and by the time I felt sleepy it was time to get in the pool again.  Getting through the night was hard, but the pool was still a hive of activity, no let up, no one wimping out because it was cold and dark. A brilliant sight to behold and a real highlight.
This is a great social event, which was mostly why I wanted to do it. Swam next to the Irish phenomenon Ger Kennedy, one of the few people to swim an Ice Mile and zero degrees, he of course was doing the whole thing Solo as were quite a few others..hardcore!
So eventually the sun rose and at 8am I finished off my teams 24th mile!
I went home, ate for Britain and slept for 11hours.  The next 2swim4life is in 2 years, maybe I'll do it again, a team of 24 seems appealing.
Susan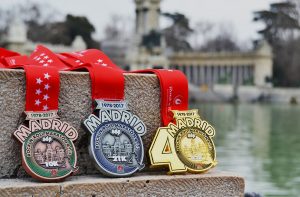 MADRID 10K 
Another report from Tuffs abroad as Debbie & Alice Gatland took part in the Madrid 10k
Ola!   Three weeks off running with bad knees and three days intensive sightseeing is not the ideal preparation for any race. But it was only 10K so how hard could it be? Answer; Pretty hard!
A slow drag slightly up hill on a main trunk road out to the Real Madrid stadium and back in to the city park took me 58 mins and Alice 44 mins to get her a place in the top 20 out of over 1,000 women in her age group.  (and this was straight after Alice winning the ladies race at Splashpoint). Early morning start to beat the heat of the midday sun, 7,000 competitors had entered the 10K which was the warm up race for the half and full marathon.
Organisation was great as you would expect at one of the majors, heavy duty medal and technical T shirt all for the knock-down price of 20 Euros. Failed to follow my own good advice to stop at the water station thinking I was nearer the finish than I was but tried to practice visualisation, the deafening roar of the stadium crowd at the turnaround point all for me! All in all a great race, don't fancy the Marathon course though having been out to the far reaches the day before. A bit like Shoreham Power Station!
Debbie & Alice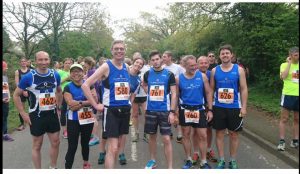 BLUEBELL 10Mile/10K
Recent dry weather meant Runners lining up for the Bluebell 10k and 10miler would have good dry compact routes to follow with the Bluebells out in bloom lining the course. As the event was staged by Raw Energy Pursuits it was highly likely that some Tuffs would be on the race team and so it proved. Trevor Harvey was lead mountain biker for the 10k, Jon Roper lead biker for the 10 mile with Tiff Orton and Miki Floyd helping to ensure another successful event.
The 10km race was first off with Ten Tuffs following Trev on his bike. When the sun came out conditions warmed up but that didn't prevent some accomplished performances.  Our top three were Andy Crawford, home in 5th position overall in just 40:46. Ollie McDonald was not far behind in 7th position and Clive Patterson-Lett 9th  and 2nd super-vet. Three in the top ten -fantastic. The rest of the Tuffs didn't play a supporting role either, with Tom Gray across the line 13th,  Stephen O'Donnell 18th and Paul Martin 24th.  All the Tuff times as follows:-
| | |
| --- | --- |
| 40:46:00 | Andy Crawford |
| 41:14:00 | Oliver McDonald |
| 41:43:00 | Clive Patterson-Lett |
| 44:38:00 | Tom Gray |
| 45:46:00 | Stephen O Donnell |
| 46:53:00 | Paul Martin |
| 58:46:00 | Sophie Ruffer |
| 60:16:00 | Simon Barker |
| 68:42:00 | Rachel Brunning |
| 68:42:00 | Maynard Floyd |
Next, 15 minutes later it was time for the 10 milers to chase after Jon on his bike including two challenging hills; this race had 8 Tuffs and there was a strong performance from Martin Hawkins. He managed to attend this race just before heading off for a months deployment with work, crossing the line in 1 hour 13. Stuart Harvey getting a pb and James Oram completed the first three Tuffs.  A strong performance from Glenn Parisi up to the 7 mile marker, but with an ' A' race coming up in just two weeks, hearing a pop in his leg decided to be cautious and walked the remainder, hitting the ice pack on his return home.   Tuff Times as follows:
| | |
| --- | --- |
| 01:13:58 | Martin Hawkins |
| 01:16:28 | Stuart Harvey |
| 01:22:42 | James Oram |
| 01:25:27 | Graham Liddell |
| 01:27:03 | Debra Cauchy-Duval |
| 01:31:25 | Murray Hodge |
| 01:39:11 | Catharine Western |
| 01:57:06 | Glenn Parisi |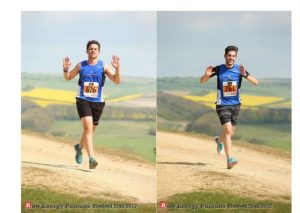 Could James & Stu be called upon for Cabaret at our end of season bash? The definition of 'Jazz hands' is that hands are waved rapidly to and fro with the palms facing forward and the fingers splayed, used typically to express or indicate excitement or triumph. They must have been having fun!.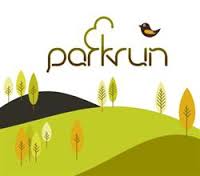 PARK RUN 
With the previous weekend being Easter, whilst there was lots of Tuff Training, bike rides, runs and swims there was little in the way of races so no "Weekend Round Up". Therefore we start by acknowledging Park Runners from Saturday 15th April
Easter Saturday saw 410 runners at Worthing Park Run, the best attendance since the first race last June.  James Oram 22:50, Amanda de Ridder 5th female home & Tim Kenny. It was good to see Stew Smith running alongside his daughter Abi.   We would normally expect to see Ian Moore pounding out long distance races, but  he could be found for his third outing of the year at Horsham Park Run; clocking 23:34; his best time since last summer   –  good work all
Saturday 22nd April.   Worthing Park run saw Andy Ruffer cross the line in 9th position overall in 19:04, just 2 seconds outside his pb. Danny Cunnett in 20:30. Tim McGrath making his Worthing debut in 23:13, and Cathy Connor. James Oram completed the five who ran alongside his partner Claire. 
Keep those race reports coming; please submit details to clive.harvey@tinyworld.co.uk