Weekend Round Up 24th 25th June
Our top banner shot highlights the Tuff presence at the Davina Cycle ride. What a great photo, which nicely encapsulates the continued growth in our women's squad. They are regularly out and about clocking up very impressive times whether it is swimming, cycling or running. Great work Ladies.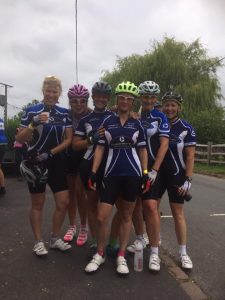 DAVINA'S BIG SUSSEX BIKE RIDE
Wendy Frost recounts Sunday's event which commenced from the East Sussex National Golf Club in Uckfield.
Davina McCall was delighted to have her picture taken with us 8 ladies all in Tuff kit  looking like we meant business.  We set off ready to tackle the 'Champion ride' of 68 miles through the Sussex Countryside.  Excited to be exploring roads that were unfamiliar and potentially beautiful we joked with Karen McGrath who piped-up  'so, this Davina…I guess she's someone famous then?' Reeling off stories of Big Brother, Steetmate and Loreal adverts, poor Karen must have wished she'd kept quiet.  Personally I think she manages to ride so fast, as she doesn't waste time watching telly but sits on her turbo instead!  As riders set off in their own time, we quickly caught up with groups who had started ahead.  We swished past a cyclist in front of and she exclaimed that we all looked like 'Sexy Sharks' which soon became our adopted team name for the day!   We stayed together to the first feed station at 20 miles where we indulged in the variety of snacks and stuffed our pockets with free gels.   We continued on our way as a group of 8 for a while, however having done the Arun river swim the day before, Catharine and I had heavy legs and opted to ride at a more leisurely pace and let (!) the other ladies speed ahead.  Shortly after the feeding station at 40 miles we met a lady riding on her own from Kent Velo ladies team.  She was happy for the company and the 3 of us continued through the rest of the course together. Paddington Bear met us at the finish and we collected our medals and more importantly a pretty decent burger.  All in all a lovely ride and one that we think we might let the boys join us for next year!
Wendy
Well done to:- Becky Sutton, Catharine Western, Karen McGrath, Nicole Patterson-Lett, Ellie Williams, Bec Day, Sharon Tidmarsh, Tiff Orton & Wendy Frost
The biggest Tuff presence at the weekend was Raw Energy's Ironman swim held on the Saturday. There was a huge turnout of Tuff's competing and marshalling, this is subject to it's own article; which is to follow.
MIDSUMMER 5MILE RUN/BRACKNELL FOREST FIVE
With 21st June being the longest day, what better than to go for a run. The Midsummer 5miler started from Lavant Village Hall and out onto the Goodwood Motor Racing Circuit for one lap before heading home. Tom Gray, Catharine Western, Jane Custance and Stuart Harvey met up for this one. Held during the heatwave the evening was a very humid 30 degrees. This didn't deter some quick Tuff Times with Stuart first Tuff home in 36:05. Stu was closely followed by Tom in 36:49.  Jane  was running strongly crossing in 39:17, for second in her age group and Catharine 45:42.  All the runners received a medal and a small bag of sliced fruit as they lay on the ground in the heat for their efforts. A small field of just 190 finishers; perhaps the fact that it was snail mail entry only deterred some people.
Further north, in Bracknell to be precise, Trevor Harvey was competing in the Bracknell Forest Five. Whilst part of the route was under trees it didn't keep runners away from the very humid heat which reached 32 degrees.  Trev received a wooden medal for his efforts and a Mars Bar, which in the heat was not much more than a soft melty flat thing.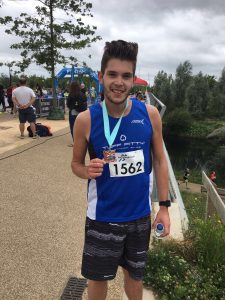 KELLY HOLMES OLYMPIC PARK 10K
Stuart Harvey reported in from his event in Stratford:-
Rounding off a great weekend away in London I entered the Olympic Park 10k. Set in the heart of the London 2012 Olympic venues it was billed as a "fast and flat course, perfect for PB's". Note the word "Flat". Flat it wasn't! The Olympic Park is deceptively steep in parts as it leads down to the water ways that pass through it and the 10k route took in these climbs. The 10k distance was played out over 3 laps meaning that these climbs were taken multiple times making this 10k a challenging one! Still with the baking heat of the week before long gone it was an enjoyable event with the London 2012 Olympic stadium a great backdrop. Considering it was a weekend of eating and drinking I was pleased with my 44:33 time whilst also taking home a medal and a t-shirt for my efforts. All in all a good, enjoyable  days racing!
Stu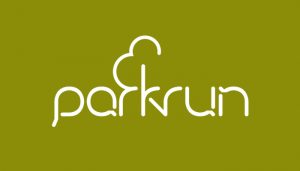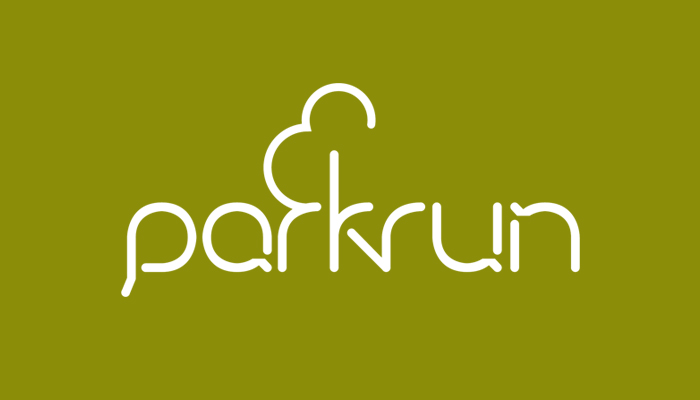 WORTHING PARK RUN
Some super running times from the Tuff crew at Worthing Park Run. First home, on his Worthing Park Run debut was Phil Baker in 20:30. Then the twenty One minute mark was crowded out by a trio of Tuffs. James Oram crossed the line in 21:12 shaving 5 seconds off his PB. Paul Martin was close behind in 21:19, which was a great time for his Park run debut. Just 4 seconds behind Paul was Jay McCardle who was clocked home in 21:23. Amanda De Ridder was 10th female home in 24:16.  It was great to hear from our roving reporter Phil Baker who advised:-
"Writing in after my first 5k for a couple of years. Worthing parkrun. After a short bike ride early Saturday morning, a last minute decision to get some much needed speed work, saw me toe the line for my first 5k race in almost 2 years. A strong headwind out to the turnaround point saw a sizeable pack having a draftfest at my expense and no amount elbow flicking would see any of them prepared to share the work. Bastards!! A faster return leg saw me home in 20:30mins for 17 place.  Really good to see a few more Tuffs out as well.
Phil