Weekend Round Up 1st 2nd July
Another busy weekend; the largest number of club members were at Worthing Triathlon. With plenty of photos for that we are just awaiting a race report, to follow.  For other Tuff endeavours; read on:-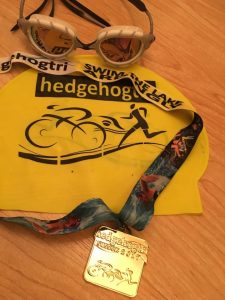 ARDINGLY SWIM THE LAKE
This round up started on Wednesday evening with Tuffs in attendance at Ardingly for 'Swim The Lake'. Whilst three distances, club members all elected to do the 3,000m event.  First Tuff home was Jez Garratt who swam home 4th overall in 49:26 and he received a trophy for first male vet. Next home was Stephen O'Donnell in 1:00:34. Pete Littleboy was also in attendance who reported in from the event:-
The Ardingly swim the lake event near Haywards Heath and my sponsor google maps as I had no idea were it was & as the rain poured in the afternoon I thought about giving it a miss as I didn't want to get wet!.  However I was glad I didn't as it hosted a range of distances  so having missed the weekends Arun swim I opted for the 3k distance (plus warm up for strava reasons). Starting  at 7pm prompt, with the other waves  5 min later, however the reservoir was warm especially when in a large group? Some said it was at least 20 degrees. We then set off for 4 laps of the course with very little punching and kicking so you could easily get into your stroke rate so all in all it was very well marshalled and plenty of free parking with a small walk. It also had a small cafe seated area with changing rooms & showers & with medals going to the 1st 10 finishers in your age group in the month & year you were born.  So overall it was well worth it & made a nice change for a Wednesday
Pete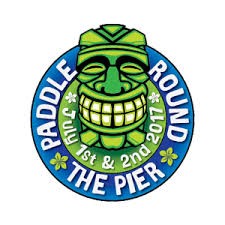 PADDLE ROUND THE PIER 2.5km 1st JULY
Susan Douglas reports in from two recent swim races:-  Probably not as exciting as Worthing Tri, but an enjoyable swim, for the likes of me.
We started from the far side of Brighton Palace Pier, 140 swimmers and a good mixture of skins and wetsuits.  The sea looked calm, from the shore at least.  The usual frenzied start and in the past, I'd usually take my time, let the speedy ones go first, but now, and I blame all of you Tuffs, I got stuck in! The course took us up the side of the pier to the end, where we turned right and into choppier conditions, then continued past the old burnt out pier then full steam ahead to the finish. I had a couple of swimmers in front of me, again in the past I'd have just let them beat me, but now I was hunting them down, annoyingly not making a lot of progress. Fortunately for me though they took a rubbish line into the finish going way over to the right, whereas I, with my super-duper Tuff Fitty sighting skills, headed straight to the finish and beat them!! Yay!
The race was won by a Budgie Smuggler wearing young man in 34 minutes! I took 50 minutes. I think I came 16th out of 40 women, but with no definition of skins or wetsuit. Doesn't really matter, we all got wet.
I also took part in the 4k Lock to Lock in Oxford a couple of weeks ago, I did a write up, but didn't get the time to transcribe it to keyboard. Anyway, it was a lovely swim, apart from starting at the unearthly time of 7.30am which meant getting up at 4.30am to get there on time.  It was very well organised with splendid cakes at the end and a groovy red mug to keep. They have produced a nice little drone movie if you'd like to look. They also have a Swimrun event on 16th July and 10k swim in September.
Susan
BARRATHON
A very early start from the Walton branch of Tuff Fitty saw 4 of us (Andy, Kirsty, Chris and me) heading to Heathrow for the first leg of an epic journey all the way to the other end of the country and the Isle of Barra off the west coast of Scotland. We picked up a car at Glasgow the race was on to get to Oban in time for the once a day ferry over to the island but safely on board we had 5 hours to relax in to "island time" and a much less frantic pace. 5 hours was also plenty of time to discuss why we'd chosen the ferry instead of the plane but after a flat calm crossing (much to Chris and Andy's relief) we reached islands bathed in sunshine and all decided that it was the most beautiful place we'd ever seen and we'd be moving to Barra permanently as soon as we found the right house.
Of course the next morning (race day) wasn't quite so idyllic and our plans for residency were put on hold while we searched for as many items of clothing as we could find to keep the Scottish summer at bay. The pipe band was forced inside but still created a memorable race start and we all got a real sense of the importance of the event to the whole island community. The rain even stopped as we wandered a couple of hundred metres up to the start line and when the klaxon sounded we had the wind behind us and sun on our faces, this was going to be a great day out.
Within the first mile Strongie had already spotted an ostrich ("this has never happened this soon before, I'm in for a bad day!"), apparently there is GoPro footage this time, we'll see. But in general the first few miles were undulating but spectacularly beautiful and wind assisted. Plenty of water stations and enthusiastic support even at the furthest reaches of the island kept everyone's sprits up, layers of clothing were removed and the crystal clear sea was eyed up for a possible dip later now that the early morning rain had blown through. Except as one season arrives on Barra another is hot on its heels and as we headed back towards the east coast we found ourselves on a wild, exposed hilltop with sideways rain lashing our faces and memories of Bala flooding back. But everybody resisted the temptation to shelter in one of the multitude of phone boxes and kept on towards the hill we'd all been warned about at mile 11. And it was a biggie, definitely no hiding places on that one.
Beyond that though it was a much easier run in to the finish. I was still providing the carrot for Chris to chase home but I wasn't about to turn round and check that out with the finisher's buffet in sight. So once the race was completed successfully by everyone we could move on to the real focus of the weekend, a fine buffet brought in from kitchens all over the island and the first of a good number of Skye Gold beers which we all managed to get quite a taste for. We couldn't get too carried away on the beers though as an evening of Scottish dancing awaited and we'd been warned that we'd need to be able to count to 8 to be sure we'd keep up, the pressure was definitely on and the pre dance nerves were much more evident that the pre race nerves had been. The English boys managed to wing it though and survive the dancing (due to some expert tuition from the Scottish girls) and after a quick nightcap in the local we were able to call it the end of a long but very successful day.
Dom
OUTLAW HALF HOLKHAM
The Outlaw Half at Nottingham has been a regular venue for Tuff's. but the more recent second 70.3 is the Outlaw Half at Holkham Hall, Wells-next-the sea in Norfolk. The 'Outlaw' brand covers all the organisers Iron and half distance events and contrary to many events with falling numbers now the race calendar is so crowded,  numbers increased to 1,300 starters. Against the background of Holkham Hall with a swim in the lake and a fast course Becky Lintott-Clarke was flying the Tuff flag. She reported it was very well organised and apart from her chain coming off; recorded 5:43 coming home 7th in her age group. Well done Bex
               PARK RUN
No Park Runs to report this week as the runs did not take place at either Worthing or Hove Prom, and no Tuffs at Bognor or Horsham; but well done to the club members who went across to Worthing's Street Velodrome and the brave few who ventured to have a good, even if the bikes were not up to Triathletes standard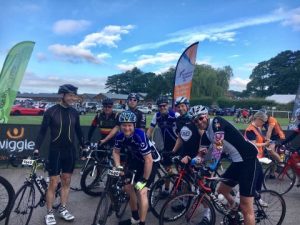 TIIT update.
Andy Ward wanted to jot down his thoughts on Ironman training and Phil Baker thought he would add his own perspective. Wardy first:-
Gavin, Matt, Ade, Hobbsie, Gareth, Jimbo, Pete and Chris will all be taking part in a variety of Iron distance events (I have to be careful here in case Challenge and Ironman brands start a war!!), which are about to start
This weekend is Challenge Roth in Germany…sometimes referred to as the greatest Iron distance event or the "Glastonbury" of Iron distant events. Gareth, Ade, Hobbsie, Matt and I will be flying the flag for Tuff Fitty followed (16th July) by Jimbo and Chris at Ironman UK in Bolton. Ian Bayley also racing at Bolton
Last but no means least is Gavin at Outlaw Full on the 23rd July (Robert Clarke is out doing IM Nice that weekend)
We have spent a lot of time together, training, drinking (some more than others – WILLARD!) and with our own group on Facebook a massive amount of banter or is that advice?
We have supported each other through thick and thin including some very dicey winter rides where Matt decided to audition for Holiday on Ice to being  greeted by some locals whilst riding and compared to all manner of things and other escapades that I'm sure we will recount on our TIITs after race party.
It has been a long journey (well actually for Pete it hasn't seeing as he only decided to race about 2 months ago!) and no matter what anyone tells you it does become all encompassing. With the entry for these events being almost a year away, you cant help but think about it and what you need to do.
I'm sure we'll all bore you senseless with the tales afterwards but if you have an opportunity to follow us or send us a message we'd love to hear from you.
To anyone wanting to do events like this in the future my one piece of advice would be to get together with a group like us….it has been an amazing journey and as the Grandad of the group I will miss my "boys".
Coach Wardy
Whilst Wardy has provided the above, I put together a Facebook messenger group in October and sent out invites. I thought it might not appeal to people, but it has been a great way to keep moral up through the long winter training and keep everyone on track. My own aspirations for a second Outlaw finish had to be put off for another year after a few viruses brought on my asthma, but i have been training with them all year so thought you'd all appreciate some background info on the group and their training. Track them, shout out your screens, give them your support.
Challenge Roth:-Wardy – Mr Consistent. Always there for the long ride come rain or shine and always wanting to ride to Selsey and back!  We've all followed his blog, just in case we forgot he was going long!
Hobbsie – Always seems to be on holiday! Or on the Isle of Wight! The technical one.
Ade – ????? don't know, seems to be always down the pub, or being dragged into one. You just know he's going to smash it though. The beer in hand smiley one.
Gareth – The quiet one. Diligently training away from the noise. More quality than quantity.
Matt – The one at the back. Literally!! Always at the winter rides and always at the back. He once came through to the front, but that was when there was just two of us out. Whilst having a draftfest at everyones expense, he has been very measured in his approach and peeling off the middle of a ride to forego the coffee stop at Edgecombes (only way we could get Chris out some weeks) to add on a 2 hour run. Chapeau.
Ironman UK:- Chris – The artistic one with an Edgecombes obsession. Chris would often volunteer a 'nice pretty scenic route' which ALWAYS seemed to go via Edgecombes. Chris could sometimes be found fighting Matt to see who could be at the back of the TIIT peloton. That is, until a hill came upon us, which was his que to get all macho and shoot off into the distance.
James – The doubting one. Sometimes questioning his place, unnecessarily. Out in the rain, smashing it down to Selsey and back (AGAIN!!), showing his bunch riding ability and i think he found his place in the group after a bonding session at the Selsey public loos, where afterwards, we all had to wring our gloves out!!
Pete – The Comeback kid. Back with a bang. Late notice entrant, but with Brighton Marathon, Swashbuckler and more under his belt, the dark horse of the gang.
Outlaw:- Gavin – The indestructible one. Always there for the long ride, having run a hundred mile the day before. Always on form. Like a machine.
Phil  – The sensible one (left the messenger group to avoid the never ending ping, ping, ping). Probably the only sane one left.
So as the sun came out, road bikes were swapped for TT bikes and Wardy seemed to gravitate to the A24 most weeks. Some impressive average speeds were clocked and some very consistent high miles have been put under this motley crews belts. They've put in the hours, the miles, they've endured the wind and the rain to achieve their goals, they've huddled inside for mid ride shelter, mainly with coffee, not flinched from the task in hand. On any given Sunday (almost) in July, you'll find a Tuff putting it all on the line. Good luck TIITs.
Phil.