Weekend Round Up 10th 11th June
This week saw lots of Tuffs out racing again. Star billing goes to Bec Day who successfully completed her first Iron distance race earning a large trophy in the process at the UK Ultimate Triathlon . Her report justifies a separate article in due course, along with Mark who undertook the Middle Distance at the same location.  There was further Middle Distance participation at The Avenger. Catharine, Tiff, Nicole, Jon and Tom were all present; they also justify a separate report. Great results and it still left time for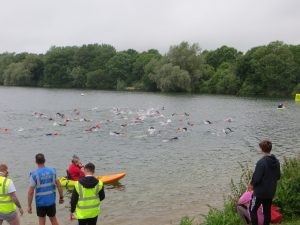 CHICHESTER LAKE TRIATHLON 
(The top banner photo shows l-r Nicole & Clive Patterson-Lett, Sam Littlejohn, Karen McGrath, Drew Gowland and Ollie McDonald)
Whilst a small group of Tuffs competed, the squad all produced excellent performances crowding out the top end of the results table. First off was a sprint race of 750m swim (a square around Westhampnett Lake) and a cheeky climb up to Halnaker & Goodwood for a 23k bike. A one lap run of 5k  brought runners to the finish to collect their medal and T-shirt.  There was a brilliant performance from what we hope will be a soon to be Tuff- Drew Gowland.  Drew has become a regular on the running track. He started by pulling away from the swim field exiting the lake just over 1.5 minutes quicker (10:34) than the next best placed. Drew followed this with the second quickest bike leg. There were some very rapid run splits but he still ran home 3rd male overall gaining a prize.   Some of these rapid runners included our very own Ollie McDonald who has hit a rich vein of form recently. His fourth fastest run split came after him delivering the fourth fastest bike split.  With a good swim Ollie finished – fourth overall.   Karen McGrath had some trepidation about her first tri of the year playing down her chances. However she needn't have worried;  Karen raced home 1st female vet which also placed her as third female overall. Three terrific results.
John Mcgrath cycled over to cheer, as did Leanne Levitt out training before her Middle distance race next weekend.
Following the sprint was a standard distance; twice around the lake for the 1,500m before the challenging 38k bike and the two lap 10k run.  Starting shortly after the sprint, the rapid swimmers would overtake some of the sprint racers; amongst those speedy swimmers were Clive & Nicole Patterson-Lett. Nicole delivered her trademark rapid swim, emerging from the water second overall, just behind Peter Younghusband who would go on to win the race. Clive wasn't far behind with the 8th fastest swim.  Nicole wasn't content with that, pushing on to also record the fastest female bike split of the morning. Running down the road to the finish arch Nic crossed as 1st female overall over 5 minutes ahead of the 2nd placed female.  Clive did well in all the disciplines crossing the line 2nd vet after Peter Younghusband and 5th overall
There was good work from Karen's other son, Sam Littlejohn who travelled down from London for his first ever tri, becoming an honorary Tuff just for the day, and promptly finished 8th overall. Requiring a level II referee for an open water event, Clive Harvey was on duty officiating throughout the morning.  A cracking set of results from all the Tuffs. Clive sneaked the following photos into his officiating:-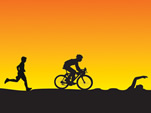 MIDSUSSEX TRIATHLON
A club favourite, this sprint triathlon comprises a 400m swim, 25k bike and 5k run. Dominic Chapman was the first Tuff home, 6th position overall in a time of 1:07:01. Great to see Tony Pearce competing in 1:24:50 and Chris Evans 1:50:20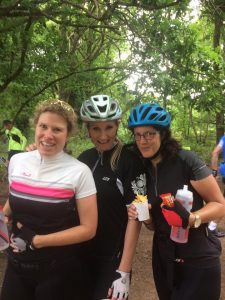 EVANS CYCLES -KING OF THE DOWNS SPORTIVE
Ellie, Sharon & Claire
On a grey overcast Sunday morning four intrepid Tuffs, aka Elle, Sharon, Claire and Glenn set off on the epic 'King of the Downs' sportive. Well, not exactly the whole thing, just the first half of it. The full route is 115 miles and takes in 10 'epic' climbs. The word 'epic' features a lot in the marketing of this event. Riders are given the option of two shorter loops, an east loop of 61 miles with 5 climbs or a west loop of 54 miles and 3 "quad trembling climbs". Decisions, Decisions. Initially, we all thought the east loop would make for a nice, challenging training ride. However, we were quickly put off by one of the climbs, billed as 'THE WALL' and that wasn't even the worst of it! Nobody felt like staring in an episode of Game of Thrones so we decided to embark on the slightly shorter and marginally less step West route.
'Forewarned is forearmed' the route guide advises. I only wish that I had bloody read that guide before parting with £30. If I had, I might have been prepared for climb number 1. The Abinger Lane version of Leith Hill. "There's no easing you in gently" the guide smugly states. Sharon was treated to a barrage of swear words when I ran out of gears half way up. Only to be greeted with some even more colourful language when at the top when she suggested that sign at the bottom meant 1 mile to Leith hill, rather than 1st climb! At least the Sun decided to put in an appearance at this point. Another big climb at 20 miles, 'Pitch Hill' had me gasping for a cup of tea. The feed station at 25 miles was well stocked with cake but sadly, no tea.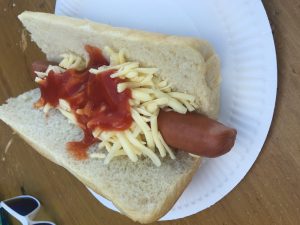 As you can see from the photos, Claire made the most of the all you can eat buffet and Sharon nabbed all the jelly beans. Re-energised, we were ready for three more big climbs culminating in the beautiful Box Hill which was teaming with cyclists and resplendent in the sunshine. With the climbing done and feeling very grateful that I didn't have to do any of the big b*****d hills on the second half of the course, it was head down on the long drag to the finish and a well-earned goodie bag and hotdog. The longer route might be something to aim for next year.
Ellie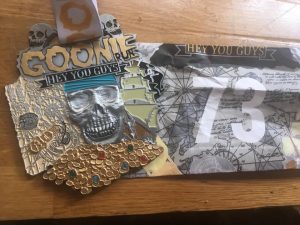 GOONIE RUN
Jay McCardle has been continuing to add to his ever increasing number of marathons; and last Wednesday 7th, he took part in the Goonie Run. There were distances for all levels on the lap course from 3.28 miles, 6.56, half, marathon & ultra distances . This was run along the Thames from Walton-On Thames; a lovely sunny day although a bit blustery.  Whilst he has been ticking off more marathons since his comeback from injury, Jay is evidently now getting back to his best. How about a Goonie Marathon completed in 3:49:30 coming home 8th overall and collecting the huge medal shown above; well done Jay.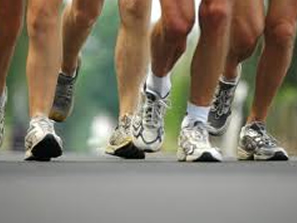 WEST SUSSEX FUN RUN LEAGUE – HOVE PARK
Two Tuffs out this morning wearing their running club vest –  well done to Neil Rabone completing the 5k course in 22:29 and Steve Feest in 23:10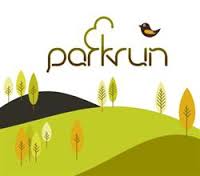 PARK RUN
This week saw the first anniversary of Worthing Park Run and this milestone was celebrated with the highest number of finishers yet. James Oram recorded 21:20, just three seconds outside his personal best.  Miki Floyd, Maynard Floyd and Rachel Brunning completed the Tuff finishers.  Over the past year  James Oram (33 Worthing Runs) and Amanda De Ridder (29) have been the most prolific Tuff attendees and Andy Ruffer  recorded the fastest Tuff Time in the year (19:02).
Across at Hotham Park, Simon Thistlethwaite was in action at the Bognor Park run. He produced a terrific 19:25 to finish 3rd overall