Tuff Arundel Lido Club Race 3
The third of our popular Summer Club Lido races, although we could be forgiven for questioning 'Summer' in the title with the black sky surrounding the pool bringing the night time sky far earlier than was justified.   It was pleasing that the rain held off until everyone had finished racing  and it just proved a good excuse to then move inside or under cover where the now traditional Tuff fare was located.  The pipping hot meat straight from the barbie prepared by Glenn Parisi & Jon Roper and the extensive range of salads from Catharine Western proved ever popular.
Understandably numbers were a bit down this time due to being right in the middle of the holiday season but this did not prevent a very competitive race from developing. There were some very nifty swim times with Drew Gowland returning the fastest swim split, then Tom Goddard and Kev Pearson all exiting in under 6 minutes for the 400m swim. It was particularly pleasing to see Kev Pearson back racing after his operation and long lay-off, racing in good shape – welcome back Coach.    Joe Pascoe recorded the fastest run split in(18:48) and Dave March second quickest (19:02) meant they finished first and second respectively overall.
Top five, Dave March, Joe Pascoe, Tom Goddard, Kev Pearson & Matt Whittaker
There was a frantic dash for the line with five Tuffs all reaching for the finish line within 12 seconds of each other, a sight which would have been quite at home not far away in the London Stadium's championships, as several flopped over the line having given it their all.   Equally pleasing to see Jenny and Adrian Oliver complete their first multisport event with the club. Once again a couple of relay teams raced to broaden the opportunity for Tuff's to compete, and there was a good contingent of helpers on hand to marshal and help ensure the food was consumed.  Thanks to Clive Patterson-Lett and Tiff Orton for the timing and everyone else who helped marshal. Despite the weather on two of our race nights, 2017 saw the best attendances yet – thanks to everyone for making these very successful additions to the Tuff calendar.
Clive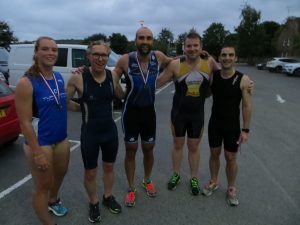 Nikki Gatland (1st female) Anthony Towers, Tom Gray, Andy Heath & Ben Abbott having recovered from their close sprint finish
A few shots from the Tuff family album, together with the full results below:-
| | | | |
| --- | --- | --- | --- |
| | 400m swim | 5k run | Total |
| Joe Pascoe | 06:06 | 18:48 | 24:54:00 |
| Dave March | 06:06 | 19:02 | 25:08:00 |
| Tom Goddard | 05:52 | 20:11 | 26:03:00 |
| Matt Whittaker | 06:52 | 21:02 | 27:54:00 |
| Kev Pearson | 05:59 | 22:27 | 28:26:00 |
| Drew Gowland | 05:37 | 23:10 | 28:47:00 |
| Tom Gray | 06:56 | 22:42 | 29:38:00 |
| Nikki Gatland | 06:28 | 23:11 | 29:39:00 |
| Ben Abbott | 07:01 | 22:39 | 29:40:00 |
| Andy Heath | 07:06 | 22:41 | 29:47:00 |
| Anthony Towers | 06:29 | 23:22 | 29:51:00 |
| Wendy Frost  ) | 08:25 | | |
| Tim McGrath  ) | | 22:07:00 | 30:32:00 |
| Katie Goddard ) | 08:21 | | |
| Dave Harris      ) | | 23:01 | 31:22:00 |
| Steve Custance | 07:06 | 24:55:00 | 32:01:00 |
| Olly Sampson | 07:21 | 26:59:00 | 34:20:00 |
| Antony Oliver | 09:07 | 25:24:00 | 34:31:00 |
| Adrian Oliver | 07:06 | 28:19:00 | 35:25:00 |
| Jenny Oliver | 08:38 | 33:24:00 | 42:02:00 |