Weekend Round Up 30th Sept/1st Oct
Into October but there's still plenty of Tuff activity alongside our training sessions of bike ride, 2 swim training sessions, track session, and two other runs per week:-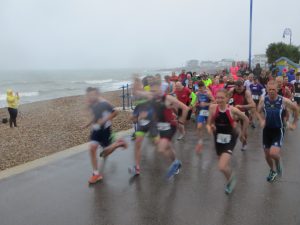 TRIBAL SPORTS BOGNOR SEA TRIATHLON
Drew Gowland reported in from his event on the seafront at Felpham Sailing Club:-
A mixture of excitement, nerves and a touch of sadness as we approached the last triathlon of the season, the October gamble. The forecast looked ominous, yet a lot of us remained positive, that is until we turned up for racking in the diagonal rain with a turbulent sea backdrop. Lots of discussions were flying back and forth; kayaks and safety vessels, athletes and organisers, organisers and the referee (our very own Clive Harvey), athletes and families , finally the organisers announced there will be no swim. Bugger!
An immediate change went over the crowd, some relieved, some gutted, a complete mix. We were now in a Duathlon. Personally the first one ever for me, not being a runner (yet). Clive Patterson-Lett seemed quite chuffed, being the superb runner that he is. I tried to find the organisers to over throw the decision, I tried to find Clive H. to overthrow the decision (though by this point the Clive H's referee coat was working as perfect grey camouflage against the fully clouded sky).
It is, what it is. Duathlon: 3Km run, 28Km bike, 5Km run. Urgh. Clive P-L and I were the only Tuff's actually racing, though there were a few other Tuff's shouting and cheering us on, which much appreciated (thank you, Nic P-L, Simon T et al). I just had to get this damn chant out of my head "no swim, no win, no swim, no win". Bah.
The race
Run 1: The horn went and a small blockade of athletes ran East down the prom. I actually felt great, but then remembered that it was the force 5/6 Westerly winds helping. After about 1Km the prom ended and we cut to wet muddy puddled single track until our turnaround and WHAM, oh yes, there's the wind. The change in pace was quite noticeable as Clive extended his lead ahead of me. Should I try to run like a crab and reduce my forward footprint? Nah, lets just get to the bike…
Transition 1: Everything was wet.
Bike: Lets have it! With a war cry I span out and started trying to hunt down all the runners that went ahead of me during the false-swim section. The course is a fairly fast and flat affair but we knew it was majority longitudinally running. The Eastward sections fairly fast, the Westward sections hard work into the wind and rain. A visor becoming a visual impediment, rather than aid. Clive and I both put in good bike legs, with me coming in slightly ahead, trying to get a much as possible as I knew I could lose my bike gains on the final run.
Transition 2: Everything is wetter and the shoes already muddy, we threw things off and pulled things on.
Run 2: Weeeeee out with the wind again… Arrrggghhh there's the turnaround. A full Bognor prom stretch into the wind and (now) drizzle, felt refreshing, the crowds lifting our sprints, making every step feel lighter. A right turn and up through the park to see a lone Simon T paparazzi-banter machine! Another bounce added to the step to get us back round to the finish and the finish did come. For me the added bonus to actually finishing was my wife and two daughters giving out all the medals (and scoffing oranges like there's no tomorrow!).
The final throw: Hot chocolate and a bacon butty!
Two great performances from Clive & Drew 
Clive stormed home to achieve 2nd in category (6th overall) and I managed 3rd in my category (5th overall), both of us with big, if not wet and chilly grins. It turns out duathlons can be fun… just not as fun as triathlons (in the authors opinion).
Drew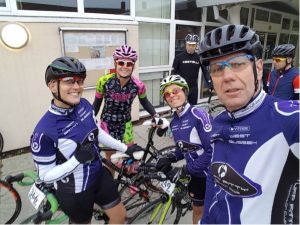 Tiff, Nic, Miki & Jon
LEGS OF STEEL SPORTIVE
Next up Tiff Orton reported in from the Legs of Steel Sportive around the North Downs:-
Jon A.K.A. Fivecakes has entered this event every single year since it started (11 in total). I myself had done the route before but never on the actual day of the sportive. There were 4 Tuffs represented last Saturday 30th Sept; Jon, Miki, Nicole Patterson-Lett and myself.
We got there early as they had changed the starting place form the top of Box Hill to a local school and were all actually in the first group sent off just before 8am. Jon and Miki went off as Nic had very patiently agreed to cycle with me (I am not sure she was aware of what a long morning she was in for having to wait for me!). After 1.5 miles Jon experienced a snapped chain (karma for him taking the mickey out of CPL snapping his earlier in the month!). Nic and I offered to stay with him but he did say (in that certain tone of voice) 'No you 2 please go on – I'll sort something out'. As neither Nic or I were probably of any use to Jon being a damsel in distress we did as we were told and carried on.
We were expecting 78km of hard riding as it's billed as a tough course – mainly going up steep climbs and then coming back down again just to go back up again! The route was lovely and we were taking it easy (Nic was anyway!) and we did stop at the first feed station for a 'convenience' break! Winding through the surrey hills we followed all the signs and duly climbed up and down, up and down. I found some of the climbs particularly tough but proud to say I did not walk up any of them – plenty did though.
At one particular junction signs were missing and only after climbing yet another hill, did one of the guys riding with us said that we had gone wrong according to his Garmin so we duly cycled back down the hill to pick up the correct route. Thank goodness we had someone who noticed with us – I have no idea where Nic would have ended up though I was a little annoyed it took climbing up another hill for them notice!! Still all extra miles and climbing!
Miki had whizzed off at the start and had also experienced a wrong turn. We all think some locals thought it would be funny to remove the signage – this was fed back to the event director after the event.
With about 20 miles left on the clock I heard a wolf whistle and Jon had caught us up – yay, he had managed to get fixed to complete the event. He rode with us for a bit but it didn't take long for him to start getting twitchy and get a move on leaving Nicole and I to take a more leisurely pace back to the finish.
Overall a lovely event with only one major issue – peanut butter on toast served at the finish – YUCK! Goodie bag was of value too; a medal, waterproof mobile phone pouch, cycle cap, cereal bars, coffee sachets and a banana 🙂
If you want a challenging sportive then do enter it – tough but lovely. A huge thanks to Nic waiting for me at the top of every climb!
Tiff x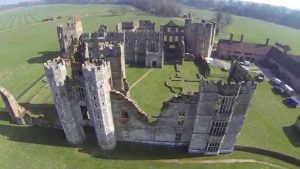 COWDRAY PARK 10K
Organised by our very own Jason Rae in conjunction with the Cowdray Estate, this was the second year the event has been held with a choice of 5k or 10k.  There was also a Canicross event who went first to be chased down by the rest. There were just three Tuffs on parade in the 10k. Simon Thistlethwaite had hoped to race having helped set the course up the previous day, but following his accident at work he hasn't had much luck since with his car breaking down on the morning. This left Stuart Harvey, who was appearing very confident, lining up right at the front, and Trev & Clive Harvey.  The race features a lunchtime start and despite torrential rain beforehand, during the race it was warm and dry, although there were a few slippery muddy places.
The Tuffs picked off several of the Canicross runners (who had started off a couple of minutes ahead), particularly the ones who stopped for a poo! Pace had to be picked up after a couple of miles due to the vocal support and excellent marshalling from Sharon Tidmarsh. Stu's earlier confidence was well judged as he crossed the line in 9th position overall.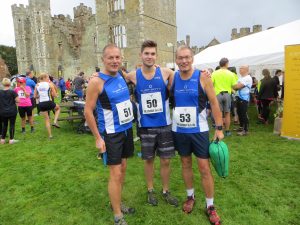 Clive, Stu & Trev
The course is very scenic and is very highly recommended for the calendar next year. If you have a family who say, 'oh are you going out again' then take them along. The 1pm start is civilised and the ruins of Cowdray are open to explore which is very educational. Oh, and upon finishing you get a quality burger and a great medal; what's not to like.  Jason had to round off the afternoon by going around the course taking down all the signs; great prep for his Ultra the next day!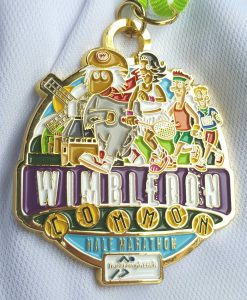 That's what you call a medal
WIMBLEDON COMMON HALF MARATHON
Rachel Brunning reported in from her race at Wimbledon with Maynard Floyd:-
The day had finally arrived, for years we have chased and dreamed of the athlete's holy grail… the Womble Medal. We arrived hopeful but a little scared… apparently a few years ago the race organisers had handed out… a medal with Poxy tennis rackets on it!! What if this happened again?!!!
We arrived at the recommended parking location (Asda) at 8am for a 9am start to find Asda wasn't due to open until 10am. Upon eventual arrival I raced behind the registration desk (uninvited) to ask a teen unpacking medal boxes to check the medal. She said 'What's a womble?' Gah… philistine! But I had glimpsed Orinocho and a wave of fuzzy furry wombleness descended and lifted our moods. I then glimpsed the ACTUAL Orinocho and raced over for a big hug and a selfie. My running mates played it cool but I was overcome. Off we ran, safe in the knowledge that we had earned it, and I had the selfie! MAIN RACE REPORT: We ran round and round the common for 13.2 miles BACK TO THE IMPORTANT BIT: We also got a Womble t-shirt as well. Don't hate me cos you ain't me….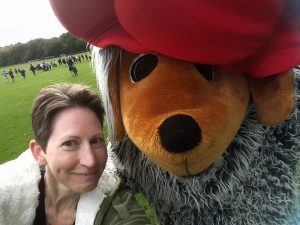 Well worth entering the race for :- Rachel & Orinocho
Rach
Gav & Jason 
DOWNSLINK ULTRA
A report from Gav Sewell at Sussex Trail Events Downslink Ultra stage by our very own Chris Ette, Jay McCardle & Danny Cunnett.  Also well done to Leigh & Ian Moore out on the aid stations:- photos above courtesy of Jon Lavis
Having signed up for this in full Ironman training mode and feeling fit as a fiddle, and with encouragement from Gary Locker and the knowledge he and Ade Willard would be running as well, it all seemed like a good idea in May. But with race day approaching and Ade out with a snapped Achilles (OUCH), and Gaz deferring to the Mouth to Mouth in December due to injury, I was on my own, after two months of very little training and plenty of beer drinking and burger eating since The Outlaw.
Race day arrived and I headed over to Shoreham to catch the bus, which would take us to our starting point in Guilford. The weather was awful in Shoreham with heavy rain and wind but in Guilford it wasn't so bad. As normal with any STE race everyone was extremely friendly and in good spirits with a "we are all in this together feel". Bumped into another Tuff in Jason Rae who is making this ultra running look easy  at the moment.
The race started and off we went down a steep hill and sand below our feet. The first few miles were quite interesting as they were hillier than I expected and muddier. Eventually we hit the wider part of the Downs link and and I started to settle in my stride. To be honest I felt better than I thought I would. Chatting with various runners and enjoying each of the aid stations. I hit the marathon at 4hrs24 then the legs started to fade. The weather stayed ok until Henfield then the rain and wind returned to welcome us home. It was good to see Gaz at the last aid station as he had kindly volunteered to marshal. All the volunteers were fantastic and STE held another well organised event. With 6 miles left it was just about keeping running, the finish line couldn't come quick enough and all I wanted to do was sit down. The horrible path that leads from the bridge to the finish was so uneven and made that last mile really uncomfortable. Very pleased to cross the line in 6hr45. Stairs are definitely going to be a problem over the next few days.
Highly recommend the event but will not be running it again. Ultra running is ticked off the list but my legs aren't built for them sort of miles. I'll stick to marathons. But like everything never say never again.
Gav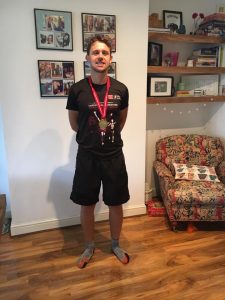 CARDIFF HALF MARATHON
James Oram did well last weekend at Barns Green Half, so what does he do for the next weekend? Travel to Cardiff for another one! he takes up the tale:-
After an arduous journey (due to junction 17 being closed on the M4) Claire and I arrived at Cardiff half – the second biggest half in the UK. I met up with my friend Tom from Plymouth Harriers who was "injured" so he decided to be my pacer dressed up as Harry Potter with a broom and wand! It was most amusing hearing the little Welsh accents on the way round shouting 'Go on Harry Potter!' Clearly I was influenced by the wizard as I managed to get a new PB 1:33:16 (just over 7 min miles) and achieved some negative splits at the end. It was a bit flatter than Barns Green! Indeed it was great conditions for running in general as Kenya's John Lotiang won the men's race beating defending champion Shadrach Kimining in a course record of one hour 47 seconds! I bet he didn't have a double whopper meal afterwards like I did! Happy running everyone!
James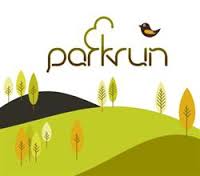 PARK RUN
Phil Baker reported in from Worthing Park Run :-  Reporting in for a third race in three weeks. Used Saturday's Worthing ParkRun as a training race to get my legs moving a bit quicker. Pretty good conditions with the cool temperature and light winds. 20:13mins for 15th place. With cross country season fast approaching, the trip into the red was much needed prep.       Also present was Amanda de Ridder, 7th female in 24:10,  &  Tim Kenny. Up at Horsham Park Run Leigh & Ian Moore participated again.
Thanks everyone:- keep those reports coming; send to clive.harvey@tinyworld.co.uk