Tuff Fitty Activity Camp Report
Trevor Harvey reported in from our latest activity camp as follows:-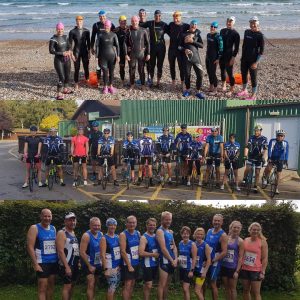 TUFFS DO DORSET
The annual Tuff Training Camp was once again held at Warmwell Holiday Camp, just north of Weymouth, over the last weekend.
It followed the broad format of previous years – whereby cycling, running, swimming and socialising were to the fore – and whilst sadly only 16 Tuffs were in attendance, a jolly time was had by all.
Friday – Check into the cabins was from 4.00 p.m., but I had a leisurely drive down during the day, and we were joined at various stages by our cabin-mates.  Plus point – people can join at any time – particularly those who had to work during the day; and you can choose your own fare on arrival – some had fish & chips on site or self catered as and when they arrived.
Saturday – we divided into two groups for a cycle around the beautiful Dorset countryside, taking in part of the Weymouth 70.3 route from the previous week.  In good weather, Clive PL led a group on a 48 mile trip, on a great route, which (kicking and screaming), included a coffee and cake stop!  Jon Five Cakes led the other group on a slightly longer route, circa 62 miles at a slightly higher pace.   Thanks to Clive and Jon for superb rides – great cycling had by all.  Plus point – a choice of groups and no one gets left behind or if you wish to do your own thing/cycling is not your bag/lack of training/injury or an urge to go shopping in Weymouth, then that is fine – everyone is free to do their own thing.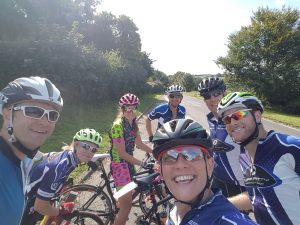 Lovely weather for a cycle
After some sustenance, it was into a few cars down to Weymouth sea front for a swim, (not surprisingly), in the sea!  All wore wetsuits, but a pleasant temperature with very clear sea – you could see the bottom.  Many swum almost 1,700 m; others a distance to suit their own taste.  Plus point – a great swim; with several people you can choose your own distance and if you wish to do your own thing/swimming is not your bag/lack of training etc etc., (you get the picture), then you do not need to take part………and indeed thanks to those who didn't swim and could act as guards for the myriad of clothing etc., left on the beach!
We returned to Warmwell into their restaurant and on a big Tuff table had a choice of a reasonably priced menu – good food and not so good service!  (Ask Muz about his pud next time you see him!!).
The camp has an entertainment complex with a variety of activities, and some adjourned to sample the 'entertainment'  An acquired taste!!?!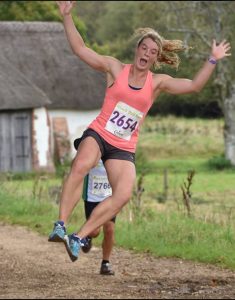 Nikki enjoying her 10k!
Sunday – In prior years a run had been organised, but last year the date corresponded with the Black Hill Run – and so it was again this year.  A chance to take part in an organised race, part of the Purbeck Trail series.  A choice of a 10 or 5K.  All opted for the 10K bar Joe Pascoe who received a great deal of stick for doing the wimpy 5k race……..however, he responded in true Captain's style with a virtual two fingers 'up yours' by winning the race, and by a handsome margin!   Not to be outdone in the 10K, Alice Gatland stormed home to 2nd female overall.  Great results – both Joe and Alice received hampers and rosettes for their endeavours – the rest of the Tuffs getting a nice bit of bling in the form of a good medal.  Organised by Bere Regis Scout Group, we all wandered back to their HQ for coffee and a great array of cakes, which, not surprisingly were suitably sampled.  Plus point – an organised run; 'bit a bling'; with a choice of routes – but if  trail running isn't your thing/lack of training/injury etc etc, then you do not need to take part – and indeed thanks to the PL's for cycling over and cheering everyone across the line.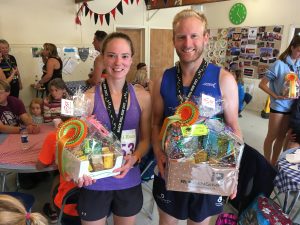 Alice & Joe with their best in show rosettes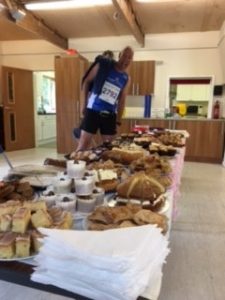 Cake & 'FiveCakes' to the fore
Steve and Jane headed straight for home after the run, whilst the others returned to the camp for further sustenance and showers.  Whilst the cabins were booked for Sunday night, people departed at various times through the afternoon – not surprising if you are working on Monday.  Myself, Clive (PL) and Nic stayed Sunday night, whilst four others felt that they would delay their departure to hopefully avoid the traffic and so seven of us headed to the Smugglers; a great pub on the cliffs overlooking Weymouth bay for food and a cheeky beer, (for the non drivers).
Monday – Clive and Nic kindly humoured the old bloke in the morning as the three of us went down to Weymouth and had a great canter along the seafront, before returning to the camp for breakfast, clear the cabin and checkout.
Once again a great weekend – thanks to Clive H for booking the cabins, but sadly he couldn't attend at the last moment due to playing nurse at home.  However, thanks go to Alice, Bex, Catharine, Clive, Glenn, Jane, Joe, Jon, Mark, Muz, Nic, Nikki, Steve, Tiff and Wendy for your great company and providing a good giggle all round.
……….however, the point of labouring the plus points above is so that you can see that it very much a bespoke event – you can take part in as many or as few activities/events as you wish, can self cater or use the facilities on site, and importantly come and go as you please to suit home/work balance.  Warmwell has a lot of facilities that we didn't even have time to try, including a ski slope and swimming pool.  We had reserved four cabins this year and had spare places – and so next year we need to ensure that we can fill the cabins we have booked to keep the cost down.  A cost, which to my mind was very very reasonable this year.  Several photos attached which, if you did not attend, I hope whets your appetite!
The date for the Black Hill Run 2018 has already been published.  Same again next year?  Any comments on venue or activities – please speak to the committee so that the weekend can entice you.
See you next year????
Trevor