With so much race action occurring over the weekend, the detail needs to be broken down into different sections; Firstly all the action from Arundel Lido:-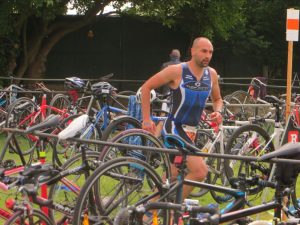 ARUNDEL LIDO TRIATHLON
After a fine sunny day on the Saturday, daylight early Sunday revealed Arundel covered in mist and visibility up at Whiteways Lodge and Fairmile Bottom on the bike course very limited. Everyone who had turned up in t-shirts anticipating a warm sunny day had a bit of a shock. Clearly safety comes first and a delayed start of 40 minutes saw the standard distance competitors off first.  It was great to see many different Tuffs out racing and to see a familiar Tuff competing again. Andrew Coe is one of our longer serving members and whilst he had been away from the race circuit for a long time, he has remained a member and very supportive of our club. It was therefore excellent to see his return to action and that he has 'still got it' using his strength on the bike to see him first Tuff home.
One of this years intake, Charlie Walker demonstrated her form in style, with a rapid swim split;  2nd Tuff and 6th female overall, missing out on fifth by 1 second! Next home 'cycle hats off' in respect to Ian Bayley. He wanted to race at Arundel, but with his home run the Bognor 10k being on the same morning which should he choose? Answer -both! By selecting the Longer course he reckoned he could finish and then run at Bognor although he stated that would be at "a more leisurely pace".  Ian's finely tuned plan looked to be shot to bits with the delayed start time, so he got a move on racing home as third Tuff (and still made Bognor!) – that is commitment. Nick Bolding has been showing some great running form on track and used this to good effect to finish next with the best Tuff run split. Becky Lintott-Clarke was modest about her own performance but that didn't stop her winning the 1st female vet prize with a margin of over 5 minutes. Jo Meaney did well matching Charlie on the bike time to the second and good to see Alister Marchant racing grabbing some time from a hectic work schedule.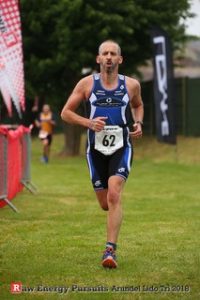 Thanks to Nick Bolding (pictured) for his report on his race:-
When my alarm went off at 5am I'd already been awake for 15 minutes – somehow your body-clock just 'knows' when you need to get up at time other than your usual one…
This was it, my first standard distance triathlon (well, a pool swim so only 800m… and the ride was actually 35km… and the run only a little over 9km – but we'll gloss over those details!), Arundel Lido. It seemed odd to think it was almost exactly a year ago that I did my first ever triathlon, the Arundel Lido Sprint…
My bag and bike were loaded into the car the night before so all I had to do was put on my tri-suit, microwave and eat the banana pancakes I made the previous day and I could be on my way.
This was going to be a double-first as it was my first standard distance tri and the first time I'd be wearing the Tuff colours…
On arriving at the Lido I was greeted by Clive H who cheerily informed me he'd been up since 3:30, which made my 5am start seem like a lie-in and also highlighted to me the 'behind the scenes' work that he and other club members put in not just directly to running Tuff Fitty but also to ensuring there are events we can take part in.
We'd been warned that it was chilly in the mornings so may want to wear an extra layer on the bike but this morning it was also pretty misty, so much so that the start was delayed by half an hour to give it a chance to burn off a bit. I was very glad of my recent purchase of a Zone 3 fleece-lined onesie – I may have looked like the black sheep of the Teletubby family but I was toasty-warm.
Apparently I'd indicated I thought I was going to complete the swim in 18 minutes… I'd not been getting as much time in the pool practising my freestyle over the winter as I should have, so I decided to swim breaststroke, which I'm better at but which always makes me feel a bit conspicuous. I hopped into my lane and was sent on my way… Swim was uneventful, I overtook a couple of people who'd started ahead of me and no-one ticked my toes to get past so my choice of stroke felt vindicated.
Out of the pool and a short jog across to the transition area where I'd secured a prime spot on the end of a rack right by the exit. Quickly into the usual kit – plus a windproof gilet – slurped down a gel and away into the bike leg.
I'd been dreading the ride after last year's sprint distance as it's the same route – twice. All I remembered was a long initial climb and I was dreading doing it a second time, plus I've been hitting the spin bike over the winter rather than getting on the road or a turbo and sessions have only been 45 minutes and I knew I was going to be on wheels longer than that.
As it turned out the ride was actually pretty nice – rode to target cadence up the hill keeping the resistance light and tucked onto the tri-bars and put the hammer down on the flats and downhills. Point of note – the couple of large-ish potholes one leg of the triangular course had been highlighted with orange road-marking paint by (I assumed correctly) the Raw Energy crew which made them easy to spot and the ride much safer.
I barely saw anyone on the ride, toward the end of the first lap I passed a couple of competitors who'd been in the pool before me and as I started the long climb toward Whiteways roundabout a few of the fast, 'full-aero' guys passed me. It was actually pretty pleasant out on the quiet roads with a little lingering mist in the trees…
Into transition again and a quick switch to 'run mode' – It was at this point I realised at some point during the ride someone had secretly amputated both my big toes and replaced them with ice-cubes… at least that's what it felt like! I figured the bast way to restore bloodflow would be to get going so I headed out. Legs felt 'odd', but they always do when you start the run, right? Pace felt good, but legs felt weird, weirder than usual – sort of like they were broomsticks strung with taught elastic bands, especially around the knees.
I kept pushing on, expecting/hoping my legs to return to some semblance of 'normal' soon… but as I started up the steep climb toward the trig point on wet, slippery grass they started to feel like broomsticks wrapped in sandbags with rubber-bands for muscles… I just needed to get to the turn point and it'd be downhill, with a little side-leg I was sure would be flat.
The extra leg toward South Stoke for the standard distance is euphemistically referred to as a "…rolling section…" – it was bad, but it was eased a little by encouragement from runners coming back the other way "Nearly at the top of this rise!" or "Just one more climb after this one!". It was with a mixture of relief and dread that I ran around the cone at the end of the lane, relief that I really was now on the homeward leg, but dread because all those 'rollers' had to be tackled again, just the other way around.
I'm not going to lie, I walked to the top of some of those rollers and was 'clock watching' my Garmin, counting down every 100m until I could stop.
Past the wetlands, through the village, along the back of the Lido and the wonderful sight of the finish line… smile for the camera… and done!
Smiles (grimaces?) all round from the competitors hanging around rehydrating plus pretty much everyone saying how 'brutal' the run had been while high-fiving each other and applauding other runners as they came down the home-straight… really good atmosphere and buzz.
Got my overall and split times from the results computer (very pleasantly surprised by the numbers!) then staggered over to change and collect my bike. Spotted fellow Tuffs including Rebecca Lintott-Clarke (who was first female veteran) and Ross Malyon, who was making Arundel Lido sprint his first triathlon and was buzzing from the experience.
A great event, friendly, well organised, small enough not to be intimidating for newbies and with enough challenge (in my view) for more experienced triathletes plus right on our doorstep – loved it, despite the fact my legs feeling like cooked spaghetti soaking in battery acid…!
Nick
Tuff Times follow:-
| | | | | | | |
| --- | --- | --- | --- | --- | --- | --- |
| | Total | Swim | T1 | Cycle | T2 | Run |
| Andrew Coe | 02:07:06 | 15:55 | 00:47 | 01:03:34 | 01:21 | 45:29:00 |
| Charlie Walker | 02:17:59 | 12:47 | 01:39 | 01:16:11 | 00:57 | 46:25:00 |
| Ian Bayley | 02:18:04 | 20:29 | 00:52 | 01:09:26 | 00:53 | 46:24:00 |
| Nick Bolding | 02:20:33 | 17:09 | 01:16 | 01:16:45 | 01:32 | 43:51:00 |
| Rebecca Lintott-Clarke | 02:21:22 | 16:43 | 00:44 | 01:17:52 | 00:51 | 45:12:00 |
| Joanne Meaney | 02:22:18 | 14:44 | 01:56 | 01:16:11 | 01:01 | 48:26:00 |
| Alister Marchant | 02:38:07 | 15:44 | 01:46 | 01:24:25 | 01:54 | 54:18:00 |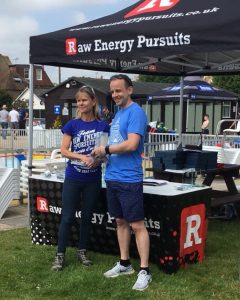 SPRINT TRIATHLON
Next off the Sprint distance with a large and very competitive field, but that didn't daunt the 10 Tuffs racing. It is also very gratifying if we have helped two of our newer members complete their first ever Triathlon's.
Ollie McDonald had a bit of a scare getting lined up for the swimming to realise he had left his googles in transition. The warm up dashing to transition appeared to help his efforts as a finish time of 1:01:33 was a scorching result.  This placed him 3rd overall – as the above picture shows, just 35 seconds off 2nd place – brilliant racing. The good news, and the trophies, didn't end there. Tom Gray entered at the last minute using this as a warm up for next weeks Edinburgh Marathon and finished 20th overall. Karen McGrath produced an excellent result becoming our third trophy winner of the day coming 2nd Lady overall and 1st in her age category. Karen's bike split was the fastest of all the competing Ladies. Antony Oliver was next followed by Debbie Boxall, 16th Lady overall. It was great to see Ross Malyon and Serge Kola both finish as Arundel was their first ever Triathlon. Ross has taken the time to report in below after the results and gallery. Clare Worgan, one of our newer members, is now very experienced having clocked up her third triathlon in almost as many weeks.  Then to finish was Verity-Jane Lacey. Congratulations to Verity-Jane as she is our newest club member. Respect for Claire Moyle who was back in action again after her weekend London Revolution the week before.
There was plenty of Tuff support present; Cathy Oliver, Catharine Western, Emma MacReady, plus Tuffs on the event team, John McGrath for bike support,  Tiff Orton, Jon Roper, Trev Harvey, Jane Custance, Miki Floyd & Clive Harvey
| | | | | | | |
| --- | --- | --- | --- | --- | --- | --- |
| | Total | Swim | T1 | Cycle | T2 | Run |
| Oliver Mcdonald | 01:01:33 | 06:18 | 00:29 | 33:02:00 | 00:43 | 21:01 |
| Tom Gray | 01:09:51 | 07:16 | 00:43 | 36:53:00 | 00:31 | 24:28:00 |
| Karen McGrath | 01:14:09 | 09:15 | 00:54 | 36:29:00 | 01:02 | 26:29:00 |
| Antony Oliver | 01:18:58 | 09:16 | 01:14 | 39:47:00 | 01:21 | 27:20:00 |
| Debbie Boxall | 01:22:22 | 07:39 | 00:41 | 44:52:00 | 00:33 | 28:37:00 |
| Ross Malyon | 01:28:28 | 11:41 | 02:06 | 43:21:00 | 01:37 | 29:43:00 |
| Serge Kola | 01:29:49 | 09:05 | 03:37 | 45:28:00 | 03:12 | 28:27:00 |
| Clare Worgan | 01:36:14 | 08:34 | 04:05 | 51:27:00 | 01:48 | 30:20:00 |
| Verity-Jane Lacey | 01:38:05 | 07:41 | 01:48 | 46:51:00 | 01:17 | 40:28:00 |
| Claire Moyle | 01:42:10 | 10:26 | 02:24 | 48:10:00 | 01:19 | 39:51:00 |
Claire Moyle provides her take on the event:-
Feeling slightly tired from the weekend before I was not expecting anything special from the triathlon but Arundel is one that l enjoy. The foggy morning meant a delayed stay so I found myself helping in reception serving food and drinks and almost missed my start time. The pool was lovely and warm and the swim went well and then into transition, nearly making the same mistake as Steyning and almost missed my bike.
Once out on the road I was well away until it came to the climb to Whiteways and I realised how tired my legs were, but I got up the hill and then I was flying, loving the fast down hills and before long I was back in the car park and getting ready to run. The legs felt heavy so I decide just to settle into a slow jog and think about that hill towards Stoke. It seemed like to take forever to get there, but once there I knew I was on the way home and with the legs feeling ok I lengthened the stride and was soon back and finished. The sun was now out and I was feeling good. To my surprise I had taken 2.30 minutes off the ride and run a PB for the Mill Road to Black Rabbit stretch. Good mornings work.
Claire
It is nice to be able to wrap things up with a report from one of our newer members Ross Malyon. Arundel was his first ever Triathlon so we have his perspective of the day:-
"3 years ago, I'd have laughed in your face if you told me I'd be doing a Triathlon. Well, on Sunday I did my first ever one. Yes, I realise it was only 'the Sprint' but one has to start somewhere. Arundel, what a location to pop my cherry! I wasn't originally planning on doing this, but I am so glad I did.
Anyway, I went over to register on the Saturday late afternoon go scope out the location and in the shadow of the castle is the lovely Lido. What a place. What a great layout! Already the place was a hive of activity with a couple of recognisable faces in the form Tuff Fitty's Clive (wandering round with a large banner in hand) and Tiffany (behind the registration desk). I was a little earlier than the prescribed time of 5pm and I cheekily asked if I could get all my bits and bobs so I could do a recce of the bike course as I'd been warned about the dreaded climb up to Whitecross roundabout. With my envelope in hand, I set off for a drive round the bike course. Lucky I did, I discovered the uphill climb was in about 3 sections so I could plan where I could get a little respite on the way up. Then coming off the roundabout there were a couple of nasty potholes on the fast downhill section which I made a mental note of.
After that I went home, loaded up on carbs, went through my kit for the last time, prepped a snack and coffee for my early start the following morning.
I had a 4.30am alarm call so I could have a little snack and a caffeine kick start to get me going. Got my car loaded and arrived at the Lido 6am in plenty of time for a 7.20am start time. The weather when I got there was a little chilly with a grey mist shrouding the castle. This mist lead to the start time getting postponed by about 1/2hr because of visibility at the top of the bike course.
In the meantime, I found my little bit of real estate to rack my bike and lay my kit out for the transitions and gave me a chance to chat with some super friendly people and to get some last-minute tips. I then bumped into fellow Fittys Serge (another tri virgin) doing the sprint and Nick 'The Legs' who was going for the full distance. What also struck me was how well the event was organised, even with the delayed start it seemed to be going like clockwork. The Full distance competitors were the first off which gave me a chance to check out some great swimming technique going on. One chap especially was tearing it up with a smooth stroke barely making a splash and moving through the water like a stealth fighter.
I felt surprisingly chilled out and when my new allotted start time loomed up, I stripped down to my Fitty tri suit, grabbed my goggles and stood shivering waiting to get into the steaming pool.
When I was given the nod, I gingerly entered the pool. The water was just the right temperature. I felt really relaxed and my Tuff Fitty tri suit felt like a second skin. Then with a tap on the head from Clive, 'you ready?', I was off! The last time I swam a 400m was at the Littlehampton Frostbite and I was like a thrashing thing and I ran out of steam. So this time I told myself to relax and just go at a nice easy pace. In what seemed no time at all I got the tap on the head letting me know I had 2 lengths to go.
With the swim over, I shimmied out the water and leisurely jogged over to the transition area to get kitted up. I got my shoes, socks, helmet, glasses and belt with my number. Walked over to the bike mount area, jumped on, clipped in and was off on the ride. Out of the car park then up to the A27. Over the Arun and right at the roundabout onto the A284 for the climb up to Whiteways lodge. I found a nice steady rhythm and in no time, I caught up with the person in front. From then on, I started picking off people in front. By this time, I started to laugh to myself as I was told the climb was a killer but I was finding it OK (shows what a bit of hill training can do). By the time I came over the crest I'd past about 6 people, apart from felling a little chilly I felt great.
I hit the Whiteways Lodge roundabout, shifted into high gear down the A29, tucked down and was off. I felt I was flying and I seemed to be catching more people in front. I remembered the pothole were so as not to be caught out, but I needn't have worried as the race organisers (thanks Nigel) has sent the marshals out who'd clearly marked them up which gave me plenty of time to get out into the middle of the road to avoid them. By the time I got to the last small climb at Slindon, I only needed to shift down 2 gears, get up out the seat, pass 2 more riders and I was off again. I joined the A27 found a nice steady cadence, had another little chortle to myself and settled down to the final leg. I could see no one in front and with a quick glance behind, no one there either. By the time I reached the roundabout by the hospital, traffic was backing up I had to stop (blooming cars!) and uncleat. I got going again to be greeted by a fellow standing by the roundabout shouting, 'go on! Give it some!'. This made me laugh again and I picked up the pace. Back up and over the Arun, left at the roundabout and all too soon I was back at the Lido.
Time for transition 2. Got off my bike, got a big shout out from my wife and daughter, walked back to my bit of real estate, racked my bike, got the helmet off, changed my shoes, had a quick slurp and made my way to the start of the run.
'Turn your belt round' came the call. Whoops! Must make sure it's the right way, don't want to get penalised. I was still feeling good to go and I fell into a nice easy run. I was not wanting to push too hard at this point as I did not want to run out of steam at the end of the run. What a route! Over the Arun, left and up the tree lined road past the castle towards the Wetlands Centre. Then coming towards me was Nick 'The Legs' on the way back from his 10k run. We had a big hi five, then I got my head up and got on with the task in hand. I had some encouraging words from a marshal, 'go on, there is a girl going to overtake you!' I wasn't worried by this as I was running my own race in my own sweet time. I loved the little bridge where one had to go down a few steps then up a few steps back up onto the lane. At this point I felt like I could go for hours, but I still didn't want to blow out so I kept the steady pace. Onwards up towards Offham. Then the halfway point was through a stone gate where I was offered a cup of water. I declined this, went round the mark and picked up my pace back down. Knowing this was the home leg put a huge smile on my face and other runners coming up I told, 'you're nearly at the top'.
Back down, back through the stairs and then along Mill Rd towards the castle. By this time I surprised myself by how I was feeling then on into Arundel the public were gathering.
As I came back over the Arun bridge for a final time I felt a surge of energy and lengthened my stride for a final sprint to the finish. Through the alley, through a gate, round the back of the pool and before I knew it there was the finish line.
I'd done it! My first Triathlon! I was met by my wife and daughter and I felt absolutely elated.
I must say how well the event was organised, the other competitors were really supportive and the weather was perfect.
I must thank the Tuff Fitty coaches for the extra training at the pool and on the track. Also Andy Tester and Graham from Worthing adult swim coaching.
I exceeded my estimated time and still felt like I had more in me.
So, next stop Seaford in July with my first open water swim.
Ross