'Row, Row, Row, and run a bit'
Tuff Fitty's mental health initiative #not2TUFF2talk saw us link up with Worthing Rowing Club for an event on Sunday 21st July. The Rowing Club are also adopting a mental health charter and so this inaugural event was staged to help raise awareness, strengthen our ties and help our local MIND branch.
Our lead ambassador for #not2TUFF2talk is Graham Liddell. Together with his sub committee, the Row Row Row and a bit was organised and Graham takes up the story:-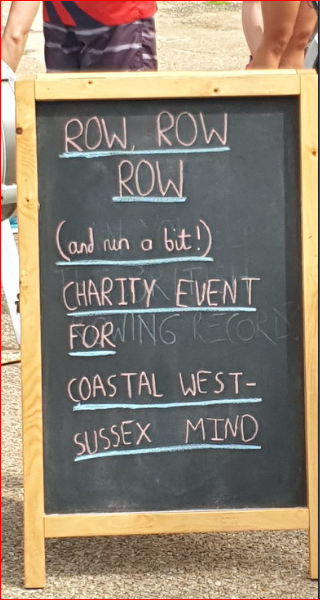 "At the end, they were enjoying each other's company, holding aloft their trophies, clutching their medals, posing for photos and tucking into a sumptuous feast*. They had also raised more than £65 for Coastal West Sussex MIND and on their journey practised four of the five ways of wellbeing**:
Connecting with others
Learning new skills
Giving (eg by raising money or volunteering)
Being physically active
* Not at the same time, obviously. That would have got messy.
** If only they had listened when Jon described the run route and not cheated, we might have claimed part of the fifth and final way to wellbeing: taking notice of things.
It was also quite good fun. Here is the race report…
Thirty minutes to go
They looked worried, very worried.
"I've never been on one of those things, before. How do they work?" squeaked the triathlete
"What? Even the rowers have got to run 2k? I'm not sure my knees are up to it." complained the rower.
Ten minutes to go
They were allocated into teams of two comprising one triathlete and one rower. With grim determination the triathletes practiced their rowing technique attended by their rowing team members
"That's not bad, actually" lied one of the rowers
"I'm not sure there is much I can do to help" said another truthfully.
They are off
Leg 1 (triathletes): a gruelling 2k on the rowing machine with a hitherto unseen range of techniques followed by a 2k run out and back along the seafront
The handover: TBH this wasn't as slick as one might have thought (Guys: what happened all you had to do was to hand over your race belt with the attached number. It really wasn't that tricky)
Leg 2 (rowers): showing us how the rowing should have been done followed by an ever so slightly moany run
The event was about promoting mental health through physical activity and wasn't really about winning or losing. But for the record the cup winners were (apologies I don't know the surnames of the rowers):
First team home: Clare Worgan and Eugene
Second team home: Fraser Moyle and Susanna
Third team home: Tom Goddard and Vanda
Only team in the first wave not to cheat on the run: Claire Moyle and Trevor
Team spirit: Tiff Orton, Jon Babbage and Sophia (Sophia was unable to run so Jon ran her leg or her)
The other teams were:
Nina Tulley and Martin

Nina is neither a member of Tuff Fitty or Worthing Rowing Club but had completed her first triathlon that morning, is a mental health champion and was the inspiration behind setting up #not2TUFF2talk

Martin is a long standing member of WRC and was the knee complainer)

Jon Babbage and Emily Gurney

Jon was a hero. In addition to competing in the David Lloyd triathlon that morning and forming a team with Emily, he also ran for Sophia

Emily is WRC's vice-captain and was the organiser from WRC's end. Thank you, Emily

Wendy Frost and Zoltan.

Wendy seemed to be getting on very well with Zoltan, so much so that she decided to accompany him on his run leg. (Jon F: watch out!)

Shelley Babbage and Natalie

Shelley out-heroed Jon. In addition to competing in the David Lloyd Triathlon she had an accident on her bike and incurred a nasty cut on her arm. But did that stop her? No way.
Special thanks also go to:
Catharine Western for the fantastic food
All the guys at WRC for preparing the boathouse for us
And the Tuff Fitty volunteers:
Jon Roper – for marshalling & for the photos
Stu Harvey and Andy Crawford – for sorting out the timekeeping and awarding 5 second stop go penalties to the run cheats.
Please click on the photo for access to the photo album of the morning's fun:-
Graham