Weekend Round Up 25th 26th August Part 2
Further reports follow from the weekend with star billing going to Chris Ette entering the Coast To Coast Run which straddled the whole weekend. Starting on the Saturday at Whitehaven Harbour and followed the C2C cycle route to meet the North Sea  at Tynemouth Castle: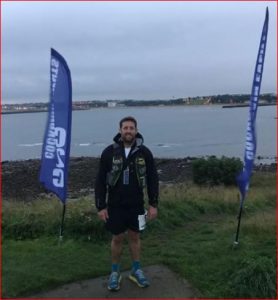 COAST TO COAST NON STOP ULTRA
"I have signed up to run John O' Groat's to Lands' End next year so Cockbain Events Coast 2 Coast run seemed a good opportunity to get some hard road mileage in. The C2C is a 95% road run of 140 miles following the Coast 2 Coast cycle route with a considerable amount of elevation to be covered. The route takes in the Peak District, Lake District and the Pennines. Runners are required to have a support crew in a vehicle following them as there are no aid stations provided. The overall cut-off is 38hrs with further cut-offs at miles 27 – 5 hrs mile 40 – 9 hrs and mile 99 at 28hrs. This basically means you have to keep moving.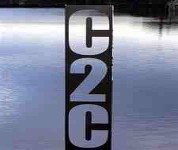 20 runners were on the start line with the race starting at 7am in Whitehaven. Cockbain Events only attracts seasoned ultra-runners with all having to submit a race CV that is vetted prior to being allowed to run so you can imagine the quality of the field and this is reflected in the finishing times – the winner completed in a new course record of 28 hrs 46 mins and I finished second from last in 38 hrs 22 mins with 13 finishers all together. I suffered throughout the race and had some very low moments of self-doubt, I was chasing the cut-offs which adds considerable pressure however I came out the other side and was able to get to the Finish in Newcastle"
Chris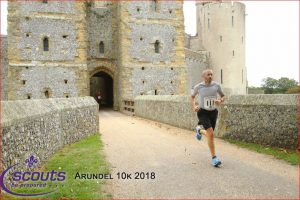 ARUNDEL 10k 
With just over two weeks before the wedding of two club members Kirsty Keith & Andy Strong, Strongie undertook his Stag weekend. This commenced on the Friday evening with many club members ensuring Strongie didn't get away lightly. Further 'liquid refreshment' followed with his family on the Saturday, but being a Tuff it was sprung on him after many drinks that he was entered for the Arundel 10k on the Sunday. Oh and he had to wear the 'outfit' again he wore on Friday. All credit to Strongie for completing the event but also to Andy Gomm (best man) who also completed the hilly run who was to learn afterwards he had broken three ribs during  a (what goes on stag do's stays on stag do;s) episode! The above photo of Strongie, Gommy & Glenn shows how they entertained the crowds.
In addition further Tuffs were out in force as reported on by Nick Bolding below who was first club member home. Kev Pearson has entered almost all of the Arundel 10k's spreading back many years and great to see him recovering after his injuries just 5 seconds behind.  Two recent mums picked a tough 10k on their comeback – Catharine Western & Lucy Cardus.  Congratulations to all:- Nick Bolding, Kev Pearson, Malcom Brown, Dana Robertson, Ben Abbott, Paul Martin, Becky Lintott-Clarke, Stuart Harvey, Kate Cooper, Michael Redgrave, Dualta Doherty, Clare Worgan, Catharine Western, Lucy Cardus, Glenn Parisi, Andy Gomm & Andy Strong.  An impressive 17.  Nick's report follows:-
"So it was the middle of August and all the races I'd booked at the start of the season were now done – but I felt like it was too soon for my season to be over.
I'd seen the Arundel 10k race mentioned on the Tuff Fitty Running Facebook page and the time & date happened to coincide with when the Mrs was having an eye test – so I figured I could pop over to Arundel, do the race and be home in time for brunch…
Race day came around, what a revelation compared with triathlons! No need to register the day before, no checklist for packing the transition bag and checking over of kit. By the time the alarm went off on Sunday I'd normally have been finishing the swim, but instead I wandered downstairs for a coffee and a bite of breakfast.
Over to Arundel, parked and picked up my race number "111", nice! Spotted a few Tuffs and spent a couple of minutes mooching with them before heading down to the start 'pens' with Stuart Harvey, Kate Cooper and Malcolm Brown.
A final warning that the start was imminent then the klaxon sounded and we were off! Well, shuffling toward the start like extras from The Walking Dead at least until we got closer to the timing pad and everyone surged forward. A slow start through packed narrow streets but some weaving and a short sprint got me into 'clear air' where I could settle into a comfortable pace.
It's a climb through town, the castle grounds and all the way to the turn just after the 5km mark – 'only' 130m in total but it's a relentless gradient so my plan was to stay steady and make up time on the downhill 'return' leg. It was at this point I realised there was none of the 'jelly legs' feeling or overheating that has been a feature of the run leg of my triathlons… I felt… good? I was even smiling!
Past the 1km marker, still warming up really, up through the grounds of the castle (slightly surreal due to the medieval stalls and costumed people manning them) then hit the 2km marker – though this seemed to appear rather sooner than expected.
Steady pace, reeling in some of the 'fast starters', weather cool, little bit of breeze, a few spots of rain – great running conditions. 3km, 4km both markers appearing earlier than my Garmin was reading the distance, feeling good, looking forward to the turn and the switch to downhill running and the chance to make up time.
5km, an odd little 'loop' across some longish grass then the 2km of downhill opened up before me and I floored it! My approach to downhill running is 'go for it!' – lean forward, stay light on the forefoot letting gravity do the work and just spinning my legs under me… if I try to go slower/more cautiously I end up heel-striking and my legs fatigue and IT band starts to complain. Admittedly my approach is a bit high risk on slippery grass and uneven tractor ruts, but as I flew down the track like winged Hermes, grinning like a loon and overtaking numerous competitors taking the more cautious approach I felt great!
At 7km you hit the bottom of the slope and here the route takes an uphill turn for around 500m – as I approached it I recognised it from the Arundel Castle triathlon 3 weeks before where I'd had to walk-jog it (twice)… Hah! not this time, this time I haven't already swum 1500m and ridden 40km! Dig in, keep the legs turning, use the arms… I passed another couple of runners, I think knowing where the end of the climb was gave me a mental edge.
Hit the crest and then just keep up the pace for the final couple of km, starting to feel it now but challenging myself to reel in one last runner.
Back into Town, great support from the crowds spurred me on to a sprint(ish) final 500m. Crossed the finish line (Saw Clive H) and another revelation – I didn't feel like I needed to ingest a gallon of water and then lie in the shade and have a sleep, I wasn't overheating and barely coherent…! 10km races are kinda fun!
Collected my timings from the race HQ – chip time 43:08 and 7th in my age group, very happy with that. Stood on the barrier at the finishing chute cheering on the other runners including Stu & Kate… I'd been looking out for Malcolm but had missed him as he'd been just behind me and had achieved a new course PB, great running from him and all the Tuffs!
Really enjoyed it, a challenging course but great scenery including a short section through the private grounds of the castle. You won't set a 10km PB (not least 'cos it seemed to be about 200m 'short') but a PB for the course is definitely worth chasing – I think this is going to be one for my race calendar going forward!"
Nick 
a few snaps for the Tuff album
<
>