Weekend Round Up 28th 29th Sept
The Autumnal Equinox was at the start of this week, but still no sign of Tuff activities/racing easing up, despite the very poor weather on Sunday. It was also a good week for more potential Tuffs getting in contact. Read on:-
LITTLEHAMPTON TRIATHLON
Held at our home pool – The Wave, unfortunately the weather got in the way of things. What was intended as a Sprint and Standard Tri became Aquathlons due to the gale force winds and rain. That didn't deter six Tuffs from the sprint; two from the standard and one in the Relay at this Tribal Sports staged event.
'Tuff by nature' the weather didn't hamper some great results. In the sprint, Paul Martin was 2nd overall and Jon Babbage, 4th. Phil Turner was 5th and it is these three – Jon, Paul & Phil who are this week's poster boys above. (photo credits Karen Bornhoft). The good news didn't end there as Iris Bennett was 7th overall and 2nd Female – Four Tuffs in the top ten – excellent. Phil attained the fastest Tuff swim split and Paul the fastest Tuff run split. Equally good work from Ross Malyon and Shelley Babbage to complete our squad at this distance.
Meanwhile there was fantastic work from a Tuff duo going long. Alex Webb smashed out a great weather impacted 43:03 minute 10k – a split that saw him cross the line first overall. Claire Moyle also went long and finished as first female supervet.
The Tuff involvement didn't conclude there as Claire Luckham was part of a relay team undertaking the swim – congratulations to all nine.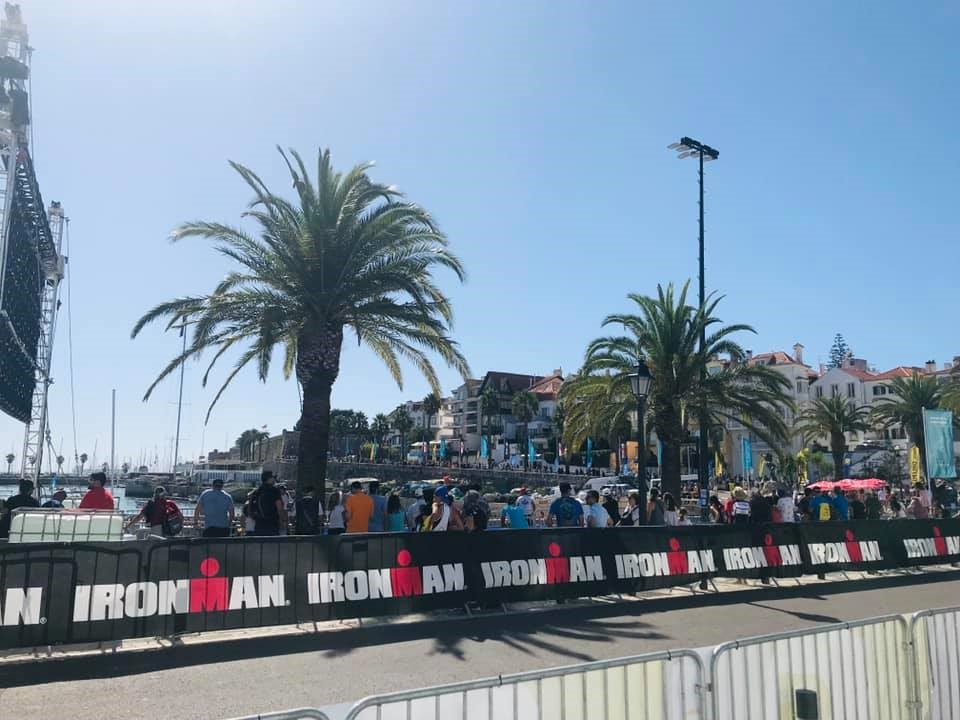 CASCAIS 70.3 PORTUGAL
Clive Patterson-Lett has reported in from Ironman 70.3 Portugal:-
Who
Nic and I travelled out to Portugal for our "A" race of the year all be it that it was an aquabike for Nic due to an ongoing knee injury
Why
TBH……we just got fed up with the crap UK weather, bad roads and the sh1tty attitude of local communities towards home races. So when we selected our big race for 2019 we wanted somewhere warm and welcoming with a bit of culture. Cascais and Portugal exceeded our expectations.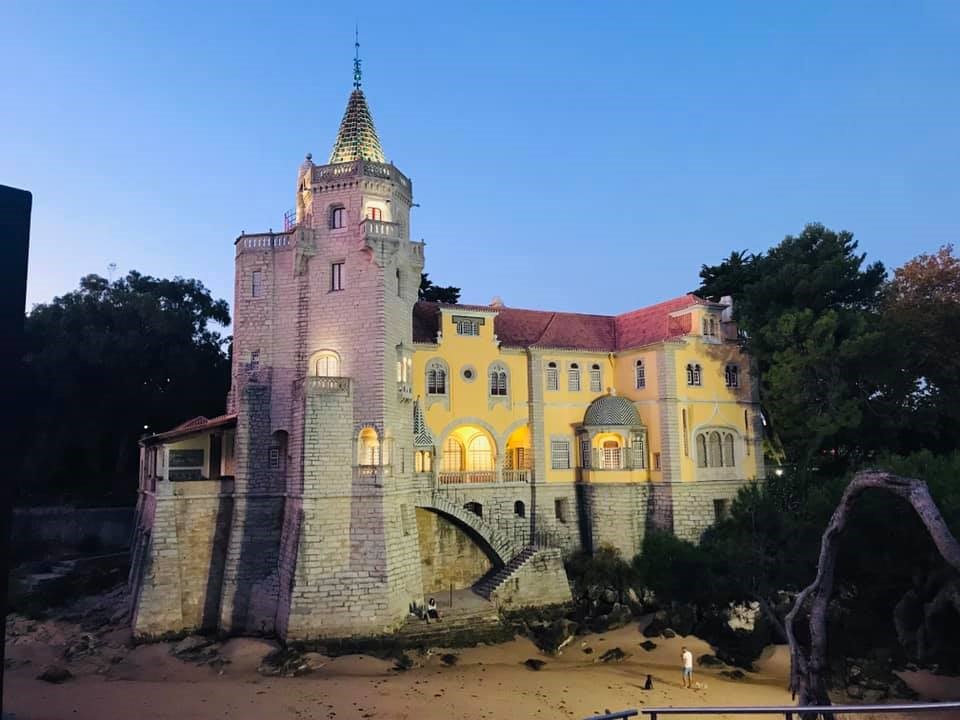 Where
Based at Cascais about 40 minutes from Lisbon airport by taxi the race is in its fourth year. The town of Cascais is stunning with loads of non tri stuff to do along with great restaurants (stay away for the town centre and look out for where the locals eat to get the best food and best value.) We had an amazing Air BnB in the old town no more than 500 meters from the start/registration and transition.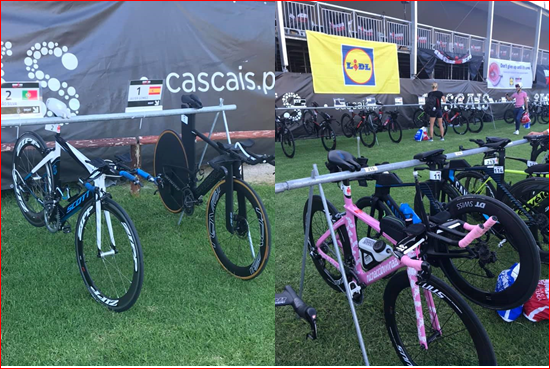 How (did it go?)
A pretty uneventful swim for me but brilliant for Nic coming out fastest in her AG and 7th female overall. Bike: a big PB for Nic(she beat me) for 7th in her AG……I came nowhere as I struggled round with no power. The race ended for Nic at T2 due to her torn miniscus, whilst I was glad just to get onto the run where I managed to get back some of the places I lost on the bike! All in all a great course with brilliant views and a fab road surface plus the opportunity to race around the Estoril GP Circuit. It was mega hot (35+) on the run out and back along the hilly sea front. Upside was saying hi to Xavier Gomez in transition, downside was the horrendous drafting on the bike which went totally unpoliced-I would definitely go back…………….if they sort the drafting!
Clive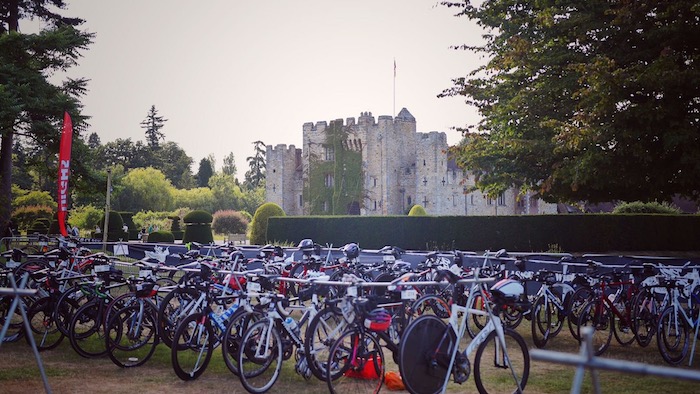 HEVER CASTLE TRIATHLON
Next up a great, if sad, report from Ollie McDonald from his trip to Hever Castle and what is billed as the UK's second largest Triathlon with a selection of Swims, Aquathlons, Duathlon and Triathlon including Ollie's race, the Middle Distance event:-
"I thought I would give a race report in the style of Josh Amberger…
Rubbish season so far – 4 DNS, one cancelled bike course at Outlaw. Enter Hever Castle Gauntlet (half Iron distance) last minute on injury recovery to desperately get long (ish) distance race in before life put on hold. I mean, made wonderful by the arrival of baby.
3:50 alarm. Drive to grab Drew AKA Flipper. First people at venue 6am. Asked by 14 y/o for photo ID with BTF license. I don't have anything. He runs off to check. I run off to registration. Delayed starts for an hour. Get coffee to flush ourselves out. Hang around. Meet Sam Wade. Question him on why he's not Pro yet. He is Pro now! Thankfully he's only doing my race. Ask for tips on 30min 10km. None given. See ya Sam, at Frosty 2020.
Bike course shortened due to weather and dangerous roads. Argh!! T1 also neutralised. Too slippery etc.
250 toe the start line. 2 waves. Go for a swim. Amazing lake then round the river under bridges. Awesome location. Hit swim hard coming out leading second pack. Means nothing. Long race to go. Amble through transition – very weird. Neutralised so everyone walking about. One guy changes tri suit.
Onto bike. Time to make up some places. Hit first hills hard then onto flat. Catching a few so change up to big ring… SNAP!! Bloody gear cable snapped. Draftbuster looking at me like "why you not overtaking?". A few curses and almost throw bike over hedge. Consider ditching race. Small ring for 55km…?.. Yeah go on then. Only option to hit uphill hard, roll downhill and spin 950rpm on flats. This method hurts the legs. Savage bike course. Technical and hilly. Uphill downhill uphill downhill uphill downhill spin spin spin back to T2 but still in the race…
Off to run. Muddy hilly wet, Just the way I like it. Run within myself for first half. Planning to go hard towards end. Recurring knee injury flares up at 8km. Consider ditching race at half (should have!). Sam Wade announced as winner as I come through for 2nd lap…WTF?!! An hour ahead of me. Carry on. Too far from home to turn back. Getting chicked (are we allowed to say that still?) left right and centre. Someone runs past – "good running Tuff". Are you taking the piss mate? Limp/walk/stretch for a disastrous finish. Finish race, get medal, eat everything in sight, meet Drew (who had a good race) get car, go to McDonalds, Drew eats 17 burgers, go home.
Good swim, 14min down on Sam Wade for the bike, the less said about the run/shuffle the better. Expensive race, great venue, fairly well organized, too many races on same day (sprint, super, olympic, gauntlet, half marathon, 10km). Terrible results system, nothing live, didn't actually neutralise T1 and some world record run times apparently.
See you 2019 season, you have been a d***
Over and out."
Ollie
Drew Gowland undertook "The Hever, Olympic Distance Tri" whilst the average swim split here was 31 minutes, Drew completed in 19! and as well as the awesome swim had a very strong bike, 20 minutes ahead of average, despite the weather and that the standard of the field was very high.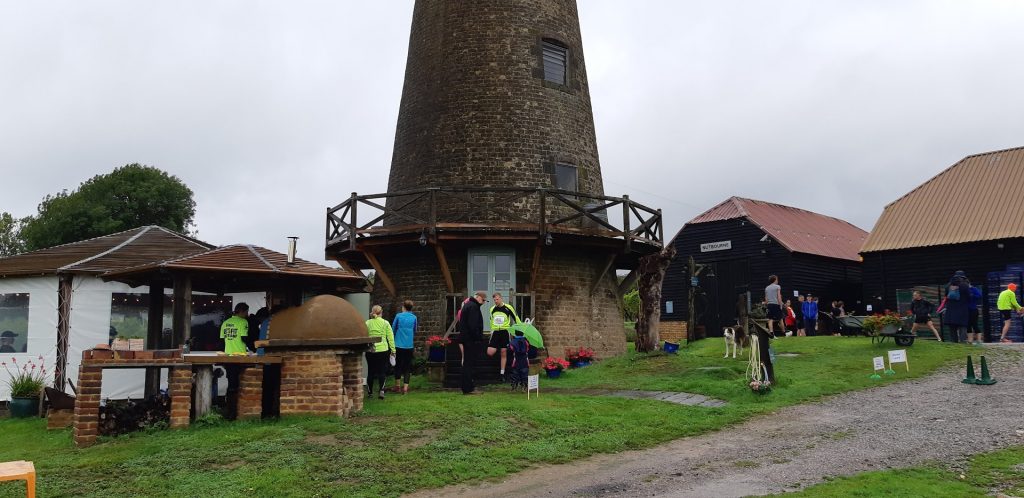 PULBOROUGH VINEYARD TRAIL RUN
A different trail run to consider. Based at Pulborough Vineyards this race wound around a 2.5km route taking in one swing gate and two stiles. Runners simply signed up and then it was up to them to decide how many laps to run. All competitors did a minimum of 2 to complete a 5km with just 4 competitors completing 8.2 laps to notch up the half marathon. However the weather conditions were very poor as illustrated below with the Tuff contingent in shot & Glenn modelling the ' In style' bin bag look!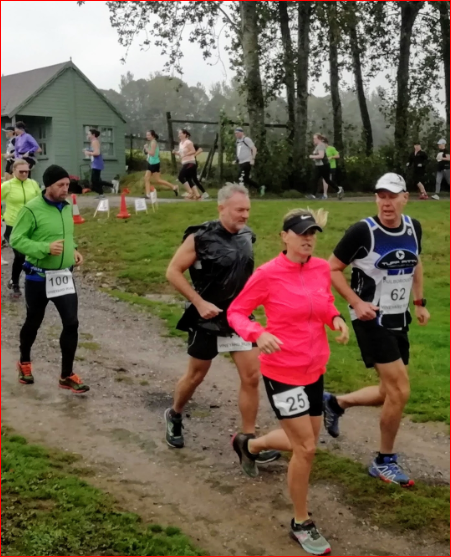 The lure of cake at the finish & poor weather meant the Tuffs concluded at 10k with Glenn Parisi 2nd at that distance, then Debbie Boxall, Jon Roper, Murray Hodge & Tiff Orton all in the top 7. Rachel Brunning also competed. It wasn't only cake on offer at the finish; competitors could have a glass of wine. The enterprising Tuffs gathered their tokens and traded them all in for a full bottle to drink once they were warm and dry. A low key event which is staged twice a year in May as well as this September date, a venue which the Tuffs recommend.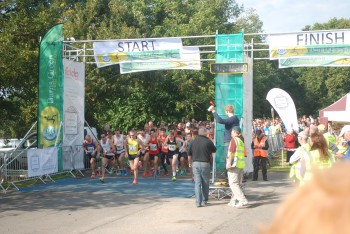 BARNS GREEN HALF MARATHON
Whilst Barns Green is usually a good place for some 'Tuff spotting' just three members took part in this prestigious Half Marathon held on closed roads this year – the 37th staging of the race. First Tuff home was Chris Sloggett, followed by Ian Moore who completed before flying off on holiday & Linda Wright – well done to all three.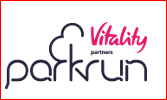 PARK RUN
At Worthing Park Run Chris Sloggett ran in a useful 23 minutes ahead of the next day' Barns Green Half. Phil Turner is now flying the Tuff flag and has racked up an extensive number with this week his 58th prior to his Littlehampton Tri. At Littlehampton Park Run; Steve Bridgeman was back in action along with Jenny Oliver who ran for the fifth consecutive week. At Horsham Park Run Ian Moore was another Tuff to use Park Run as a warm up for Barns Green and Jay McCardle ran this course for the first time clocking up run number 41