Weekend Round Up 9th 10th November
Attendance at our Thursday evening swim reached an all time high this week and there was still the following Tuff action:-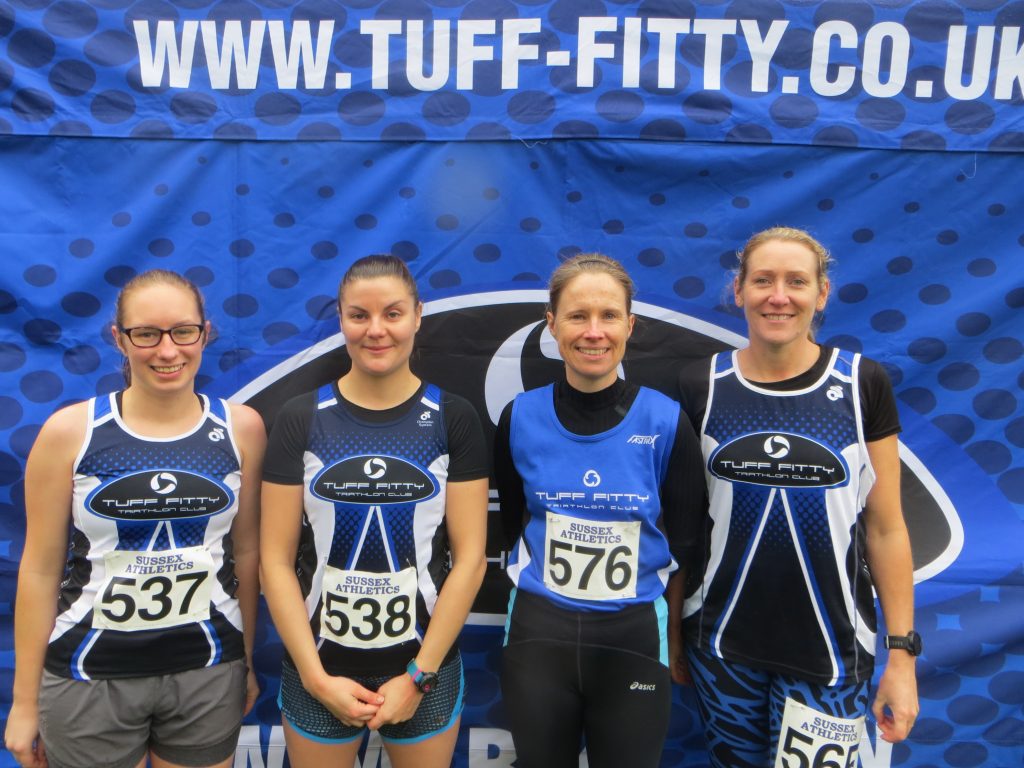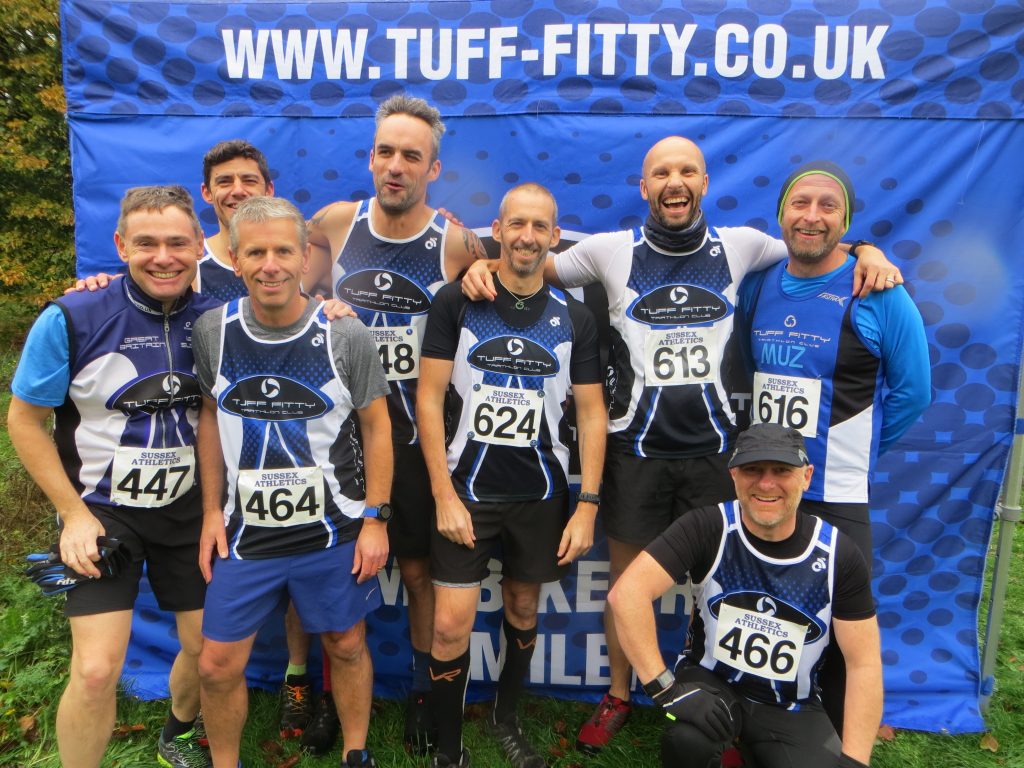 SUSSEX CROSS COUNTRY LEAGUE -RACE 2 – STANMER
Having been looking forward to our 'home race' at Lancing, for the second year running, the Park Warden at Lancing felt the ground would suffer excessive damage from the runners. Stanmer Park was pressed into action and despite the weather forecast predicting some rain later, a total of 627 athletes ran.
Once again Tuff Fitty were the sole multisport club in action – so how would we do?
It was pleasing that once again four Ladies ran to ensure we had a good team and we remain mid table. Our thanks go to Juliette Reader who was our first lady home, Kate Cooper and Hazel Tuppen. Whilst these three also ran at Goodwood it was pleasing to see Amanda de Ridder took part this time, running well to complete the quartet.
By now the rain that started as a drizzle had turned into a complete deluge with darkened sky. The road running through the Park was now a torrent and every footstep was accompanied by squelching mud. Thankfully that didn't deter nine Tuff men from running. Unfortunately with 176 men running, Tuff Fitty slipped to third position in the table. It is a very competitive division and whilst Worthing Harriers lead, there is a (muddy) scrap for the remaining promotion place – so we need to ensure we can muster further good teams for the next Race, also at Stanmer on Saturday 30th November.
Thanks to Jon Babbage, first Tuff home, followed by Matt Whittaker, Paul Martin, Dave March, Nick Bolding, Phil Turner, Adrian Oliver, Murray Hodge and Ross Malyon. Particular thanks to Phil and Ross – their first time on the cross country circuit. Worthing Striders matched Tuff Fitty for points so we can claim some credit for that as our own Tony Pearce ran in orange
Chairman's choccy bars and the Tuff gazebo brought some respite at the end as the weather worsened, although the canvas is still drying out in readiness for the 30th – Race 3 – surely it can't rain at that one as well? Torrential rain on the lens isn't conducive for pictures and you will see the quality deteriorates in the men's race – but click on he photo below for the gallery:-
<
>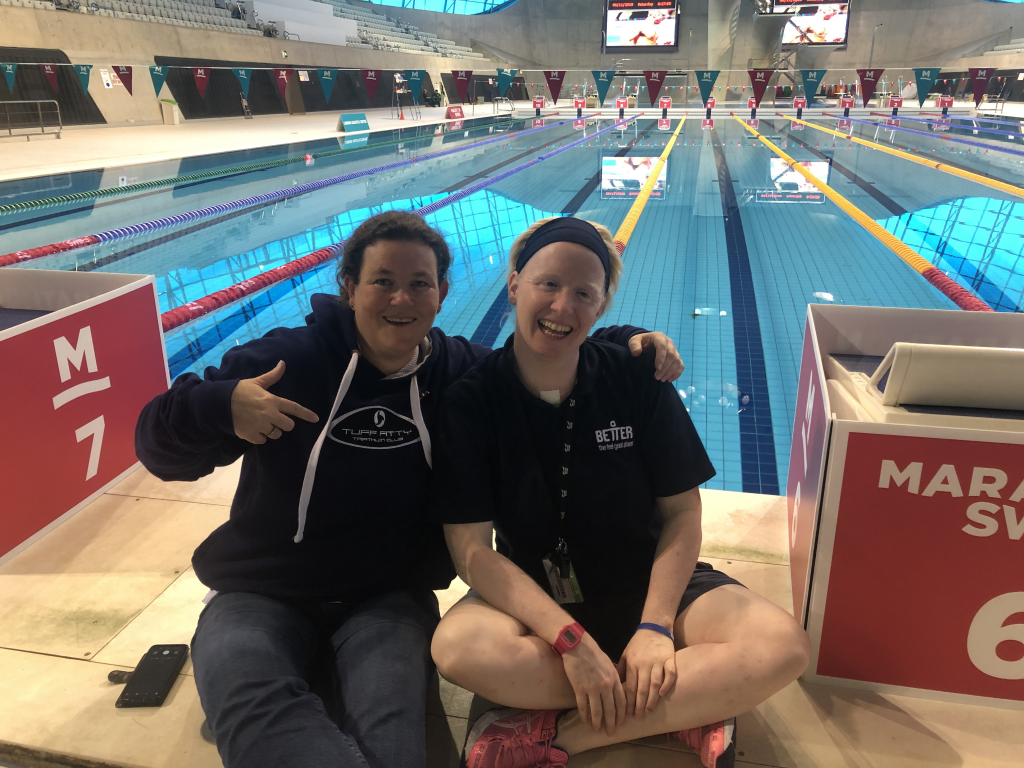 MARATHON SWIM -LONDON AQUATIC CENTRE
Great to see a Trio of Tuff's in London for the Marathon swim. Strong swimming from Claire Luckham in exactly four hours, on the Saturday and pleasing that we have a report from Allyson Morris who swam the event on the Sunday. However first up a very inspirational report from Helen Bull, who of course doesn't do things by half, and swam both days. Helen reports:-
"This is the third year of the Marathon Swims event held at the London Aquatics Centre in the Queen Elizabeth Olympic Park. It's the only pool based Marathon swim in the UK & this year it had 900 participants. It is thought that swimming 10km is the physical equivalent of running a full marathon.
Given my role at the Aquatics Centre, it was a given that I'd enter. I decided that one 10km wasn't enough and so entered the 10km event on both the Saturday & Sunday.. swimming 20km in 2 days is easy right?! Claire was more sensible and entered the 10km on the Saturday.. I'm going to work on her for the double next year!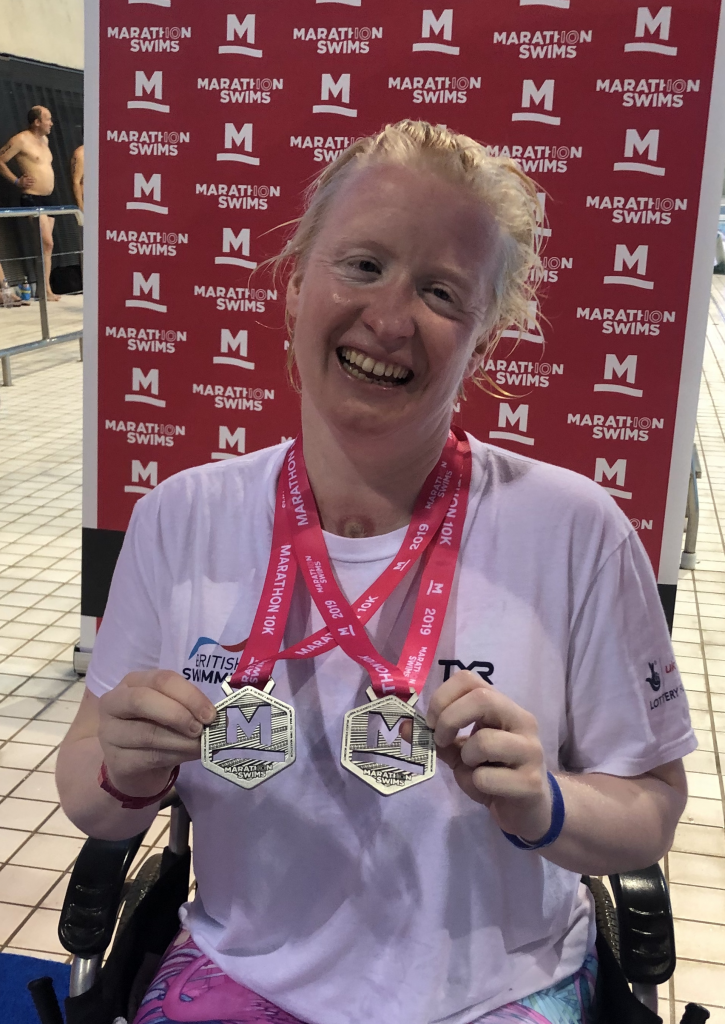 It's a really well organised event with a great atmosphere. Claire & I pretty much started the same time on Saturday.. it got pretty rough in there… with some pretty bad lane etiquette at times. But our Tuffs swim training had prepared us well. Claire romped home well ahead of me. My times were 40 minute slower than last year but in the context of the cancer and all that, I was relieved just to finish. I had to get back in and do it all again on the Sunday morning.. now I have to admit, that was a challenge. But I made it.. 20km in the pool in 2 days.. in the pool of champions..
Helen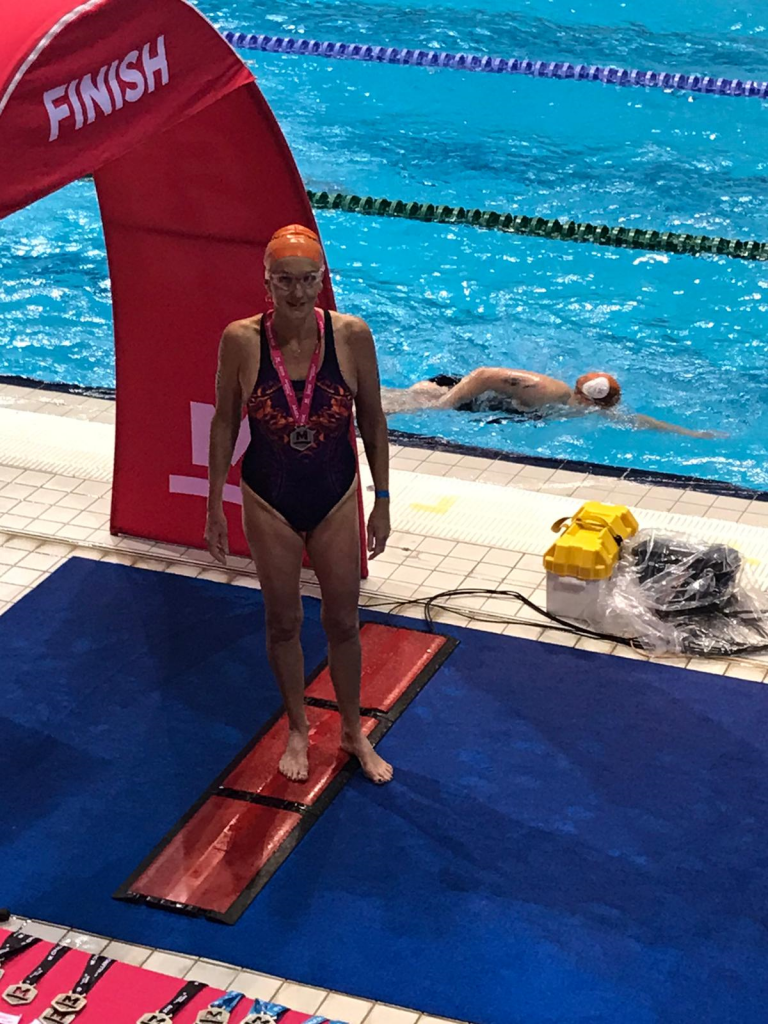 "I did the 10km marathon swam at the London Aquatics Centre on Sunday 10th November in 4 hours 32 minutes. Really enjoyed the format where you swim a 1km lap (up and down 10 x 50 metre lanes) then get out the pool, and repeat 9 times, meaning you can easily refuel between laps and you don't get too bored."
Allyson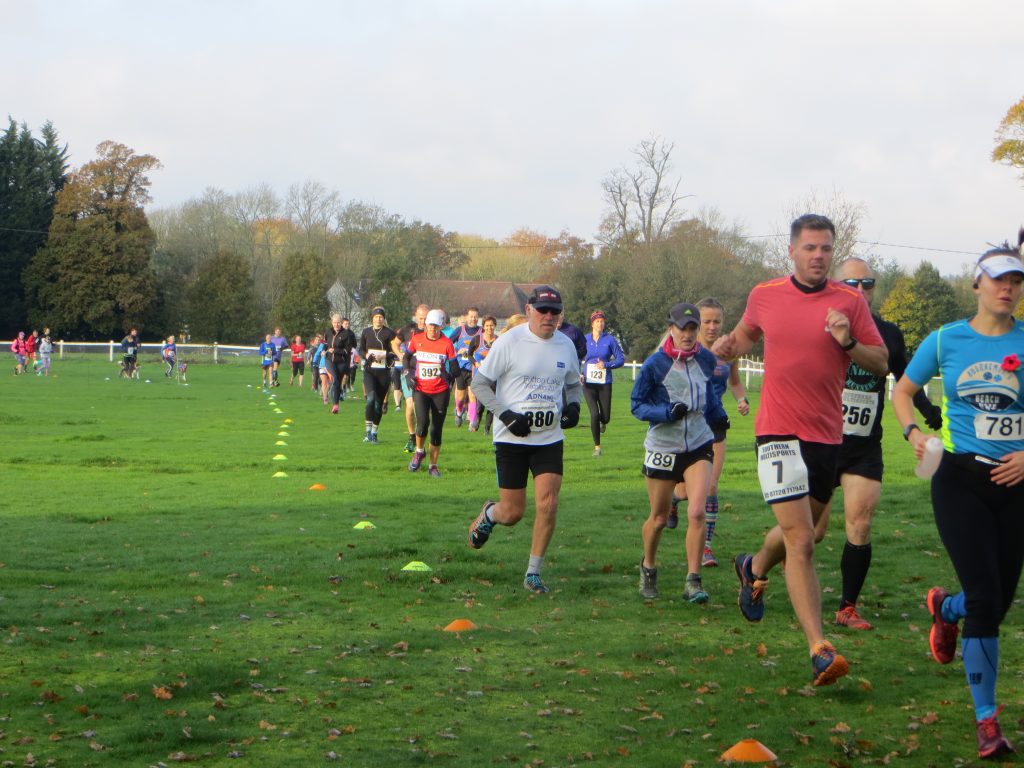 REWELL WOOD 5
The final race in Southern Multisports 5 mile race series across the same course as the summer's Rewell Festival. With Cross Country the day before it was left to Malcolm Sheward to ensure the Tuff name was in the results. Another well run race by our own Jason Rae with medals and bacon baps and the nice touch of poppies on the medal and a pause in the presentation for Remembrance silence. There was Tuff support on registration/timing from Simon Thistlethwaite, Hazel Sheward and Clive Harvey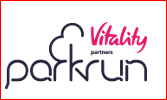 PARKRUN
Following cancellations last week it was a better week to be out parkrunning – this was exemplified at Worthing parkrun where there was a storming run from Henry Teague-Smith crossing in just 17:12. Danny Bruce undertook his first Worthing run, and was closely followed by Chris Sloggett for his 122nd parkrun. Next, great work from Amanda de Ridder before heading over to Brighton for the Cross Country. Elaine Rousseau completed the Tuff Five. At Littlehampton park run, Adrian Oliver was on the organising team ahead of him travelling to the cross country. Up at Horsham Park Run, Leigh and Ian Moore were in action again to round up our total of 8 known parkrunners. Up at Maidenhead Park Run Trevor Harvey was in action flying the Tuff flag in Berkshire. Not a bad turnout when the cross country and our own Saturday morning run also took place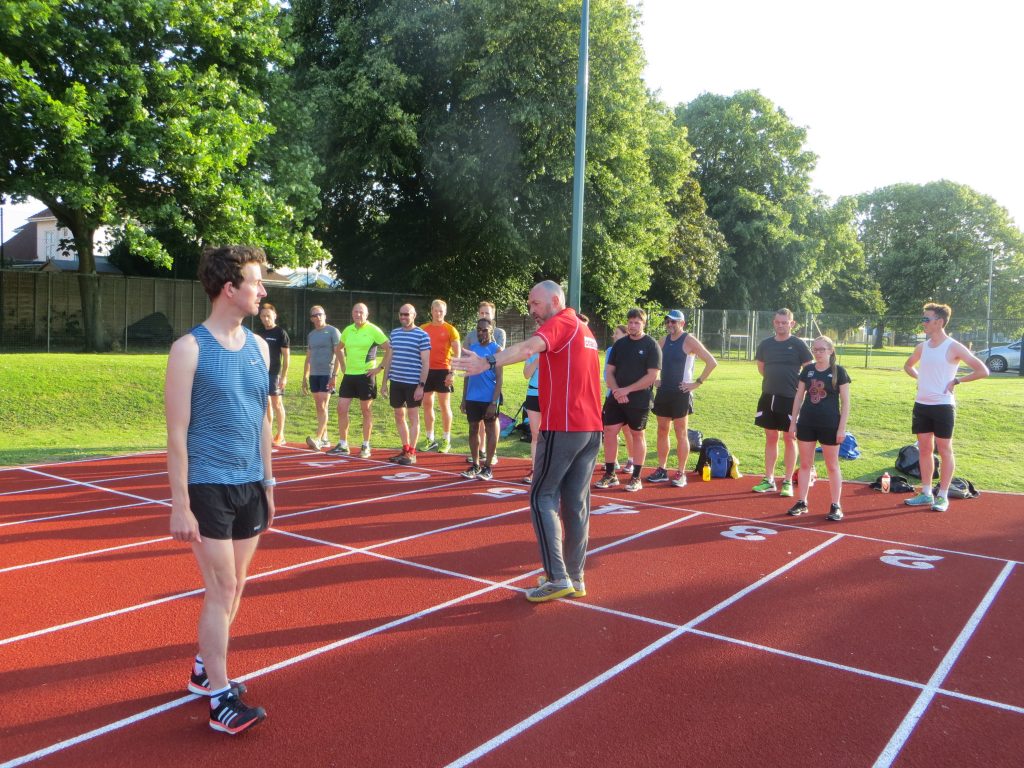 WEDNESDAY NIGHT IS TRACK NIGHT
Our Winter season for the Running Track commenced this week and pleasing to see strong numbers attend under the expert guidance of Dave March & Andy Ward. Still a Tuff subsidised £2 per person – 7pm start at Worthing Leisure Centre. Bring a drinks bottle is recommended for trackside. This should be a good enough reason to attend, but if you haven't tried it yet – now is a great time to 'Try The Track'. This is because the schedule has been set for the next few months and the rest in between sets is a generous 60 seconds during November. This periodisation grows across the winter so come and 'grow' with us. Nicknamed 'The Durrington Project' as regular attendance definitely helps.
RACE REPORTS
Please don't forget to submit a sentence or two (and a photo would be great) of where you have raced. You are not boasting: Tuffs are interested in where everyone is racing and any recommended races – thanks.