Tuff Fitty Awards Evening
Without a single piece of lycra on display, thanks to everyone for making our end of season award's evening & dinner such a success. With more awards to hand out than ever, and a capacity gathering, it was a great way to celebrate Tuff Fitty's successes and thank all our partners/families for letting us indulge in our crazy/fabulous multisport passion.
Firstly we must thank Nicole Ewer who was the principle organiser who worked so hard in arranging the venue and ensuring everything came together on the night. Also thanks to Catharine Western for helping to co-ordinate the menu choices. Our very own Ross Malyon and Alex Webb who provided the disco and of course our compere for the evening – Mr Andy Ward
Andy presented a summary of each month in the Tuff year pausing to award trophies in our club championship races. With 38 awards to present we only have space to recognise a few from each category here:-
Tuff Fitty Sprint Triathlon Champions
Henry Teague-Smith & Karen McGrath
Tuff Fitty Standard Distance Tri Champions
Tom Frith & Karen McGrath
Tuff Fitty Middle Distance Tri Champion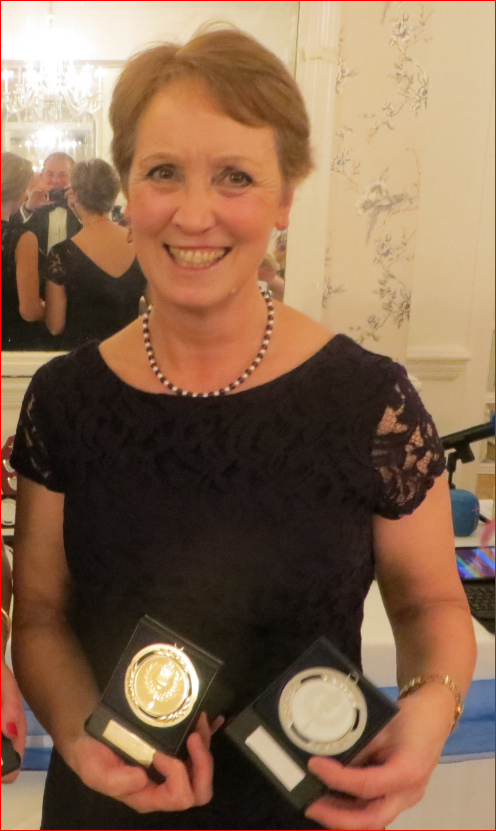 Whilst Tuff Fitty's Club Championship stretches back to our inception, keen to have fun along the way and promote involvement, there was plenty more achievements to recognise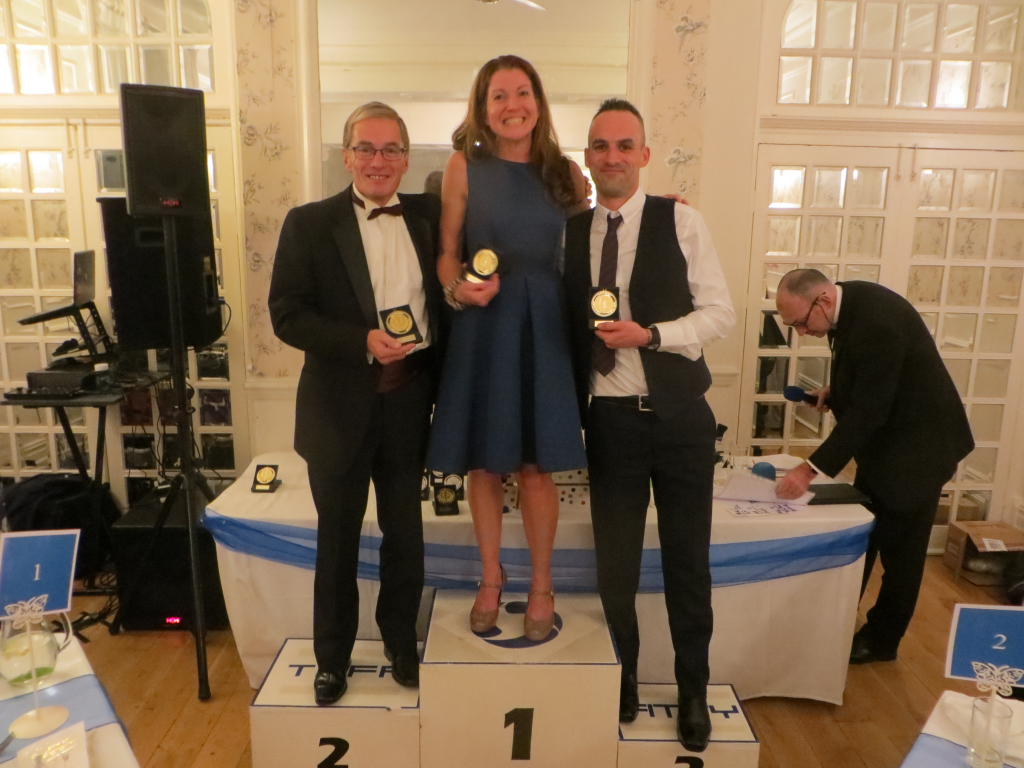 Tuffs Get Wet – Our highly successful summer open water swim team event saw our winning team recognised who were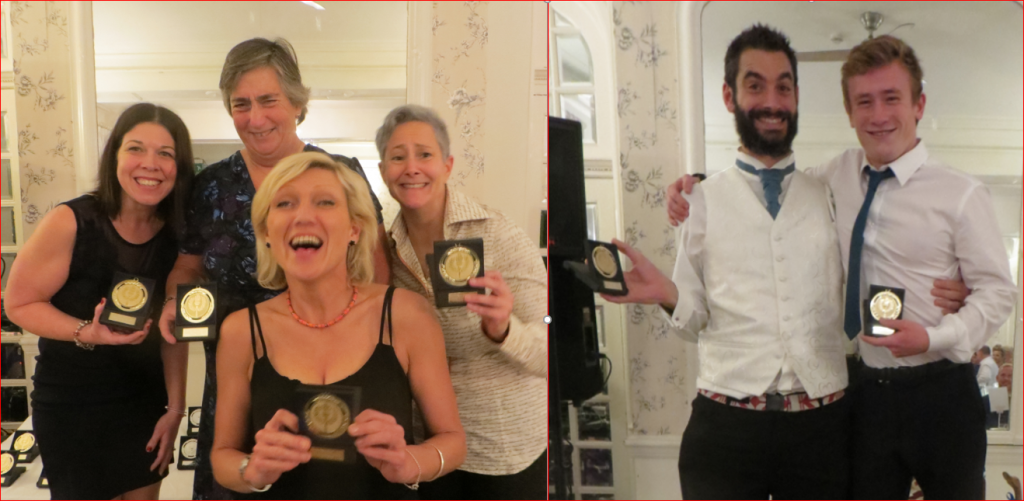 Kona Spin Event – Another new event, our successful evening bike spinning whilst watching Ironman Kona which raised £343 for our lead charity partner Sussex Coastal Mind under our #NOT2TUFF2TALK initiative
Solo rider award – Jon Frost
Men's Team award – Drew Gowland & Callum Lelliott
Ladies Team award – Claire Moyle, Nicole Ewer, Shelley Babbage & Sue Neilson
Summer Tuff Run Series – a series of local races where being first home doesn't necessarily guarantee success, as a score is determined on the World Masters Athletics Road age grade – where gender and age really tightens up the results. A late cancelled race this year lowered the profile but there was a clear champion in the form of Simon Thistlethwaite, a great boost to someone recovering from surgery and then his horrific bike accident.
Success doesn't just happen. Individual motivation and training are pivotal, but we are indebted to all our Tuff Fitty Coaches who provide that extra technique, motivation and enthusiasm to all our members. Thank you to all our coaches – it is always appreciated, and special thanks to Tiff Orton who had to leave early for her BTF level 1 course the next day. Whilst Tuff Fitty are keen to recognise our winners it is also about recognising someone who has developed or achieved their own significant goals over the year. A rather surprised Shelley Babbage was recognised with a coaches achievement award for how far she has come in 2019 from having never run through to completing her first marathon – and a hilly one at that – Beachy Head.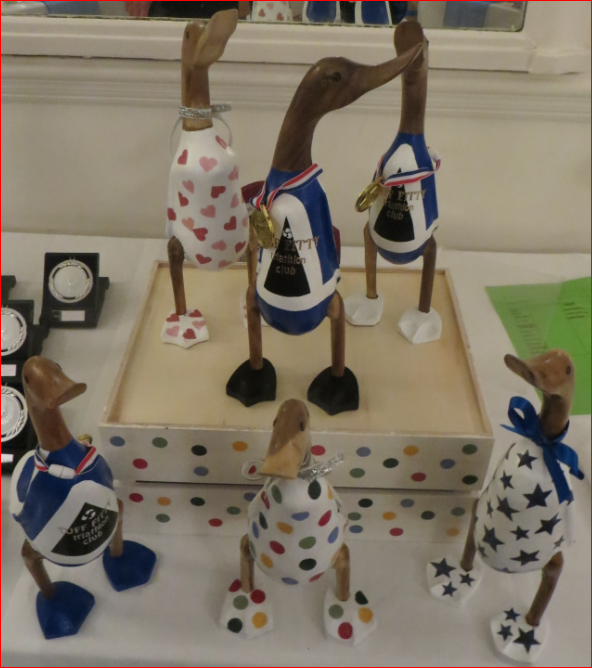 Jon and Shelley Babbage have been busy decorating ducks, partly for a raffle for Sussex Coastal Mind, but for this evening SANDS – Stillbirth & Neonatal Death Charity – a cause that resonates with our members. Those ducks decorated in club colours have been much sought after and we were delighted to hand over £255 to our own Clare Worgan on their behalf – thanks Shelley & Jon.
CLUB CAPTAINS
A big thank you to Joe Pascoe & Catharine Western for all their efforts as club captains. Having reached the end of their tenure we were delighted to announce Nicole Patterson-Lett and Jon Babbage as captains for their term in office. Nic (Kona Spin) and Jon (charity Tuffy Ducks with Shelley) have already had an impact and we wish them success in their roles.
Having presented the awards, chair Clive Harvey thanked everyone for making Tuff Fitty the success it is and wished everyone good luck for 2020.
The photo gallery follows which, as usual, people are welcome to copy for their own use
<
>