Weekend Round Up 21st 22nd December
Whilst we are well into the festive season there was still plenty of Tuff activity at our training sessions and during the following:-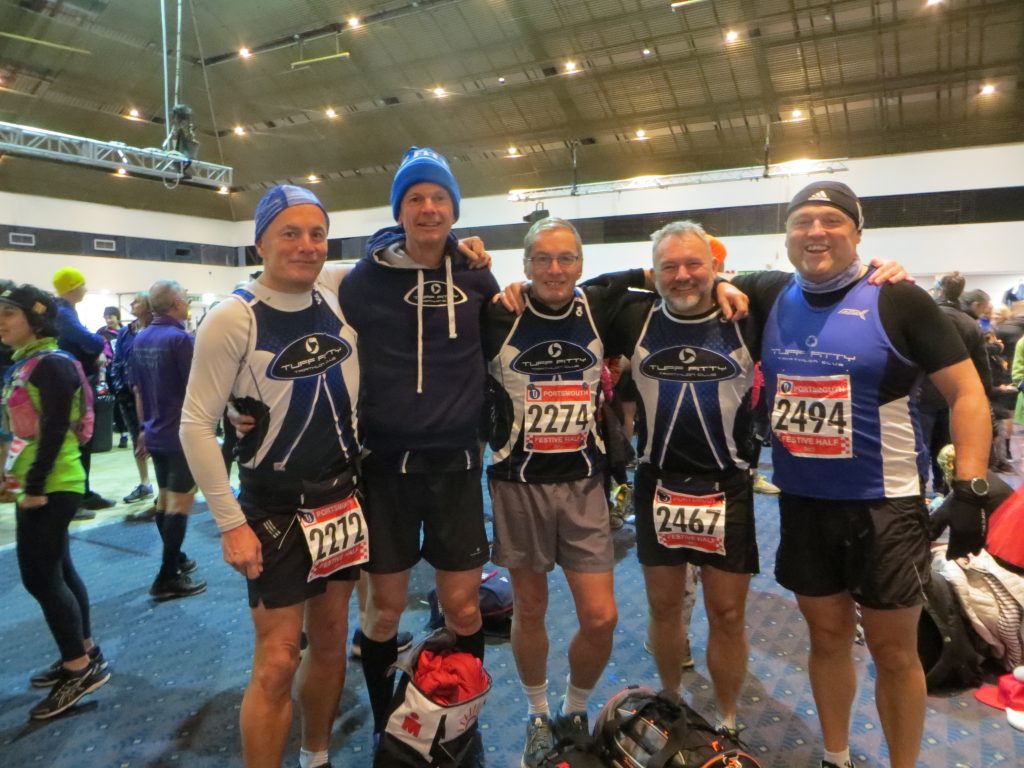 PORTSMOUTH FESTIVE MARATHON/HALF MARATHON
Trevor Harvey reports in from another Tuff outing to Pompey, when "9 intrepid Tuffs took part in the Portsmouth Festive Runs – with three being even 'Tufferera'. Stew Smith, Jay McCardle and Jason Rae (justifiably earning this week's banner shot) were man enough to complete the Full Marathon, with the other six completing the Festive Half."
"One unusual and one usual point; the unusual was that it wasn't raining, and we even had some sun for a mild, great weather running day. The usual was that there wasn't nearly enough toilets. For each gender there were 4 traps in the Pyramid Centre and only 6 portaloos hidden by the start. With a large number of runners for an Ultra, Full and Half, (1,658 finishers) I can bear witness to the fact that at least two in the gents were overflowing ; (gear list for next year – a stick to beat it all down!). Not at all pleasant."
"The Marathoners were off first, with Stew FTH, (first Tuff home), followed by Jay & Jason. The start for the Half was delayed half an hour to let the tide recede, as the route goes along Southsea seafront, and across a bit of boggy muddy beach before following paths and tracks around the harbour to Hayling Island, (with the half turning by the M27). Whilst quite muddy, given the recent deluge, it wasn't too bad."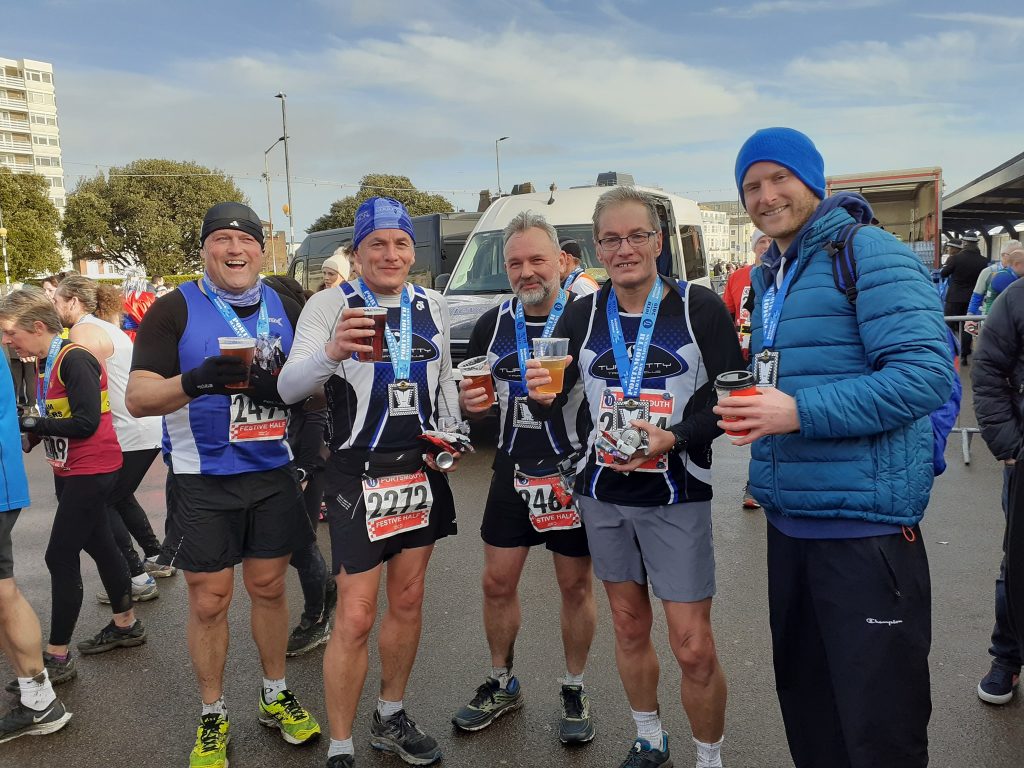 "For the half, Joe Pascoe, (who was a little late getting over the start line), then stormed through the field to be FTH, in 1hr 29 min to be 14th overall – a great achievement. He was followed by Clive PL who surged to first in his age group. I then came across the line for 5th in the old gits section, followed by Glenn Parisi; Dave Priest and Clive Harvey to complete the Tuff collective, all of whom were greeted with a pint of beer; a buff; chewy bits; a big medal, and 'bonus' medal from Santa, (me thinks someone over ordered on earlier shorter runs!!). "A good way to burn some calories ready for the impending piggery of the festive season!" (Click on the album below for some pics).
Trevor
<
>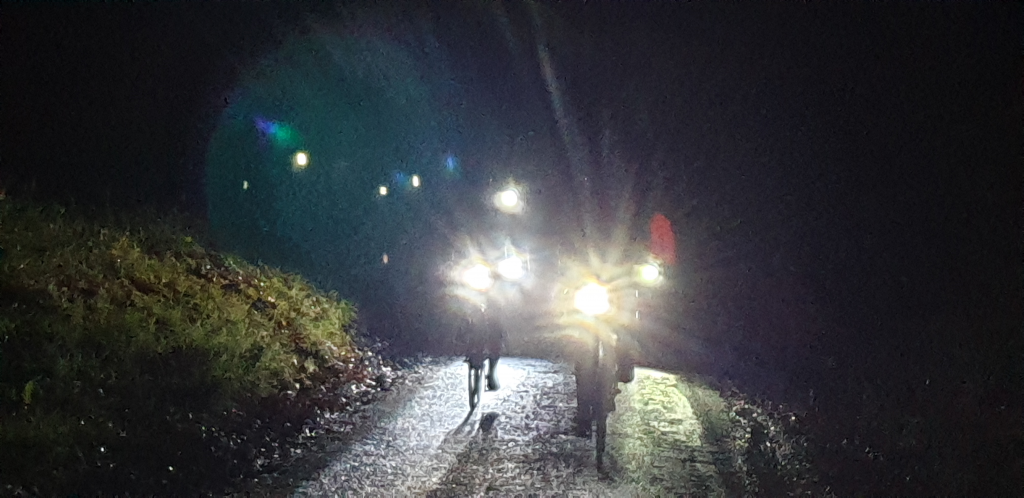 TUFF CHRISTMAS BIKE RIDE
The M23 closed because of flooding, and rail trips cancelled; was this a good day to stage our traditional Christmas Night Ride? Actually the answer was an emphatic 'yes' as the rain stopped mid afternoon and conditions were mild. The roads were much drier and cleaner that the riders feared although the Routemaster Mr Clive Patterson-Lett had tweaked part of the course to avoid roads in poor condition.
Meeting at The World's End the Tuff contingent were Debbie Boxall, Clive Harvey, Trevor Harvey, Joe Pascoe, Clive Patterson-Lett, Nicole Patterson-Lett, Jason Rae, and Jon Roper. A route out west up towards Slindon accrued 25 miles. The riders got back to the pub, pulling into the car park just as the rain returned. That meant there was just one thing for it – a celebratory drink or few in recognition of a good evening's work. Thanks to photographer extraordinaire Jon Roper for the album below
<
>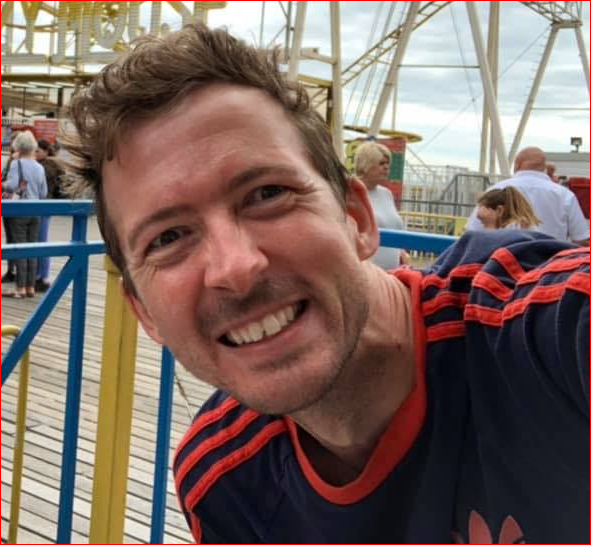 COACHING QUALIFICATIONS
Last week we reported on some great BTF coaching qualifications led by Tiff Orton, but we have further good news in that Dave March, who has several England Athletics qualifications to his name, has just completed a safeguarding course with them. He advised he found the course useful so Thank you Dave for putting the work in on behalf of us all.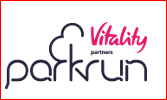 PARKRUN
The early morning torrential rain deterred many park runners across the South with numbers down, but at Littlehampton parkrun congratulations to our newest member – Emma Hinton who completed her 16th parkrun. Across at Worthing parkrun yet another superb performance from Henry Teague-Smith who crossed the line fifth overall in a sensational 16:56 for a new PB. Next home was Phil Turner in 22:40 to notch up his 60th parkrun. Les Pearce was next home, followed by Chris Sloggett for his 106th parkrun. Amanda de Ridder secured her 113th. Finally we doff our cap in respect to Jason Rae at Bognor Parkrun who notched up his 112th parkrun the morning before going on to run the full marathon at Portsmouth. Also running at Bognor, well done to Claire Moyle to complete the known 8 members out parkrunning.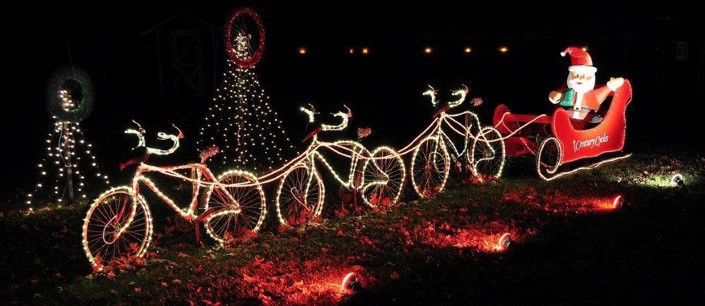 MERRY CHRISTMAS
A huge thank you to all the members of Tuff Fitty, supporters and families who have helped us to achieve new goals, pb's and new members; positioning our club in good shape for the coming year – 2020 will be Tuff Fitty's 29th year.
We reached the Winter Solstice this weekend and so now our thoughts can turn to lighter evenings ahead. There are several things planned already, but please submit any ideas you have to our committee and coaches. Thank you to everyone who have sent pictures and race reports -it is appreciated – keep them coming please in 2020.
British Triathlon have altered the way clubs affiliate to our governing body introducing different types of affiliation. These are Community, Commercial, Closed and Single Discipline. Tuff Fitty are classed as a Community Triathlon Club although our fee (which includes insurance) has risen by 43%. It is disappointing to learn that several smaller clubs have deemed the rise prohibitive and are to stop affiliating which is a shame. It is gratifying however that our club continues to operate from a sound base and is able to harness the benefits British Triathlon provides, including reduced affiliation tariffs for those individuals who wish to join. (There is no change to the individual member affiliation fee and process)
On behalf of all Tuffs, your Committee and Coaching team, we wish you a very Merry Christmas and a great New Year looking forward to new goals and adventures.
Tuff Fitty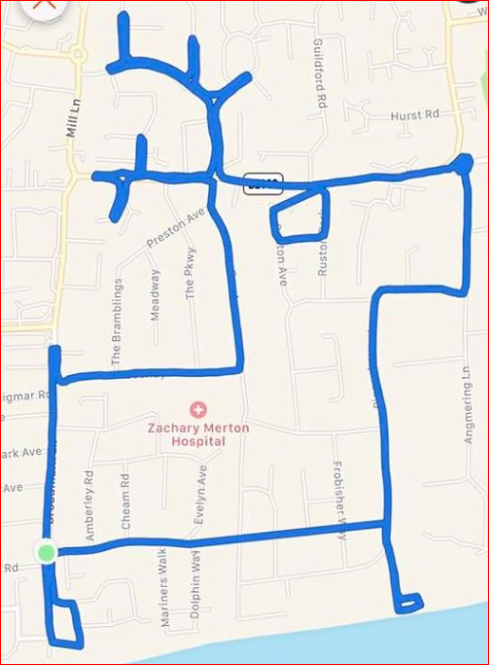 TRAINING PROGRAMME
Saturday morning 28th December we have our Festive Special where Arundel Lido has been hired at 9am (heated pool!) (No Saturday evening swim). Prior to this the Saturday Morning run continues at 7:30am although will be a truncated session to ensure everyone is back in time for the swim. Whilst the Monday run continues on the 30th – the above strava art was from Monday 23rd – our regular pool swims resume from Thursday 2nd January and the Track resumes on the 8th January. A big vote of thanks to Jason Rae, who has stepped up to be race director on Christmas Day at Bognor Parkrun to prevent it being cancelled. Christmas Day Parkruns also occur at Littlehampton and Worthing