Weekend Round Up 3rd 4th October
Despite the continuing uncertainties caused by the Pandemic, Tuffs are still managing to get active in a socially distanced way. The next three weekends at least have members scheduled to participate in events, so read on:-
ROOKERY FIT FARM
A big thank you to Captain Jon Babbage who organised a Saturday morning trip to Rookery Fit Farm, and to Tiff Orton, a regular attendee who helped to encourage participants to have a go.
Most people travelling along the A259 to Felpham will be unaware that behind a hedge there is 4.5 acres of woodland, the home to a unique assault course – Rookery Fit Farm. Whilst several club members have attended across the summer this was the first time a set Tuff session had been organised. The forecast looked dreadful beforehand, with rain pouring down as participants arrived. However as everyone met with Dean & our very own Kev Pearson, lead instructor, the rain abated for the whole morning, providing good conditions above ground although the rain had already ensured there was plenty of water and mud for Tuffs to get down and dirty!
After warm up excerises, Kev led everyone around the course, demonstrating and explaining good technique for obstacles and apparatus that had to be navigated. The picture gallery below illustrates what Tuffs were confronted with. Rope climbs, a high cargo net, feats of balance and strength plus crawling through the sodden grass and mud…. brilliant fun. There was also a 400m run to complete the course. The apparatus tested muscles that aren't often used, but on finishing, everyone was met with 'well what are you waiting for', as they were immediately set off for another circuit.
Any good? It was excellent fun, so much so that as the booking covered two hours most went for a third circuit of the course with the banter, laughter, mud and camaraderie leaving everyone to conclude it was a brilliant morning and to reflect on aching limbs and muscles the next day. Thanks to everyone who took part, another trip will no doubt be on the cards. (Click on the photo below to open the album)
VIRTUAL LONDON MARATHON
Glenn Parisi was the lucky recipient of the guaranteed Tuff ticket for the 2020 London Marathon. Deferred from April to October. As the weeks went by this looked an increasingly forlorn hope, until by issuing a number with tracking, entrants could still run the full 26.2 miles from home leaving the elites alone to finish down the Mall.
Deciding on a linear seafront course, Glenn started from Littlehampton at the Arun and despite the weather ran along the coast in the wind and rain out to Shoreham Harbour. Tiff Orton gallantly ran with Glenn for 14 miles whilst Jon Roper popped up along the course taking pictures. Then a turn back into the wind and rain back to the Arun. This time Murray Hodge accompanied him for 13 miles. Other Tuffs ran part of the route as well and there was quite a welcoming crowd as Glenn crossed under his finish arch. Well, actually it wasn't quite the Virgin Money Marathon red banner he had hoped for, but the temporary sewage pipe, as shown in the picture above, was certainly distinctive.
Glenn reports that despite knee niggles beforehand he was pleased how he got on and now awaits his 2020 medal and T-shirt in the post. Significantly he still has the opportunity to run in the capital for real, having deferred until 2022. The ballot for October 21 closed after 6 days and the previous odds of entry of just 1 in every 24 are likely to lengthen further with all the deferrals from this year, particularly as several Tuffs also entered the ballot.
Of course if there is any sign of a marathon happening, then our ultra specialist was also likely to be there. Jay McCardle ran to accompany a virtual London Marathon runner, oh and also a Brighton Virtual marathon runner to help them both meet their goals . Jay provided excellent encouragement in the poor conditions, and provided a spare waterproof. Well done to all the virtual marathon runners for completing their challenges.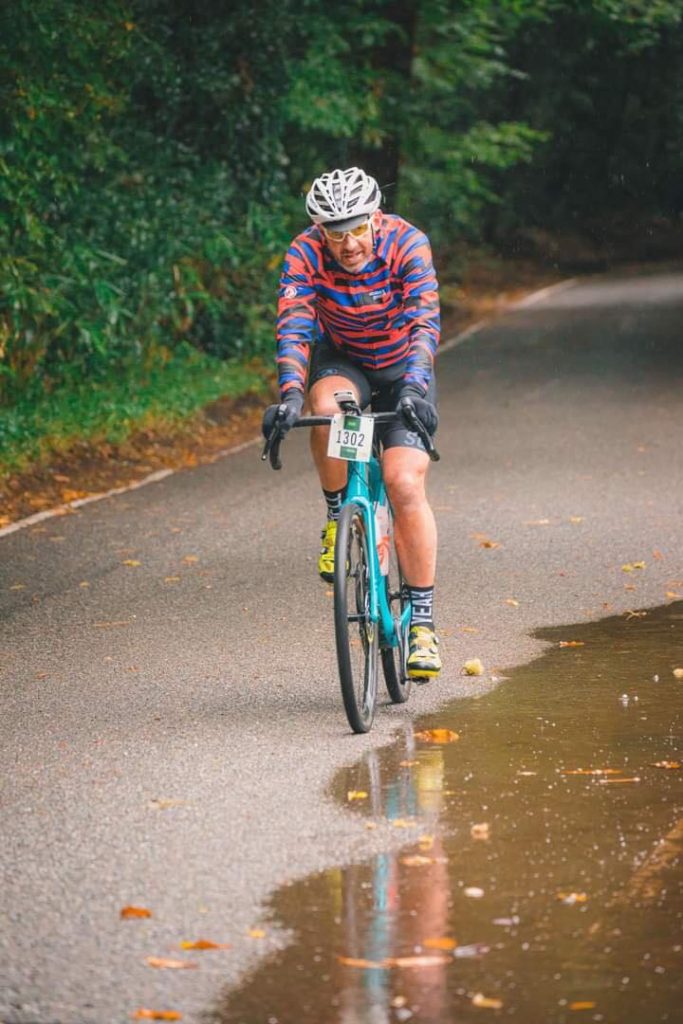 BOXHILL SPORTIVE
The Boxhill Original Sportive, running for 13 years and boasting entrants take on the very best roads and climbs in Surrey and cover some of the 2012 Olympic road racing course. Err, not quite as Andy Ward takes up the tale.
"Boxhill Sportive without Boxhill. An opportunity to ride Boxhill was dampened in more ways than one when the National Trust said no!! That plus the very wet weather meant the idea of cycling the standard route of 76 miles in the rain was not enticing. After persistent rain and cold I decided to cut to the shorter distance and warm up"
Andy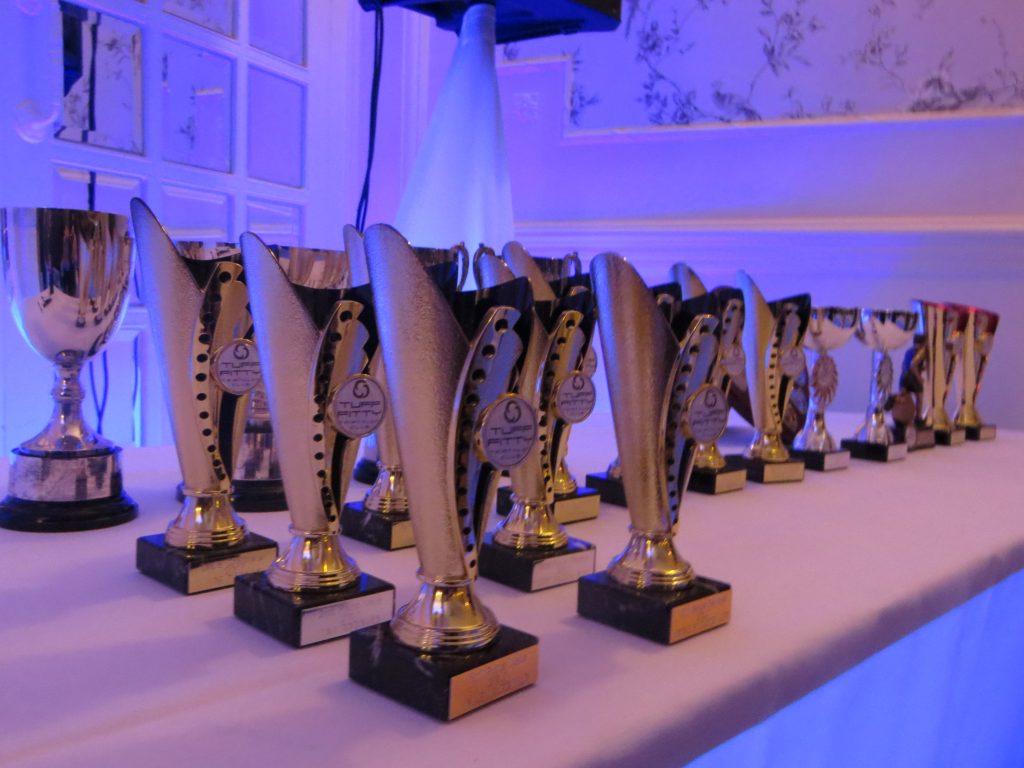 TUFF FUTTY CLUB CHAMPIONSHIP 2021
Traditionally Tuff Fitty hold a club championship over a designated distance for each of Sprint, Standard and Middle Distance Triathlons. With the Pandemic the nominated 2020 races were all cancelled or staged purely as 'participation' events, leaving a question mark over our championship in 2021. One solution relates to the Middle Distance Triathlon. Following the reasoning that the series should be sequential, the shorter sprint distance would be first, then the Standard, culminating in the 70.3 Middle Distance. The Cotswold Classic fits the bill in July 2021 and also some club members had stated their intention to race there already. Ordinarily the committee like to put a short list to members but there are two important reasons why Cotswold Classic was chosen quickly. Firstly, the event has recently run in 2020, significantly improving its chances of being staged in 21. Also as this article is published there are still circa 500 spaces left, so inclusive, enabling all members to participate who wish. So far 'Tuff Fitty' appears on the entry list against 28 names for the Tuff squad on the Wiltshire–Gloucestershire border. There are various Cotswold tri's, so the one you need on the 11th July is https://www.113events.com/cotswold-classic/ The designated Sprint and Standard distance races will be followed up but as these distances usually have spaces for longer, and tend to be more local, there isn't such a priority to set. It is hoped this early declaration of the 70.3 will help in planning your races next year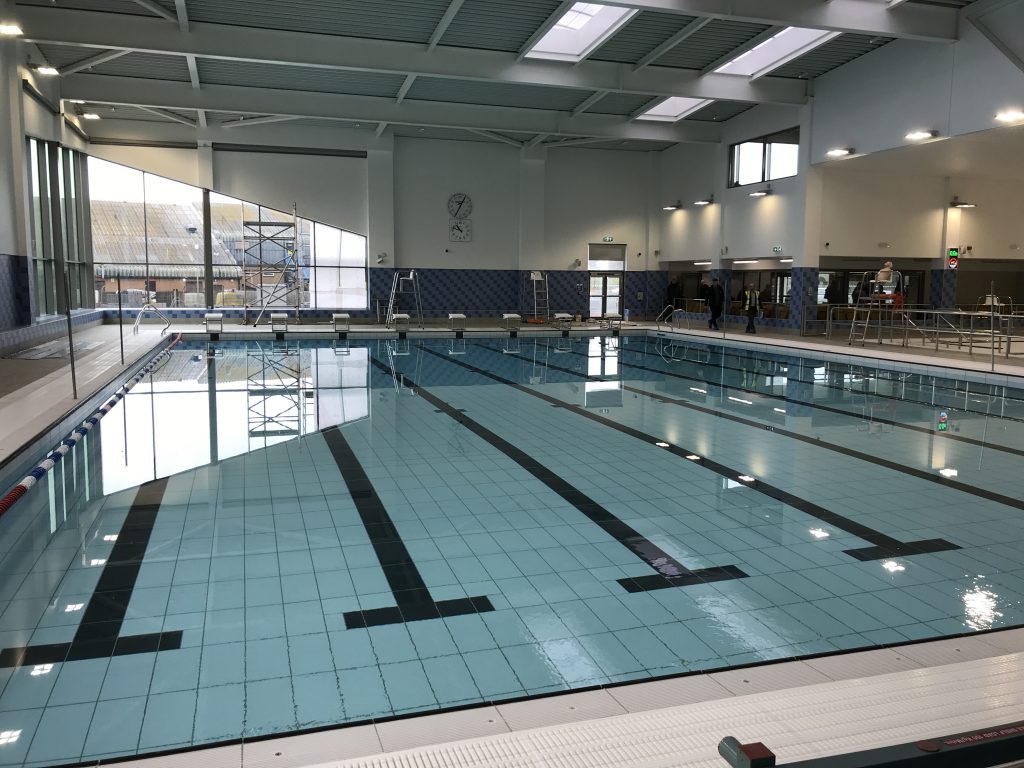 SWIM TRAINING
Tuff Fitty are steadily rebuilding its training sessions whilst being cognisant with relevant Government, British Triathlon and individual venues directives and guidance. We have now been able to restart Saturday swimming, (albeit at the earlier time of 4pm for an hour) at The Wave. This is in addition to our Thursday evening 8pm swim. Unfortunately to abide by BTF guidelines, The Wave's restricted availability & the need to maintain social distancing, capacity is much reduced, so please book your swim slot via our Tuff Fitty Swimming Facebook page or contact one of the committee. All the while it is acknowledged that some members of our club have particularly concerns or need to shield delaying any return – your position is fully accepted and understood. If any members have particular concerns that can be addressed, please do not hesitate to contact one of our coaches or committee.
ANNUAL GENERAL MEETING
A further reminder that a date of Saturday 24th October at 6.30pm has been set for Tuff Fitty's Annual General Meeting. Your committee are working on making this an on-line meeting. Further details are to follow, but importantly if anyone has any agenda items, in accordance with our constitution we need to formally ask for any matters. Therefore please let any committee member know prior to Monday 19th – thank you .
NEWS ROUND UP ITEMS
It appears our members are a modest bunch of Tuffs, with some races or significant training being missed off the Tuff Round Up. Please notify us of where you have raced, with a photo is even better. Don't forget you are not boasting, members like to see what everyone is up to and whether there are any recommendations for future races. please email clive.harvey@tinyworld.co.uk