Weekend Round Up 1st 2nd April
Happy Easter from everyone at Tuff Fitty, the lighter evenings have seen well attended training sessions, particularly now our Monday evening run has moved to its summer, trail route, from The Fox Pub (6:30pm). There was only Friday which didn't have a Tuff scheduled session. Furthermore Tuffs still managed to fit in the following:-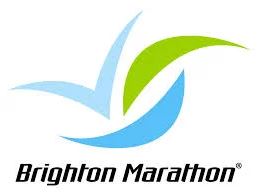 BRIGHTON MARATHON
Started in April 2010 and held every year apart from one Covid postponement, 2023 saw the event staged under its new owners London Marathon Events complete with a revised course. The BM Ride was dropped but the Marathon and 10k continued, both with Tuff entries.
In the marathon there were some fantastic performances. First Tuff home was Richard Hobbs. Hobbsie raced around the course in 3hr 25. Next, delighted to achieve a new PB was Nathan Bilham finishing in 3:31. Steve Fryer has only just recovered from an illness but punched out 3:32 and Alex Webb finished in 3:36. Kate Cooper ran well in 4:07 with Jay MCCardle as our next runner home. Mark Dinsdale was another Tuff across the line and Sue Pinky completed the Tuff eight.
Well done to Michael Redgrave who undertook the 10k. There were several Tuff supporters out on the course and well done to Kate Evans who had a long day manning an aid station.
We are grateful to Alex & Kate for their reports as follows:-
"This was my second Brighton marathon. I thought the new route was better and generally it was very well organised. It was lovely to have Hobbsie for company for most of the run until I had to drop back a bit. Was initially a bit disappointed as was hoping for sub 3.30 but after I had a word with my ego I'm pretty pleased overall. Definitely have NOT booked for next year yet".
Alex
"This was my first road marathon and I was both excited and terrified, but buoyed up by all the Tuff support, advice and encouragement I had received in the run-up to the race".
"The organisation at the start was very efficient, but my circulation less so, due to the biting wind. I was shivering uncontrollably after the bag drop and so out of it that I nearly missed my start wave and crossed the line with a few other yellow wave stragglers! Luckily, my sister and her friends were there to support near the start. It took 12km for my fingers to defrost! "
"The support in the city centre was amazing, but I focused on not getting carried away and settling into a maintainable pace. The stretch out towards Rottingdean and back was a good chance to get in some steady miles. Once back in the centre, I was met by a roar of crowd noise and had to keep telling myself that I still had 10 miles to go. I caught up with first one, then a second 4.15 pacer, so knew that I just had to keep ahead of them to finish well within 4.15. I spotted Leah and Jo B in the crowd at about 18 miles, which was a welcome boost".
"The supporters along Hove's residential streets were more spread out, but very cheerful and lots were partying while handing out fruit and sweets. I was rather jealous!"
"The worst bit was the stretch through the industrial estate towards Shoreham: boring, with lots of loose gravel and plenty of people who had started walking to dodge. Thankfully, it was a relatively short stretch. I was thoroughly glad to reach the seafront, where I finally spotted… or rather heard… the rest of my family. Then it was one final tired push to the line and I finished in 4.07.33. Very happy and very ready for a well-deserved burger and chips!"
"In 2 months my GFA qualifying time is sub 4.00 – a tantalising prospect! Now I wonder …"
Kate
We also have a report from Sue Pinky on her day in Brighton.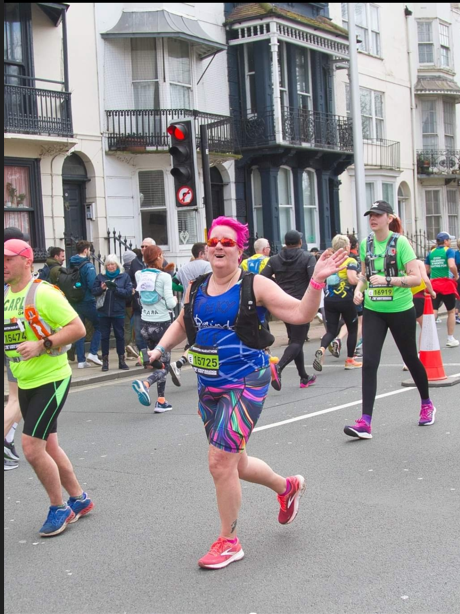 "I wasn't expecting much as training has been very hit and miss. It was very much about finish lines, not finish times for me and my friend Carl. Carl had a dnf in 2018 and I promised him that it wouldn't happen again. I upheld that promise".
"For the first time in many years, it was a very cold start to the day and I actually wore a hoodie and didn't discard it until about mile 3!"
"I cant say that I liked the new course, going out towards Rottingdean seemed to go on forever and it added in a new long incline. The camber was also really bad. Felt weird being at 13 miles coming back to Ovingdean…..".
"Loved running along Madiera drive, that's definitely a part I think they should keep".
"We went up round Brunswick Square, another hill that wasn't expected and really didn't feel fair that far into the race lol. No Marshalls at the top when we got there and a few runners carried on up towards western road! Those with us were rather grateful that we knew where the course went!"
"New Church Road was the usual drudgery, another road that just keeps on going, this is where I lost my PMA for a while but Carl reminded me that his parents were in boundary road with bacon sarnies for us. 😋 😋 😋 that went down a treat. The new route took us round wish park which was a nice diversion from the drudgery. Lol"
"Once back on the coast road, Basin road south was the next change. On the map, we'd worked out that we'd be turning round near the small carpark where the gym is nope! We kept on going and going and going lol, they may as well have kept the whole power station bit in it, I'm bias though as I love that stretch, I am weird though. It was nice knowing that once we were on the prom it was only 2 miles to the finish!! Being a backrunner, we had to dodge people, dogs and kids on bikes and scooters which made it interesting".
"We may have walked from around 10 miles (blisters for me and Carl's shoes were a tad too small for a marathon, lesson learned for him) but we did it!! I got a PW but I really don't care, seeing Carl's face at the end cos he had done it made it all worthwhile!! Just gotta do it all again in a few weeks at London!! "
Sue has a busy schedule with Brighton & London Marathons and Castle to Coast Half Ironman raising funds for Mind. If you are able to assist – the link is here
Sue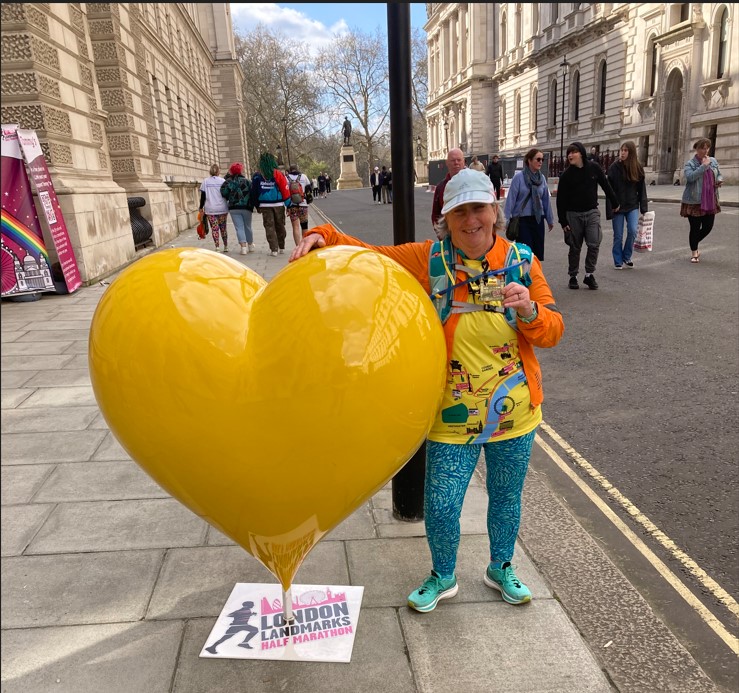 LONDON LANDMARKS HALF MARATHON
Started in 2014 by the charity Tommy's, they had the aim to double their fundraising and sensed a gap in the market for a half marathon. Seeking the status of the London Marathon for a half distance, the London Landmarks Half Marathon was born. The race takes in sights such as The Mall, Bank Of England, St Paul's Cathedral, out to the Tower of London and dipping over Westminster Bridge for the London Eye. Claire Moyle was in attendance and reported in-
"On Sunday I ran the LLHM for Great Ormond street to celebrate my youngest sons up and coming 30th birthday. If it wasn't for GOSH looking after him for the whole on his childhood from 11months to 18 years and then handing him over to the Royal free he would not be living his dream today. I will always be grateful for modern medicine and the ability to create new medicines. It is still possible to sponsor me if you feel able. The link is HERE "
Claire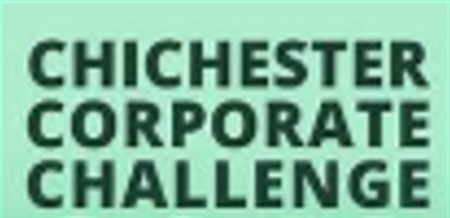 CHICHESTER CORPORATE CHALLENGE
Race three in this series, where competitors run circa 4,500m metres around a four lap course of Chichester City centre. Mark Walford completed his hat trick of runs finishing in 15:59 for his daughters school. This was Mark's quickest result out the three positioning Yapton school well up in the team results. Debra Cauchy-Duval was running with husband Matthieu as part of their work team Felpham CC. Sue & Colin Simpson have completed all three in the series flying the Tuff Fitty name – thank you. Nathan Bilham was also present but as our track runners would testify with the weather that evening, conditions were not ideal and having turned his ankle, Nathan decided to stop after two laps to ensure he was fit for the weekend's marathon.
Anyone interested next year? the three bi-weekly races start on the 28th Feb 2024.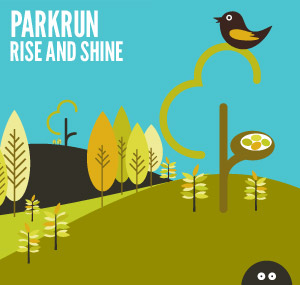 PARKRUN ROUND UP
Saturday morning's weather was dreadful with continual rain at parkrun o'clock which also dampened the runners, but not their enthusiasm at Tuffs traditional Saturday morning Arundel training run. Well done to the Arundel collective and the parkrun 13.
The extent of the wind and rain was exemplified at Littlehampton parkrun where they recorded the lowest numbers of finishers in their history. So we doff our cap to Colin Simpson as our first Tuff home. Steve Bridgeman followed 8 seconds later. Sue Simpson was our next runner with Alistair Evans completing our soggy Tuff quartet.
Despite the rain resetting one of the barcode readers, Bognor parkrun also saw a strong Tuff attendance despite the participant numbers being the lowest this year. Katie Young was first Tuff home, coming home 2nd female, just missing out on 1st by 3 seconds. Will King was next followed by Clive Harvey. Kudos to our next Tuff – Nathan Bilham who used the run as a 'light canter' as warm up for the next day's Brighton marathon although he still finished in a very credible 27.31
Worthing parkrun 's seafront route would also suffer from the elements so well done to Edward Lay on his 122nd parkrun finish. Mark Sole was our next club member
Maidenhead parkrun saw participant numbers hold broadly similar but this was down to other local parkruns being cancelled because of water levels. As it was, an alternative route was used as the stream from the adjoining nature reserve had flooded the return path. This didn't stop Trevor Harvey who was on the volunteer team and then running for his 75th parkrun.
As well as the above, there was some parkrun tourism as Sheila Bailey attended Cranbrook Country Park parkrun. Situated just outside Exeter, this largely out and back route is renown for its resident kingfisher. Great work from Sheila notchingup her 19th different parkrun location.
Finally well done to Sue Pinky who attended Hove Promenade parkrun and used the run as a 'loosener' for the next day's Brighton Marathon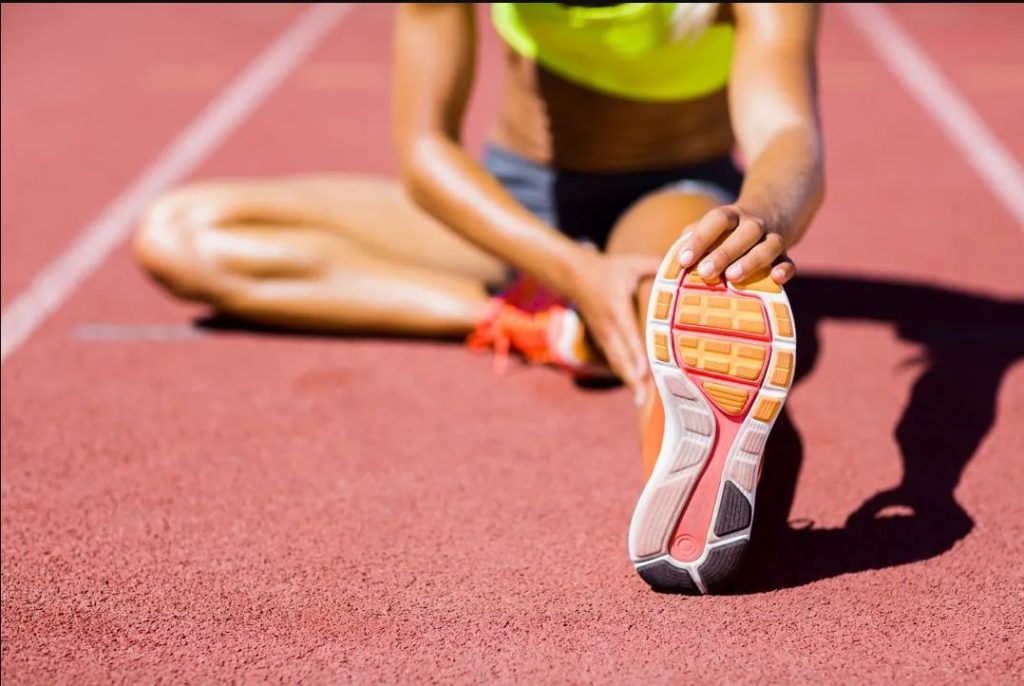 STRENGTH AND CONDITIONING ON TRACK
Tuff Fitty have been holding their weekly Wednesday night track sessions for many years. However did you know the sessions gained the nickname 'The Durrington Project' as the sessions are proven to increase your speed.
From Wednesday 12th April our track team are ratcheting up the benefit by staging strength and conditioning sessions ( S & C) out on the track from 6:30pm in addition to the track session itself starting as usual at 7pm. We are extremely grateful to Barry & Liane Davids for instigating this new initiative and to some of our other coaches who are willing to help as the aim is to make this a permanent fixture moving forward.
There is no charge for the S & C session, and please be aware each segment can be attended individually. For example if work commitments prevent you attending earlier for S & C, everyone is still welcome to come for the run at 7pm, or with other commitments in the evening, attend for just the S & C. Have you attended Wednesday night track for a while? Want to take another look? we are sure you will be pleased you did. ALL welcome and of course for the run itself everyone runs round and round, so no one gets left behind. We look forward to seeing some new and familiar faces this coming Wednesday