Weekend Round Up 8th 9th April
Easter weekend and we have some great reports from members, no doubt building an appetite for their Easter chocolate.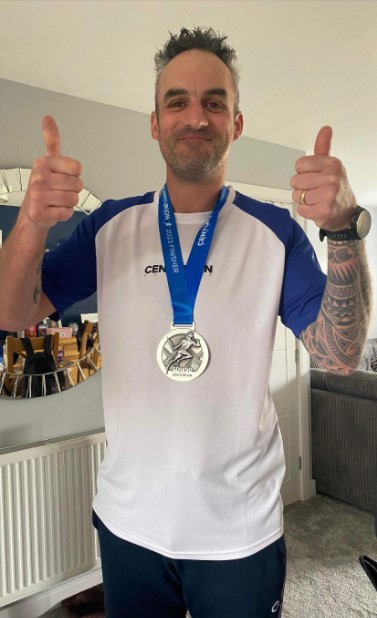 SOUTH DOWNS 50 MILE
The SDW 50 is a 50 mile race along the South Downs Way beginning in Worthing and finishing in Eastbourne. If 50 miles is enough to make you flinch – covering the route requires competitors to cover 5,700ft of elevation within the 13 hour cut off period. Completing with plenty of time to spare was Jon Babbage who has reported in:-
"9 month ago I decided to enter the South Downs way 50 miler as a kick up the arse to try and get me training again. The intention was to go out and do regular trail runs, but little did I know at the time that I would only do 1 x 15 miler a few weeks before the race. I did consider pulling out several times in the build up to the race as 7 days before the race I pulled my back simply walking up some stairs and for 3 days I couldn't even put my own socks on".
"4 days before the race I did check the t&c and I was down to lose everything and these centurion race are over £100 to enter, so with 4 days to go it was massages and deep heat deep freeze and plenty of tablets".
"I went over to Worthing on the Friday evening to get my tracker fitted to my brand new running vest; I was very impressed with the system they had in place. They had stalls with lots on sale so ended up with a new hat, new glasses and a new head torch, I looked like a right newbie".
"Race morning Shelley dropped me off at 8.00am and soon saw a few familiar faces. It was nice to see and hug Jay McCardle from STE who reassured me everything was going to be fine. 10 mins to go they got us all into the field at Hill Barn. 830am on the dot we were off, the first couple of miles we're literally walking as the first 2 miles is the Hangover 5 route straight up hill and where I thought I would start near the back, as I didn't want to go off with the fast runners I struggled to get past and ended up power walking",
"I settled into the run nicely and all I could think of was the t- shirt and medal and the amazing aid stations that were coming I had seen on a bloggers film I watched a couple of years ago."
"Managed to see Jay and Deborah on route as they marshalled a few miles in".
"12 miles in first aid station at Botolphs I stuffed what I could in and took jellies with me".
"Mile 17 another aid station Saddlescombe farm, mile 18 ouch the legs were giving up I had an awful unbearable pain just above the knees, I went to the side of the path and rubbed my legs and thinking, omg 10 miles to go till the next aid station so I have to do at least 10 miles before I can pull out or do I walk back 1 mile and pull out there. I really had to think what was best",
"I did pack a can of deep heat spray so I sprayed it all over my legs dug deep and carried on to get that t- shirt. I found a nice comfortable pace where I was almost running side by side someone so we got talking ( kevin 62 from Southampton )."
"Mile 27 a familiar face James W who I have known for a year who was marshalling at Housedean farm aid station to get a free entry for next year".
"Grabbing what I can I hear Kevin say hold on Jon wait for me, so I did, we did have a good laugh, he's had 4 heart attacks and still going strong I did tell him if today was number 5 I was going to leave him for the next person to deal with him".
"Onward and upwards, was loving the messages from Shelley, Jimbo, Sue, and Tiff, it meant a lot".
"Swapping life stories with Kevin made the hours fly by".
"Got to Southease and there were 2 Marshalls who made sure everyone went over the railway bridge instead of crossing the track; omg that hurt going up the steps then back down, Southease was my favourite aid station lots of savoury and sweets".
"4 aid stations done, 2 to go. I just wanted to make sure I was there before the cut off time. I struggled onto Alfriston and saw another familiar running friend out supporting who said I was only 2 miles away from Alfriston. By this time I could only walk the hills and the downs were a real struggle. I certainly didn't gain any time on the downs".
"Cold roast potatoes were handed to me in the village hall, wow they went down a treat. Kevin and I left together, I gradually fell behind and we separated soon after leaving Alfriston. 4 miles to go to next aid station Jevington; a sigh of relief was let out here as I had made the last aid station with over 2 hours to go. I now knew I had over 3 hours to cover 4 miles Little did I know there was one big hill and a really long down stretch were on their way".
"Watch was now on low, and phone was nearly dead so turned my music off to save my phone. I then spend 2 miles panicking and worrying trying to remember Shelley's number which I know off by heart but for some reason at the moment in time I couldn't even remember the first 4 digits I was in a blur!"
"After half an hour I looked down and noticed it was on my race number; phew I'm saved".
"Finally the last down hill to go, it must have been a good mile of thin chalk path; yes, I slipped and fell over with someone right behind me".
"Finally tarmac; about a mile and a half to go, I could feel my pace coming back and so was everybody else's. Past Eastbourne hospital and just a few corners to go, I could see some centurion flags so knew we had made it. I looked up and saw Shelley and my son and Bertie boy standing there. I was trying to hold it all together so sort of ignored them but waved, into the sport track and all I had to do is run 1 lap of track 400m to go."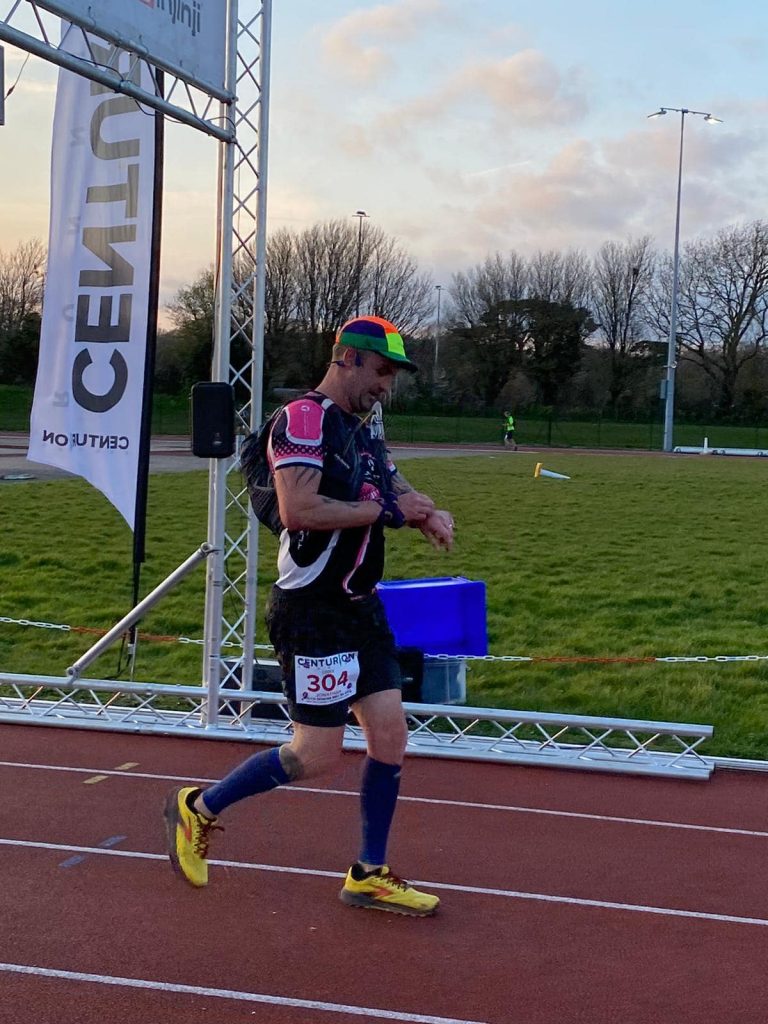 "I crossed that line, had a wobble, stopped the watch grabbed my T-shirt and spoke to Shelley. I forgot to get a medal but luckily the medal man was next to us. Thats it sdw50 miler done; well actually 49.05 done 10 hours 44. 29″. Would I do it again? Yes I would"
Centurion are on the expensive side but they really put the planning and attention to detail in. There must of been absolutely 100s of flags put out. Everytime you ran past a flag you could see the next one, it was impossible to get lost, the aid stations were spot on. I know everyone says don't try anything on race day, so apart from all the new gear I manage to guzzle 6 litres of tailwind having never used it before; but it worked really well. When I finished, the race mentality I could have kept going, but physically I don't think I could. It was definitely my mind and the tailwind that got me through it, it definitely wasn't my training that got me to the end".
"Didn't manage to find Kevin at the end but I do know he didn't have a heart attack as spoke on Facebook the next day"
Jon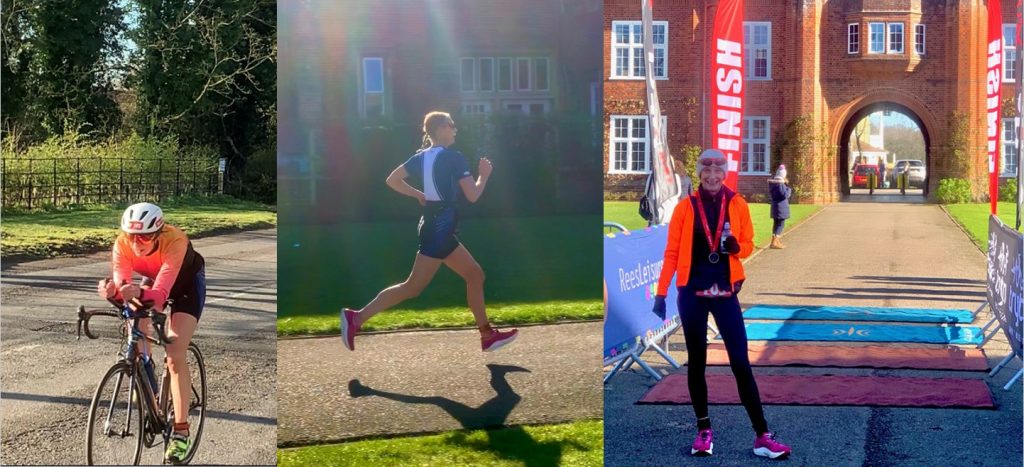 RADLEY SPRINT TRIATHLON
A Good Friday triathlon held in Abingdon; this sprint race started in waves from 8am through to 11:20 with over 400 competitors. Our Tuff racer was Maisie Johnston– thanks for reporting in:-
"My Season opener Triathlon for 2023"
"It's difficult to find an early race to kick off one's triathlon season so I'm super happy to have found this little gem!"
Hosted by Radley College in Oxford, swam 400m in the pool at the college sports centre, biked 22km around the beautiful countryside and ran a 5km combo of trail, grass and tarmac around the college grounds. A fantastic finish line running through the ancient arches.
2nd lady out the pool, and then taking the lead at the beginning of the bike. Found myself biking and running pretty much on my own, I thought I had the win in the bag-but as with wave starts, you never quite know who's behind you…..
Final result, 2nd lady – more than happy with that!
Maisie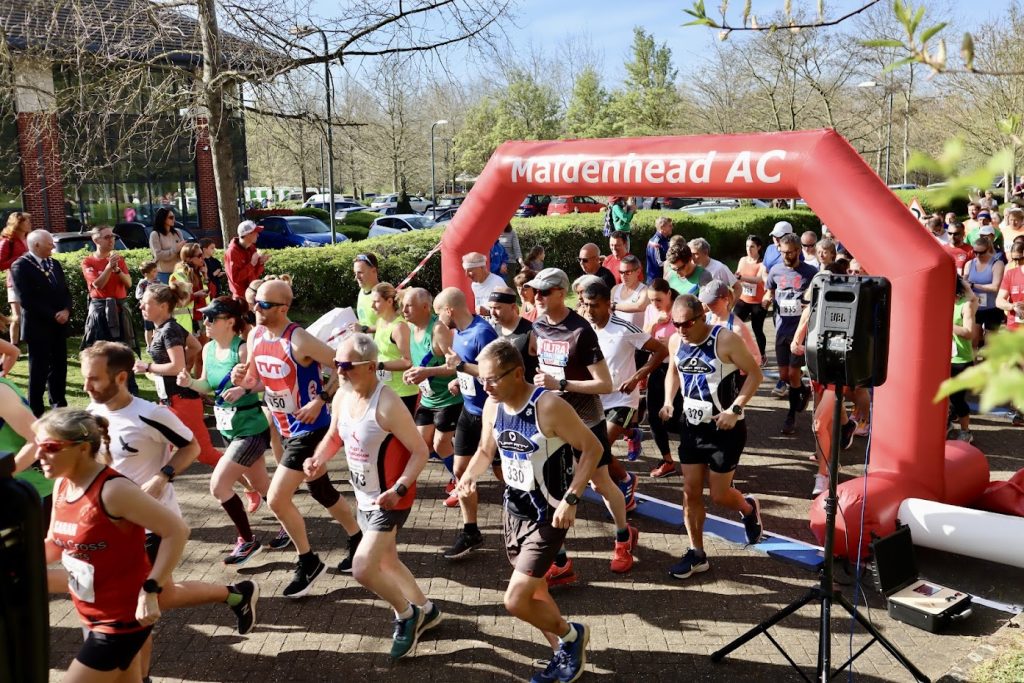 MAIDENHEAD EASTER 10 MILER
A popular run which saw over 800 runners converge on Maidenhead, including a pair of Tuffs, Trevor and Clive Harvey with Trev reporting in:-
"The Harvey bruv's once again took part in the Maidenhead Easter 10 miler, on Good Friday….the one where the Rt Hon Theresa May always marshals, (with security lurking in the background!)".
"Supposedly one of the oldest races in the country, the 68th running takes in a nice route, (after a circuit of an office park), with great running weather".
"Both beating last year's time, and the event fully justified a feed of Hot Cross Buns & choccy afterwards!!!!"
Trevor
BEACONSFIELD FIVE
With a run around Hall Barn Estate in Beaconsfield, Trevor Harvey entered and reports:-
"Having survived the 10 miler on Good Friday, I thought I'd brave the Beaconsfield 5 on Easter Monday. Sadly the great weather of the Friday turned into torrential wind and rain for the Monday".
"The trail run took in a country estate you can't normally visit, and would have been quite scenic, but as a proper trail run the concentration was on staying upright for the 5 miler with mud, puddles, mud, quagmire, mud, wind…you get the picture……but strangely enjoyable, and I was quite happy with the time".
Trevor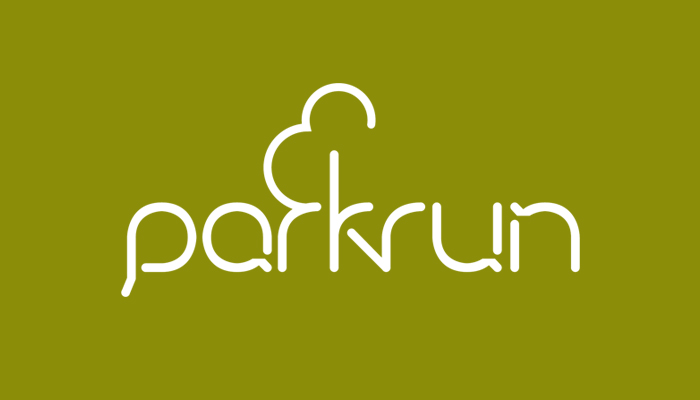 PARKRUN ROUND UP
Dry and warm conditions saw parkrun bounce back after the deluge last Saturday
Littlehampton parkrun saw numbers increase by well over 200% over the previous week. Tuffs on parade were Steve Bridgeman as first Tuff home. Alistair Evans and Jenny Oliver – three of our regular Littlehampton runners with thanks to Chris Evans on the volunteer team..
Bognor parkrun saw a quartet of Tuffs. Katie Young achieved a new PB finishing in 22:55. Will King, then Clive Harvey and Claire Luckham completed the Tuffs on the four lap route around Hotham Park
Across at Worthing parkrun Danny Cunnett ran well as first Tuff home. Tony Pearce followed and then Edward Lay who has now reached 99 Worthing runs out of a total of 123
Next we cover our parkrun tourists. First up there was a visit to Lordship Recreation Ground parkrun. This Tottenham based parkrun was visited by Colin and Sue Simpson for the first time.
KIllerton parkrun is round around National Trust land north of Exeter and Steve Fryer ran here for the sixth time recording a spritely 21:42
Wycombe Rye parkrun is billed as a scenic urban park in High Wycombe despite having steps to run up – Trevor Harvey was in action at this one.
Well done to all fifteen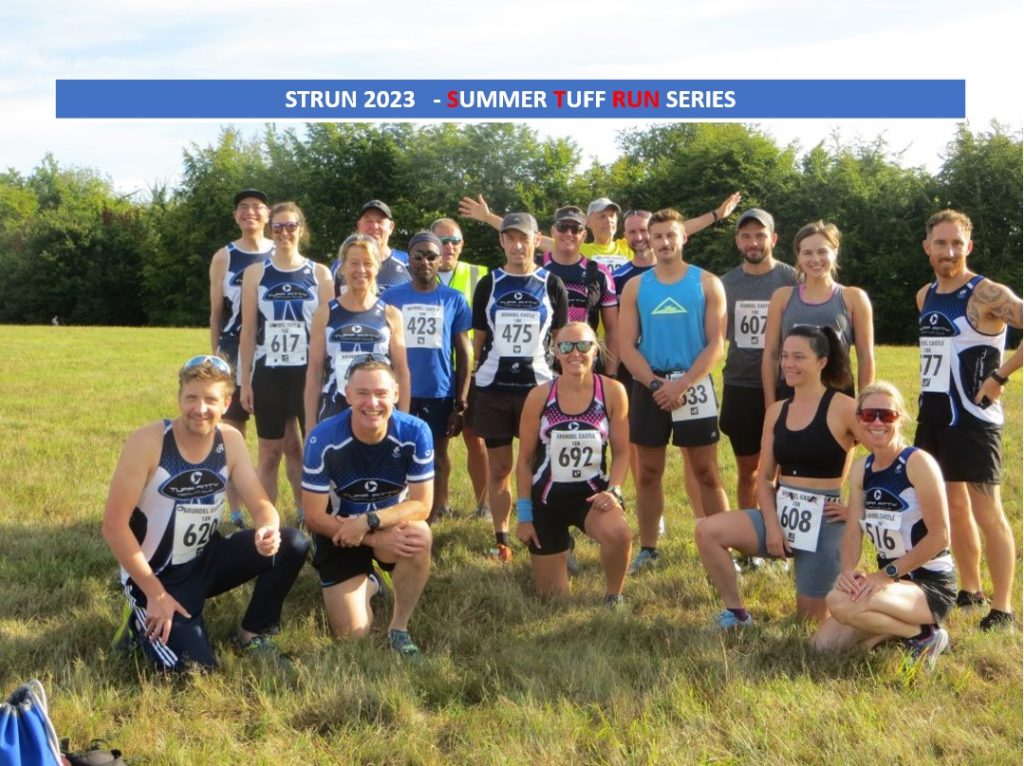 SUMMER TUFF RUN SERIES 2023
The full calendar for this year's STRUN – which stands for the Summer Tuff RUN series is now in place. A series of races made up of the events below with participants best three scores going towards their final position. It is important to note that the series becomes a level playing field for all members because the results are processed through the World Masters Age-Grading calculator to take into account gender and age. 2022's series was a close run thing, how will everyone do in 2023?. Please note that Beat The Tide in particular gets oversubscribed, so don't leave entering that one too long. The dates are:-
Littlehampton parkrun 24th June 9:00am 5k
Beat The Tide 10km 17th July 6pm 10K enter HERE
Dawn on the Downs 23rd July 8:10am 10K option to score . enter HERE
Worthing parkrun 23rd August 9:00am 5K
Arundel Castle 10K 12th August 9am 10k enter – HERE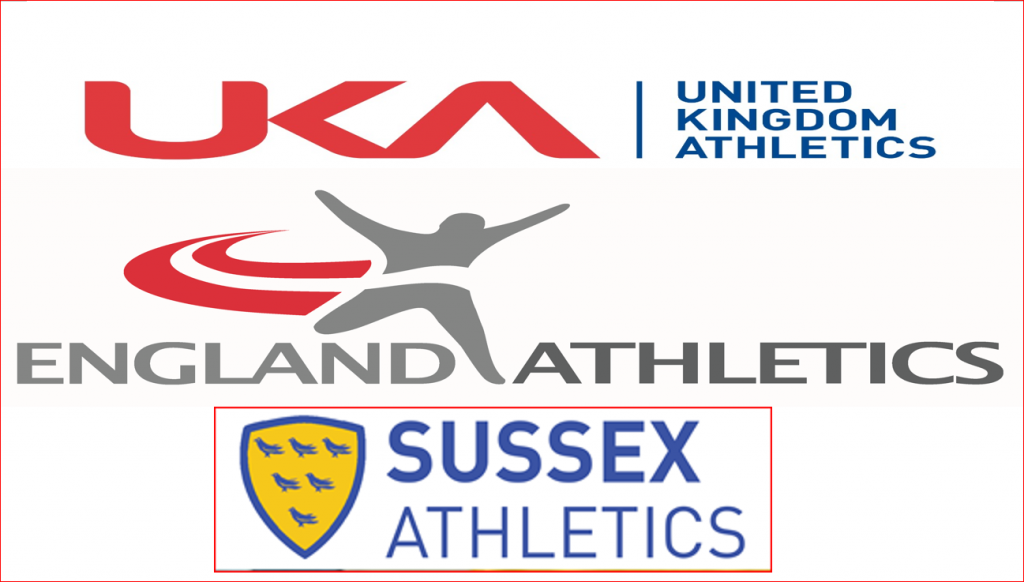 ENGLAND ATHLETICS
A reminder that now we are into April, our affiliation to England Athletics is now open for the 2023/24 year. The cost is £17 per person for those who wish to sign up. The benefits include:-
'Affiliation' enables participants to click on 'affiliate athletic' on entry forms for many races saving £2 .
Access to 'Power of 10' a site accumulating all your results across a lot of races including parkrun.
Eligibility for Tuff Fitty to seek one guaranteed entry into London Marathon for members affiliated.
Whether Tuffs affiliate is up to each individual member, but if you are planning to enter several races in the coming 12 months then you can soon recoup a lot /all of your affiliation fee. As well as paying the core club fee for England Athletics, your club have also renewed affiliation to Sussex County Athletics. In this case the central fee encompasses all our members without individuals needing to pay anything- this affiliation permits Tuffs to race at events like Sussex Cross Country League. Looking to join England Athletics? then please pay £17 into the usual Tuff bank account and let one of the membership team know.