Weekend Round Up 24th 25th June
The Weekend Round Up is becoming a significant undertaking due to the sheer quantity and exceptional prowess of what our club members are undertaking; but this is exactly how it should be as Tuffs continue to inspire others out to train or compete or push them on to attain PB's – well done everyone. Keep the reports coming.
SUMMER TUFF RUN SERIES – STRUN
Littlehampton parkrun was the first race in this season's STRUN, and takes this weeks banner shot. We are grateful to Captain Adrian Oliver for compiling the following report. As Adrian points out, the second race is Beat The Tide staged by our very own Jay McCardle & Danny Cunnett at Sussex Trail Events. Last year we had 27 Tuffs racing and together with organisers and helpers 30 Tuffs were on Worthing beach. You will see the link to enter below, but be warned. The entry cap is now down to the last 100 places and we only have a few Tuffs entered so far – so don't delay,
————————————-
The first race of our series of Summer Tuff Runs kicked off with the Littlehampton Parkrun 5k on Saturday, 24th June. The weather was perfect conditions for our intrepid Tuffs to run PBs in an attempt to score a winning age-graded result – it's not all about being the fastest!
As is the norm when Tuffs turn up in force to any event, there was a sea of Tuff blues and pinks. Team photo done, quick catch-up with two of our latest Ironmen, Clare and Dom, it was time to race the two-lap Littlehampton Prom course.
As expected, there was the usual enthusiastic start rush from all, and after a few minutes, everyone settled down into their paces. Credit to Wednesday's Tuff track sessions that enabled us to have a slightly better understanding of our personal pacing (even though at track, we always run flat-out for our "1km" pace, 1km pace for "3km" pace, 3km pace for "5km" pace…)
After the first turnaround at 1.25km point, it was obvious that Tuffs, lead by Mark Watford, were once again excelling themselves, with Fraser Kidd, Simon Thistlethwaite, and Tom Frith not far behind, followed by a near constant sea of Tuffs. As the race continued, we all appreciated the slight onshore wind to help offset the gradual sweat build-up so we could look our best for our Tuff photographer and cheerer, Amy Kidd and her daughter.
All too quickly (or not), the two laps were completed, and all crossed the welcoming finish line, lead by Mark Walford in 4th in 17:55, Fraser Kidd 8th in 19:12, Simon Thistlethwaite 10th in 19:25, and Tom Frith 13th in 19:57. Not far behind was Steve Fryer in 18th, Nick Francis, Carey Woods in 33rd (and 2nd lady overall!), Adrian Oliver, Mark Sole, Nathan Bilham, Kate Cooper, Colin Simpson, Emma Hinton, Wendy Frost, Steve Bridgeman, Janet Shepherd, Vicki Hedger, Al Evans, Sue Simpson, Clare Worgan, Dom Amey, Susan Douglas, Jenny Oliver and Elaine Rousseau.
Now STRUN results are scored differently – not by overall time, but age grade. So how do the times when biased for age and gender affect the results? Suddenly those younger, faster runners are no longer fast enough!
As expected, Mark and Simon were very fast and remained in 1st and 2nd place. But Fraser slips down the rankings from 3rd to 8th to be replaced by Carey in 3rd.
An interesting reverse calculation you can do using the Age-Grade calculator (http://www.howardgrubb.co.uk/athletics/wmaroad15.html) is to enter your details and find out what time you need to beat Mark's age grade – for example, Carey only needs to improve her time by 43 seconds to place herself in the lead! So leaders, beware!
Our next race is the Worthing Beat The Tide 10km on Monday, 17th July – make sure you enter here: https://www.sussextrailevents.com/beat-the-virtual-tide/
For full details of the STRun 2023 calendar and leaderboard, see: https://www.tuff-fitty.co.uk/2023/01/strun2023-summer-tuff-runs/
Great running all, and have a fantastic summer!
Adrian
Full photo gallery below with thanks to Amy Kidd and Adrian Oliver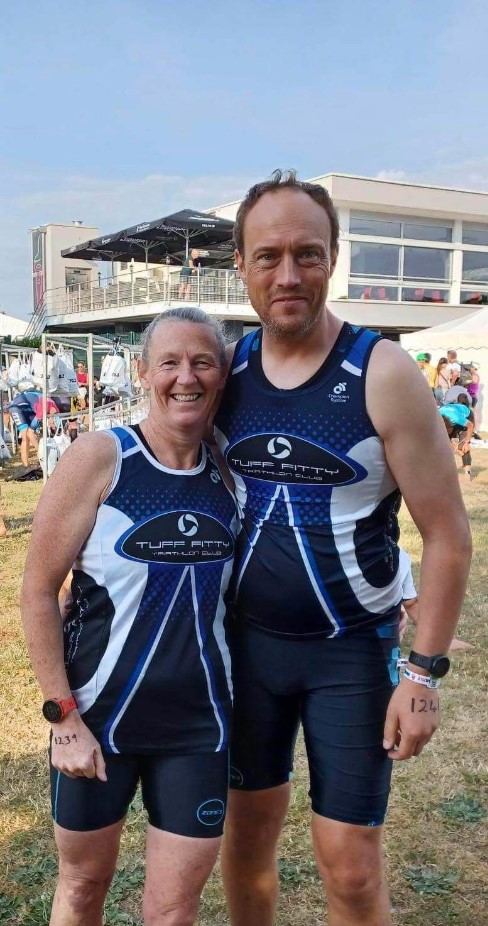 Katie & Will
IRONMAN LUXEMBOURG 70.3
The setting for Ironman 70.3 Luxembourg-region Moselle has a claim to fame in that competitors swim in Germany, Bike in France and run in Luxembourg. The swim takes place in a river. The bike leg was a 90 km course with one loop; slightly hilly with a number of 'hidden climbs' and descents. The finish was reached after a 3 lap run. 2023 was the events 10th anniversary and we had Katie Young & Will King participate this year. Katie had her usual strong race finishing as second Brit and 11th in her age group with a time of 5:58: Will demonstrated great perseverance as his report below testifies.
Some years ago I did an Adam Walker swim holiday where some of us agreed to do a 1/2 Ironman. Roll on 4 years and Luxembourg was chosen. Unfortunately due to work, other races and a wedding only 2 of the group would make it. I asked Katie to come with me and be my wingman as I have helped her with her events in the past. Katie decided to book the event as well (I think less time waiting for me).
The location Luxembourg, easy to get to, we drove, beautiful part of the world and very friendly. Remich the host town is right on the German border. Lots of restaurants and not overly priced.
The event; 23 degrees in the water and 29/30 air. A hot day, wetsuits were still allowed but optional. Swim was fantastic, I think it was a PB for open water. Transition 1 I had a little meltdown due to my knee injury and thinking my wetsuit was going into my street bag and all my after event clothes would get wet. After sitting there for 5 mins I realised it was not my street bag and all was good. I then sat for another 2 minutes kicking myself for wasting 5 minutes earlier. Took 2 ibuprofen, 1 gel and a Katie boost bar, then put my leg support on and off I headed to the bike.
Bike; The course of 90 km was approximately 30 flat and straight, 30 in the hills, 30 flat. I went easy on the bike (my excuse) due to knee but it did not give any issues and the 750 meters of climbing was not noticeable. All good. Transition 2 As you come in for the last 3 km or so off the bike you are parallel with the runners on part of the run loop. This was good but it was also a little nerve racking as lots of supporters were crossing the course. Much better transition; 2 more ibuprofen, 1 gel and a drink and off I headed. The run was 3 laps of a 7 km course with 4 stations for food, drink, cold showers, sponges and ice. First 3 km I ran, then met up with a girl we had met before and did a bit of run walking still nervous of my knee. I decided I would walk 400m run 600m. Found this too easy so went for walk 300m run 700, and the final lap walk 200 run 800 with a sprint finish. Katie was there at the finish to hand me my medal. Fab day.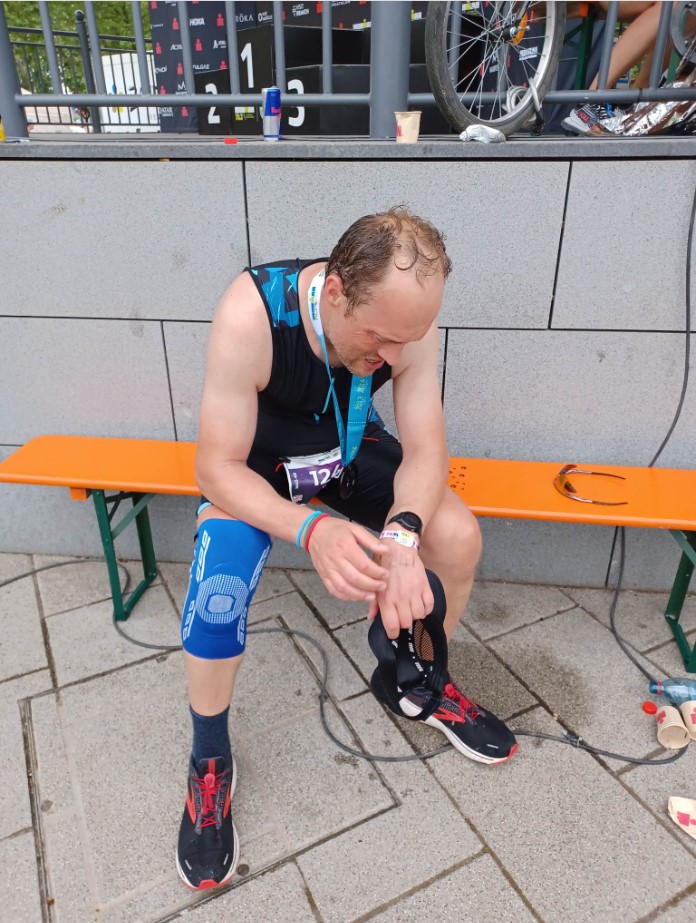 Will at the finish
Review; what I would change? Wear wet suit for a swim before your event. Do not damage knee 3 days before an event being stupid. Ride your bike more than 3 times in 6 months and do not make the longest ride of year your main event. On the bike don't stop at water stations just throw bottles and get new ones. Run; the test for my knee was run in the hotel corridor 25m; I thought if I can do once then times 4 x 10 x 21. Do not drink beer 1/2 way round! Do not stop and accept hug and kiss from complete stranger. All in an amazing day. The hotel we stayed in Mondorf Spa was very good and worked out as £200 per night for twin room with breakfast and full use of spa, they also put on a very early breakfast on the day. Event shuttle buses only run on event day not registration day. Finish time 07:09:54 I think I can aim for 6:30 next time.
Will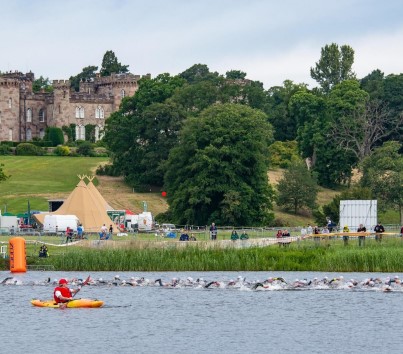 CHOLMONDOLEY CASTLE MIDDLE DISTANCE TRIATHLON
Part of the Castle Races series which includes Hever Castle, further north between Wrexham & Crewe is Cholmondoley Castle. A weekend packed with runs, swims and triathlons, Simon Thistlethwaite was our rep up in Cheshire in The Guantlet – the 70.3 race for the second year and he reports as follows:-
I'd like to think I was prepared for my first 70.3 of the year but actually I'm never really that prepared when it comes to racing, especially when it's always last minute packing after working hard on the tools all week.
The morning before the race I emptied my van of tools and dumped them in the garden under some tarpaulins so I could fit my bikes and gear in the van. Smashing my head open against a scaffolding bolt at home was the last thing I needed especially with the grotty lake swim the next day . I will admit I was worried about infection but decided to be like Rocky and slap some Vaseline in it 🙂
With the weather expected to turn to heavy rain from the glorious sunshine I decided to take two bikes as I'd feel more comfortable on the roadie in wet conditions.
The drive to Wales was as it was last year, it was pleasant and trouble free so about 5 hours to my last minute AirBnB mansion right next to Wrexham beer festival which I could hear clearly from the window of my huge suite.
My race was 8am and as usual we had to be in our pen 75minutes before so thought it best to arrive fashionably and tucked into my huge breakfast at 6.15am some 12miles from the venue.
Porridge , peanut butter on toast , strawberries , coffee , yogurt and juice it certainly was a breakfast fit for a king.
The roads were clear and I arrived 45 minutes before my start, luckily Castle Tri have a slick entry process and I was labelling up within 15 minutes of arriving.
With ten minutes to the swim off I realised I'd left my cycle shoes in the back of the van and quickly dashed back having to catch up to the start of Wave one and my fellow Guantleteers. This left me no time to splash and dash with the Vaseline or sun cream.
I put it down to tiredness having not slept a wink all night in the most comfiest place I'd ever stopped in . A random van in the driveway at 2am set the dogs off barking and a lightning storm around 3 completely destroyed any chance of a restful night.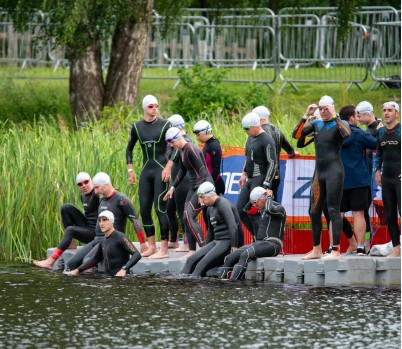 The lake itself isn't very deep around the entry up to the start buoys and you do claw through weeds; it's inevitable.
The mass start was a bit hairy as I'd planted myself in the front group without realising so I had a lot of people climbing on me putting me in a unfavourable position P56 after the first lap to the Pontoon in front of our adoring fans.
We were told we could jump in but not dive and I wish I hadn't as I landed on hard ground in what felt like a really shallow bit. This left me with a horrible hip pain for the remainder of the swim but luckily I was able to move up 6 or 7 places and take two minutes off last years time.
T1 was ok I smothered Vaseline around the obvious areas to ensure a pain free ride which cost me 30 secs but well worth it – heading out on the bike you cycle down a narrow lane with more adoring fans applauding you which is a nice feeling. The route consisted mainly of left turns with the Gauntlet riders going straight past the first Marshall to head on out on the country roads . Unfortunately the left turns were scattered with gravel and road edges around the course were a bit battered in places with one in particular having mud across the entire road in one section with a wee opening .
This is where I almost became a cropper with another cyclist making a dash from behind not giving me a safe passage through the only dry bit.
The ride was nice but quite slow in places getting stuck behind horse boxes which were stuck behind other riders .
I had a very close shave after just lifting out of the aero position to take a left turn around a very tight blind corner covered by a hedge . There was a car planted in the middle of the road completely stopped, and the speed I was going it was impossible to brake in time so I had to take evasive action to the right side of him putting me on the wrong side of the road . The road ahead was blocked by a slow horse box crawling up the hill so I had to wait until it was safe to go again.
The end of the bike was a welcome sight it was 9 minutes slower than last year due to the hold ups but hey ho let's go!
My T2 was about 2 minutes and my heart rate was 190 off the bike for the first 2k I was running about 7min / mile but it was too hot and I immediately decided to do a pace I'd be comfortable with to get me to end in the searing heat on this tough course,
The water stations were well placed and plentiful . I definitely threw more over my head than I drank but it kept my head in the right place .
3 laps of the 7k course felt ok and I managed to make up quite a few places taking me back up to P15 overall with a time of 5.41 some 11 minutes slower than last year and only P6 in my age group but happy with the race and thoroughly enjoyed the days graft.
Was great sportsmanship for the last K after chatting to a fellow racer in the same age group we decided not to stitch the other up and so finished with identical times after both feeling the heat and not wanting to go without the other .
Cracking day – looking forward to Ironbourne 70.3
Simon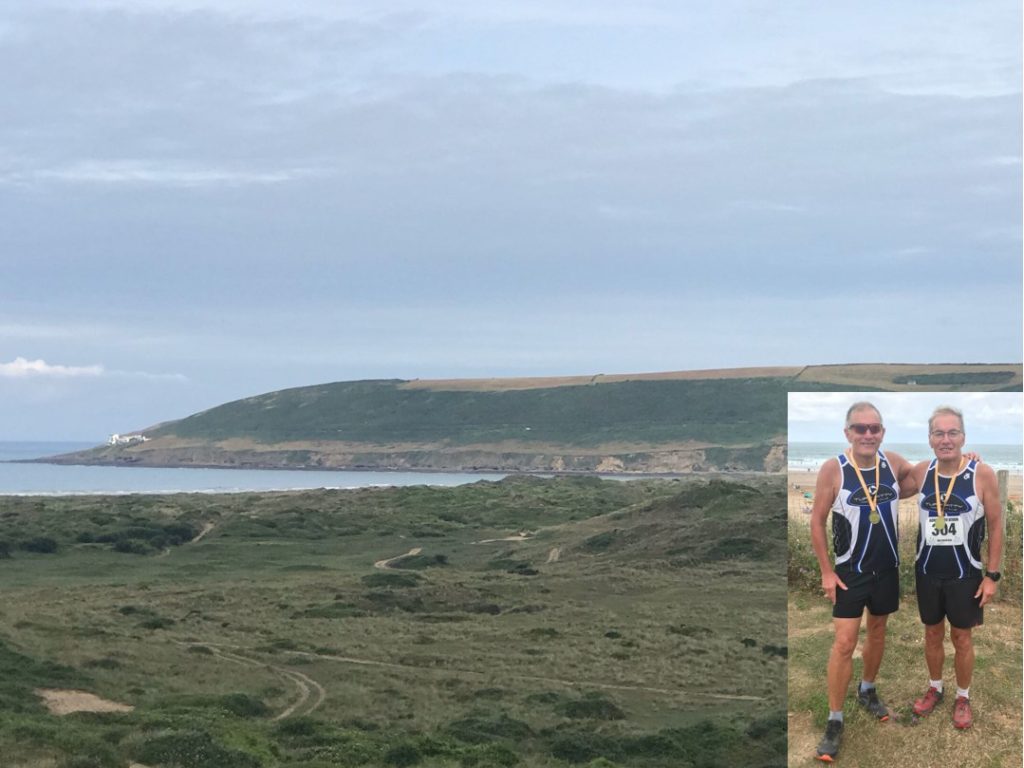 NORTH DEVON HALF MARATHON
Starting from Woolacombe seafront, this scenic half marathon sets out it's intent from the start with the first mile twisting through the soft sand dunes before climbing up and around Baggy Point. From there it is down onto the beach at Croyde. Unfortunately the tide was in so runners had to cross the top of the beach trudging through yet more soft sand as the sunbathers looked on bemused – it was very hot and humid throughout.
Whilst a tough course this was the sixth year Trevor and Clive Harvey have raced here as it serves as a family get together each year with big bruv also running the event. From Croyde, runners head towards Braunton Beach before a steep climb back over the headland (in the picture) and through the sand dunes again to finish. A challenging but well run event which raised over £36,000 for the local hospice and as well as a medal, all finishers were rewarded with a cream tea – well it was Devon after all.
Clive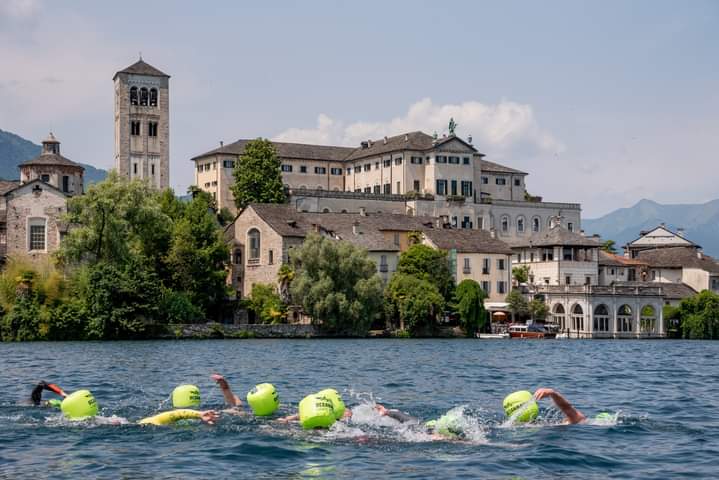 OCEANMAN LAGO D'ORTA – ITALY 17th JUNE
Lake Orta in Piedmont, is situated in northwestern Italy. This was the venue for Susan Douglas's latest swim adventure and she has reported in below:-
"Back in the Italian mountain lakes for another swim, this time an Oceanman event. I was doing the half Oceanman 5.5k, full Oceanman at 14k too far and Sprint 1.5k too short!
I arrived Friday evening for the all important race briefing, but actually it was a lot of waffle about what we already knew! I'd signed up for the pasta party and joined a large contingent from Ireland. Apparently 60 nationalities were taking part.
Saturday the 5.5k race was scheduled at the civilised time of 2pm. I arrived early to watch the sprint race, with some terrible sighting by the leaders going off in all directions at the finish, but still finished in 16 minutes, very impressive, but the winner of the 14k in 2hrs 45 mins was a bit mind blowing, especially as he and another man were battling out at the end! Another league.
Finally time to board the boat to take us up the lake to the start of the half Oceanman. It was rather blustery and water quite choppy, but actually once you were in with 330 other people thrashing about it didn't really matter. It was the usual bum fight, but eventually spread out and I was able to get into my stroke. Well that was the hope, but I had the most annoying man keep running into me, I stopped to let him go by, only to have him come back the other way in front of me again and he had irritating mustache too. Eventually I managed to shake him off with some sneaky drafting. It was a beautiful swim surrounded by mountains and passing the small island Isola San Giulio with historic buildings.
The end eventually came into sight, it had been a good race with other swimmers always around to chase or worry about catching you up. Finished and a couple of people passed me on the walk up the ramp, which I didn't think was very sporting. I was starving and a piece of oily,salty focaccia was most welcome and was the beer!
My main attraction to this race was age group categories! Having just gone up one, I hoped I might get a place. The prize giving, thanks to the age categories, was a long winded affair. Eventually my category came up, 2nd & 3rd Italian ladies, who'd gone home, then 1st "Dooglas Soosan!" Yay mission accomplished! There were only 3 other swimmers, but I beat the 2nd place lady by 25 mins and 3rd by an hour. 54th lady out of 135 which I didn't think was too bad for an old woman 😊
As ever thanks to the Tuff swim coaching team".
Susan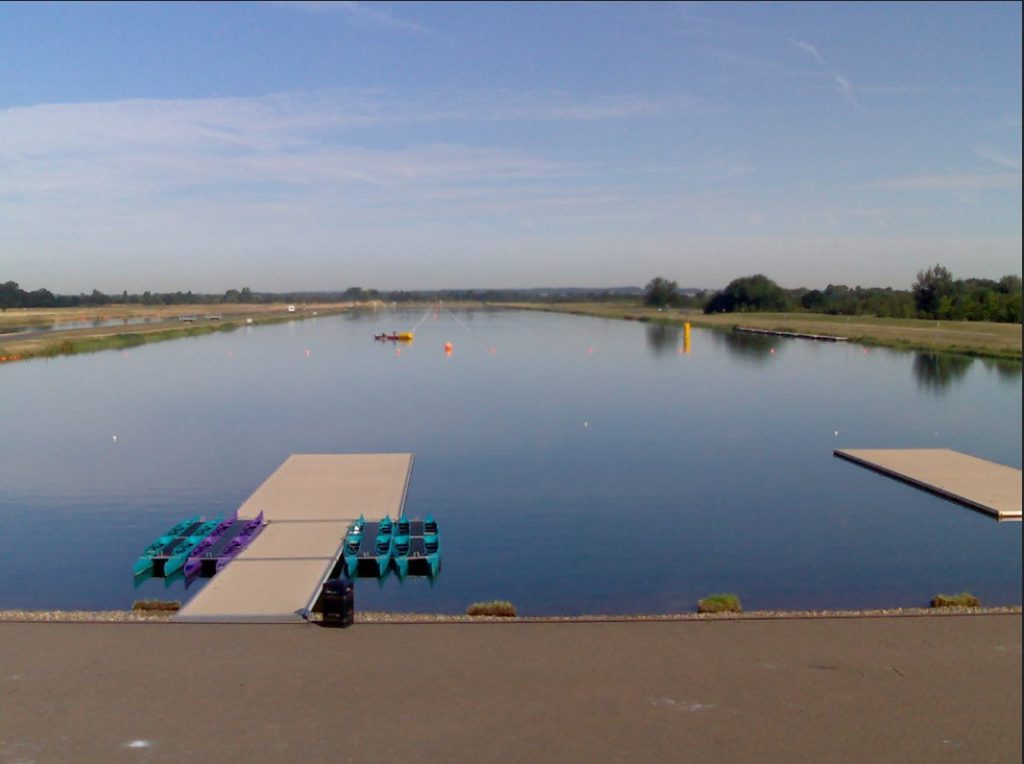 SWIM LONG ETON DORNEY
The Eton College rowing facility is frequently used for Triathlons but this weekend included a series of swims over distances of 10K, 5K 3.8k & 2.5K.
For those who have raced there the distance is just short of 2.5k down one side of the lake, so there and back is circa 5km – it appears such a long way stretching into the distance as the above photo highlights. We had two club members taking part. Ollie Thomas took part in the 10k swim so he had to complete the whole course twice, including a chicane round buoys at the far end to ensure the full distance was reached, Paul Thomas also took part and swam well in the 2.5k event. All events were given cut off times, not that either Ollie or Paul required these and thanks to Ollie for reporting in, who neglected to point out he finished an excellent 12th overall and 2nd in his age category:-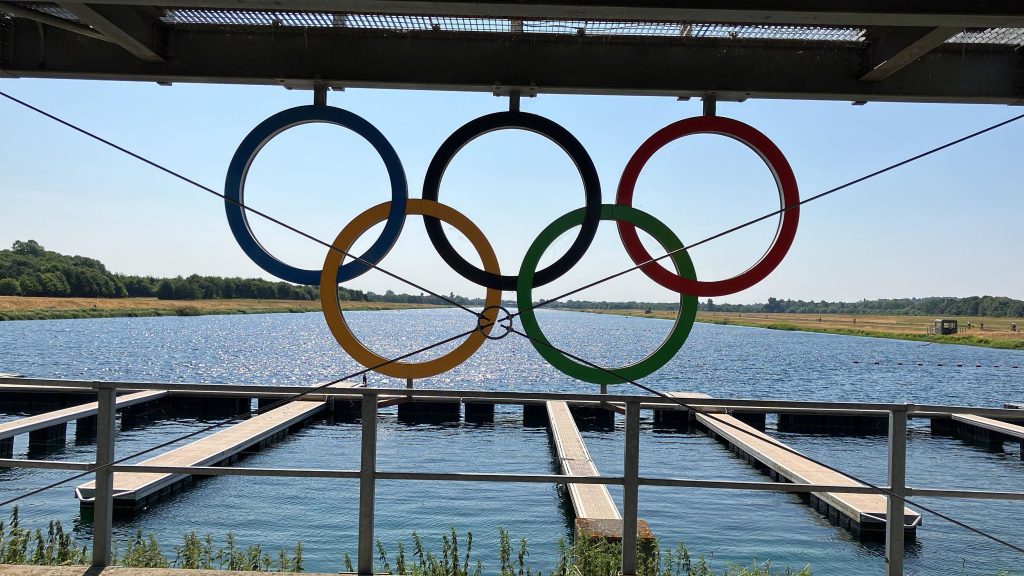 I wanted a picture of the Olympic Rings at the other end of the lake but perhaps running 5k before the swim was a mistake; but I got the picture (above). It was an amazing day, Dorney lake is a really inspiring venue. It was very, very hot 30 Celsius air temperature, water temperature was 23 Celsius. Despite this the organisers still had wetsuits as optional and I chose to wear one, this was a mistake as 3 hours later I was very, very dehydrated. Very pleased to get under the 3 hour mark finishing in 2:57. I said never again on Strava but in all honesty I have entered another one in September for which I will not wear a wetsuit.
Ollie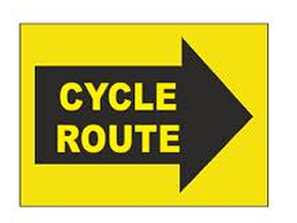 SOUTH DOWNS CLASSIC SPORTIVE
The South Downs Classic starts from Fontwell giving riders the choice of three distances, Long – 131km, Middle 87k, & short 67k. All three routes head out to Cocking, before diverging, up towards Liphook, rejoining at South Harting, before the long course heads out to Buriton.
There were three Tuffs riding; firstly Alister Marchant who completed the long course ahead of Ironman UK next weekend. Claire Moyle was our next Tuff to finish the long course. Claire has sent her thoughts in on the event. Ben Cumberland entered the Middle route riding well to complete our Tuff trio.
On Sunday I went along to Fontwell to take part in the South Down Sportive, I had opted for the long distance 81 miles and 5;350ft of climbing as this matches one of my days riding when I do LEJOG. Weather conditions were perfect sunny warm/ very hot and only a gentle breeze. I was one of only 20 females tackling the long route and I now know why, those hills were massive in places and there were lots of them, 10 in all. Considering I was on home ground I cycled on many roads I have never been on before and went to some villages I have never been through. The countryside was stunning and the quiet roads reminded me of cycling in France. A well organised event, friendly riders and a great day out, and did I mention those hills.!!!!.
Claire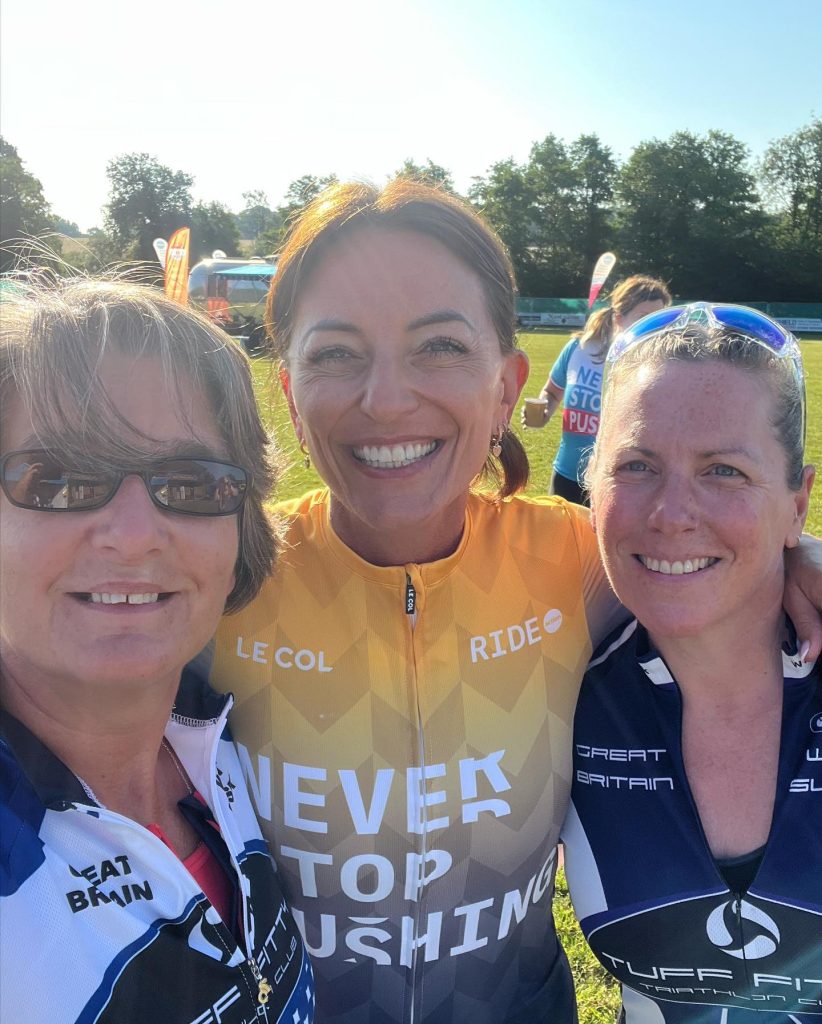 Sheila, Davina McCall & Ness
DAVINA'S BIG SUSSEX BIKE RIDE
Davina McCall's annual Big Sussex Ride is for charity and is often an event for some Tuff spotting and this year was no exception as Sheila Bailey and Ness Green took part. There was a choice of four routes, Cool (27 miles) Classic (46m) Champion (74m) and Epic (100m) Both Sheila and Ness 'went large' cycling the tough 74 mile route notching up 4,300 ft of ascent. The start was at Uckfield cycling down towards Lews and then out to Battle before heading back to Uckfield. A great result from them both with Sheila completing her longest ride whilst Ness continues to raise money for Grassroots suicide prevention. Fantastic work from them both.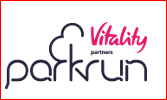 PARK RUN ROUND UP
Clearly the prime focus of parkrun was at Littlehampton parkrun , but there were still some other results and parkrun tourism to report on:-
At Worthing parkrun Edward Lay ran completing his 130th parkrun.
Seaford Beach parkrun saw Jeremy Garratt run obtaining his quickest time this year.
Some parkrun tourism at:-
Bevendean parkrun in Brighton south of Stanmer Park is held on Bevendean Down, undulating as runners run the 2 and a bit laps of the grassland course. This week Sheila Bailey & Kate Evans were on tour with their running club.
Further afield Tamar Lakes marks the border between Devon and Cornwall. Tamar Lakes parkrun starts in Cornwall, crosses into Devon across a dam and then back into Cornwall as runners circumnavigate the top lake for a one lap course. A trail run with some undulations, Trevor & Clive Harvey attended this one as a warm up for their Half Marathon the following morning.
Together with our impressive 24 LA parkrunners – well done to all THIRTY parkrunners this weekend.