Weekend Round Up 5th 6th August
With a very high level of Tuff participation at both Highdown Hike and our own Club Race at Arundel Lido during the week a separate 'Week Round Up' has already been released. However this still left some great race action from the following :-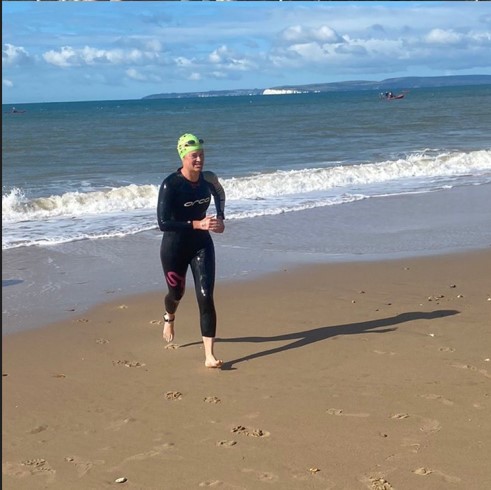 VOTWO SALTY SEA DOG 2.5KM SWIM
For the eleventh year, Votwo staged their Salty Dog long swims, with competitors able to choose between three distances. Usually held at Boscombe a changed location this year had the race instructions stating "is a real must for anyone looking for a slightly more challenging open-water swim". How true this statement turned out to be, but luckily Amy Kidd was our Tuff representative. She is a super strong swimmer but read on for Amy's report (who also earns the above banner shot) about what transpired to be an epic swim:-
"Saturday 5th August was meant to be the salty sea dog long swim event, but the day before, it was changed to the Sunday due to a weather warning. As I was staying with family for the weekend I could still attempt the swim.
At 8am we were given the briefing before heading to the start line. With a running start we headed towards the warm waters of Hengitsbury Head, a change from previous years where it was held at Boscombe.
As I swam out towards the first buoy I realised the waves were worse than they looked from land. It was a battle against the wind and waves along the back straight heading west. I felt like I was constantly fighting the water. At the turn, back towards the first buoy, it was like I was being pulled along, except I headed towards the beach adding about 100 metres to my swim.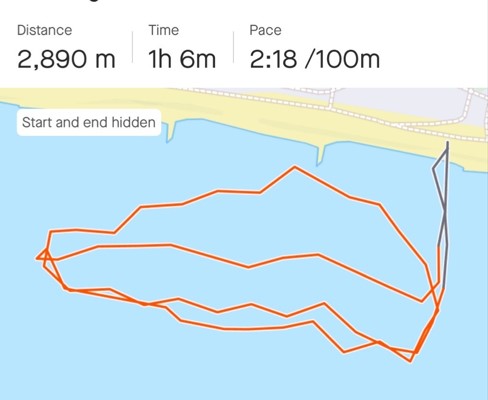 After one lap I seriously considered stopping as I realised it had taken me 31 minutes to do about 1500m (was meant to be 1200m). With a little pep talk with myself I soldiered on, battled against the waves and tried to keep a consistent stroke. With a bit of breast-stroke to help with sighting I managed to keep moving in the right direction. Hitting the home straight I still managed to go wide but was relieved it was nearly over. Land was getting closer and I eventually finished in 1 hour 6mins, 4th overall and 2nd lady. Overall, with an extra 400 metres swum, it was a tough event. Will I do another sea swim again? Right now, no chance!! Ask me again in a few weeks I may have changed my mind. 
Amy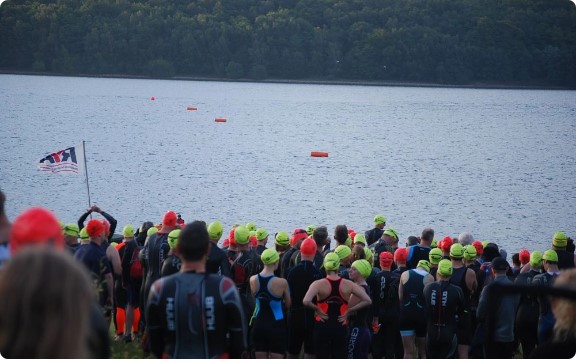 BEWL TRIATHLON
With a Sprint, Standard and Relay Triathlon, there were 300 finishers and in amongst these, racing Standard distance was Nick Francis. Despite his tale containing 'difficulties' Nick still finished in a good position in the results; thanks for reporting in:-
"My experience at Bewl was certainly a memorable one, learning a lot of lessons along the way.
With the rain coming down on the Saturday I delayed getting the bike into the car until the afternoon, this is where my bad luck started. The rear cassette appeared to wobble and make strange noises as I was loading it. Fortunately having reached out, Verity was at hand and by 9pm we had a new wheel on the bike and the alarm back on for a 3:30am wake up.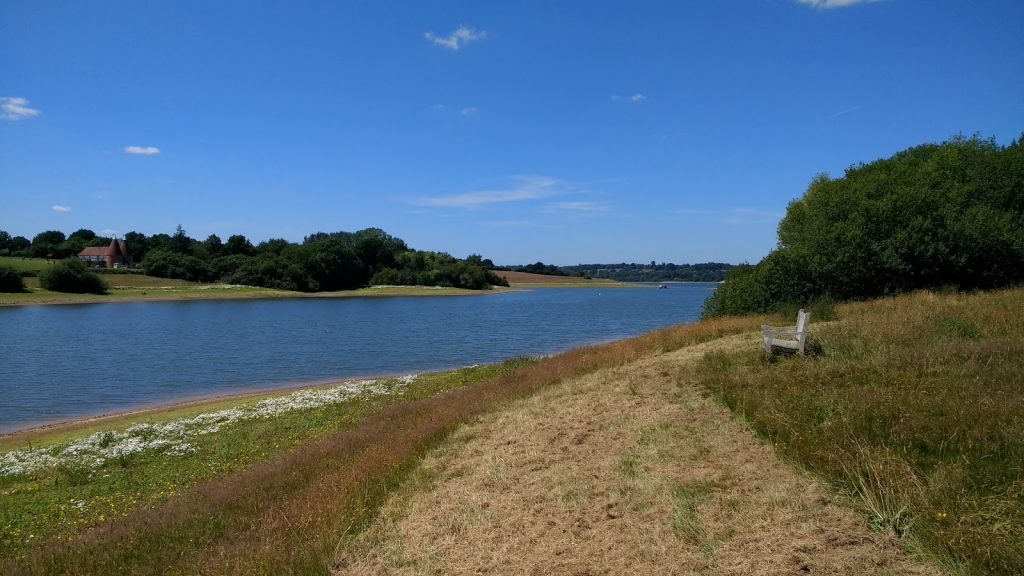 I arrived at Bewl in good time, checked in and was raring to go. The lake swim was great, although I did seem to swim an extra 280m's (clearly more training on sighting is needed). The bike started well and I was building up for a quick finish until at 30km the chain jumped off and then at 35km I got a puncture. After attending the Tuff transition practice day several months ago I remembered the handy tips Jon gave us and quickly got to changing the tube, by this point the motorbike crew arrived to lend support and encourage me on my way. I was much further back than hoped but back into transition where Claire was marshalling and pointed me in the right direction.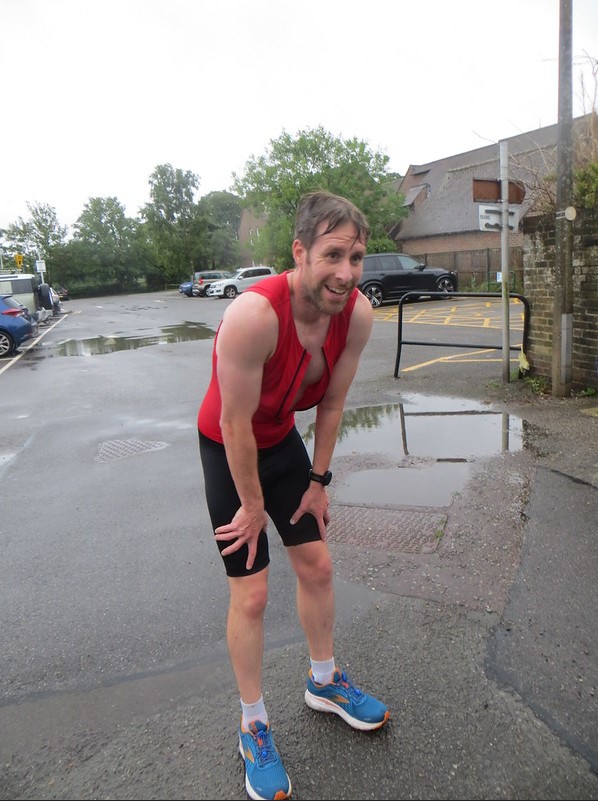 Nick (library shot)
The run was 2 laps of a bowl arrangement leading to some good climbing out and back as the usual flat route on top of the dam was shut for construction; this made the legs burn but after a sprint finish it was done in just over 3 hours"
Nick .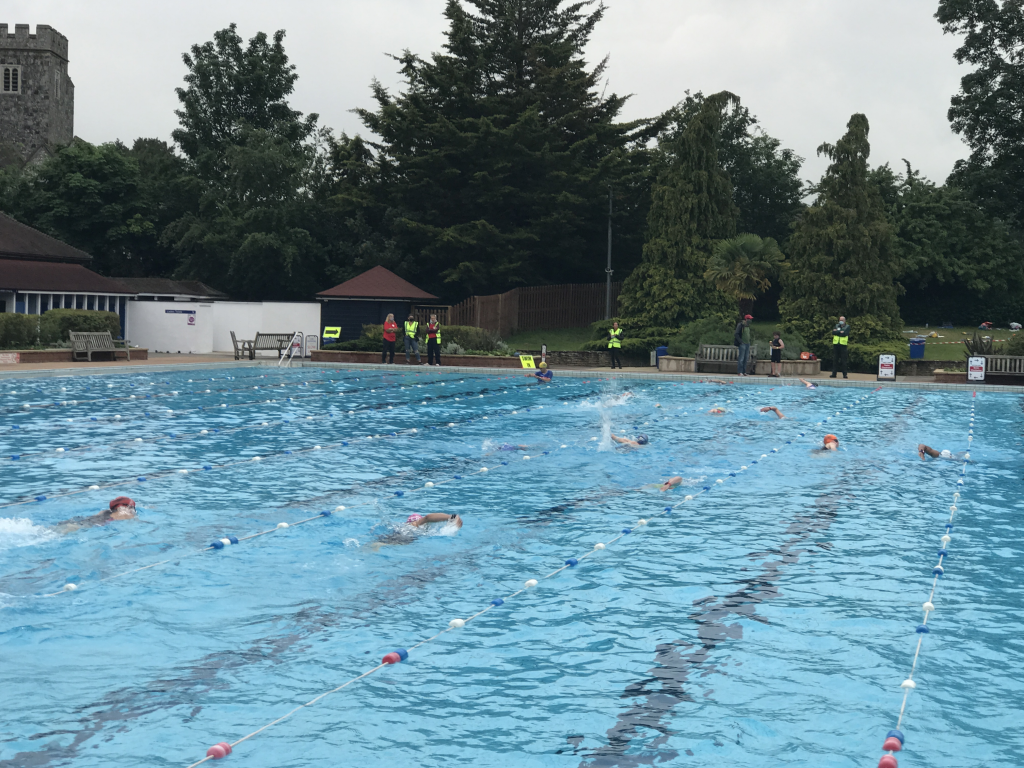 GUILDFORD AQUATHLON
Guildford Lido is host to a series of three Aquathlons at the beginning of each month from June. Held in their 50m pool these are great low key races. One person who strongly recommends these Aquathlon is Ben Abbott who is a regular attendee for the 500m swim and then out for a 5k run around Stoke Park to collect the well earnt medal.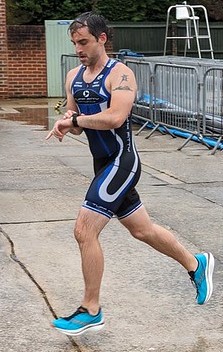 Having raced two of the series this year, it was a great performance from Ben as he shaved a minute off his 500m swim time over the July event and 30 seconds off his 5k run time – Good work Ben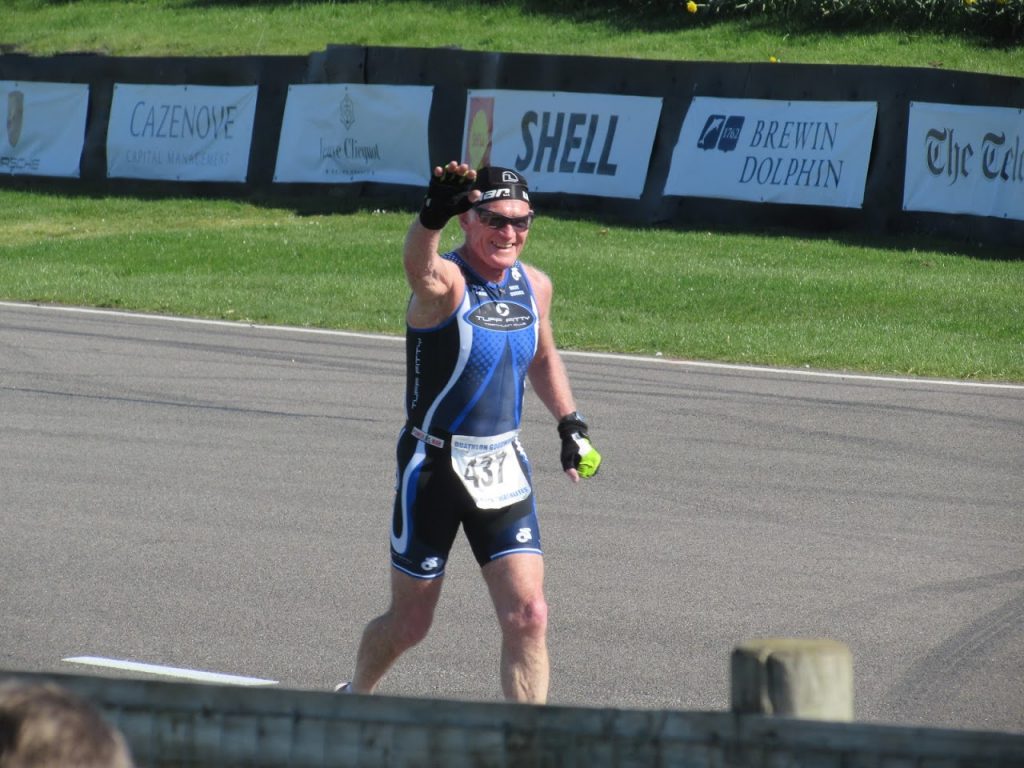 HAPPY BIRTHDAY BOB
Whilst we have lots of members, we are sure everyone will want to join in and wish our very own Bob Thomas a very happy birthday for this coming Monday the 14th August. It is hoped he won't mind it being pointed out that he will be 80, and we really couldn't wish a nicer man a very Happy Birthday from us all at Tuff Fitty. The term Legend is often overused, but not in this instance as Bob really is a Tuff legend.
Whilst deserving of birthday wishes, it will also be worthwhile watching the skies this coming Sunday at around 16:45 above Rustington. Bob has flown in many planes and aerial devices in his time but has yet to fly in a Spitfire. This is being put right Sunday 13th by his family. Bob advises "Weather permitting I should be flying in a Spitfire over the greensward in Rustington this coming Sunday at about 16.45 for about 10 mins doing some aerobatic manoeuvres for about 10 mins. Look for you on the ground !!"
Happy Birthday Bob and enjoy the flight.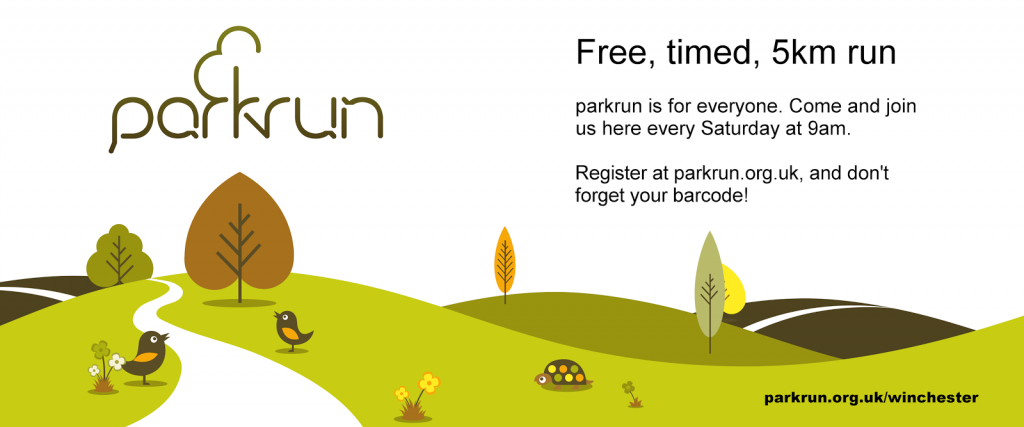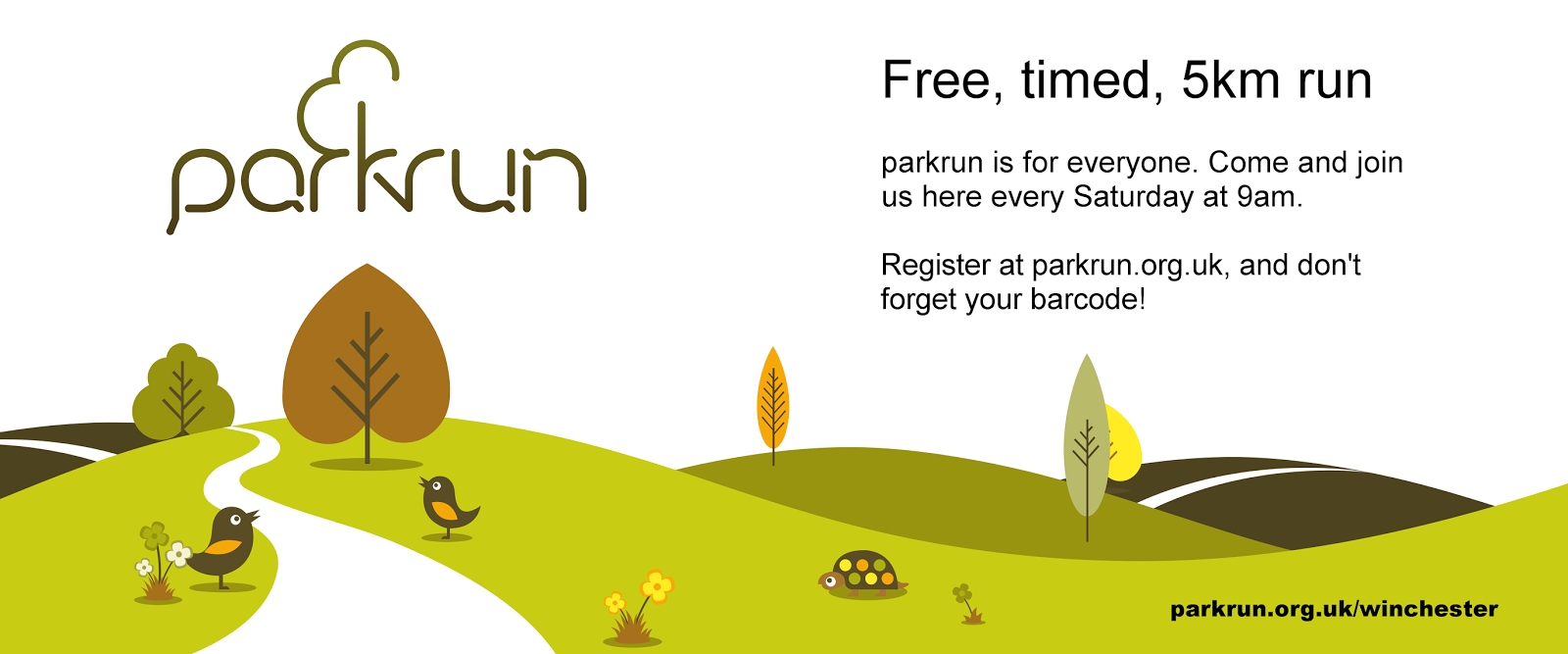 PARKRUN ROUND UP
Littlehampton parkrun saw Steve Fryer finish the course in 20:50 for his 75th parkrun. Colin Simpson was our next runner to finish followed by Sheila Bailey. Sue Simpson and Kate Evans completed our Littlehampton quintet.
At Worthing parkrun Les Pearce ran this, his home run. Ed Lay was next crossing just 15 seconds behind. Vicki Hedger was our third runner home.
There was good work across at Bognor parkrun as Alistair Evans scored a double completing the run and achieving a volunteer credit.
Parkrun tourism extended to Horsham parkrun as Tiff Orton, Glenn Parisi and Trevor Harvey participated.
Well done to all Twelve Tuffs.