Weekend Round Up 16th 17th September
Another busy weekend of Tuff racing and thankfully most achieved their goals before the storms moved in. Whilst it doesn't appear we had club members at Weymouth 70.3 this year; the swim was cancelled due to the conditions, but thankfully most of the events recorded below ran as scheduled. As you will read there have been some epic adventures including Craig Hunter at the Ironman World Champs and we are delighted that another Tuff heard the immortal words 'you are an Ironman'. Mark Dinsdale completed Ironman Italy and extending his visit with a holiday, we hope to report on his success next week. We are also delighted to be able to publish a report from Claire Moyle who successfully completed 'Le-Jog epic cycle ride. Together with further swim, bike, run and triathlon success it's another bumper Round Up
CANCER UNITED RUN
The largest turnout of Tuffs was at Angmering and Captain Adrian Oliver provides a great report about what went on in the woods that day!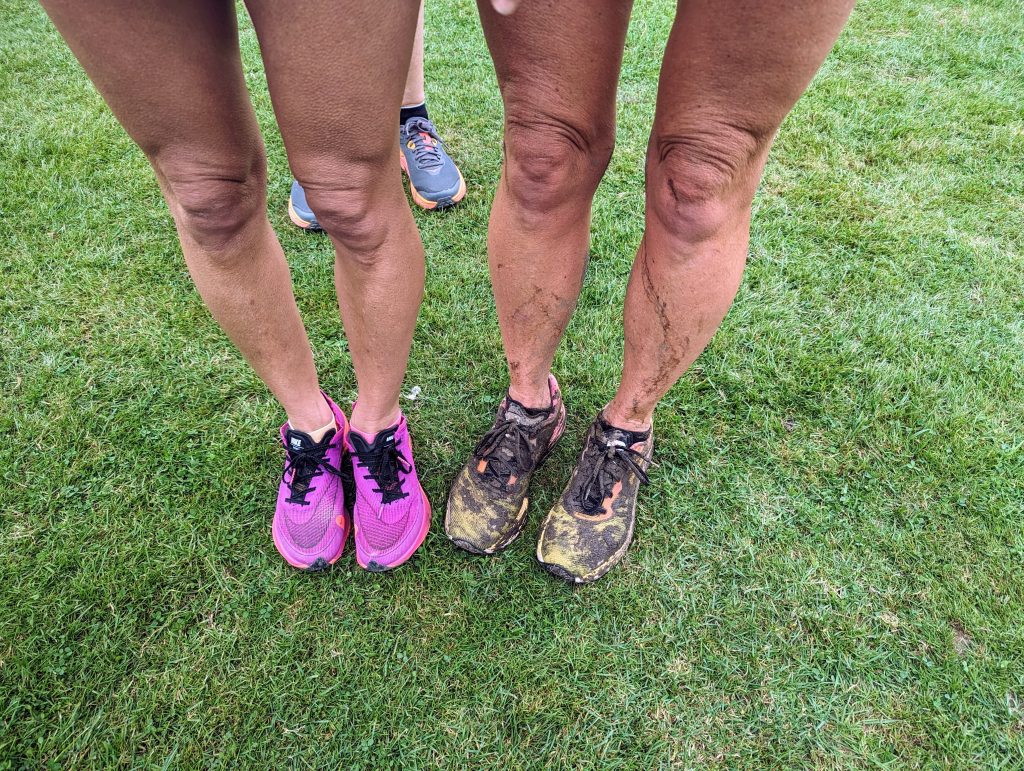 "Some club members seemed intent on being like naughty children – most normal Tuffs managed to keep their shoes pristine and clean, while others succeeded in finding mud where there was none and not just stepping in it but wallowing around! We run these trails around Angmering Woods every Monday at 6:30 pm all year round, so we should be well practised at avoiding the muddy parts! Perhaps head coach Barry could give his wife instructions on how to navigate around muddy puddles and on how to count".
"Cancer United, based in Angmering, is the charity that Tuff Fitty is proud to support, as it is humbling how many Tuffs have directly or indirectly suffered from cancer".
"Following sweltering weather, Sunday morning's forecast was touch-and-go – would the thunderstorms hold off? It turned out warm and humid was in order, but with a torrential downpour and thunderstorm just as everyone was leaving – unfortunately catching Sheila Bailey and Simon Thistlethwaite as they cycled home from the race".
"With a late 10 am start, there was plenty of time for registration and catching up with other Tuffs and friends, including our very own Queen of Endurance Sports Claire Moyle, and Mouse Reilly who were both supporting Angmering Cycling Club stand, before the usual Outrun Cancer warmup led by CUFitter's Dwayne".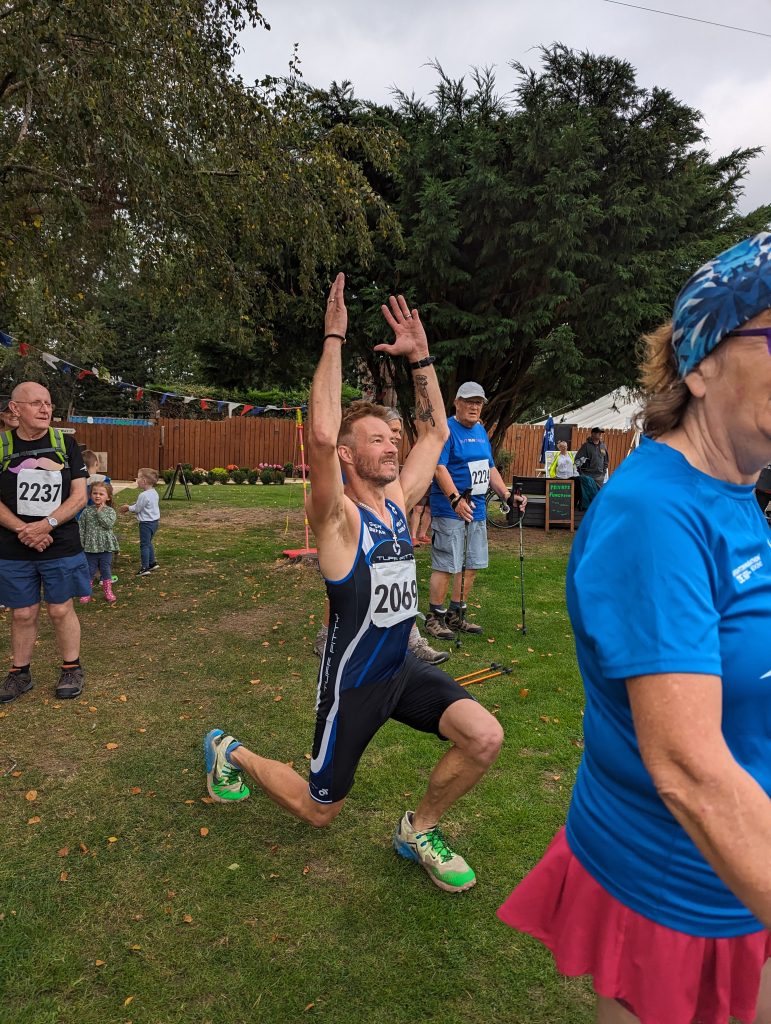 "After the race briefing, we were led to the start line down Selden Lane. First off were the 10 km runners on a two-lap route (not one, and not three!), before the 5 km runners and then the walkers who were to complete a shorter one-lap route".
"As usual, our highspeed Tuffs were among the 10km front-runners. Unfortunately, as seems to be the norm for races involving Tuffs in recent years, instead of performing a 2nd lap for the 10km race, the front runners headed straight back to the finish to run slightly more than 5km. The outcome was that Simon Thistlethwaite took 3rd place in 27:25 for the 5km race, and Carey Woods 4th and 1st female in 29:07. Meanwhile, further back in the field, returning to form, Jon Babbage ran an impressive race to be 1st Tuff home and in 5th place in 46:06 in the actual 10 km race. Liane Davids attempted to start a 3rd lap before recognising her mistake – despite the detour, she succeeded in running into 1st lady in 46:44. Unfortunately for Adrian Oliver this year, proper runners turned up and denied him the win, putting him in 14th place in 50:09. Sophie Garbo, equipped with her new foot-relieving shoes, also demonstrated her return to form to come in 3rd lady in 57:32 and 20th overall. Next in was Michael Redgrave in 1:01:59, Vanessa Green in 1:05:58 (having run from home to the Fox!), Janet Shephard in 1:07:29, Jason Rae in 1:10:39, Shiela Bailey in 1:14:03, Shelley Babbage in 1:14:36, Al Evans in 1:23:26, and Elaine Rousseau in 1:40:00″.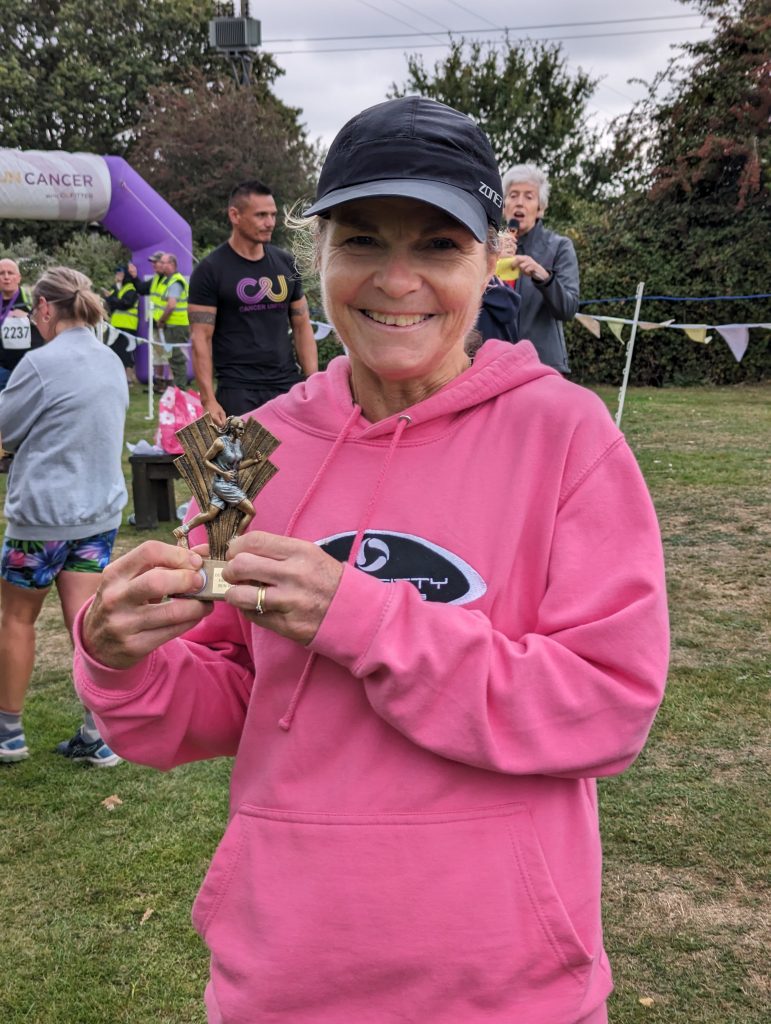 Meanwhile, in the 5km race, after Simon and Carey's impressive times, Kate Evans, Nina Tulley and Jenny Oliver completed their race in 50:19 in 46th, 47th and 48th place.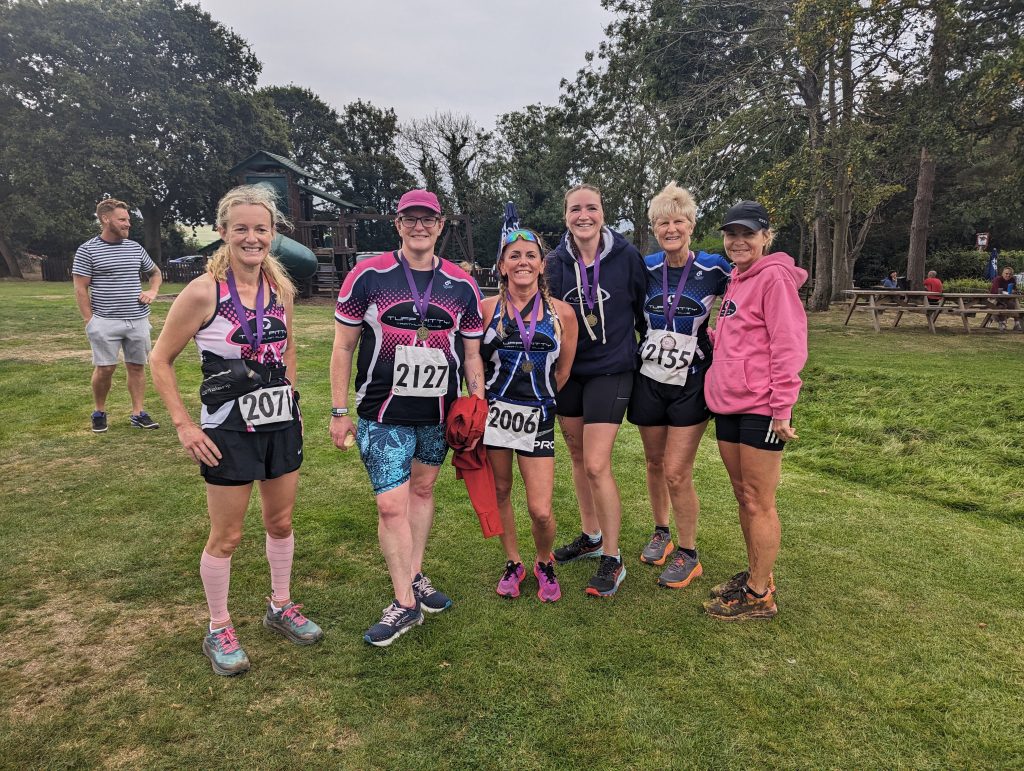 A special mention goes to Al Evans' wife Jan, who was awarded 1st female in the 5km walk, as Al (completing the 10 km), Jan, their daughter Rachel, and two grandchildren all crossed the finish line together. Thanks also go to Jason Rae for his work marking out the course beforehand.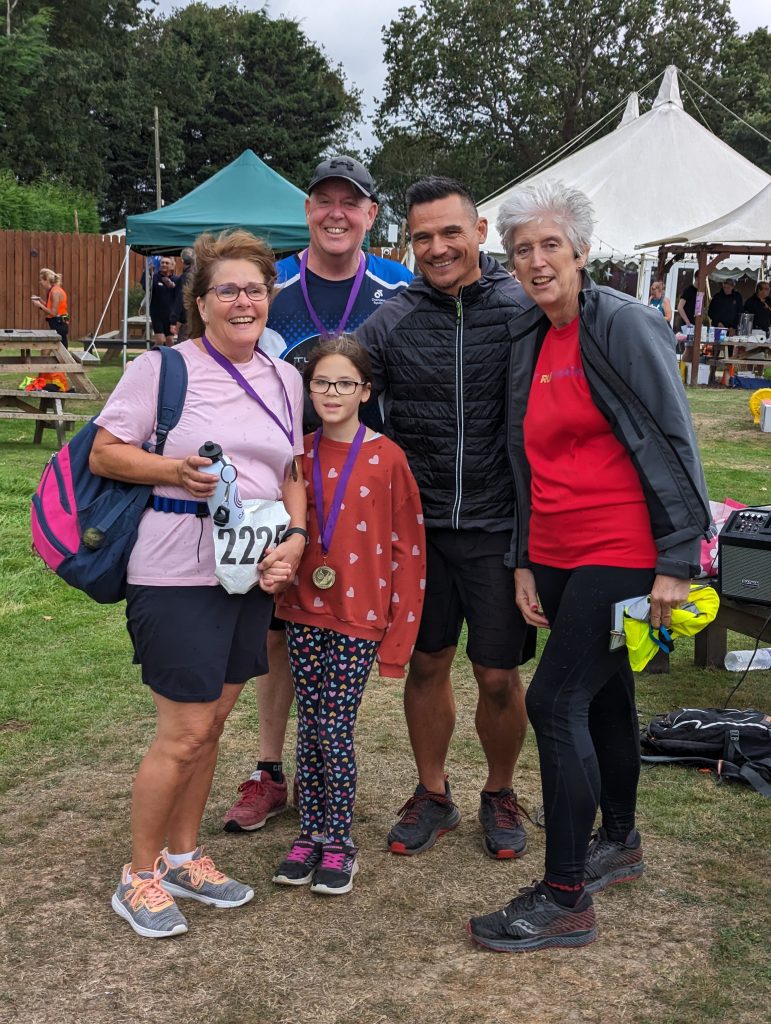 It was a good turnout, with over 200 participating in this event despite the threat of heavy rain and thunderstorms. We look forward to their next event, OutRun Cancer Arundel, in February.
The Flickr album is below:
Adrian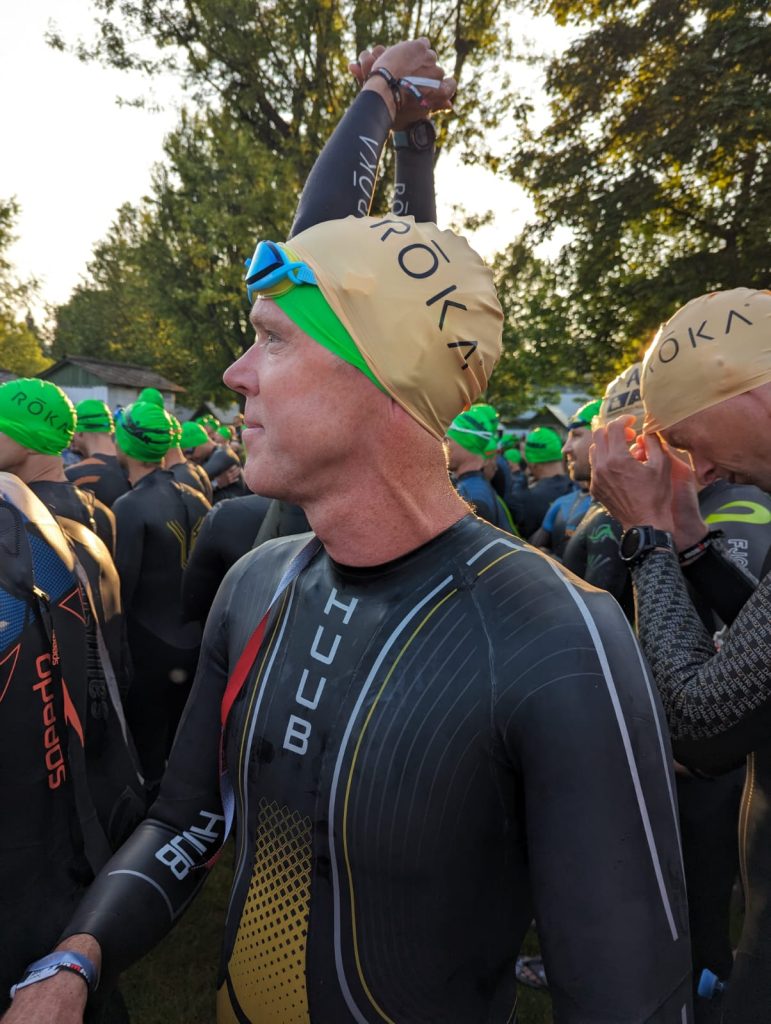 Craig Hunter (library shot)
IRONMAN DE NICE WORLD CHAMPIONSHIP
For the first time the Ironman World Championships has started a move away from Kona in Hawaii. Whilst this year the ladies will still compete on the big isle on the 14th October the men saw their world championship move to Nice for the first time. Whilst the swim is in the Mediterranean and the marathon along the Promenade des Anglais, it is the 112 mile cycle that has a reputation of being one of the most spectacular in Ironman. With 7963 ft of ascent including steep climbs and technical descents plus vertical drops of 2,400 meters it is a challenging course. Craig Hunter qualified for this year's world championships and whilst the event concluded last weekend he has kindly reported in. Craig sets himself very high standards and you will read below that he is very self deprecating. However we are still in awe of his 11 hours 39m finish time and wish him every success on his next goal.
"Another chance at a World Championship and another epic fail 🙂 . Swim started ok and managed to get round without too much trouble. On to the bike and within 15km I lost all nutrition through speed bumps and a rider falling into my bike snapping off my bento box off, I knew it was going to be a long day from that point on.
Really enjoyed the ride, it's beautiful and if you're a good bike handler then I'd encourage you to do the race as you'll love it. I stopped at each aid station on the bike to try and make up for the missed nutrition but my race was over and I just settled for enjoying the scenery and getting round.
I blame nutrition but in truth I wasn't fit enough and I can't descend to save my life but I'm determined to go back and give it another go. Put Ironman Nice on your list".
Craig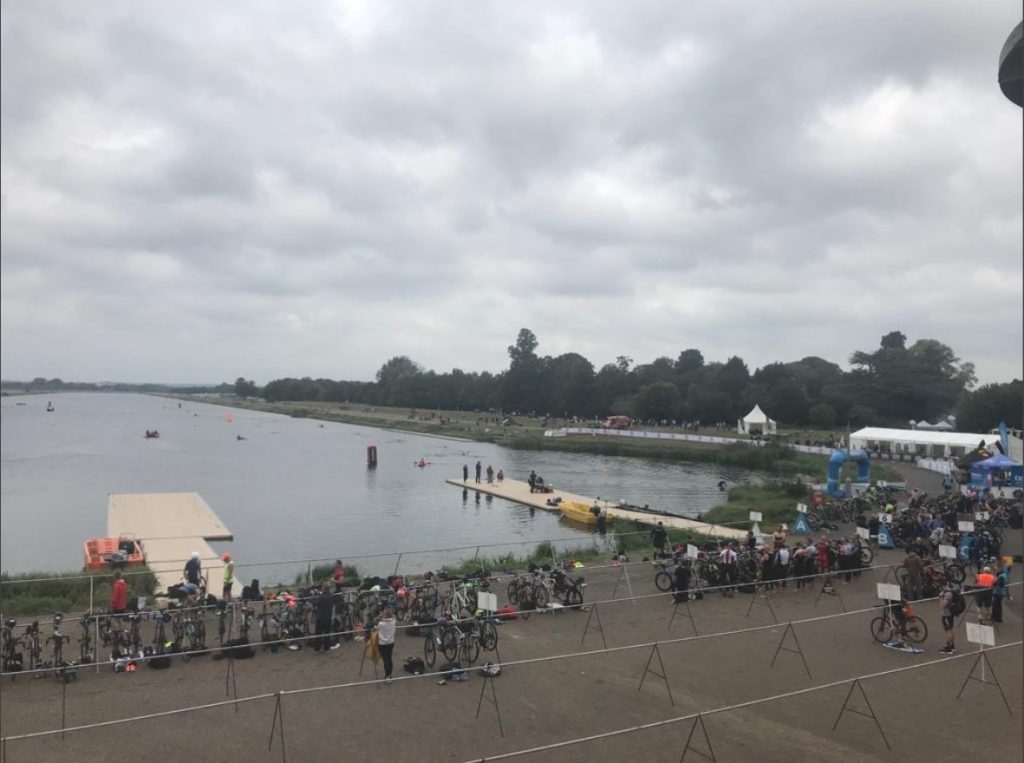 DORNEY LAKE SERIES FINALE
A full day of racing at Dorney Lake starting at 8:15 with a Duathlon then Standard & Sprint distance triathlons through until the last wave at 2:15. There were three Tuffs racing; Isis Salato, Trevor and Clive Harvey. Isis was first into transition at 8:45am and looked strong as she went around the 1,500m swim, 27miles on the bike and 10k run. As you will see from the photo below, Isis was able to pose with her medal as she finished just before the torrential rain swept in. Unfortunately, the 'old gits' wave was the last Standard distance to start and by the time of the race briefing, instructions included which side of the lake to evacuate from if lightning were to move in. Trevor takes up the story below:-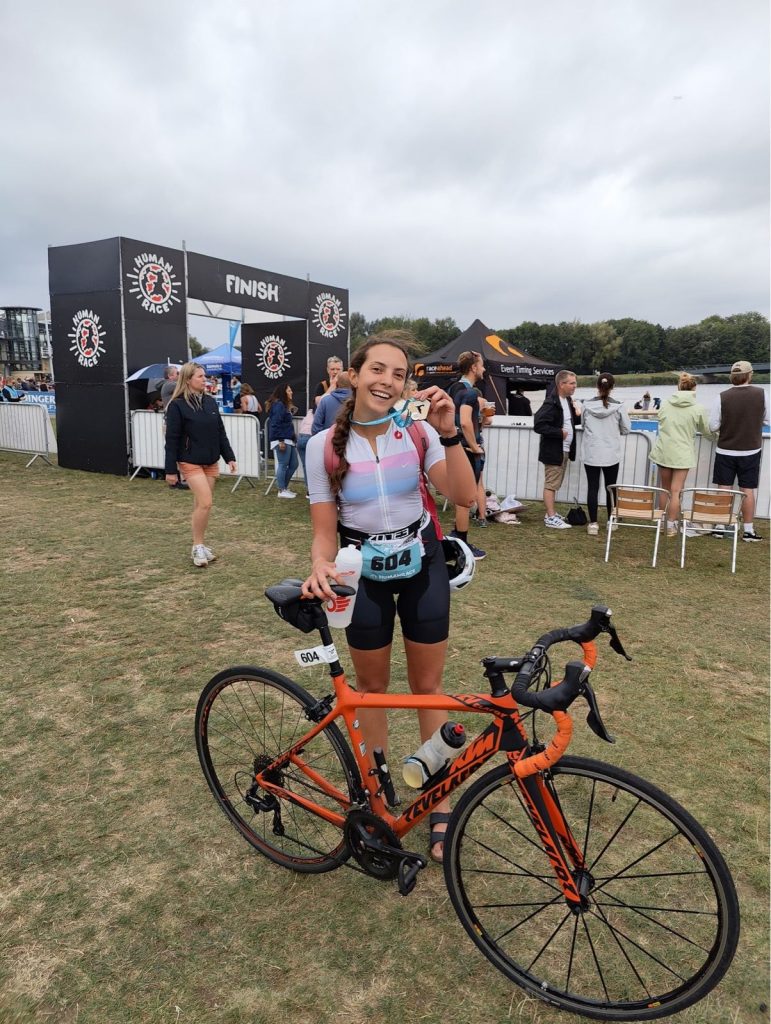 Isis
Well, that was a soggy one! Clive & I had entered Human Race's Season Finale Olympic Tri at Dorney Lake last Sunday – primarily because we won vouchers for coming 2nd & 3rd in age group at Windsor Tri last year. Numerous distances, & within a closed area, us old gits were the last Olympic wave to set off and so we had the luxury of an 11.45 start; very civilised.
The later start was against a forecast of threatened rain; wind; thunder & lightning sweeping in by mid day – but on arriving, although very windy, it was dry, and we cheered Isis on as she had an earlier wave. The start was a very relaxed rolling single entry into the 21 degree lake for a two lapper swim. Off on the bike for an 8 lap cycle, and anyone who has raced there knows how exposed to wind it can be. By the third lap, however, torrential rain started & wind intensified, prompting a marshal waving people to slow on one bend. After an almost 27 mile course, completely soaked, pull on soggy trainers for a continually wet & windy 4 lap run to finish.
Shortly after finishing the rain kindly stopped!!! Hopefully Isis finished her Tri before the rain started. The bin bag on the kit list was a must, but the swim was almost the driest part !!!!!! I beat Clive by 5 seconds on the swim & 50 seconds on the run, but he beat me by 2 mins 28 seconds on the cycle and came in first in our age group, with me second. (only 1 second difference in T2…..we must be twins!).
Rumour has it, Human Race are not holding events at Dorney next year, due to cost, & so far no events on their website for 2024.
Trevor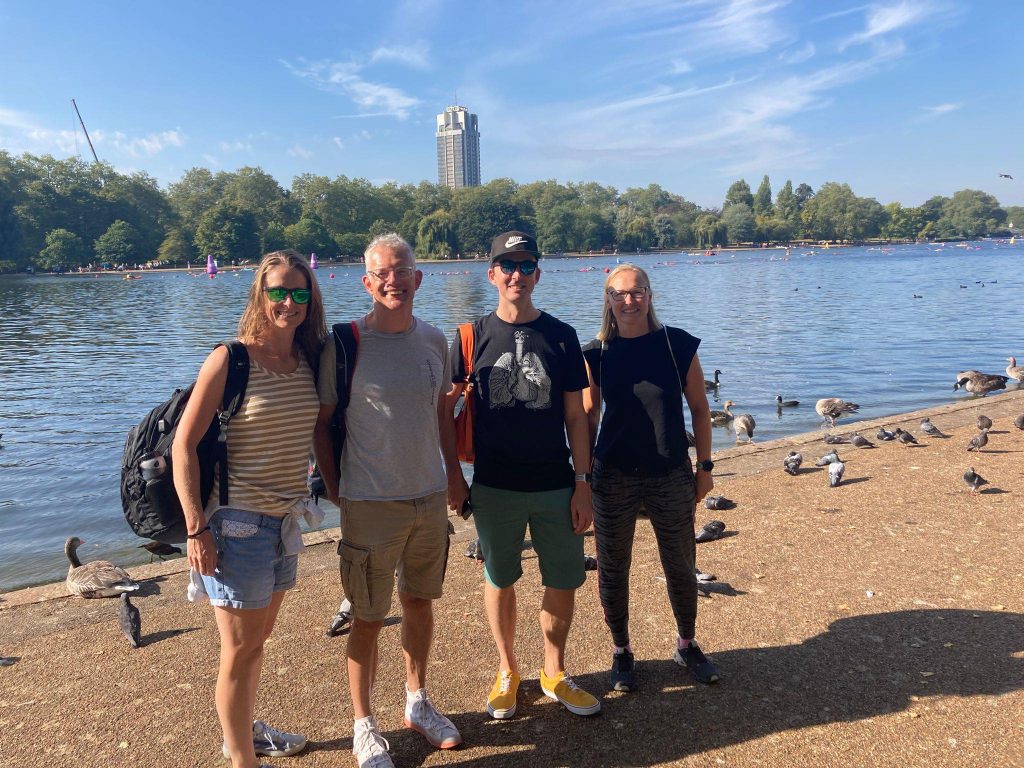 Clare, Dom, Dave & Leah
SWIM SERPENTINE
Swim Serpentine has a range of swims from half a mile, 1 mile, 2 mile and, restricted to 100 entrants, a six mile swim. The Serpentine is a lake that was the venue for the Triathlon and Marathon swim at the 2012 Olympics. Situated in Hyde Park, the lake is supplied from three bore holes within the Park and is up to 17ft deep in places. This year we had a quartet of Tuffs swimming the two mile event; Dom Amey, Clare Worgan, Dave March and Leah Simms. Dave has kindly submitted the great report below on their behalf.
After a week of will it / won't it go ahead, the green light was finally given less than 48 hours ahead of the big day. Blue/green algae had bloomed during the September heatwave causing the lake to close in Hyde Park, but levels were deemed to be reassuringly low enough for 6500 of us to swim on Saturday.
And we had every reason to be eager that this was going ahead. The event was cancelled last year due to the Queen's funeral. And two of us have been waiting to complete the swim to get our hands on the huge London Classics medal.
Such was our excitement about finally being allowed to swim, some of us forgot to bring swimming trunks didn't they Dom?
Fortunately, the event village had a HUUB stand with XS AND XL neon budgie smugglers, I'm sure you'll get some more use out of them one day Dom.
Dom, Clare and myself went off in the 12pm wave after being given the option of two equally appalling start line songs by the DJ. We made our way across the pontoon, I heard Clare say something about the water looking like gravy and then we were off, like carrots in our orange swim hats floating across a Sunday dinner. The water was around 21 degrees so my decision to swim without a wetsuit wasn't an issue.
For the first half mile it was all arms and bodies. Not too physical, just congested up to and around the first turn. After that, things calmed down and it was a lovely swim in what might be the last of the summer sunshine.
There was a fair amount of zig-zagging down the lake, sometimes to avoid other swimmers, sometimes down to poor sighting, at one point Clare nearly crashed into a swan, no doubt she would've taken a selfie with it if she'd had her phone.
Clare and Dom were already out when I reached the exit ramp, and Leah's wave had just entered the water.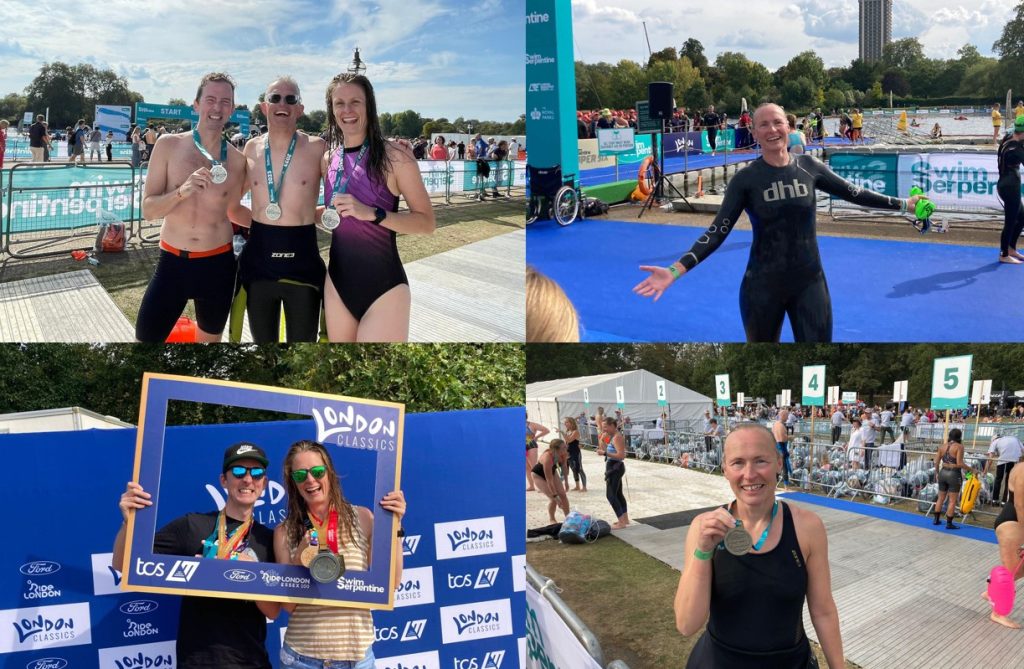 We went and collected our medals, got changed, posed for photos and then waited for Leah to arrive. This is a really well organised event, it's got a really chilled atmosphere, there are families walking through the park showing their kids that normal people of all shapes, ages and ethnicity do extraordinary things.
The classics medal is brilliant, something to be really proud of. If you're lucky enough to get into the marathon then it's definitely worth considering doing Ride London and Swim Serpentine too.
Dave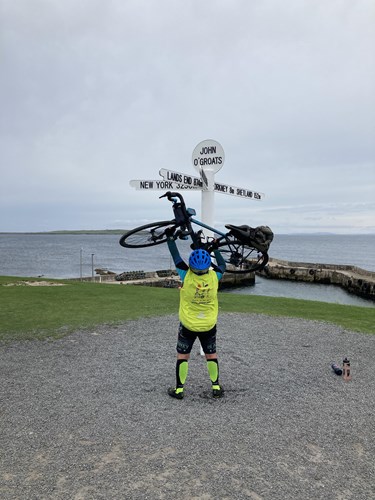 Claire
LE-JOG CYCLE
The iconic Land's End to John O'Groats takes these locations initials to spell 'LE-JOG and having recently retired Claire Moyle undertook this epic adventure. Claire has reported in and the link to her blog is shown below.
"I can't describe fully how amazing this ride was and if you want a bucket list ride this is definitely one to do. Having never ridden more than 2 days in a row and certainly never bike packed this was a very new experience for me and one I will be repeating. I have learnt so much about myself and what not to do and what not to take with you. I have had the most amazing adventure and great start to my retirement and made so many memories, what a great way to see our beautiful country. I thought I would share some facts about my ride".
19 days
1075 miles
64,017ft ascended
50,139 calories burnt
97hrs 23 minutes 39 seconds in the saddle
3 countries
17 counties
£3,000 raised towards the school minibus
Thank you for all your support.
The link to my blog and funding raising is HERE – thank you
Claire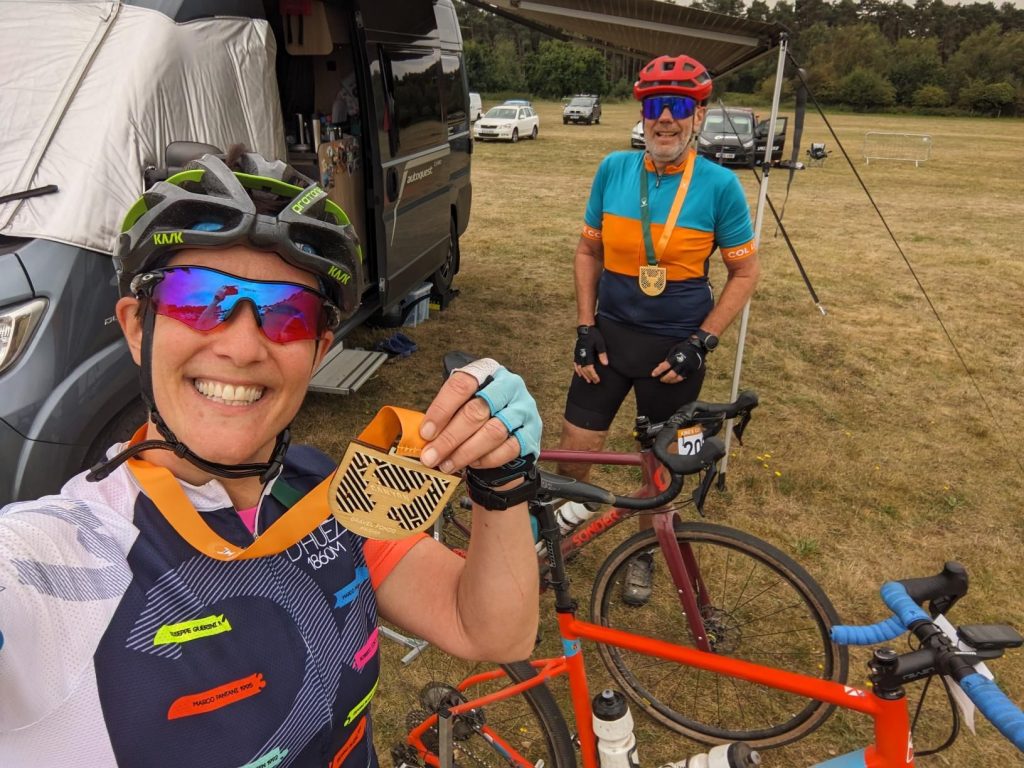 Tiff & Jon
KINGS CUP GRAVEL
Billed as the ultimate gravel festival the weekend of events was held at King's Forest, near Bury St Edmunds in Suffolk. On the saturday there were men's and women's races, an evening ride, and the Sunday, a gravel fondo ride. With live music, food stands and an expo open it was an atmospheric weekend. Jon Roper and Tiff Orton had attended the festival last September and with Tiff saying 'that was a giggle' they entered again for this year. This year Tiff stated she was very happy with her Saturday race accomplishing 30 miles. and then onto a 10am start on the Sunday for a choice of 40 or 100k fondo ride. Naturally both Jon and Tiff rode the longer 100k route. They had a great weekend in the sun, finishing the event before the rain swept in.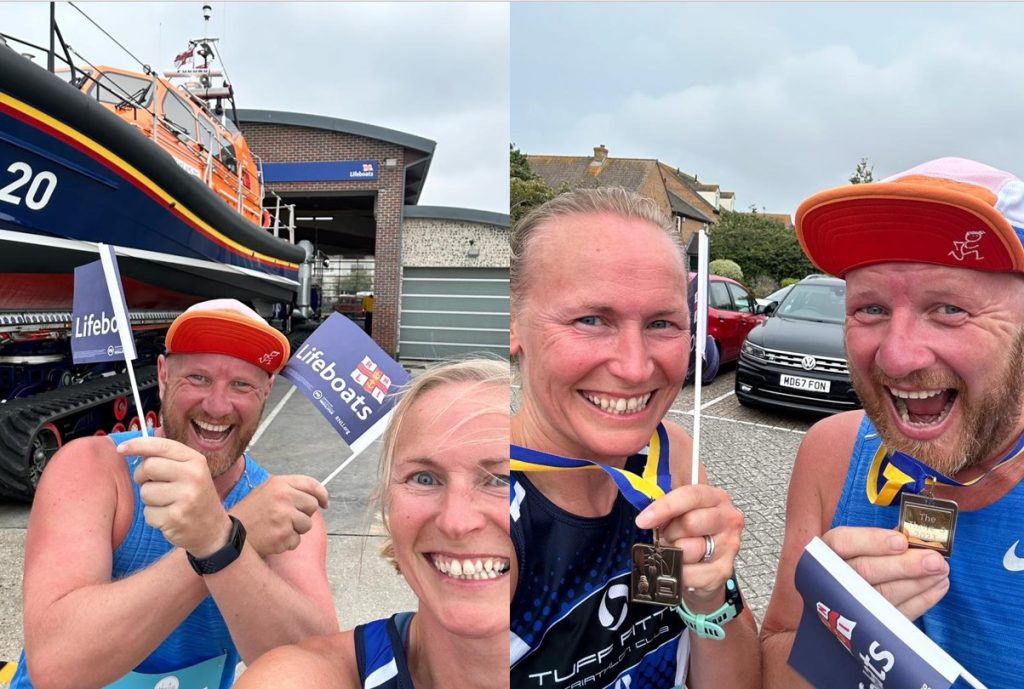 Leah & Grant
THRIVE 5 FOR RNLI
This fast out and back route takes its name from the Thrive Gym where the race starts, then the route takes runners along Selsey seafront, past the RNLI station before the turn. A civilised 11:30 start, our runners were Leah Simms (after her Serpentine swim the day before) & Grant Smalley
Grant stated "it was two events in two weeks for me. Today was the Thrive 5 miles in Selsey. Leah & myself were both running for the RNLI, a charity close to both our hearts. It was very windy, but much fun".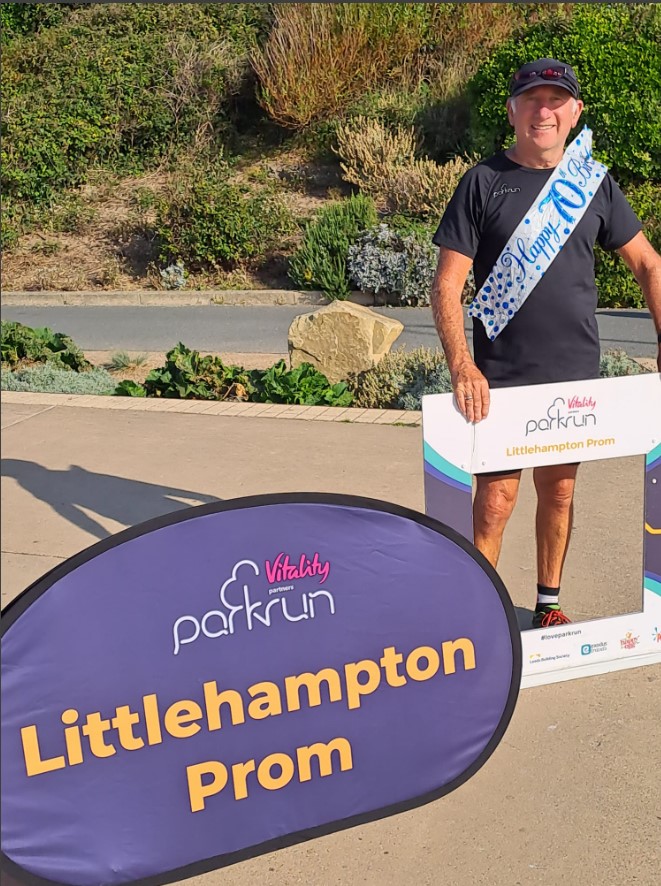 Happy Birthday Colin
PARK RUN ROUND UP
So what would you do you on your 70th birthday? Well if you are Colin Simpson you continue to add to your impressive parkrun tally. At Littlehampton parkrun Kev Pearson was our first Tuff home, and then birthday man himself; Colin Simpson as he notched up his 239th parkrun -congratulations and is deserving of the parkrun banner photo. Of course, Sue Simpson also ran completing her 202nd PR. Alistair Evans was also present accumulating another run and a volunteer credit.
Maidenhead parkrun was another venue to see a Tuff gaining double credits. Trevor Harvey ran ahead of his Tri the next day and also undertook work on the organising team.
Worthing parkrun saw Simon Grundy punch out a great time as first Tuff in 20:16. Jay McCardle also ran well with Worthing regular Les Pearce also on form. Kate Evans ran ahead of Cancer United's run the next morning.
Bognor parkrun saw Nathan Bilham run round Hotham park.
Some good parkrun tourism seen this week.
In terms of parkrun tourism Cranleigh parkrun had been closed for 18 months. Started in 2014 numbers had barely been above 100. However the closure was because Knowle Park was transformed with a wildlife lake, bridges, new paths toilets and a cafe. Whilst an undulating, very scenic course, there is one significant hill which is tackled each time around a two lap course. Since it's return three weeks ago, finishers have exceeded 200 each week. Swelling the numbers this week were Glenn Parisi & Clive Harvey
The Medina I.O.W parkrun is situated at Newport on the Isle of Wight and whilst the course is 'mostly' flat there are a lot of turns. Fraser Kidd was our representative running well.
Killerton parkrun is north of Exeter and is a favourite of Steve Fryer who completed the scenic one lap course for the ninth time finishing in 21:25.
Wimbledon Common parkrun is perhaps understandably popular with 550 finishers as runners take in a two lap woodland course. Edward Lay was our competitor here.
Well done to all our fifteen runners.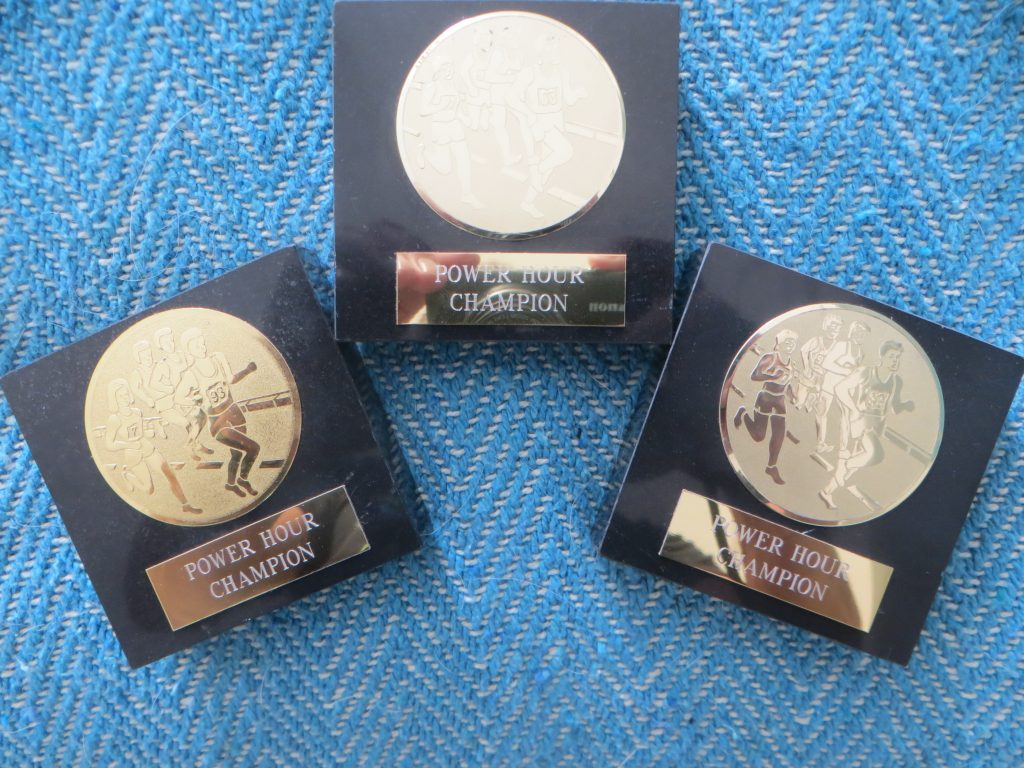 TRACK POWER HOUR
The storms last week led to the postponement of Tuff Fitty's Track Power Hour. The revised date is this coming Wednesday 27th September. We ask that anyone looking to take part accepts the new event on Spond, regardless of whether they had clicked attend last week to ensure that Barry can reschedule the teams to ensure a similar mix of abilities on Monday evening.
No charge to attend, but you do need to register your intention to participate by Monday evening 25th September. The Evening remains as previously announced- Meet up at 6:30pm for a warm up, greet your team mates to discuss tactics and perhaps even practice the baton handover. The Power Hour will commence on the hour at 7pm. The- teams of three act as a relay with one person running a lap of the Track before tagging their next runner who runs to tag the final team member. A continuous relay for an hour. Which team will win? Will you be in a team who collects one of the above inaugural Power Hour awards? Make sure you sign up.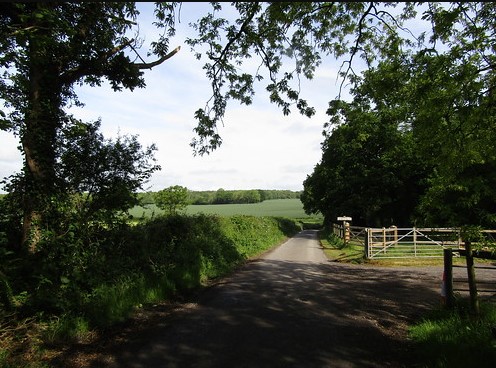 BIKE HILL CLIMB
Our first Tuff Fitty Cycle hill climb is scheduled for Sunday 8th October with an 8:15am meet up. Meet at The Fox Pub above Angmering ready for a gentle cycle to the start for 8:30
The hill climb starts in Swillage Lane, down by the Pond whereupon riders have to cycle back up towards The Fox. The actual route is just over half a mile so riders can push to get a time (if they want). Each rider will be permitted two timed climbs with your best time to go forward. To make an event of it riders are able to ride to the start, or equally, if you wish to save energy, drive to the start, but on conclusion of the event there will be the opportunity for a gentle ride out for those who wish to take this up. Whilst the cost will be £5 per rider it does mean that you will be entitled to coffee and a bacon or egg roll as part of the entry served at The Fox. Prizes for overall winner, age groups, men and women's.
As the event is now just two weeks away it is asked that Riders wishing to attend click 'accept' on the Spond event asap to ensure sufficient catering can be ordered for hungry Tuffs.