Weekend Round Up 9th 10th September
Tuff Fitty are able to report on yet another bumper weekend. It is interesting to note that both Brighton & Hove & Bournemouth triathlons had closed for entries ahead of race day. Also across at Littlehampton the number of finishers in the 10k were 15% higher than in 2022. Perhaps it means after a long period since Covid, competitors are fully embracing races again. Tuffs certainly embraced plenty of action as you will read below:-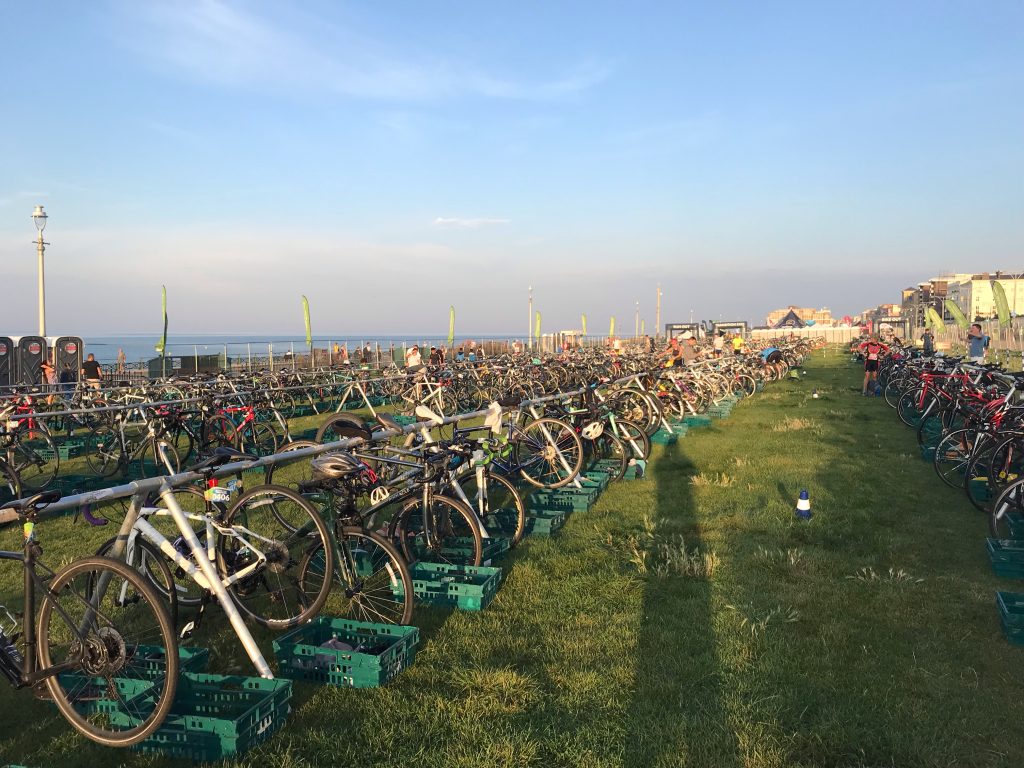 BRIGHTON & HOVE TRIATHLON
The event was oversubscribed which unfortunately meant some Tuffs were unable to gain a slot. The event covers a range of courses for Tristars, Sprint, Super-Sprint, and standard distance Triathlons. A 1,500m swim, Sprint and Standard distance aquathlons and relays meant it was a packed schedule throughout the day in the heat. Whilst fully booked the number of finishers this year was lower than last year so clearly the recent heatwave either deterred some from starting or prevented some from finishing.
The first races started at 7:45am. Special mention goes to Alice Webb who was cheered on by dad Alex to cross the line in 4th in her Tristar age group. This started a podium rush with Darcie Lacey flying the Tuff flag in the Youth race. Darcie crossed the line as first female and third overall – terrific.
Next up was the Sprint Distance Tri with waves starting at 9am. Here we had Catherine Bellsham-Revell, Ness Green & Vicki Hedger racing. These were three further strong performances with Catherine finishing as first Tuff home attaining 4th in her age group. Ness took 8th in her age group and Vicki completed the trio 6th in her age group. All three recorded good times and Catherine has reported in below:-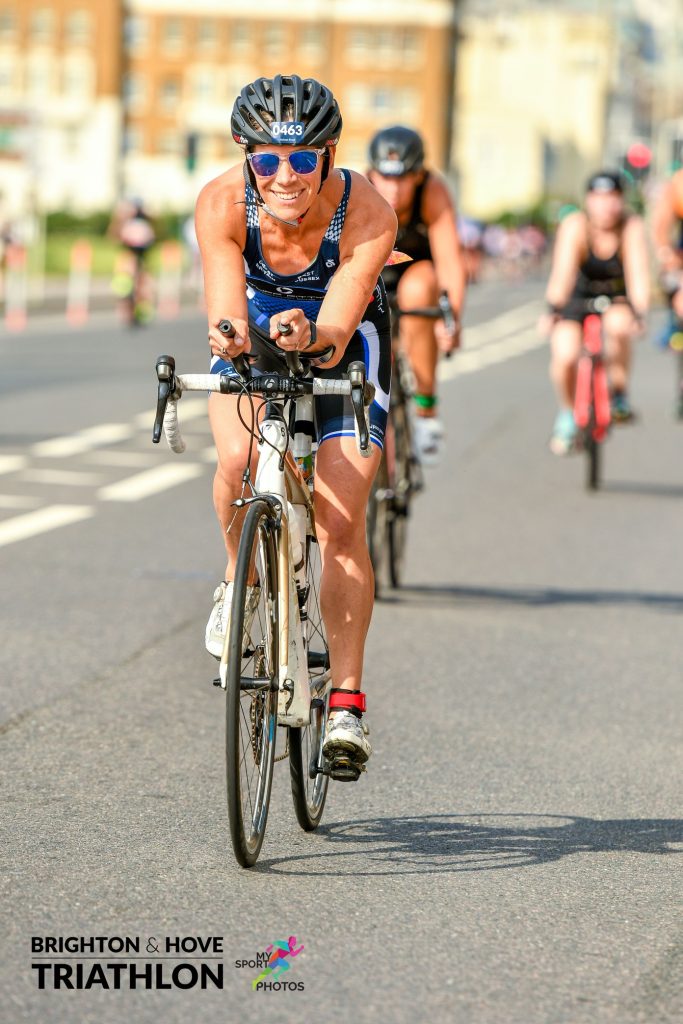 Catherine Bellsham-Revell
I met with Clive in transition as I set up my gear, and as the sun rose we talked about the merits of wetsuit, or no wetsuit. Well it went alright after we spoke as I did the swim without my wetsuit – which was lovely- Maybe a bit slower but transition was super fast.. ! Also it kept me a bit cooler on the cycle and I managed to survive the heat on the run. I ended up coming 4th in my category (50-54) -pic above!
Catherine
Covering the swim and bike of the same course was a Sprint Aquathlon and the great results continued here with Carey Woods finishing as third female overall and first in her age group. Carey finished exactly two minutes ahead of the second in her age group underlining her strong race.
As our illustrious ladies were on the course the Standard distance Tri started in waves from 10:15am. As Tuff Fitty's Standard distance Championship race it was set to be a very competitive affair. Throughout the morning the sea conditions had looked calm but it belied a current leaving many swimmers with some work to do. One person not troubled was Tom Frith who was our first Tuff home and using his strong bike leg to record the quickest Tuff bike split, Tom was called onto the podium to receive a prize for 3rd in his age group. Simon Thistlethwaite used his speciality of the run to gain the quickest Tuff 10k run split of 44:56, a great split considering the heat was holding everyone back. Simon was 5th in his age group. James Togneri had entered his son Logan for the Scootathon the day before and Logan scooted home 6th overall. So no pressure on James to do well then!, but he's been devoting most of his training towards the forthcoming World Aquabike Champtionship later this month. This training was evident has he notched up the fastest Tuff swim split finishing 6th in his age group. Alex Webb was our next squad member home and thanks to Alex for reporting in below:-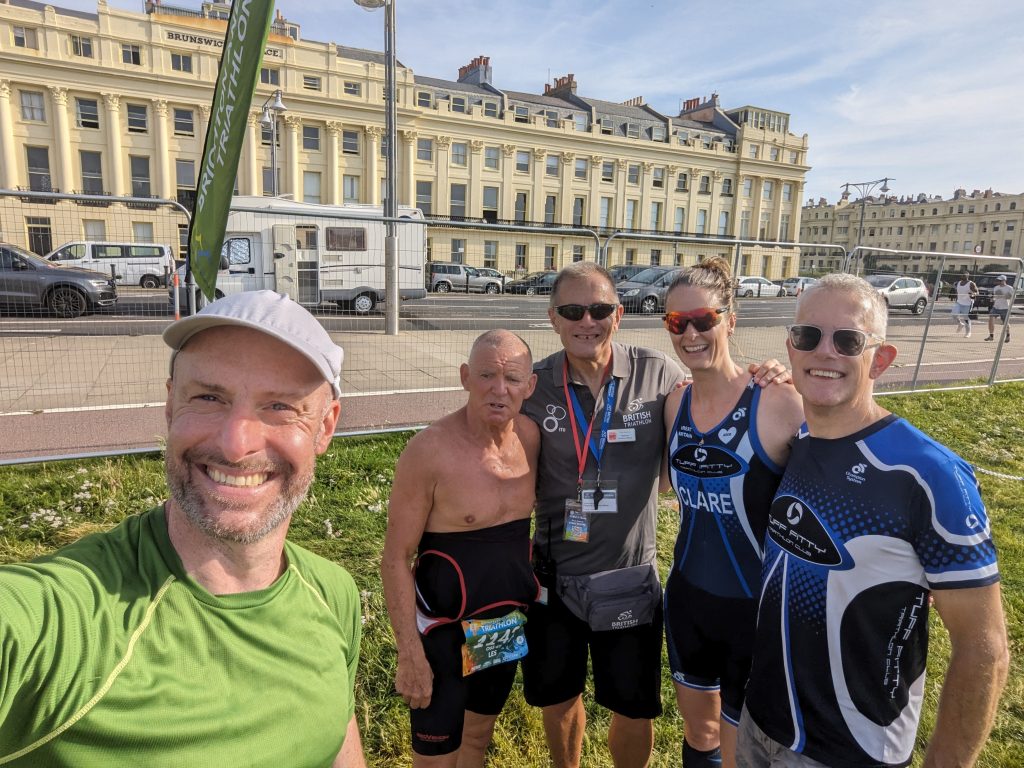 "My first time doing a club championship race and was pleased to catch up with a number of Tuff's on the day. My daughter was competing in her first open water triathlon so that took most of my focus early on. She really enjoyed it and ended up coming in 4th in her category so we were delighted about that.
The standard distance did not set off until after 10am and by that time it was already warm. It was perfect swimming conditions and the ride went well but by the time I hit the run the temperature started to take its toll. I really struggled to get any pace going and ended up stopping a couple of times to pour water over myself and get my heart rate down. I was slightly disappointed immediately afterwards but in hindsight it went pretty well all things considered. It was a great atmosphere and sometimes that's enough 🙂
Alex
Dom Amey was our next competitor home and he also kept up the strong age grouping by finishing 7th in his group. Mark Sole has been having a strong year of racing and was our next Tuff to run up the blue carpet to finish. Good to see Ross Court back on the race circuit and then Les Pearce finished to be awarded 1st in his age group – another podium for the club. It was very unfortunate for Clare Worgan who experienced two punctures on the bike. Having to abort the bike ride Clare was still determined to make the most of the race leaving transition for the second time completing the 10k to cross the finish line.
Congratulations to all the Tuffs who raced and thanks to Clive Harvey who had a busy day as Technical Official and Andy Gomm for being chief cheerleader.
Click on the photo below to open the full flickr album including several podium shots.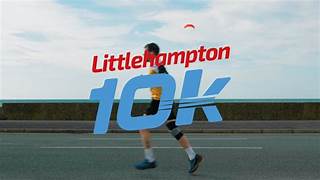 LITTLEHAMPTON 10K
The very hot weather didn't deter a sizeable Tuff turnout at the Littlehampton 10k. Starting on the promenade, competitors ran East to Littlehampton Wave before returning on the road and along South Terrace to the River. Snaking around Littlehampton, runners arrived back on the seafront to mark the halfway point. A loop of Mewsbrook park was followed by a turn down towards Rustington and then the final 2km back along the seafront to the finish. In amongst the 900+ finishers there were Fourteen Tuff runners.
First Tuff home was Steve Fryer in 41.55 bearing in mind the humidity great times were returned by the Tuff squad. Simon Grundy was next wearing his running club vest; whilst still on the comeback trail following plantar, his 42:21 was also impressive. Fraser Kidd was another one with an excellent run and then Jon Babbage crossed the line to record four Tuffs in the top 10% of finishers – super running gents.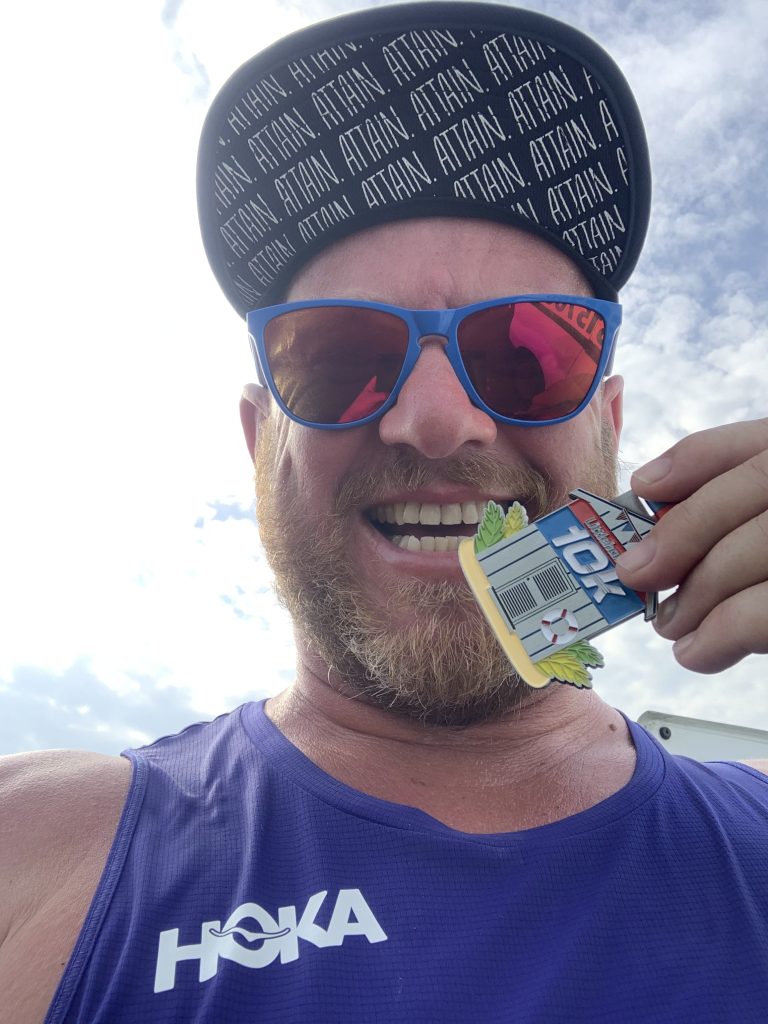 Grant plus medal
Nathan Bilham was another one supporting their running club with Kev Pearson our next finisher. Michael Redgrave, Wendy Frost and then Grant Smalley finished to receive their medals. Grant reported (and is therefore pictured above) – "Super hot but super "fun"…first event post op, and furthest I've run since Dec 22- just glad to get it done- I'm back! Nina Tully, Shelley Babbage, Alastair Evans and Elaine Rousseau also successfully completed. Commiserations to Mouse Reilly who had started well but at the halfway point found the heat was such that they wisely decided to retire from the race.
Thanks to Jimbo Brock for riding over to cheer who also took many of the photos in the album below.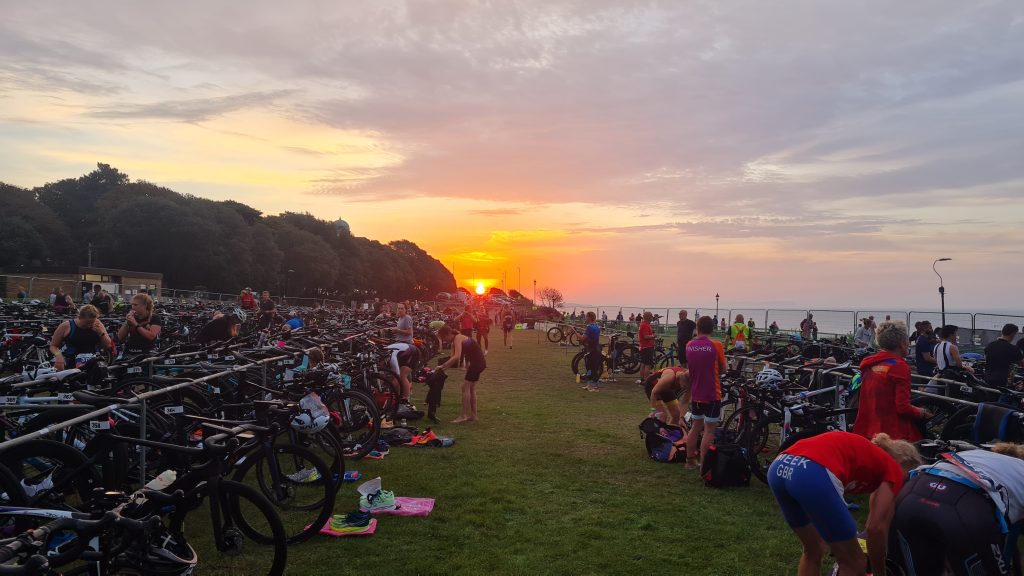 BOURNEMOUTH INTERNATIONAL TRIATHLON
Bournemouth International Tri is one of the oldest coastal tri's with a long history of Tuff representation. A full field of over 550 finishers across the various distances of Aquathlon, Aquabike and Standard distance races were boosted by the fact Sprint distance doubled up as a World Sprint Qualifying event. Sophie Garbo and Mark Walford both raced across sprint distance comprising 750m sea swim, 20km bike and 5km run. Mark takes up the story of the event first and then Sophie, her report. Afterwards they made the local news in the Bournemouth Echo with the picture below. The story is HERE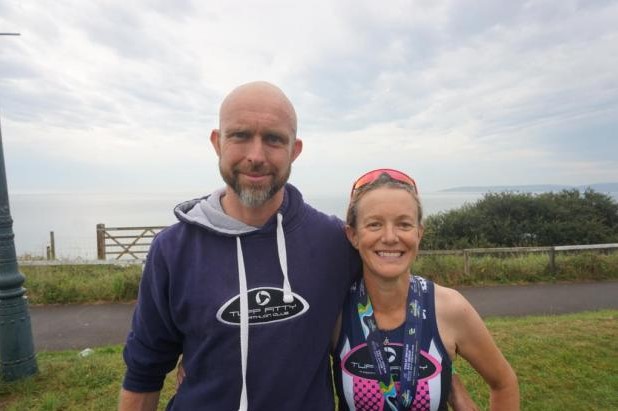 Media stars- Mark & Sophie
A 3.40 alarm call meant registration was in the dark, but it was well worth it. After I was all racked, I saw Sophie and we worked out entry and exits from transition. Seeing the sunrise then preparing to start just after.
Mass start 100 in the wave, I didn't think about my position until it was to late and I was in the middle of everyone. Horn blows and I do a sprint start getting towards the front. Seeing a small gap I dive into it (actually a good dive this time) and suddenly I'm racing. Crystal clear water, swam hard to the first bouy, then found some feet to follow rather than burn all my matches on the swim. Coming out of the water in a small pack I decide to attack transition. Bournemouth zig zags, what can I say 300-500m, steep hills, to the start of transition.
Find my bike, wetsuit off, and bang out on the bike. Definitely a course for a TT bike, I don't own one so not for me. I cycled hard but seeing some proper cyclist fly by me on the straight out and back was motivation to keep going hard, but I definitely need to improve bike. Towards end of flat, a few from my age went by and I just couldn't keep up. Punchy hill at the end, a quick dismount and transition, then onto my happy place – the run.
A slight downhil,l then flat along prom, and I managed to pick a few people off, but scattered sand made it a bit slippery. Before the turn point I was trying to count how many in age were ahead of me: I wasn't sure, but chased a few down. Crossed the line happy with my efforts. Turns out I achieved 4th in age. Not quite the automatic qualification due to someone younger moving up, but should be enough to get me to Malaga. Bit of food and then cheer Sophie home, bit of a chat with local reporter and then off home. Great race, good to see so many friendly faces.
Mark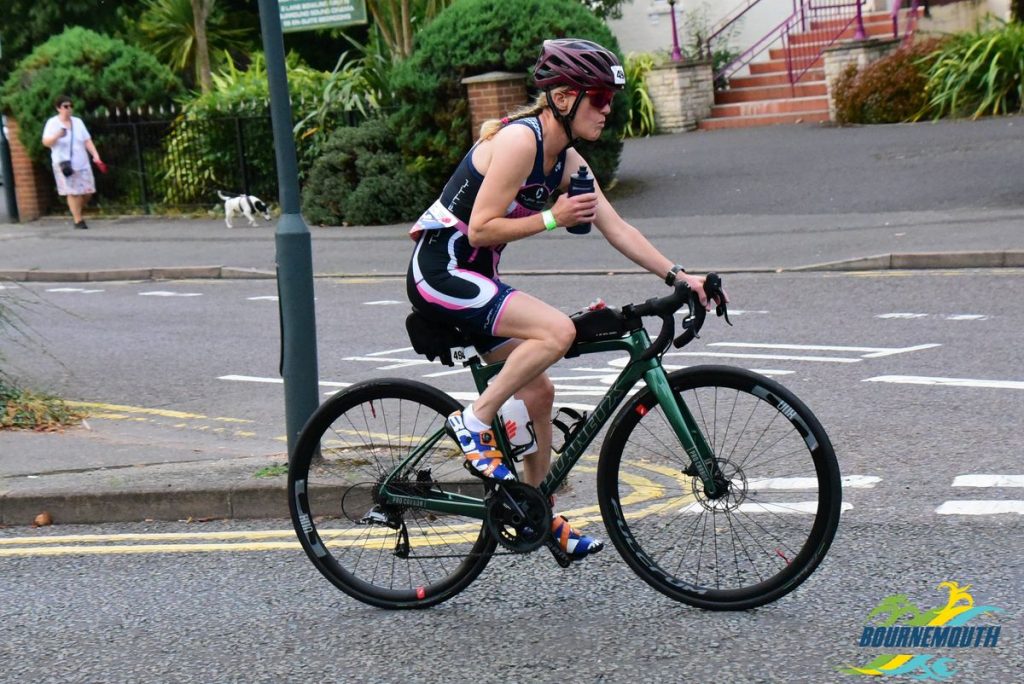 This was a huge event for me as I had registered my intention with BT for GB age group qualifier 2024.
I was incredibly nervous leading up to this event as I had never done a sea swim triathlon and as many of you know I only started learning FC 2 years ago.
I stayed at my aunts in Romsey the night before. It was dark in Bournemouth when I arrived but I spotted Mark Walford racking. He came over and we discussed the course. We were treated to the most beautiful sunrise as my group acclimatised in the sea.
I saw Mark finish his swim and cheered him on.
The atmosphere was quite overwhelming and beyond any event I'd ever done. There was music playing as we were in the pen and a countdown, drones overhead and a big crowd. I was very nearly sick! I kept well back and to the right as we ran in. I didn't manage to get into a rhythm until half way through the swim. It became slightly choppy parallel to the beach and I took on some water. I realised I was at the back and the kayakers were close by. (They looked amazing btw – silhouetted against the orange sky. Paddles across their legs) finally emerging I made it up the infamous zig zag pathway overtaking a few people.
Once out on the bike I was very comfortable. It was a busy route on a dual carriage way. I overtook 15 people. It was my fastest bike ride ever! I got out on the run, spotting some random goats on the cliff (?) Although it was flat along the prom, the run felt hard as I just couldn't see the turn point. There were alot of pedestrians too. I managed my usual 5k in 25 which I was pleased with, picking off another 7 athletes. Mark was waiting at the finish line for me. This was the best venue I have done a triathlon at and can highly recommend. It was very competitive and I was 26/33 in my group. I am pleased with my performance though and overcame my fears.
Mark and I were interviewed by a reporter from the Bournemouth Echo! Fame at last.
Sophie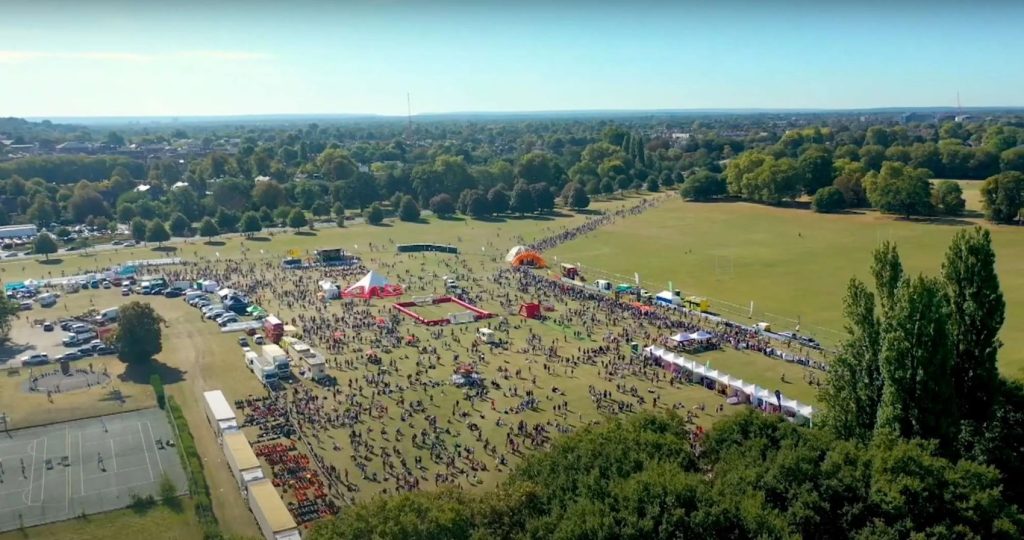 RICHMOND MARATHON
Billed as a fast flat marathon course, Richard Hobbs was our representative at the Richmond Marathon. A scenic course starting in Kew Gardens and including running through Hampton Court Palace and along the Thames. The race also served as a 'good for age' London Marathon qualifier. With the heat and humidity higher in London, instructions during the week gave runners the chance to drop down to the half; but following the successful conclusion of a 10k race on the Saturday; with no incidents; the decision to go ahead on Sunday was made..
Hobbsie reported that his pace was on plan for the first half of the course then he started to feel the effects from the heat with some dizziness as conditions worsened. Meanwhile other runners were really starting to struggle and by 11am with temperatures exceeding 32 degrees the 999 calls reporting that people were unwell started to come through. The situation was compounded by several aid stations running low/out of water. Whilst it was felt there had been sufficient medic cover there was insufficient medic transport and as the calls mounted it required 11 ambulance crews to attend to support St John's, a medic in a fast-response car, an incident response officer, and members of its Hazardous Area Response Team. A critical incident was called with many people treated on the course and unfortunately 10 were transferred to hospital -thankfully no fatalities.
As conditions worsened the organisers were particularly concerned about the runners a long way back on the course and decided to stop the race. Hobbsie reported " It was carnage with 32 degrees and the high humidity and I saw at least a dozen people collapsed including one guy I stopped to help who double cramped and fell flat on his face". When marshals and St John's stood in the road to form a barrier to stop the race, I only had 2k to complete and was keen to get out the heat, but the instruction was that everyone should simply walk to the end of the course. The event is run by the same experienced people who run Worthing Half well and they had been warning people all week to take care, trying very hard to adapt to the conditions but the heat was extreme.
Whilst clearly not able to hit his finishing target, 3 hours 40 in those conditions was amazing; Hobbsie stated it was a sobering experience.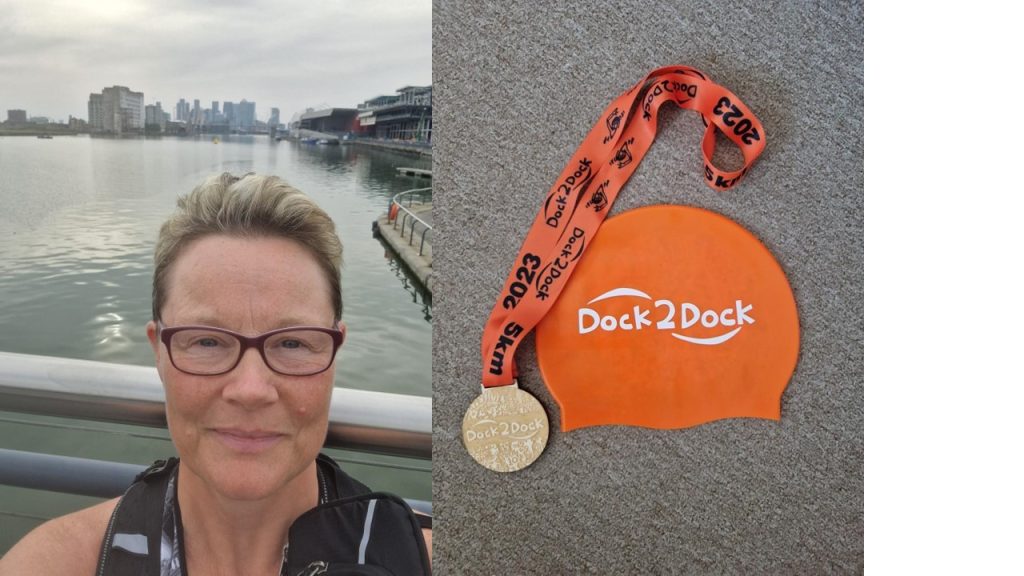 Wendy
DOCK TO DOCK SWIM
A great opportunity to 'swim long' in central London with swimmers starting in Royal Victoria Dock through Royal Albert Dock and back into Royal Victoria Dock. Our representative this year was Wendy Kane. In her report below Wendy recommends the event as fantastic; having concluded its 9th year. Inspired? whilst the date has is to be scheduled for 2024 there is mention of a group discount for 10 or more swimmers where tickets can be split into any combination of distances to suit each swimmer in the group (excluding 15k). So read Wendy's report and 'wot do you reckon'?.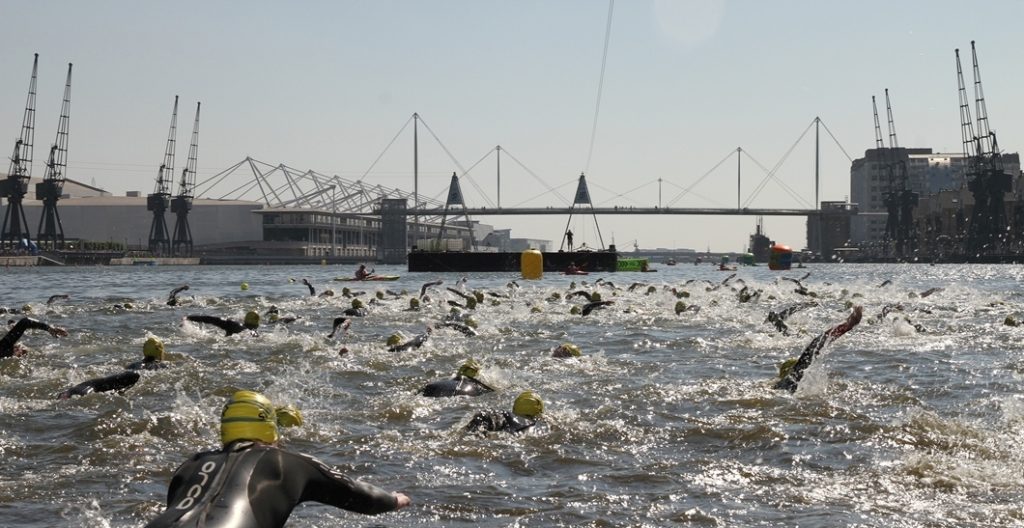 Set in the heart of London's Docks with its imposing historical cranes lining the walls and the City Airport one side and the London Excel the other, with Canary Wharf and the O2 looming in the background. It is a vast expanse of water and history, comprising of the Royal Victoria dock and the Royal Albert dock, hence the name Dock2Dock. My 1st impression was "wow" I had not swum in anything like it before! It felt quite intimidating to look at at first, as it seemed to go on forever and was so green and deep! But the fun and friendly atmosphere of the event soon puts you at ease!
With temperatures up in the 30s there was also no better place to be than in the water. I had swum the 5K distance quite a few times before in the sea but this was the first time without any assistance from the current. So no hitching a ride on the tide, I had to swim every inch of this! Surprisingly it felt easier than I thought it would but it really did feel like swimming a parkrun as it was a full circuit of both the Docks! As it was so vast you had plenty of room to swim and could drift along at your own pace enjoying the views as you took a breath. They had 3 hydration stops on the 5K loop and an extra food station for 10K and 15K so they could bring their own bag of food etc. There was also a 3K and 1.5K course which covered just a portion of the whole loop of the 2 Docks.
I had such a great time at this iconic swim and this really consolidated all that I had worked on this year in my swimming, progressing my distance and time in the water, my pacing and my fuelling all came together! I totally recommend this fantastic event and hope to be back next year to have a crack at the 10k!
Wendy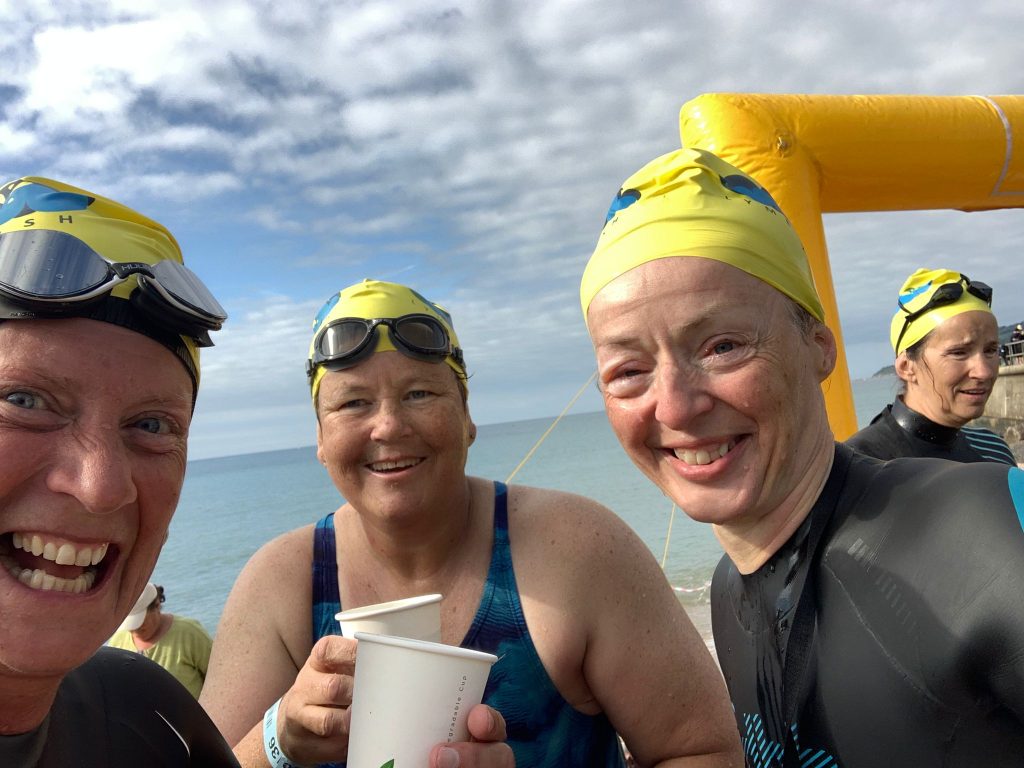 LYME SPLASH
The Lyme Splash is a sea swim starting from the sandy beach at Lyme Regis with competitors swimming along to Charmouth where a badge, hot drinks and biscuits await. The distance is a linear 3.15k swim. Claire Luckham was our representative this year reporting in:-
After coaching Saturday morning my friends picked me up to go to Lyme Regis where we were meeting another couple at a campsite.
After an early start we registered at 0730 ready to swim at 0840. The swim was lovely, it was calm and the sun was shining. After swimming 3.15k I arrived in Charmouth, as Lyme Regis was sandy I didn't wear my shoes, a mistake I won't be making again!
After a RIB ride back to Lyme Regis we got changed and had lunch and an Ice cream before heading home.
A fantastic day, a bonus that I could do it skins and would definitely recommend it.
Claire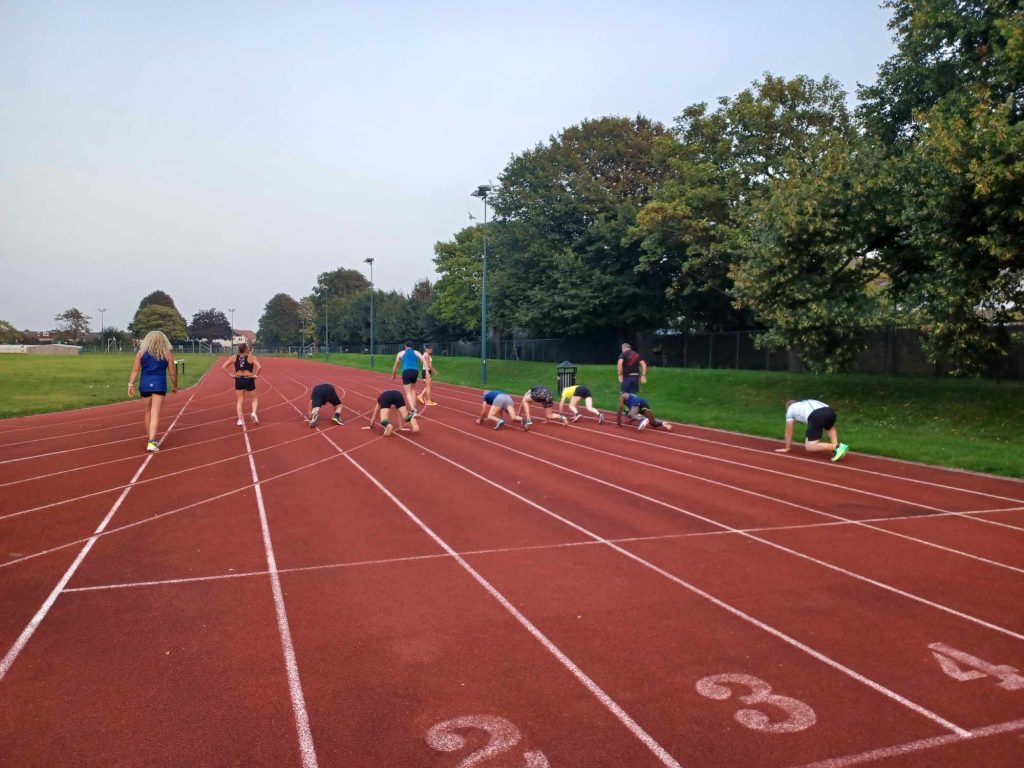 STRENGTH AND CONDITIONING
Our 30 minute strength and conditioning session prior to track each Wednesday evening at 6:30pm. Strong numbers have been seen and you need to come along to experience the camaraderie and banter . We are very grateful to Liane, Leah & Barry for their commitment to this. So why mention S&C this week? Two reasons; firstly a member has submitted a photo (no names, suggesting it was published 🙂 ) taken from Wednesday 6th's session which they found very amusing – bottoms up everyone! The second reason is to remind everyone that the usual S&C and track is suspended for one week due to our Track Power Hour on Wednesday 20th Sept. deadline for entering that Saturday 16th September at 5pm; so don't miss out.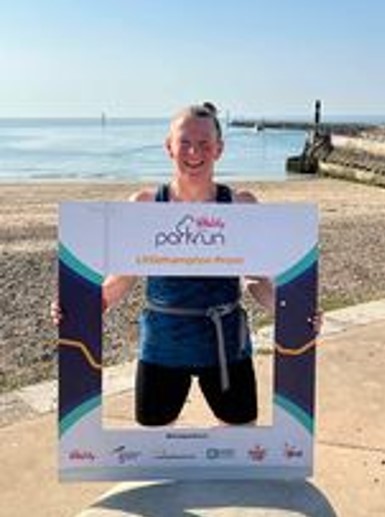 Katie at Littlehampton
PARKRUN ROUND UP
Due to other events taking place both Worthing and Bognor parkruns were cancelled this weekend. With the race action detailed above, and possibly the heat, there were not so many Tuff parkrunners this week, but good results from:-
Littlehampton parkrun saw Katie Young run and in some style, as she crossed the line as 2nd female overall shaving two seconds off her Littlehampton PB. Next Amy & Fraser Kidd ran again as a family with Georgia and this time enabled Amy to also achieve a PB over this course by 44 seconds. Having notched up his 100th last week, Phil Turner ran at Littlehampton for the first time on pacing duties.
Seaford Beach parkrun saw Jeremy Garratt in action along the prom again.
The closest we can get to parkrun tourism is by Alistair Evans who travelled to Chichester parkrun and not only did Al achieve a run credit he added to his volunteer total as well.
Well done to all six