Weekend Round Up 21st 22nd October
A picture of Las Vegas is a good way to open this Round Up as it encapsulates nicely the variety of events and news to share in this Round Up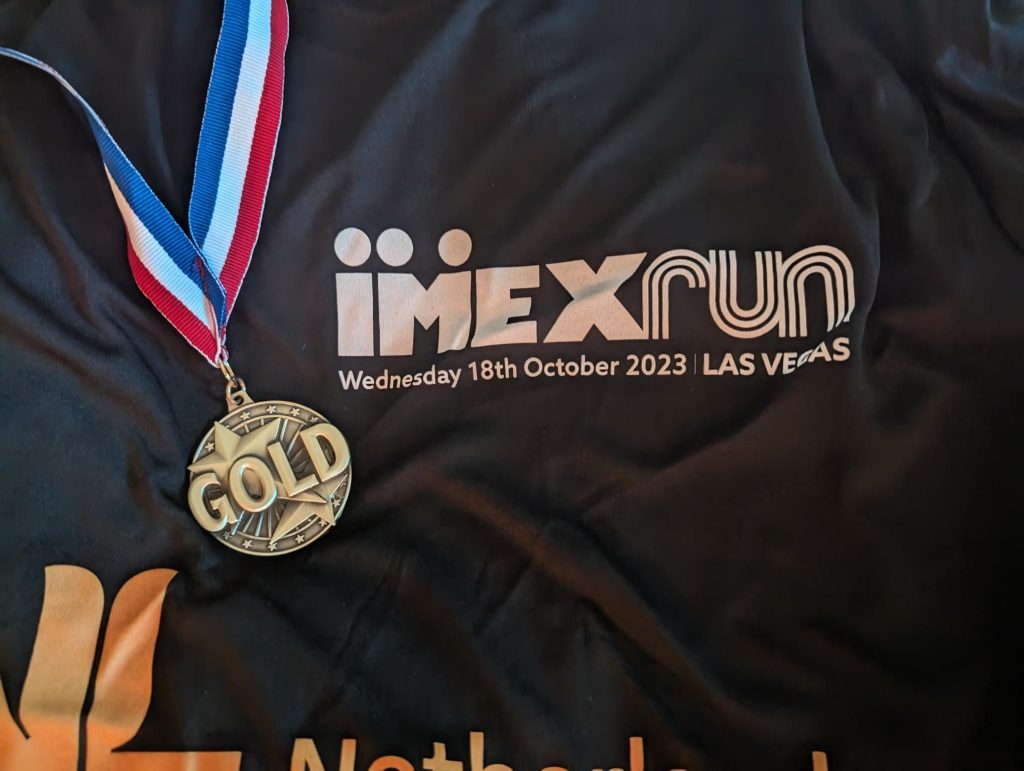 IMEX FUN RUN – LAS VEGAS
It is always nice to be able to report on something different, so how about a run at dawn (7am to be precise) around the streets of Las Vegas. Alex Webb was there for work and his company organise fun runs around the world at the locations of the large conferences they organise. Entry gains an event T-shirt at registration which participants are encouraged to run in. We are grateful to Alex for reporting in, although he is very modest about the very successful outcome.
"I work for a company called IMEX who organise large international trade shows. One of the events takes place in Las Vegas and as part of that we organise a 5k fun run for a few hundred people along the Las Vegas strip. The Strip is not a particularly nice place to run – across large roads, up and down escalators and over bridges. This year I decided to have a go at winning it. There was a guy from France ahead of me for most of the way but he went the wrong way towards the end so I ended up taking first place by default. I'll take it though".
Alex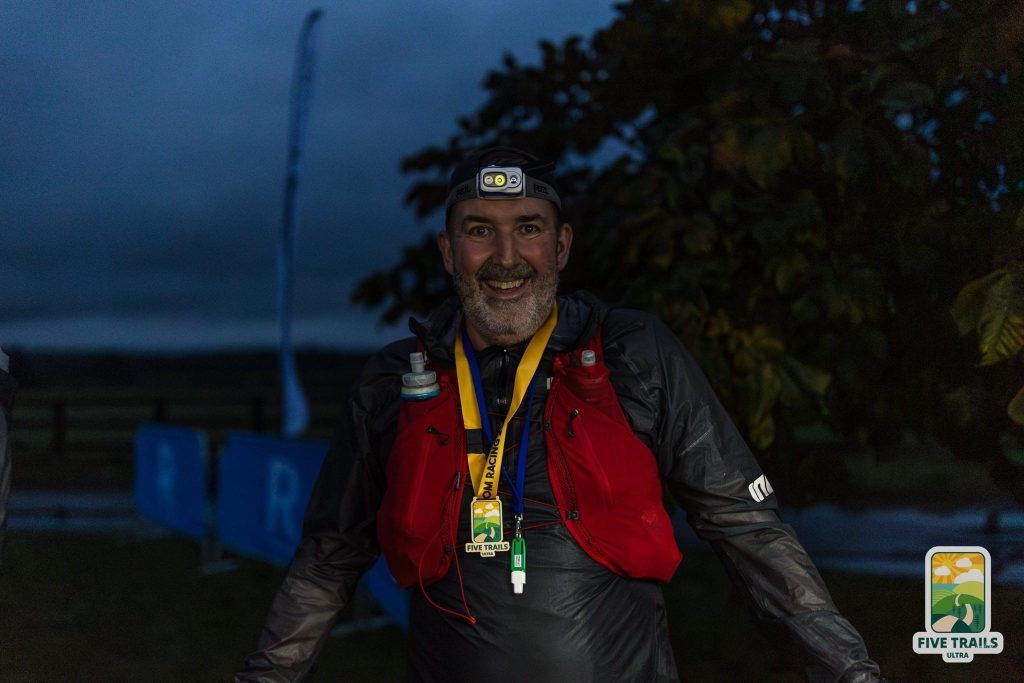 James
FIVE TRAILS 50k ULTRA MARATHON
Thanks to James Hodge for providing a vivid account of strength and determination from Saturday. Perhaps the scene was set with a warning that there was a cut off time of 10 hours, but whilst he is self deprecating, James finished comfortably within this, with many competitors behind. For those interested there is also a 3 Trails Half, and for those of us familiar with the South Downs looking at the route map is likely to make you flinch at the ascents! HERE
More appropriately Five Trails, Storm Babet, Hills, Mud & More Hills
"Entering the inaugural Freedom Racing, Five Trails 50K Ultramarathon seemed like a great idea in the haze of Summer. What a lovely way to explore the Sussex countryside I imagined.
On an Autumnal morning with a storm warning in place the reality was a little more daunting. I packed my head torch just in case but surely I wouldn't need it.
The course description reads, `The Five Trails 50k Ultra sets off on the Serpent Trail through beautiful woodlands and heath, to join the New Lipchis Way and climb onto the South Downs towards Singleton and the open downland views, then onto the West Sussex Literary Trail and through stunning Beech Woods before some miles on the South Downs Way, then Monarchs Way for a short section before turning for home on a different section of the South Downs Way, then Serpent Trail back to the finish'.
We signed on at the start in an absolute deluge but luckily the clouds cleared and we set off in the dry. The course was boggy with lots of puddles and we soon gave up trying to keep our feet dry and ran straight through. Though it was wet and muddy at times it all felt runnable though someone next to me rightly described the terrain as a bit of a petrol sapper.
I started off steady but by 10k seemed to have consumed rather a lot of my food and drink which was probably an early indicator it was going to be a tough day. The race route is absolutely stunning taking you through woods, heathland and across the South Downs with amazing views over Sussex. After the first aid station the route just went vertical. We had been warned about this climb and that it was one you wouldn't even imagine existed in this part of the world……..they were not wrong. It was followed by a lot more steep hills and hiking seemed to be the order of the day.
The course was generally well marked and we just made a few detours which were soon corrected. There was a group of us running along passing and repassing each other and often having time for a good ol chat. We were then climbing up on to the Downs and running through familiar territory at Whiteways and heading back toward Petworth. After a good spell from 30K to 35k I was finding it tough but running with someone who had stopped earlier to put warm clothes on we made it to 40km and the last checkpoint.
Unfortunately I struggled to get going again out of the checkpoint and was passed by several people checking if I was still feeling ok. I'm guessing I may not have been looking my best at this point but I lied and said all good. A steep and slippy chalk descent that followed was not kind on wobbly legs as well as a sore ankle I somehow sustained the week before. This last 10km was tough and after fairly even splits I did one of the slowest losing 10 places. Darkness was setting in and the head torch came out for the final km. Several more people passed me just before the line which was rude. I ran across the line and then staggered backwards through it which must have affected my time but managed to stand up long enough for a finish line photo.
52.73 KM, 8:19:17, 1,246m Total ascent (more than Ben Nevis)
Its a fabulous event with great organisation, a stunning course, well stocked aid stations, enthusiastic marshals and steep hills, lots and lots of steep hills. Hopefully I'll be back to defend my 9th Place in MV 50 (Ok there were 9 in it) & 60th place overall".
James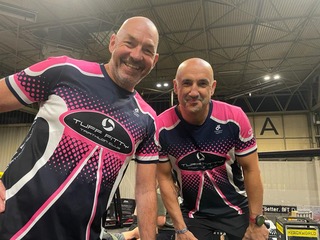 Andy & Kev
HYROX BIRMINGHAM
The first of any introduction must be "what is Hyrox" – billed simply as Hyrox equals fitness racing. Held in large exhibition halls and combines both running & functional workout stations. With a consistent format around the world it builds into a world championship. At the latest Hyrox, we had Kev Pearson and Andy Ward. Andy has put his thoughts down on the event as follows:-
"I am drenched with sweat; I fall to my knees and roll over onto my back and look up at the roof of the NEC… loud pumping high energy music plays, and I see similar people all around me. I slowly rise, look up at the electronic scoreboard to see my name and my finish time….. I realise that this was by far THE HARDEST EVENT I HAVE EVER DONE…..SO FAR.
Hyrox – described as "fitness racing for everyone" is an indoor event comprising of a 1km run followed by a workout station repeated 8 times.
The workouts consist of:
1km Ski Erg, 50m sled push (152kg), 50m sled pull(103kg), 80m Burpee Broad jumps,1km row,200m Farmers carry (2 x 24kg kettle bells), 100m sandbag lunges(20kg) and then finishing with 100 wallballs (6kg).
I'd discovered this on YouTube (search it to get a better understanding of how it works) and as my time in Triathlons was relatively long (20+ years) and having been round the block a bit I'd been looking for something different. It turned out that fellow Coach and Tuff Kev Pearson was also a keen "Hyroxer" and so we got chatting.
My debut was with him as a doubles partner at London Olympia where I admittedly let him do a lot more of the work and we came 8th in our 50-59 age group.
This was my first solo so a whole new ball game.

The venue was amazing and akin to being in a nightclub with the fittest people in the UK all wearing skintight lycra and not a hairy chest in sight…. I kept my top on as requested by Mrs W!! I think I could have held my own, but I'd left my 6 pack at home in the dishwasher!
The race itself started well and I took the starting few events very easy. The feeling of pushing a sled with 152Kg on then trying to run afterwards is something you need to experience but that is nothing compared to 80m of Burpee broad jumps or even worse 100m of lunges with a 20kg bag on your shoulders!!
Needless to say, it is a fantastic event and genuinely is great training in the off season for triathletes. If you can put any type of run together in-between these workouts, then brick sessions will be a piece of cake.
I learnt a lot especially about myself. I didn't quit even though at times my body was screaming at me. I know this is making me fitter and when I eventually get back into triathlon racing this will help me immensely.
I'm already looking at how I can improve, and Kev and I will be booking to do the Hyrox Doubles at London Olympia in April 2024.
We have both said how we'd be happy to run a session for anyone interested and if anyone is keen to give it a go then we are both happy to tell you more…..
And hey why not team up with someone and give the doubles a try…or even try it solo".
Wardy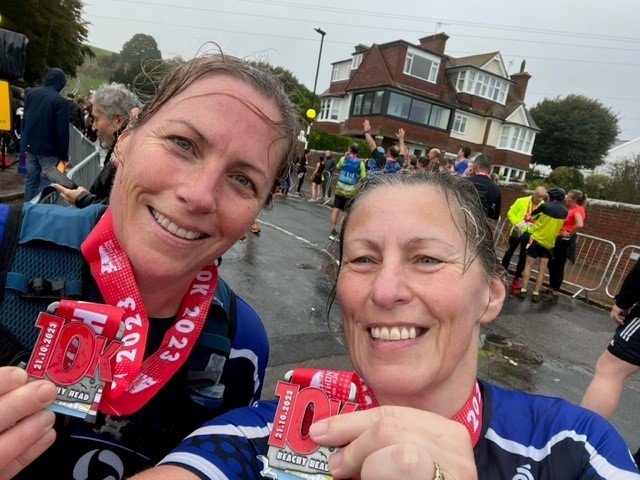 Ness & Vicki
BEACHY HEAD TRAIL RUNNING WEEKEND
Stated to be one of the biggest trail running marathons in the UK the weekend saw the Marathon, Ultra and 10k races start on the Saturday and on Sunday it was the turn of those running the half marathon. Across the weekend there were 2,613 runners who started and in amongst the 542 10k entrants we had Vicki Hedger and Ness Green. Thanks to Vicki for reporting :-
"Myself and Ness were due to run the BH Marathon but because of injuries and lack of training, we decided to drop down to the 10k. As per weekend away tradition, we book 2 nights away so that we can enjoy the delights of Eastbourne 🙂
We gathered at the start and despite a tiny bit of FOMO. We embarked on a very wet, windy, hilly, enjoyable 10k. The route itself is 3 miles out and round Birling Gap and that was when the wind hit us hard and the rain felt like shards of glass! A nice elevation to Beachy Head rewarded us with stunning views.
Given the conditions, we both pulled in respectable times, Ness completed it in 1:05 and I came in at 1:08.
For the remainder of the day we tracked our friends who were doing the marathon route and spent approximately five hours out on the cold and damp course telling ourselves we made the right decision!
Within 48 hours of the event finishing we had already signed up for next years marathon. We ❤️Beachy head!
Vicki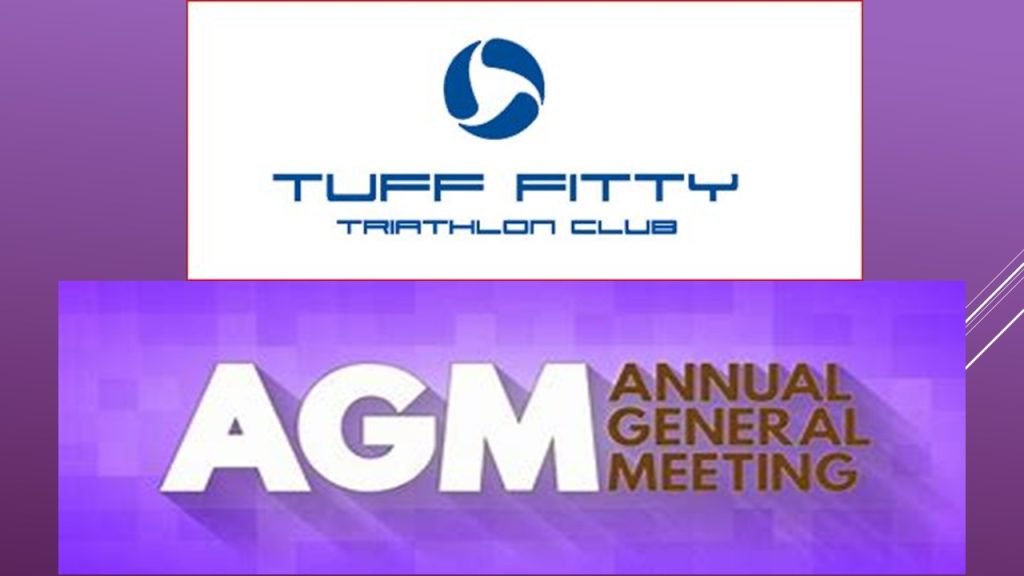 TUFF FITTY'S ANNUAL GENERAL MEETING
Friday night saw Tuff FItty's Annual General Meeting held at The Fox Pub in their marquee which made a very successful social event as well. As a club run by members for its members with written constitution, it is important that Tuff Fitty are accountable for all. No advanced agenda items were received and so the Chair, Clive Harvey presented a summary of the last 12 months.
Our total number of Tuffs at the end of September was down on the previous year, and unfortunately others have moved away during this year. Despite this, the number of race venues we saw members at, increased as overall participation grew. The number of Triathlons attended was broadly similar but there was an increase in the number of other disciplines, particularly cycle sportives and one notable statistic was that the number of Tuffs attending a parkrun over the last year increased from 601 to an impressive 774 – a 28% increase.
A summary of the Tuff year in terms of training and events once again highlighted how active your club is, sometimes with an activity every day of the week.
Financially your club remains in a strong position despite the cost of living crisis which means we are able to continue our mission of allocating reserves. Firstly membership, and swim fees remain unchanged again, that's several years on the trot. Since the AGM, unexpectedly a potential change in the terms of hire has arisen which may impact the cost of track. Whilst track sessions will continue, Tuff Fitty will have to reserve the right to seek an uplift in track fee in the New Year, We will keep membership advised as discussions progress which are just beginning. The other aim of our reserves is to ensure funds are spent for the benefit of members, through subsidised events, training sessions, equipment, plus a particular emphasis on expanding our team of coaches by supporting them to gain qualifications. Our annual Frosty Aquathlon remains an important facet in our financial stability and for 2024 we will offer all Tuffs a 10% discount if they wish to participate.
We are particularly grateful (and proud) of our team of coaches who work tirelessly on our behalf and we are delighted to announce that Barry Davids was approved as Head Coach to take over from Andy Ward. Having already delivered some impressive training sessions, Barry's appointment is fantastic news. Thanks must also go to everyone on the committee as much is undertaken behind the scenes ensuring Tuff Fitty remain compliant with all necessary governance, as well as staging events.
Your committee for the coming year is shown for information. If you have any ideas or questions, please do not hesitate to contact one of the following
Clive Harvey – Chair
Adrian Oliver – Secretary
Vicky Cooper – Treasurer
Mike Barrett – Events
Jenny Oliver – Membership
Wendy Frost – Coach Liaison
Oliver Thomas – Welfare
Barry Davids – Head Coach
Media Representative(s) ……… Vacant
As you will have read above, Tuffs undertake amazing newsworthy events. The above example of Las Vegas, was just one of other events in the US as well as France, Germany, Spain, Italy, Belgium, Luxembourg, Majorca, Mallorca to name just some of the worldwide places that saw a Tuff presence. We have had 4 new Ironmen this year and more Tuffs compete for Team GB. Your committee feel we need to improve our visibility by sharing our good news. Tuff Fitty therefore ask if anyone (or more than one) would like to volunteer as a Media/public relationship person. We need to improve our social media presence but also local papers and helping to promote The Frosty. If you are interested, please talk to one of the committee above. It needn't be arduous, particularly with much of our successes already collated into one place in these Round Ups.
As the Chair likes to say 'We must keep moving forward, otherwise we stagnant, and start to slide backwards' so If you feel you can help your club, either with social media, or have an expertise for a particular event or training session, please speak to one of the above.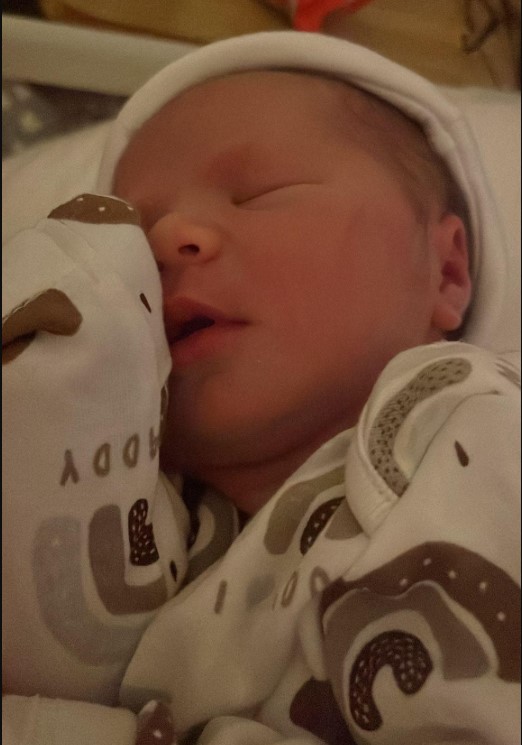 KATIE YATES-HILL
With apologies for missing from an earlier post, it's long overdue to congratulate Katie Yates-Hill on the birth of baby Florence at the end of August. The family are doing well and Katie, being one of our strong swimmers has been missing her regular swims. Congratulations to the whole family and in stating she is hoping to be back swimming soon, we look forward to congratulating Katie in person.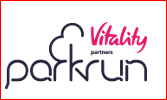 PARKRUN ROUND UP
Conditions at 9am for parkrun along the coast, and for the Tuff Saturday run were not pleasant with plentiful amounts of moisture, so well done to:-
Littlehampton parkrun returned to the top of the Tuff participation list with Steve Fryer finishing as first Tuff home; impressive after last weekend's Ultra. Steve finished 9th overall in just 20:46. Colin Simpson was our next Tuff accumulating a great percentage age grading. Alistair Evans achieved the double, running and gaining a volunteer credit on the team. Sue Simpson also volunteered taking up the tail walking role.
Worthing parkrun saw Edward Lay as our first finisher, sweeping round the course with a strong age grading, Les Pearce was our next runner and then Nina Tully
Bognor parkrun was underwater in places but that didn't seem to hold back Nathan Bilham running well with Clive Harvey also present.
In terms of parkrun tourism Steve Feest ran up at Reading parkrun where the course is at Thames Valley park with a significant part of the route along the Thames riverbank.
Our furthest tourist this week was at Talkin Tarn Country Park parkrun where Trevor Harvey ran situated outside Carlisle on the edge of the North Pennines.
Well done to all eleven Tuff runners.