Christmas Weekend Round Up
There were lots of great individual efforts in getting off the sofa over the Christmas holidays with Tuffs out running, biking and swimming. But that still left some Tuff Group events worthy of note below:-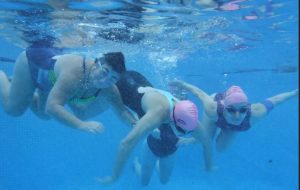 CHRISTMAS LIDO SWIM
Another of our Tuff Christmas traditions is to hire the Arundel Lido for a Christmas Swim. With the pool open to the public on Christmas Eve, as the water was being heated, it was a chance for us to use the day before. On the Wednesday the temperature was just 16.1 degrees but in gaining 4 degrees a day, Saturday saw 27 degrees. Some Tuffs met for the usual Saturday morning run up through Arundel Park, a couple rode over, and more arrived for the swim at 9am.  There was a mix of serious swimming following a set, with Debbie Gatland keeping an eye on proceedings,  whilst others were more concerned with building up an appetite for the hot drinks and mince pies that followed. There were also the usual poses for underwater shots as the following Tuff album shows.
A successful morning, although it did include a game of 'operation'. Being first hire since the summer, there was a small amount of debris and Trevor trod on a slither of flint which become embedded in his heel. Some gallant work by Wendy & Debbie in leading the operation extracted the flint enabling Trev to fully recover.
      Click on the arrows to page through the album
We have another booking at Arundel Lido this coming Saturday 30th December. Usual swim fees apply. The swim is from 9am until 10am with hot drinks being served through until 10:30am. If people wish to participate in the run beforehand, meet outside the Lido at 7:30am. If you wish to ride over, there is plenty of space to leave bikes whilst you swim.
Tuff Fitty's regular swim training re-commences on Thursday 4th January 2018 & Saturday 6th January 18 at Littlehampton Pool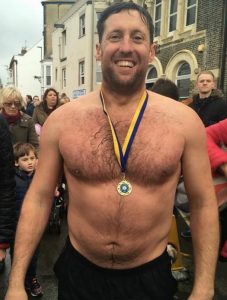 WEYMOUTH CHRISTMAS DAY HARBOUR SWIM
Chris Ette is well known for doing different events, so how about a swim across Weymouth harbour on Christmas day?. Chris modestly doesn't mention how cold the water was as he explains:-
The Annual Weymouth & Portland Harbour swim has been an ongoing event that I remember watching as a child, every year I keep saying that I would do it. The swim was across the harbour and this year there was a record year with 480 swimmers taking part, broken down into waves of 50, the event is organised by Weymouth & Portland Lions Club and all proceeds go to local charities.
A great way to start the festive period and is extremely well supported by local people watching
Chris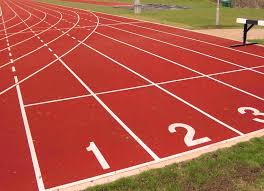 CHRISTMAS TRACK RUN 
The last Track run before Christmas was a festive affair. Whilst the evening started with the usual 4 lap steady warm up and drills, Coach Wardy then unveiled a festive themed main set. Runners teamed up in pairs with one running 400m with the other running 200m. However the twist was that before runners could hand the baton to their teammate, they had to answer Christmas teasers. Some were straightforward quiz answers, but in amongst these were anagrams and Rebus questions where pictures spelt out phrases.  The running was at a fast pace as everyone didn't want to let their team mate down. Whilst it was all about taking part rather than winning, as Clive is posting this to the website it is fair game for him to say Matt Whittaker and Clive Harvey were the first team home!
After a quick change of clothes many continued the evening with a quick pint in the Georgi Fin micropub before  heading next door for a curry. A great evening was had by all. Chief Raconteur was Graham Liddell who led the way reading out all the jokes from the crackers.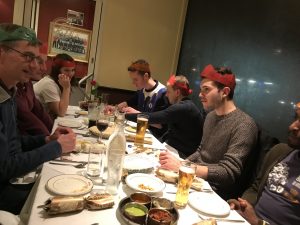 Don't forget Tuff's Track sessions start again on Wednesday 3rd January. Affectionately nicknamed 'The Durrington Project' those regular attendees can vouch for the improvement these sessions yield; Coaches Dave March & Andy Ward look forward to seeing you.  Interested? All welcome and don't forget we now have a Tuff Track Charge card so rather than hunt around for the fee every week,  a card is available for £10 to cover 5 sessions.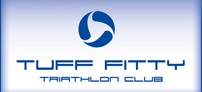 Looking to improve in 2018? well how about this for a Top Tuff Training Tip, if you haven't got a lot of time on your hands.
Flamingo Brushing:- Stand on one leg when brushing your teeth. The instability gives the deep core muscles  that protect your back a short workout – a strong core will help you maintain form when tired.  Try brushing on alternate legs and hands. The variety helps, how about trying it with your eyes shut. Undertaken at your own risk, TF will not accept claims for people bashing their heads on the sink!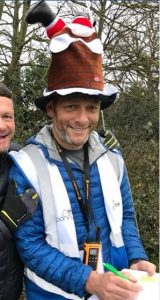 PARK RUN
Two days of Park Runs to round up. Firstly on Saturday 23rd over at Bognor Park Run, Jason Rae took on the mantle of race director (pictured)  Up at Horsham Park Run Leigh & Ian Moore were in action with their dogs Sam & Ruby.  Back home at Worthing Park Run Danny Cunnett was first Tuff home in 20:00 with James Oram 20:02 (who had completed a 20mile training run the day before!). Antony Oliver 23.01 and Amanda De Ridder 24:20. Also running in their run club vests were Neil Rabone (23:17) Tony Pearce (24:14) & Steve Feest – well done to all seven
There were two local Park runs with a Christmas day special.  Over at Bognor Park Run, Jason Rae ran completing in 24:49 just before he succumbed to man flu. Worthing Park Run's fame continues to build with 284 finishers, impressive for Christmas Day. Included in the field was Amanda de Ridder finishing in 24:56  to complete her 43rd Park Run
Keep race reports, interesting news coming. please email clive.harvey@tinyworld.co.uk