Arun River Marathon Race Report
Saturday saw the third staging of the Arun River Marathon, the second in a series of four river races staged by the brilliant Sussex Trail Events, led by Tuffs Jay McCardle, Chris Ette and Danny Cunnett.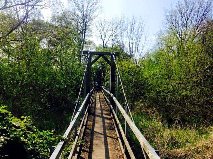 Team Tuff – Dom Amey, Sim Scott, Chris Levitt, Muz Hodge, Grumpy-Popular-Supervet Glenn Parisi and Russ Doherty (not pictured) – took to the Downs for the scenic out and back trail. Starting from Littlehampton Marina, the 27.4 mile route winds along the Arun, taking in Arundel and Amberley castles, a (very) bouncy bridge and a seemingly never-ending hill. Chris and Russ are seasoned veterans of Susses Trail Events races; Russ has missed just one of thirteen races since their 2013 inception, with Chris not far behind. This event took the very modest Chris well over the forty marathon mark. Tuff stuff indeed.
Glenn's worst fears – which we maintain were the real cause of his Three Forts no show – were realised when he was again eclipsed by Dom in the ongoing 'Dom v Glenn' series, and 'chicked' by Sim. Ouch. However all was not lost, as he notched a historic third 'Saltiest Man in West Sussex' trophy, retaining his crusty crown from Vienna and Brighton marathons. Muz pushed him all the way, narrowly missing out on the prize of a year's supply of Saxa.
Thankfully, the midweek rain held off and the ground dried up so the trail shoes remained in their mouldy carrier bags for the second time this month. A cold start led Sim off on her usual (with herself) 'long or short sleeves' debate; long sleeves won, though un-forecasted sun led to an impromptu striptease at the halfway point aid station, providing an unwelcome gift for lovely birthday girl Leigh Moo-wer and hubby Ian.
More Tuffs along the route, with team Lintott-Clarke dishing out welcome Jelly Babies at the Black Rabbit aid station, and Gary Edge popping up at several points to provide his trademark 'encouragement' and unflattering photography. Thanks Edgy.
The dry ground gave the old cankles and hips quite a battering, and it was a case of hanging in there for the last six-and-a half miles from the Black Rabbit as the temperatures rose. Welcome support came from Chris Ette with four miles to go, though the Marina still looked a long way off along the twists and turns of the Arun.
A fantastic race with lots of encouragement and camaraderie from fellow runners – these events have a such a special feel and you'll always meet new friends en-route, with conversations ranging from injuries (what else?!), best goody bags and post-race feasts to…dodgy chat-up lines…
So after a tough plod Team Tuff started to appear one by one with Sim crossing the line in 4:20:16, Dom 4:33:06, Russ 4:34:55, Glenn 5:00:11, Chris 5:17:15, and Muz 5:38:12 (don't worry Glenn, these are gun times so your sub-5:00 is intact). A heady mix of pride, relief, happiness and snazzy medals hoisted us up the stairs of the Marina café for a well-deserved complimentary cooked breakfast.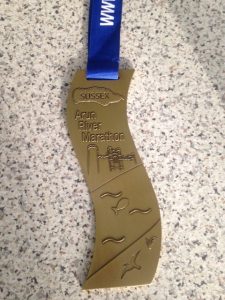 Thank you to all at Sussex Trail Events, the marshals and Vix and the Marina café team for taking care of us all. A highly recommended series of interesting and well-organised races – why not have a pop at one soon? Next up is the Beat the Tide 10k along Worthing seafront on Wednesday 20th July. This is also part of the Tuff Strun series so a good opportunity to score bragging rights with your fellow Tuffs. Go on, you know you want to…
Sim.