Catharine reports in from her first marathon…
A year after giving in to Glenn's relentless bullying, Brighton marathon dawned…Feeling surprisingly alert and excited, we wolfed down our porridge and headed to Worthing station to meet to rest of the Tuff brigade. The usual joking commenced and it felt like we were on a fun day out, not about to run 26.2 miles…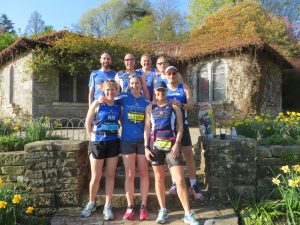 Once we'd strolled to Preston Park and located the port-a-loos for pre-race toilet stop #1 (of about 10 for Glenn…) and some race fuel for Jonny five-cakes, we found ourselves a nice scenic spot in a local park for the prerequisite tuff photo call. It was already starting to feel quite warm and it wasn't yet 8am…not to worry, the forecast only said it was going to hit 15°C (ha!). With 45 minutes to go, we returned to Preston Park, which was now a sea of people, to drop off our bags and head to our respective pens for the nervous build-up to the start. Before I knew it, the gun had gone and we were off!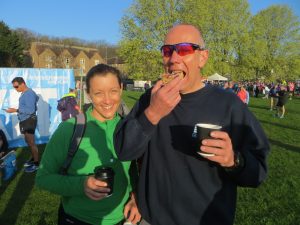 I set off at (what I thought was) a steady pace. The first few miles flew by and saw us take a turn around Preston Park, followed by a loop through the Laines and Kemp Town. I was starting to question the fact that Brighton is billed as a flat course as there are a fair few undulations, albeit gentle ones! But I felt great so continued to enjoy the experience. At around mile 10 I thought I'd got lucky when my bottom was squeezed…ah no, just Trev saying hello! At this point it really started to feel warm (it reached 21°C at midday) and during the race I stopped at every single water station.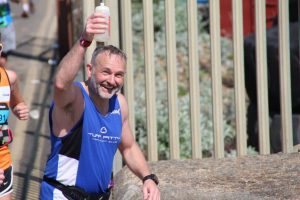 Mile 12 saw us return to Brighton and the crowds were really starting to build, with thousands of spectators lining the course and cheering us on. The level of support during the race was overwhelming and really helped to make the experience. Particularly the well-positioned Tuffs who honestly helped me keep going with their support (thanks Wendy!) and 'motivational' words, "it's not supposed to be easy!" (cheers Gary Edge :-p). I started flagging a lot earlier than I thought I would (perhaps due to the 'easy' pace I started at), and miles 12 – 18 were a massive struggle. I had to walk-run a few miles, but I took on plenty of water and snacks from kind spectators (those orange segments were the best!) and, before I knew it, I was at mile 21 and my mum was shouting at me! Once I'd made it round the power station (to Miki's amazing cheering!), I knew that I could drag myself home! Thanks to my ever-cheery co-captain Joe who watered me at the final aid station and psyched me up for the final push. I tried to enjoy the last few miles and take in as much as possible of my surroundings, but looking back it's a bit of a blur! Suddenly I was across the line and it was DONE! My first thought was "never again", but somehow I seemed to have developed a plan to run Edinburgh 2018?! All-in-all, the hardest thing I've ever done, but an amazing experience! I staggered to the beach and joined the other collapsed Tuffs for a little rest (and dip in the sea for the brave) before dragging ourselves home. Glenn appears to have successfully brainwashed Tom as he tried to locate the 2018 sign-up tent, but thankfully it was closed…phew!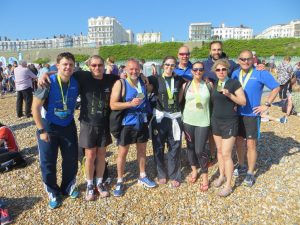 There were some great times despite the conditions, with Pete Littleboy running in 3:26:25 and, in hot pursuit, a PB for Gavin Sewell of 3:27:32. First timer Tom Gray snuck in under the 4 hour mark with 3:58:17, followed by James Oram in 4:04:42 for his first marathon. Elle Williams was first Tuff lady home in a great time of 4:11:34. There were 15 Tuffs running in total so a big well done to everyone!
Paul H 4:10:24; Ian B 4:17 Phil L-C 4:23:50; Glenn P 4:28:07; Grant S 4:38:46; Tiff O 4:39:12; Trev H 4:40:27; Catharine W 4:49:33; Jon R 4:51:45; Clive H 5:08:53
Becky Lintott-Clarke took part in the earlier 10k (saving herself for London later this month!) and finished in 43:33.