Weekend Round Up 30th Nov/1st Dec
SUSSEX CROSS COUNTRY LEAGUE RACE 3 STANMER PARK
Race three in the Cross country league at the same location as Race Two – Stanmer Park. However anyone might have thought it was a totally different location as for the first time this year it wasn't raining.
As usual the ladies start half an hour before and we are very grateful to our trio of stalwarts – Juliette Reader, Hazel Tuppen and Kate Cooper who have attended all three races so far. Their efforts elevated us one more position in the top half of the table
Next the men started and Captain Jon Babbage was the first Tuff home closely followed by Simon Thistlethwaite, then Tom Goddard, & Andy Crawford. Great to see the depth in the squad as Dave March was next home, Phil Turner, Adrian Oliver, and great to see Les Pearce, one of our more recent members meaning we had strong results in both our A & B teams.
As usual 'Chairman's Choccies' were at the finish as a thank you for the great work put in. The results came out which shows that whilst Worthing Harriers are clear leaders in the division, Tuff Fitty currently sit in 3rd position although the weekends strong showing has reduced the deficit to the second placed team to just 21 points. However it is a very competitive division with Run Academy & Worthing Striders in pursuit – mention to Tony Pearce who was part of the Striders team. This means that we will need to mobilise the Tuff squad on Sat 8th February for the final fixture which is at Bexhill
The photo gallery follows with thanks to Hazel for snapping away click on the album to view through)
<
>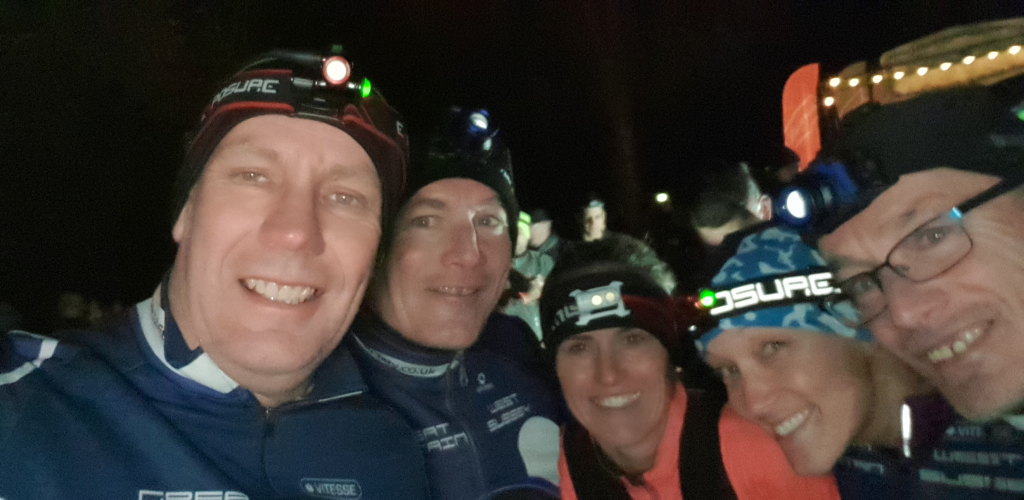 MAVERICK DARK USE EXPOSURE LIGHTS DARK SERIES
Maverick hold various runs, including one looming large on the 25th January at Amberley which some Tuffs are in for already. They also organise some night time ones under the Dark Series banner. Debbie Boxall is a regular attendee and persuaded some Tuffs to sign up.
Held at the Queen Elizabeth Country Park at Horndean, so as to make the travel distance worthwhile, most intrepid Tuffs took on the long course 15k. It was a fun event although the course packed in 1,300 feet of climbing. Debbie Boxall, Tiff Orton, Trevor Harvey, Clive Harvey & Jon Roper took part and other events included 5k, 10k and cani-cross. Prior to the start it was announced a dog had run off into the dark, trouble was it was a black dog, could the runners look out for it!
Paul Martin also took part, running the 10k. He was missed from the pre-race photo above but he was certainly there for a quick time as he was like a greyhound out the trap at the start, surging past the Tuff 15K'ers. Clearly this pace was something he kept up as he crossed the finish line in 12th position overall. A chunky medal, bottle of beer and iced coffee awaited all finishers with all Tuffs staying upright in slippy, dark conditions – everyone concluded if you are going out on a Saturday night, then a Dark Series event was definitely worth seeking out.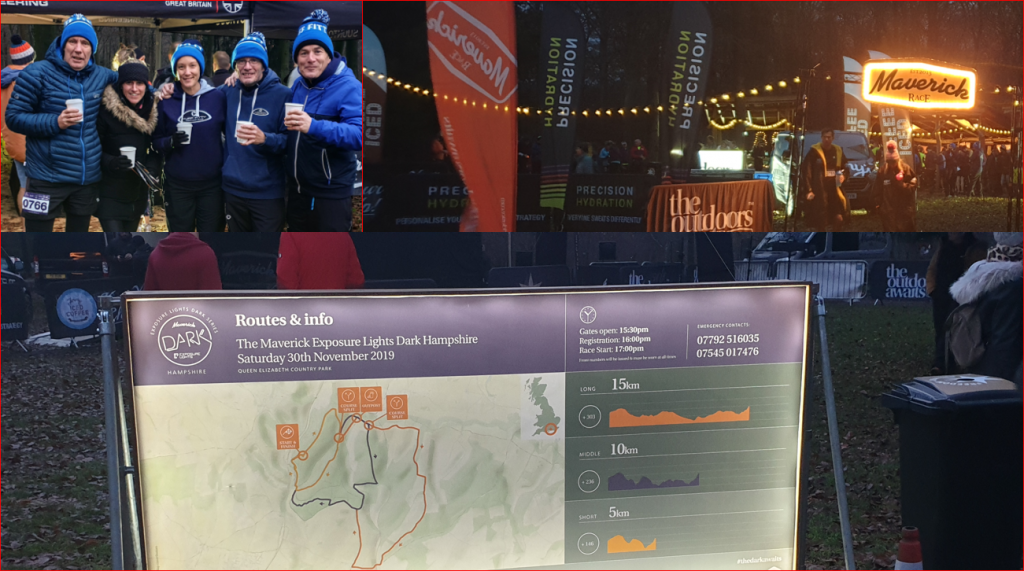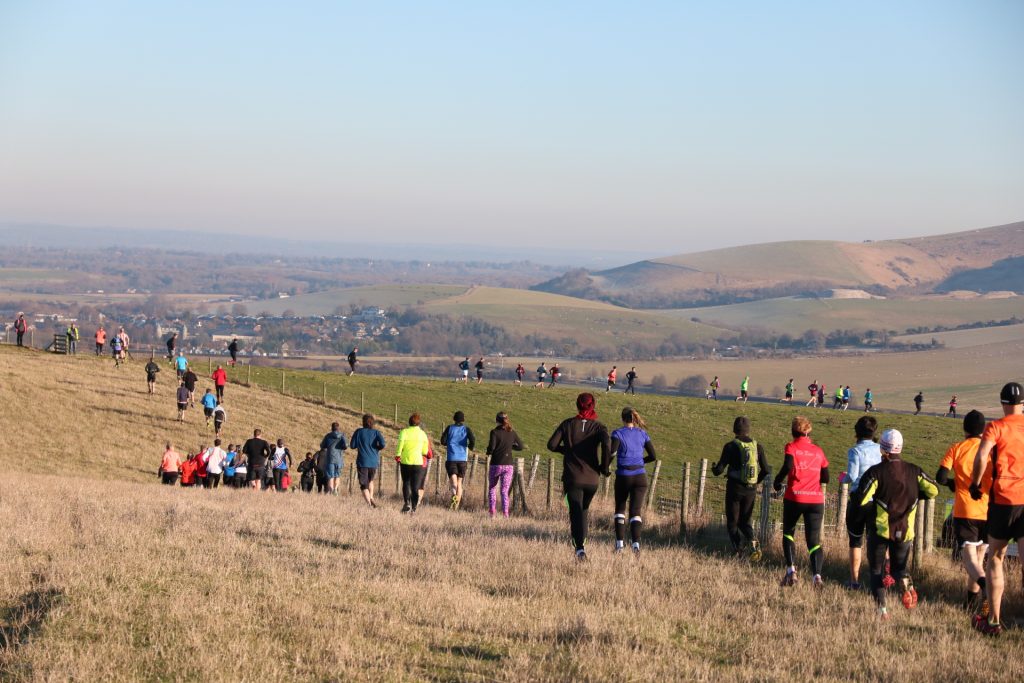 DOWNLAND DEVIL 9
Coombes Farm below Steyning was the setting for the Downland Devil, a tough 9 mile off-road route across the Down's with plenty of hills, cattle grids and mud. There has been Tuff presence at this event ever since its inception and this year Catharine Western and Katie Goddard took part, both getting round in good times.
OPEN WATER SWIMMING
One of the best things in being part of Tuff Fitty is that perhaps sometimes you just need that little bit of extra encouragement to get out your comfort zone. So with this in mind kudos to Charlotte-Lattin Rawstrone who said she was up for an open water swim (in December !) and Elaine Rousseau and Duncan Harvey joined in. Apparently they are plotting another one soon where others have said they might join in – Keep an eye out on our Tuff Fitty Swim Facebook group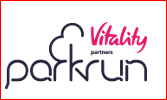 PARKRUN
At Littlehampton Parkrun Linda Wright finished as 3rd female overall, and Jenny Oliver was 10th female overall. Across at Worthing parkrun – Chris Sloggett and Ed Lay both crossed the finish with the same time of 24:33. Up at Maidenhead parkrun, Trevor Harvey ran, using this run to limber up before the evening's Maverick Dark 15k.
LITTLEHAMPTON PARK RUN
Saturday 7th December sees a special initiative from Tuff Fitty and we hope fellow Tuffs would like to come along. Through our Mental Health initiative with Sussex Coastal Mind, Tuff Fitty are lending it's support to Red January.
Red January's mission is :- "This January, challenge yourself to get active every day, your way. Whether you run, swim, cycle or choose your favourite fitness activity, set your goal and enjoy support from the RED community every step, splash and pedal of the way! "
Tuff Fitty already buy into the message of activity helping mental health but for anyone new signing up for Red January locally, Tuff Fitty are to help them towards their goals with invites to selective sessions such as our weekly track session. Graham Liddell our mental health champion is to explain the Red January initiative to the assembled Parkrunners at the race briefing, and it is hoped that as many Tuffs will come along and support as possible. If you are not interested in signing up yourself it is still hoped that many Tuffs will come along simply to participate in the Littlehampton Parkrun to show Tuff Fitty's backing for Red January. There is no Worthing parkrun due to the Christmas Cracker event, so another reason to pop across to Littlehampton.