Weekend Round Up 23rd/24th Sept
Whilst the astronomical calendar stated autumn started this weekend, Tuffs are continuing to push through the falling leaves for events, although we start off in the better climate of the Golden State – California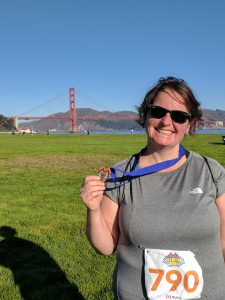 Kirsty with her Medal & Strongie, the banner shot,with his 'top finisher' t-shirt
SAN FRANCISCO ALOHA 5K
Tuff's go international again, as Andy Strong & Kirsty Keith report in the US:-
"Greetings from sunny California 😎.
This morning myself and Kirsty ran the Sanfrancisco Aloha 5K. This was a super friendly little race that takes in the beautiful shoreline and Alcatraz before finishing at the foot of the Golden Gate bridge.
It was a fast course and finishers received a flip flop medal, T-Shirt and stacks of goodies. It was a close race for myself managing to catch the third place runner in the last half mile, finishing 3rd overall and first in my age group. This was clearly not a super serious runners event, but you can only run against those who entered and it was fun to make the podium. Age group finishers received a special t-shirt and a 25 dollars voucher for the sports shop.
Kirsty still thinks I might need to reconsider going pro just yet.
We both had a great morning and can't wait for next weekends mountain half marathon.
Strongie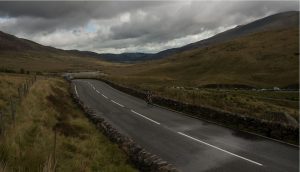 BRUTAL EXTREME TRIATHLON
Plunging into Llyn Padern Lake, a chilly 12-15 degrees in September isn't everyone idea of fun, and for an Full iron distance Triathlon….. Well this was Danny Cunnett entering the Brutal Extreme Triathlon…. in Llanberis with the route around Snowdon.  Following the swim you would not expect a flat bike course and this one had short sharp steep climbs which were matched with long drawn out gut busting ascents for the bike. The run would bring no respite as it was a mix of road and trail running. Another Full Iron distance race complete by Danny. Also when you consider his time of 15:44 over that terrain, total respect.
Great work by Danny at his consecutive Brutal Extreme Tri finish
Anyone would have have thought the Brutal Extreme full Iron Distance would be one just to tick off the bucket list, but not for Danny. He competed here last year as well with just 8 minutes between this year and last years time – Congratulations Danny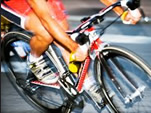 TIME TRIAL
Our Cycling coach, Mr Patterson-Lett is a strong exponent of the merits of Time Trials; so this is a great report from Phil Baker:-
Personally, I think one of the great bits about triathlon, is that whilst we do swim/bike/run races, we can also use our training to do swim, bike or run races, as individual events. I have recently fancied giving a Time Trial a go, so with encouragement from Jon Frost that I wouldn't embarrass myself, I pulled into Aldingbourne Sports Centre at 6am Sunday morning for the 'race of truth'. The Bognor Regis CC Clonmore Trophy 25mile TT. Great flowing course mainly on the A27, starting in a side turning just past Fontwell Park. A few miles ride to the start line to start at 07:18. No TDF ramp to get me going, but a friendly BRCC bloke to hold me up while I clipped in, waited for the countdown and then I was off and racing. With no run to save myself for, a little unsure on how to pace it, but managed to hold a very consistent average speed and a strong finish. Really enjoyed the experience and will definitely be doing loads of these next year. Highly recommended. Finished in 1hr 06:45mins, with an average speed of 22.5mph. Pleased with that.
Phil.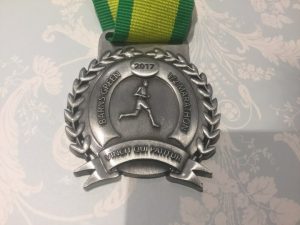 BARNS GREEN HALF MARATHON 
Race report from James Oram: Today my legs felt a little tired for the Barns Green Half after I finally achieved my sub 20 Parkrun yesterday (19:50). But when I got up had a coffee and looked out the window it was another glorious day perfect for running. I battled through the 568ft of undulating terrain and was spurred on by many of the musicians around the course. I lost it a bit in the last 3 miles (ironically the Parkrun distance) but In the end I achieved a chip time of 135:55 (7:16/mi) finished 146th which meant I got a silver medal (first 200) for the first time. I was 15mins 55secs quicker than last year on the course. I was particularly pleased with the medal as the message struck a chord with my philosophy over the past 2 years. The Latin read Vincit Qui Patitur meaning he who endures, conquers. Maybe a gold medal next year (first 100) or is this too ambitious? Happy running everyone!
There was strong running from Neil Rabone (1:51:12) Linda Wright (1:57:50). A recent addition to the festival is the 10k and well done to Ian Moore (49:37) & Leigh Moore (56:20)
James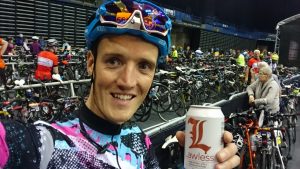 Tom reporting in from Brum
VELO BIRMINGHAM
Katie and I signed up to the inaugural Velo Brimingham (run by them folks from Ride London) as soon as it was announced as it was a good way to visit her family in The North without actually having to see much of them. Katie then proceeded to get up the duff to avoid having to ride 100 miles over the cart tracks, cobbles and glaciers that make up the road network anywhere North of Oxford. My sister, Rosie, then stepped in and promptly had her bike stolen so forewent any form of training for the event.
Registration was at the National Indoor Arena. I was particularly excited by this as I presumed the set from Gladiators would still be in situ from the '90s and I might bump into John Fashanu, Jet or The Wolf. Unfortunately, they had been cleared out for all of the cyclists which made The Wolf very angry. On the plus side there was a bar there and a top draw goodie bag with a KitKat.
On the morning of the event we were late but the organisers were even more tardy so we ended up in our starting pen with time to kill. This didn't matter though as there was an endless amount of entertainment provided by a sea of thick Brummy accents. I still can't tell if they were after a kipper tie or a cup of tea at the start line.
45 minutes later, with a cacophony of clicking cleats, we were off. As we began there was also the rarest of occurrences in The North as the sun appeared. All of the locals immediately leapt off their bikes and began some kind of Pagan dance of thanks and slapping on the sunscreen.
It was a beautiful undulating route, everyone was in fine spirits, and the miles ticked by. The first aid station came at 20 miles and brought the entire 15,000 person peloton to a standstill. It was carnage. After a half hour queue for a banana, Milky Way and a bottle of water we were off again.
More enjoyable riding followed in pleasant weather with some fun racing to the top of climbs for imaginary KOM points.
55 miles in was the greatest organisational issue as the aid station ran out of both food and water. In an incredible showing of kindness and generosity this is where the people of the West Midlands stepped in. All along the route word got round and people came pouring out of their homes with jugs of water and plates of biscuits. It was just incredible.
The race seemed to be really well received along the route with thousands of spectators and huge street parties going on in all of the villages along the route and the crowds were without doubt the highlight. I am going to have to get myself some new gloves after wearing them out receiving so many high fives.
There were, as is increasingly common at mass participation events, some d!ckheads who tried to spoil the party by putting tacks and oil down on the road but the marshals did a great job of clearing them up quickly.
The finish back at the Arena was a real party with FREE BEER from the excellent Purity brewery. The only thing that could have made it better would have been an AWOOGA from Fash!
Tom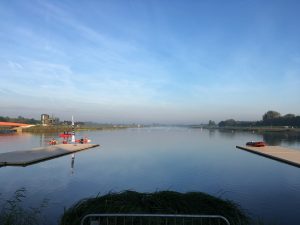 VOTWO DORNEY LAKE OLYMPIC DISTANCE TRI
Phil Baker travelled to Berkshire to race at Eton:-
Having not raced much this year, i decided to try and get one in before the season closed and returned to the very first triathlon I did in 2012.  Eton Dorney can be a pleasure to race at, with its closed roads, all contained within the complex……….but if the wind gets up it can be a tough day at the office.  Water temperature- cold!, about 15 degrees apparently. Had an ok swim but never really got into a rhythm and made hard work of it. 29:45mins. Bike – this is the bit that has been going well for me in recent weeks. Clockwise loops meant riding with the wind on the outward leg of each of 8 laps and riding back straight into a stiff headwind on the return, right between the two lakes and really exposed to the elements. 1hr 13:45mins. Was expecting a few minutes quicker than that, but in the conditions and the results of others, pretty decent.  Run – steady. Two out and back loops along to the end of the lake and return on a parallel road. Flat and 'should' be fast, lol.  Have let this discipline slip over the last couple of years and need to work on it again. 49:35mins, could have been worse, so I'll take it for now. Finished in 2hr 38:40mins.  Dorney is a great place to race if you don't mind the multiple lap format. Some like it, some hate it. The bike course twists about on the outward leg just enough to test your cornering ability, especially if you want to stay on the tt bars. It really does feel like your racing on a motor racing circuit at times and at times the return straight just cooks your legs. But there is nothing to disrupt your race, no cars, no roundabouts, no traffic lights etc. Give me a triathlon at a rowing regatta lake any day, I seem drawn to them!!
Phil
JERSEY SUPER LEAGUE TRIATHLON
Next a report from Paul Martin:-
Where do i begin? How about mid July. I was sitting on the bed checking a social media update from superleague (who i've followed since watching the Hamilton island event earlier in the year) with details of the next event. The post read 'Superleague is coming to Jersey', I checked the dates, 23-24th September, I'm free that weekend, so i turned to the wife and said "do you fancy a dirty weekend in Jersey at the end of September, without the kids?" (I turned 40 in August and we were looking for a weekend away to celebrate anyway, Perfect!) "yeah ok " she replies "I like Jersey" (we've been before) so she set about finding somewhere to stay. I thought i better come clean early on and told her about the event, "not problem, it is for your birthday after all" came the reply, get in! One bed apartment Friday to Monday and a couple of easyjet flights for a couple of hundred quid all booked.
Friday 22nd, good afternoon flight over, apartment was very good for the small amount paid and just a 10min walk to the Superleague venue, things were looking good.
Took a walk over to the venue that evening to see what the spectator areas were gonna be like, it turned out you could pretty much watch from anywhere, fantastic, so we strolled through transition (yes through, which was all set up ready for bike racking for the corporate mix event in the morning) and along the finishing shoot. Banners and LED boards and screens all over the place, it looked fantastic. Right, couple of pics, bit of dinner and off to bed.
Saturday 23rd, glorious sunshine, shades on, lets go! We decided to give the morning corporate mix event a miss and come back at 12pm to find a spot to watch the elite Mens event. We managed to cut through the hotel that all the pros and organisers were staying in and passed by several of the not so well known pros without even realising, palm to face moment. Got to the other side and found a great spot to watch and film the start. The horn sounded and off they went, Holy S**T! over the next hour or so i witnessed the fastest and most awe-inspiring racing i have ever known! We worked our way round the course throughout the race taking pics and videos and shouting support. Got the Tuff-fitty banner out in a few spots to try and get some TV coverage (not sure if we did or not) and took a few pics with it too. Found a good spot to see the finish and it was Blummenfelt, Murry, Brownlee, respectively, they had been well clear throughout the race so well deserved.
The women were up next and they did not disappoint! Same spot for the start, get in, Brits, Sophie Coldwell and Jodie Stimpson lead for a fair part of the race but were outdone in the end by Zaferes, Spirig and Cook. We did the same as for the mens race and worked our way round the course shouting support and taking pics. It was amazing how close you could get to the racing and with the course being really short there was always someone to watch. When the womens race had finished the spectators were welcomed onto the course and into transition to greet and congratulate the pros, wow, more pics and lots of grinning ensued! Day one done, found a nice restaurant for dinner and took ourselves to bed. Didn't sleep much, to busy grinning and going through the photos and videos taken.
Sunday 24th, cloudy and raining, it couldn't have been more different conditions. This was gonna be a tough day for everyone. Ladies first this time. We went looking for a sheltered spot and found a few places round the course, caught site of a few very nasty crashes on the bike sections, lots of skin and tri suit left on the course today, ouch! We worked our way round and decided to cut through the hotel again, glanced over to the bar area and it was fairly empty with an outside area looking over transition and the run up to the finish, no one there to say we were not allowed to be there so took the coats off, bought a drink, took a seat and watched the event through the window and over the glass balustrade between showers. I came back in during a shower just as Johnnie Brownlee wandered through the bar in front of me, just enough time to say "good luck today Johnnie", to which he replied "Thanks mate, let's hope i do better than yesterday" , (a slight shoe fitting issue in the last transition lost him a few valuable seconds, which was to much for him to be able to catch Murry and Blummenfelt). More grinning ensued!
Todays racing was made even more thrilling as the field was cut to 15 after the first swim, bike run, then to ten after the second swim, bike, run so there was racing within racing! Awesome!
I watched and cheered all the ladies up the finishing straight to blaring music, applause and cheers after each tri and the final sprint to the end. An amazing finale for them and well deserved, non of them held back despite the dangerous conditions. I saw a few of them hobbling back in to the hotel bandaged, bloodied and bruised, including brit Emma Pallant. Final result, Zaferes, Cook, Spirig, well done ladies, just a little to much for the brits at the end.
Now for the men. We walked round a bit of the course in the rain then decided to get back to the Hotel for most of the race this time as the view was good and there was a big screen a little further down so we could keep up with the racing we couldn't see. As with the ladies, the field was cut after each tri and they also did not hold back. A few of them definitely left with a lot less skin than they arrived with (brit Ben Dijkstra being one of them) The racing was fast and furious and a little tighter than yesterday. Still Blummenfelt, Brownlee and Murry in the mix but joined by a few others Schoeman, Royle, Hauser, Mola, etc…
Again, we cheered them all up the finishing straight after each tri and to the final finish line. Blummenfelt took it convincingly on the final run with Johnnie not to far behind and then followed by Murry a few seconds later. Blummenfelt was outstanding all weekend, the win was well deserved, and after being pipped at the post in the ITU grand final by Vincent Luis the weekend before you could tell he really wanted this one.
I slumped back in my chair still grinning and thinking this couldn't get any better, well, it did. As i sat there the pro ladies started appearing in the bar area, right, selfie time, i managed to collar as many as i could even though it only seemed to be me and half a dozen of the Jersey kids tri club that was approaching them asking for autographs and selfies, i don't think many people realised that the hotel was still open to all, felt a bit like an old stalker at times but what the hell. Then the men started coming in with their bikes, well i say men, when you see them on the telly you think they are these big, tall, strong, machines, when actually they are normal young lads and ladies that are just bloody fit!
All of them were more than happy to talk and pose for selfies even when a few of them were battered and bruised and no doubt knackered. I spoke to Dan Halksworth (a Jersey Lad who did brilliantly and had the whole Island behind him) as he came back in with his bike and who's last comment to me was "you better get the selfie in now cos i'm about to go and get smashed", and rightly so!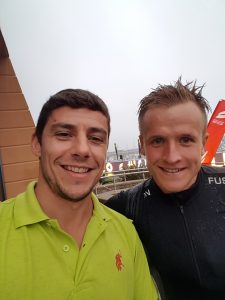 Just to show how normal these pros are and to top off the weekend we shared the easyjet flight back on Monday with none other than the winner Kristian Blummenfelt, Current ITU world champion Mario Mola, Agnieszka Jerzyk, Laura Lindermann, Joao Pereira and a few others who's names escape me. We returned home a very happy couple.
I apologise for rambling on so much but this weekend was, by a country mile, the most amazing, awe-inspiring, fast, competitive, and friendly event, sporting or otherwise, that i have ever attended or even seen for that matter. Credit to the Super league organisers and the islanders. I understand that they are planning to do this event in Jersey for the next five years so if you want an amazing weekend i could not recommend this enough. All the pros seemed to enjoy the format aswell and i think all have said they will return next year. I am certainly hoping to. I have added a couple of pics with this report and will be posting a load more including videos on my Facebook page soon, link below.
https://www.facebook.com/gpmsignsltd
I hope you enjoyed my ramblings as much as i enjoyed the weekend.
Yours still grinning
Paul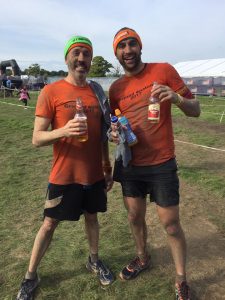 TOUGH MUDDER
Tom Gray formed part of a team to get down and dirty at Tough Mudder London South.  The event works around teamwork based obstacle courses over 10-12 miles designed to test all around strength, stamina, mental grit and camaraderie. Tom coped admirably, but then he is a Tuff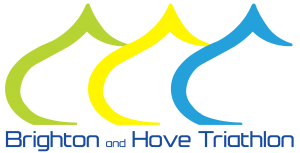 BRIGHTON & HOVE TRIATHLON 
Following last weeks mention Nick Bolding has provided his thoughts on the event:-
I only started triathlons this year – a work colleague was training for Arundel and I got interested as I was bored of 'just running'. I've been sticking to sprint distance and close to home so Brighton & Hove seemed like a great way to end the season, particularly as a (different) colleague and his girlfriend were also planning to compete.  Brighton & Hove Tri was very different to any of the others I've done this season, for start it's way more expensive at £75!
I took the train over on the Saturday to pre-rack my bike before the day. The 'race village' was in full swing with Zumba demonstration, race-food vendors, regular-food stands, tri clothing etc.
Check in was quick & easy and then into transition to put my bike in my numbered spot, security looked good and I had no worries about leaving my bike there overnight.
Back at home I applied my race number tattoo so I had one less thing to do on race day… though as my age group start wave was 12:30 it wasn't like I was was going to be pushed for time!
Race day conditions were excellent with flat sea, sun and a little breeze. If anything it was a little too warm whilst waiting on the promenade and after a painful walk barefoot across the pebbles to the start zone it was a pleasure to take a quick plunge in the sea and cool off.
I'm not a great swimmer – well that's not entirely accurate… I'm pretty good at breast-stroke but I have 'sinky legs' when trying to swim freestyle so have been avoiding it in pool swims. This was a sea swim though and in a wetsuit as well, so I resolved to try to do as much freestyle as I could.
We were counted down and with a chorus of beeps as everyone started their own timing devices we plunged into the sea. It was refreshingly cold, very murky and there was a fair bit of contact until the pack split up. I was doing OK but there was a fair bit of East-West tide and at the first turn I found myself being pushed onto the buoy and hemmed in by other racers but a couple of quick breast-stroke pulls and I got clear and settled back into freestyle.
After that it was just a bit of slog with pauses to sight and re-orient as the tide pushed me off course. It was a relief to feel my fingertips brush the bottom and as I wobbled to standing I was helped out I was pleased to have done the whole swim (bar a couple of strokes) freestyle. I staggered up the beach – nearly a 45 degree slope near the top and into T1.
I'd rehearsed the 'entry-to-bike' route a couple of times and consequently was able to find my bike pretty much on auto-pilot. The pre-race liberal application of Tri-slide worked wonders and I shucked off my wetsuit easily, grabbed my helmet, slipped on my shoes (still nervous of trying the 'flying mount'!) and ran my bike out to the closed-road bike course.
This was the first bike course I'd done that would need more than 2 loops of the course and the race info hadn't provided either the loop length or number of loops, however I'd scoped it on Google maps and determined it was 5km/4 loops. 2.5km straights with 'dead turns' at either end and as ever it seemed there was a headwind in both directions.
I'd like to say it was a fast, uneventful ride… sadly I can't. On the second dead-turn I decided I didn't want to lose time by slowing as much as the people in front of me were so I 'went in hot', leaned hard into the turn and as I came out of the apex started to pedal… a bit too early as my spd hit the tarmac kicking the rear wheel up and sending me heading toward the crowds of onlookers one leg flailing in the wind after getting whacked by the crank arm, the other resolutely clipped in. Somehow I managed to recover and, with an audible gasp from the crowd and a 'primal yell' from me I tried to power back up to speed hoping nothing on me or the bike was badly damaged.
I took the rest of the corners a bit more cautiously after that but next time round as I approached I did hear one young lad say to his friend "Watch this guy, he nearly crashed last time!"…
It was a bit dull riding loops and something I think would put me off in future. I also appeared to leak about a pint of seawater out of my nose – is this normal??
Finally the laps were done and I leapt off my bike in the dismount zone (praying my ankle would hold up) and ran in to T2.
I'd tried to put my kit in such a way as to make it easily spotted… it wasn't, and I ran right past it. Given that there were reasonably easy to read numbers on the racks I could simply have counted along to my spot – seems so simple in retrospect!
Off with the bike kit, on with the running shoes and a quick 'swing' of my race belt so the number was in front as I jelly-legged to the exit and onto the promenade for the run.
Please, please someone tell me running after getting off a bike gets easier… Anyway, this is technically my 'best' discipline so I just tried to remember Wardy's advice from the track sessions to 'run tall' and 'lean forward from the ankles not the hips'.
The run was 2 loops and I have to say getting to the end of loop one and having to 'go left' for another one rather than straight on for the finish was a bit demoralising. I slugged it round again, taking some solace from the fact that anyone I passed I was genuinely overtaking as they must have been in my start wave.
The sight of the finishing arc couldn't come fast enough and it was with a somewhat feeble 'air punch' I crossed the line for a time of 1:21:49.
Not my best overall result but I was pleased to have completed the swim using freestyle and I clocked my best run time so overall I was pleased.
Pro: It's convenient, it's probably a quick course if the sea conditions are good, the race village is pretty lively and if you had supporters with you they'd be entertained
Con: It's expensive, the closed-road bike course is dull and if you were doing the Olympic distance 8 laps would be very dull, the run on the promenade isn't closed so you have to avoid walkers, dogs, cyclists, rollerbladers etc.
Would I do it again? I'm not sure…
Race souvenirs: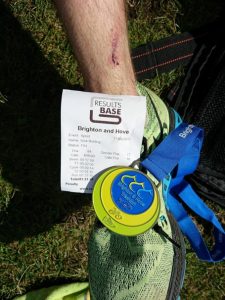 Nick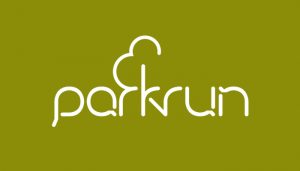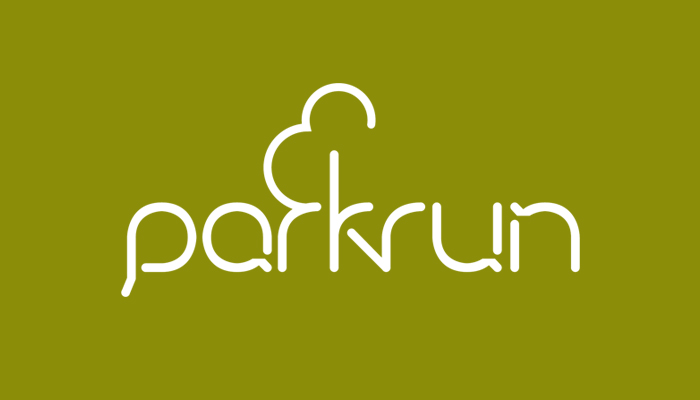 PARK RUN 
At Worthing. Tuffs running on Saturday were Tim Kenny. Also another new Tuff on the Park Run scene with Nick Bolding undertaking his first, and what a debut – 19:37. Also congratulations to James Oram who has been working towards a sub 20 minute time. He has raised the bar a long way by smashing his target, crossing in 19:50.   Up at Horsham, Ian & Leigh Moore also ran prior to their Barns Green 10k