Weekend Round Up 20th 21st January
Whilst the weather hasn't been kind there are still club members venturing out for training and the following races/expeditions:-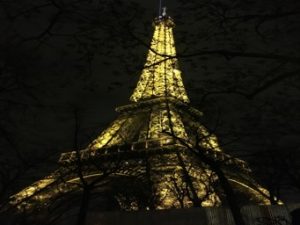 PARIS CYCLE
David March reports in from an epic adventure:-
"I found myself with a spare weekend, no plans, no commitments, and a relatively clear weather forecast. So what should I do? Triathlon training of course.
With a Half Ironman coming up in the Summer I thought it would be a good idea to train my weaknesses, ie: the bike leg. So I booked an overnight ferry to Dieppe on Friday night and decided to cycle the 127 miles to Paris on Saturday, staying for the night and returning by train and ferry on Sunday.
Now anyone that knows me, knows that I don't really cycle that much, I commute to work which is 3 miles each way and that's it. But cycling is mainly sitting down so hard can it be?
The answer to that, surprisingly, is not that hard! I actually found it more challenging cycling to Newhaven for the ferry than from Dieppe to Paris. Highlights were regular coffee stops, almost non-existent traffic, a Barn Owl as a literal wing man for a 100m stretch and the royal forests on the final approach before the Eiffel Tower.
Personal lowlights were the 2 hour sleep on the ferry on the way over there (should've got a cabin) and 50 miles in the dark to start (do it in the summer)
I'd highly recommend this route http://www.donaldhirsch.com/dieppeparis.html to anyone wanting to have a go at it, training optional.
Dave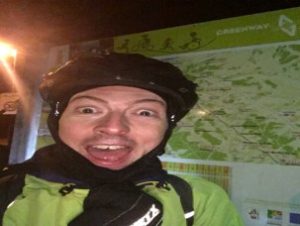 Marchy still cheerful after the time in the saddle
FARNBOROUGH HALF MARATHON
Stuart Harvey reports in from the frozen 1 degree venue of one of the first half marathons of the year
(Freezing Frolics at Farnborough)
'These things always seem like a good idea at the time' was the common thought as we awoke at 5 AM last Sunday. It was Farnborough Half Marathon and a team of Tuff's were making their way to Hampshire to compete the winter event. Due to the conditions it was register and straight into the Aviator cafe for coffee where the brand "Grumpy Mule" seemed to sum up the mood.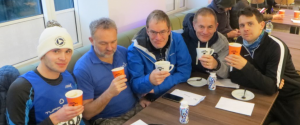 Taking place at Farnborough airport, the race offered many of us the first chance to get our 2018 bling count off to a fine start. The Tuff contingent this time featuring, Glenn, James, Rachel, Trev, Clive and I.
Starting and finishing under a World War 1 airship hanger, the course itself was a two-lap affair essentially taking in the perimeter roads of the airfield. Billed in the run-up to the event as a fast and flat course, it was anything but, proving a real challenge with ever-changing gradients. For good measure, the route also included a pretty steep hill that must be ascended twice before you get the respite of the finish line. The course itself registering a total ascent of 540ft.
On the morning, it was bitterly cold with heavy snow arriving, conveniently, just in time for the start. Whilst not settling on the ground, it still provided an extra challenge for us hardy runners as James Oram was to find at his peril, as he almost choked on a more sizable snowflake. He later likened the snow storm to providing 'mobile slush puppies' as he stormed his way around the course.
The below photo perfectly displaying James' feelings of the day.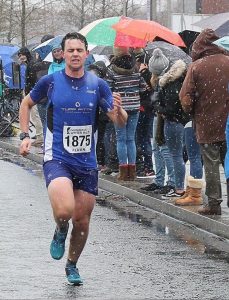 James sprints for the finish
Due to the arctic conditions we were about to brave, I donned the ever faithful black bin back to provide warmth around the course with the intention of ditching it a few miles in. Genuinely not ever getting anywhere near warm, the bin bag stayed on for the duration, seemingly to the appreciation of the crowd as 'COME ON BIN BAG' was hurled in my direction.
After 13.1 miles of pain, cold, snow and bin bags the finish line was a very welcome sight. It also meant it was time to head to the coffee shop (again) to warm up the feelingless fingers and toes and to tuck into Rachel's lovingly crafted homemade cookies, the now proven nutrition of Tuff Fitty athletes.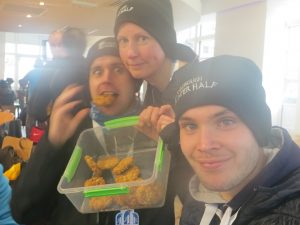 Despite the challenging nature of the course two Tuff's came away with personal bests. I managed to shave just over two minutes off my previous best, clocking in at 1:35:34 which I was very happy with. (Must have been the bin bag!).
More impressive though, was the effort put in by James Oram. Highlighting breaking through the 1hr 30mins barrier, for a Half Marathon as one of his headline goals for 2018, he duly obliterated this target with 2018 just 3 weeks old, clocking in at 1:27:48. That's over 6 minutes quicker than his previous best time, which he set at Cardiff Half last year.
Rightly pleased with his achievement, James had this to add "Chuffed to bits with getting my time – was not expecting it with cold weather and snow! Maybe it was the prospect of Rachel's cookies!".
Rounding out the rest of the Tuff Fitty entry was Glenn, clocking in well under the two-hour mark, and then Trevor who edged out Clive for 2nd Harvey home and then Rachel, who was hot on the heels of those ahead finishing very soon afterwards.
Despite the early morning start, by the time we got to the finish line we all agreed that it was a morning well spent with good company. The extreme weather adding to the challenge and making it that little bit more memorable. A chunky medal, free beanie hat and as much free Yazzo as you could grab made for a bulging post-race goody bag.
click arrows to move through gallery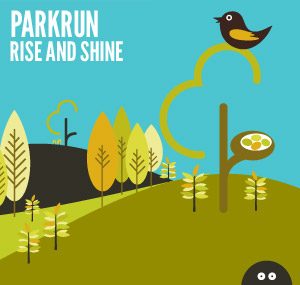 PARK RUN 
At Worthing Park Run, there was less Tuff participation this week. Jay McCardle  crossed the line in 21;52 as first placed club member with Tim Kenny also racing. Amanda de Ridder was on the organising team this week.
Ian Moore explains that the Horsham Parkrun has been moved to Southwater to give Horsham Park a rest for a few weeks. They used to use the paths in the winter but now with over 400 runners it's too narrow. At this stage he wasn't sure how long it will be at Southwater, it very much depends on the weather over the coming weeks.  Ian will let us know in case anyone wishes to travel up to Southwater in the meantime.     Ian & Leigh Moore ran the Southwater course this week. They told their dogs Sam and Ruby  they were going to run Park Run and received waggy tails on the news. However he felt they were not so impressed upon realising they were running there and back to accumulate an extra 8 miles to the standard 5k Park Run distance!