Weekend Round Up 6/7th – 13/14th January
TUFF TRAINING IS ALL YOU NEED 
Club members are stepping up their training with good numbers at our regular training sessions this New Year. There have been particularly strong numbers at our Wednesday running track sessions, both our swim sessions and the Saturday morning runners are starting to up their mileage (as the banner picture above shows)
Apart from reminding everyone about our very strong portfolio of coaches at our sessions, please note that swimmers should now start to bring T-shirts along to Littlehampton Pool to wear for part of the swim set. Some lanes have been asked to bring for the 20th, with Thursday swims looking to utilise T-Shirts in February. Have you tried any of our coached sessions recently?  Very highly recommended.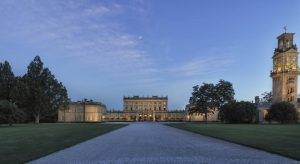 CLIVEDEN CROSS COUNTRY 10K
Stuart Harvey submitted the first report of the year from Taplow in Berkshire situated above the River Thames – he writes:-
With 2018 barely a week old, Sunday 7th January saw Clive, Trevor and myself tackle the Cliveden house cross-country event, a 6-mile race, a venue made famous during the Profumo affair.
Travelling up before the event and staying at Trevor's we had time to indulge in the now renowned pre-race lasagne which is lovingly made and hand prepared to perfection by Trev himself. Aware of some tough terrain to face in the morning it seemed acceptable to scoff 3 portions of said lasagne. (Well in my mind it did!)
Waking up bright and early it was pleasing to see clear blue skies. Albeit freezing cold, the clear skies and bright winter sunshine was a welcome sight over last years conditions of wind, rain and fog.
Set in the grounds of the renowned Cliveden house in Berkshire the 2 lap race takes place over the house's surrounding greens, woodland and Thames riverside and is a tough mix of terrain, with mud and grass underfoot and the added addition of running up the notorious Cliveden steps, not once but twice, resulting in a total step count of 394 steps at a gradient of 19%!
With over 600 runners in attendance, it was an elbows out fight for position during the early stages of the race as runners filter down into tight single track trails as we entered into the woods. Out of the woods, literally but not yet proverbially, you are met with a pleasing downhill section before you face what is to take you back up again…
The first ascent of the steps comes at 2 miles. A breathless push up the steps which leads you to the start of your second lap, before heading back into the woods again. A quick blast along the Thames' slippery river bank and its time to face the steps again, taken not so spritely the second time around. A final push past the house and it's across the finish line to get your hands on your hard earned garish, fluorescent yellow race t-shirt.
An overall elevation gain of 666ft, mostly from the steps alone, shows just how much of a devil the course was.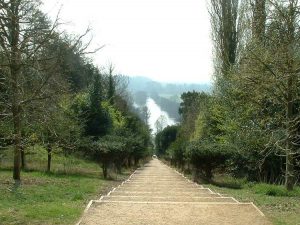 The steps – all 198 of them…Twice!
I was first Tuff home in a time of 47:43 which I was really pleased about having shaved just under 7 minutes off of last years time. Next in was Trevor,  then Clive who rounded out the 'Tuff Harvey' contingent.  A challenging but enjoyable way to kick off 2018's racing year.
Stu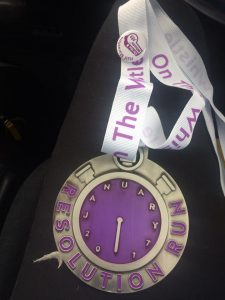 2018 RESOLUTION RUN
Also on the 7th was the Resolution Run – this is a 6 hour timed multi-lap event with each lap being approximately 4.4 miles long. The trail is  compact gravel for the whole course. Runners could complete 1 lap to be an official finisher of the event and qualify for the bespoke medal or they could continue and complete more laps.  Complete 3 laps for a half marathon, 6 for a marathon, and 7 for an Ultra.  The location was the Hayling Billy Line on Hayling Island. There was only one Tuff present – Linda Wright.  She undertook six of the laps to complete the 26.4 mile marathon distance in 4:33:16 crossing 21st overall.  Linda entered this event last year as she started her build up to her great marathon season completing 4 laps in 2017 to accumulate 17.6 miles. If you fancy these lap challenge events later in the year there is another 6 hour challenge and even a 12 Insomniacs challenge in Havant at the end of June!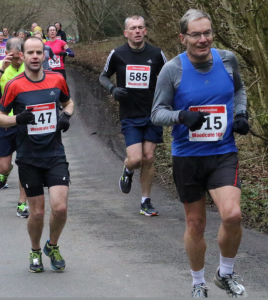 WOODCOTE 10K 
Another weekend and another race for Trevor Harvey who undertook the Woodcote 10k (just north of Reading) on the 14th January. Trev reports:-
My second race of the year, but the first bit of bling.
Pre race blurb states – "The Woodcote 10K appeals to runners who enjoy a challenge. Completing the undulating, meandering, course through back roads flanked by woods and farmland, gives a real sense of achievement". Basically the first 5 K are downhill, the next 5K up.  They state Total descents 2.39 miles; total ascent 2.83 mile and only 0.97 miles billed as level.
A good scenic race. Free tea coffee and biscuits both at the beginning and at the end.
It did however bring back memories of a Tri I did almost 30 years ago at the Oratory School, which was next door to the 10K start.  Back in them days, a 'big' Triathlon had circa 40 people racing, the majority in speedos, like me, and back then with my porn star moustache!!!!  (Luckily I don't possess a scanner so you are spared the photo!). I suspect the T shirt still festers somewhere along with literally hundreds acquired since then!
Trev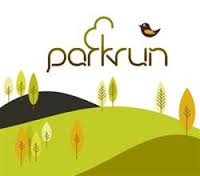 PARK RUN 
There are two weeks of Park Run to bring you up to date on.
6th January – Ian Moore ran at Horsham Park Run.   However did you know that  from Saturday 13th Horsham Park run is now staged up at Southwater Country Park – a venue that Tuff's will know well from Southwater Relays. The route goes around the lake and along the old railway line – tempted? Closer to home at Worthing Park Run James Oram is consistently hitting his sub 20 target with a 19:49. Antony Oliver crossed in 23:06 and Amanda de Ridder in 24:30.
13th January.  That Tuff trio were out again at Worthing Park Run. James Oram crossed in 8th position overall exactly matching his pb of 19:30 – impressive particularly as the course was windy.   Antony Oliver clocked up his 27th Park Run in 23:08 and Amanda de Ridder her 46th in 24:54. It was great to see Dave Priest back out on the course, shaving 51 seconds off his PB & Tim Kenny rounded out the Tuff quintet.    Good work from the Tuff collective.
Please remember to submit a race report of your exploits to clive.harvey@tinyworld.co.uk  – if you have a photo – even better