Weekend Round Up 24th 25th January
We start off this round up with the challenging 28.2 mile marathon which is the Dark Star Marathon staged by Sussex Trail Events and our very own Chris Ette, Danny Cunnett & Jay McCardle. Two club members participated. Jason Rae takes up the story and with acknowledgement to Jon Lavis who was snapping the photos in the mud.
DARK STAR MARATHON
I couldn't have chosen 2 more contrasting runs as my first exercise since the tendinopathy in my Achilles. Having been advised not to run for a few months my frustration got the better of me. On Saturday I put my trail shoes on , put Daves running harness on and headed off to Hotham Park to try out the Achilles. Dave was his not – interested self again and we were soon at the back. Fortunately a friend took him so I could do a slow run. The Achilles felt ok so I decided Sunday was on. I usually help out the guys at STE so arrived at 7.30am. These events are brilliant as the whole trail marathon community seems to know each other and support each other. The race started at 9 with a mile on tarmac before joining the river Adur bank. The conditions underfoot got progressively worse, especially so for the 6 miles between Upper Beeding and Henfield. Being near the rear and taking it easy meant running along paths that had already had 150 or so pairs of trail shoes on them. The stiles were very muddy and slippery and staying upright was a task in itself. Once at Henfield there was 7-8 miles of easier terrain in the Downslink. The lead runners were already on their way back and as I approached the turn point I passed Geordie Paul Atkinson. His pre race prep had been as strange as mine in that he had been out on the lash on the Friday night celebrating his birthday – 3 marathons, 3 hangovers. Will he ever learn !!!. By now the 5 weeks of not running had me down to a walk run strategy to get back, losing a few mins at each water stop to chat to the ultra runners who take turns in giving up their time to marshal.
Before long I was back on the river bank sliding and slipping towards Upper Beeding way off in the distance.
I caught up with a lady running with a VI runner, they had been turned around some way short of the turn point but to even attempt what they were doing was nothing short of amazing. The 8 miles of downslink gave most runners a break so to stay on the muddy river bank for a continuous 6 miles out then turn back must have been so difficult.
Once back at Upper Beeding you know the worst is over. A few sweet treats and a chat with Jay Macardle then it was a shuffle back towards Lancing College in the distance. Cuckoo corner is always a massive psychological part of most STE races. Once here it's a short way to the A27 underpass, the wooden bridge , then the bumpy path to the finish. A can of Darkstar lager , a coffee and a vegetable chilli were at the finish, before a trip to David Lloyds for a Jacuzzi.  These events are as I've said before pretty amazing. You can run massive marathons like Brighton and only chat to 2 or 3 people but at these everyone is supportive, I've made loads of good friends who like seeing each other challenge themselves but enjoy themselves at the same time.
Jason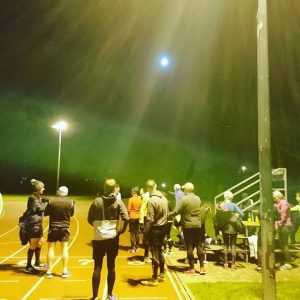 TUFF FITTY TRACK SESSIONS
Wednesday 31st January was absolutely bitterly cold. So what to do? peek out from behind the curtains and see the Blue Moon or venture out on the running track.  Well we are 'Tuff' so it was little surprise to turn up and find a brilliant turnout from club members; most impressive given the conditions. These sessions under the guidance and coaching of Dave March and Andy Ward are superb and is proving to be a great magnet to get new people along to try, as was the case this week; well done Sandra. Have you tried the track sessions yet?  You would be most welcome. Thanks to Andy Vincent for the photo  (with blue moon)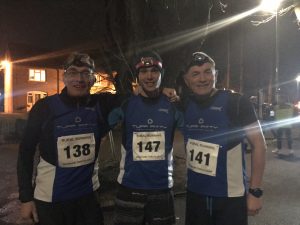 WICKHAM TORCHLIGHT 10K 
Clive Harvey reports in from a different event; a night time 10k billed as the 'Night Train to nowhere'
I had seen a couple of other Tuff's had 'liked' the Wickham 10k on Facebook so I added it to the Tuff Calender but it filled so quickly with a capacity of 150 that only three of us got in with Stu getting number 147 before it closed.
This was an out and back route along the disused Meon Valley Railway. For those who have run along the Downslink it is similar, with cuttings and a couple of bridges to run under or to cross, mostly shrouded in a canopy of trees. Oh, there was one major difference, Downslink is generally not muddy…….but this was.
A condition of entry was to wear a headtorch, which was needed in the pitch black conditions and with such a wide diversity in finish times, running back we were dazzling runners coming the other way & visa versa which made it difficult to miss the mud, which whilst not deep did make keeping traction difficult. Whilst dark, there were 1k markers along the route
Clive
Trevor stated the pre-race briefing was helpfully as they just said run straight out and turn at the 5k marker  (No sh** Sherlock!). Having to walk down the track over the start line to begin with there were a lot of people at the front who shouldn't have been, but once we were underway you could easily get into your stride.  Another good run from Stuart Harvey who finished in 13th position overall & even myself and Clive were comfortably up the field.
A good race, well organised, with a nice medal, bag of nuts and drink at the end.  This Tuff trio will be back;  a head torch run certainly puts a 10k in a different perspective! Anyone else fancy this as there is another one scheduled for Friday 12th October  at 7pm. Clive has added it to the race calendar
(Education time; the Meon Valley Railway ran between Alton & Gosport.  It was not a success and closed in 1955, but it was picked, four days before D Day, for the principal Allied leaders; Winston Churchill; Dwight D Eisenhower; Jan Smuts of South Africa and William King of Canada, to meet on a train ish in the race area to discuss the invasion.  The venue chosen as it was 'safely obscure'!).
Trev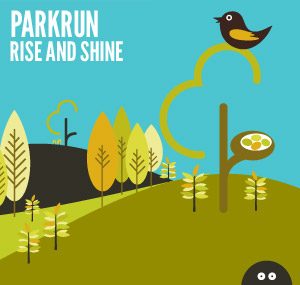 PARK RUN 
We learnt above that Jason Rae undertook the Bognor Hotham Park run as a warm up for Dark Star. Other than that there were just three club members who raced the Worthing Park Run.  Antony Oliver was the first club member home in 22:12, Amanda de Ridder crossed at the 10th placed female and Tim Kenny rounded up the Tuff contingent – well done all.