Weekend Round Up 26th 27th August
Whilst a Bank holiday weekend, it didn't stop club members from another great array of activities. With so much action, rightly so, a separate article is being prepared to cover the Europe Triathlon Multisport Championships held in Menen in Belgium. Equally the second year of the Tuff 'Olympic Excursion' also warrants separate coverage. Claire Moyle is now well into her LeJog – (Lands End to John O'Groats cycle over 19 days) But this still left cracking race action at Arundel below:- .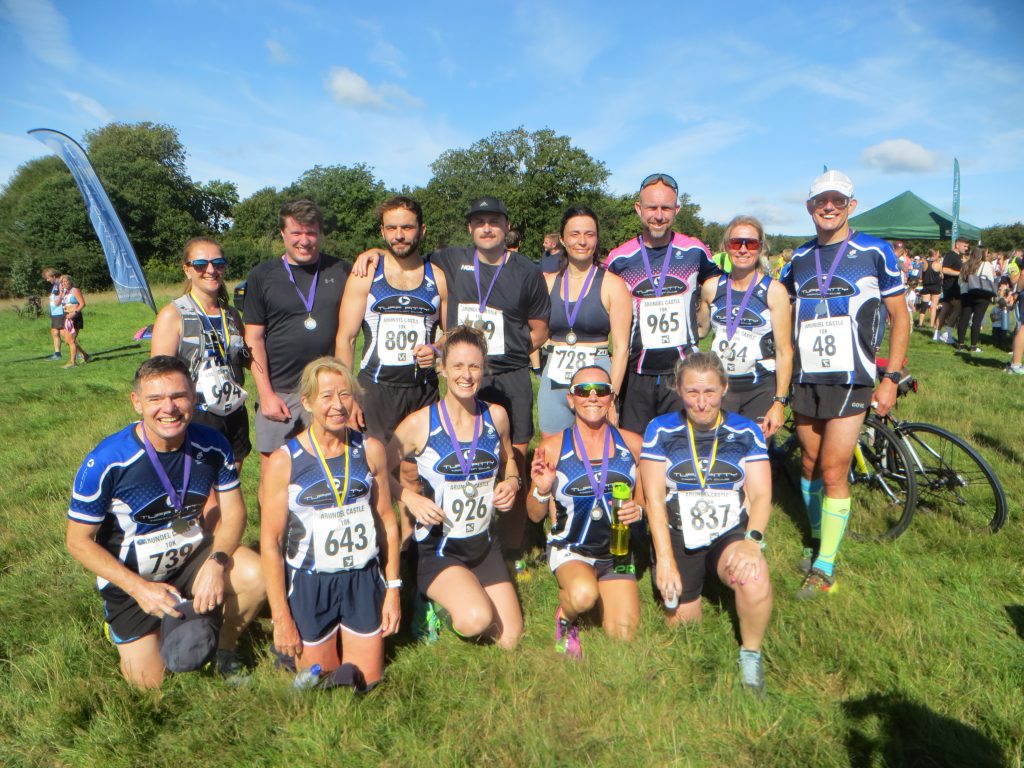 ARUNDEL 10K
Arundel 10K has a long history running alongside Arundel Festival, so a very well established race. Thankfully Sunday morning dawned to clear blue skies with the terrain firm underfoot. Whilst a large Tuff contingent had entered in advance, more club members entered on the day and the Tuff turnout was a very impressive twenty eight runners. Seaford Striders having experienced the scenic course last year returned this year with a coach carrying 33, by far the two largest clubs present. Could Seaford depose Tuff Fitty who were the reigning team champions?
Racing at the European Championships on the face of it didn't deter Mark Walford has he sped home 12th overall and 2nd in his age group in just 41:36. With a course around Downland grass, trails, tarmac and through Arundel Castle across the drawbridge, this was a very good time. Marc Flinders was our next runner home in 43 minutes another strong time considering everyone covered 570 foot of ascent. Gareth Coombes crossed just 20 seconds later and these three had been three quarters of our winning team of four last year. A strong run from Steve Fryer followed, 4th in his age group, and then Tom Frith was our fifth runner. Stuart Harvey ran strongly and then Dom Amey crossed the line just 28 seconds later, with our top seven under 49 minutes.
The great running continued as Malcolm Brown was next and Carey Woods finished as 15th female and 6th in her age group. Jay McCardle followed with Clare Worgan finishing 5th in her age group. Tuff vests were now streaming across the finish line with Oliver Thomas, then Kate Cooper 8th in her ten year age group. Adrian Oliver, Les Pearce (9th in age group), Kev Pearson, Colin Simpson, Callum Kalbfell & Jess Coombes finishing under the hour.
It was good to see Wendy Frost complete the Arundel course for the first time and then Janet Shepherd finished as 3rd in her age group – brilliant. Ness Green and Vicki Hedger ran together and fittingly were accredited with the same time. Good to see Mouse Reilly back from injury. Nina Tully, Wendy Kane (what a way to celebrate her birthday) , Elaine Rousseau and Kate Evans demonstrating what a strong squad we are able to have out running.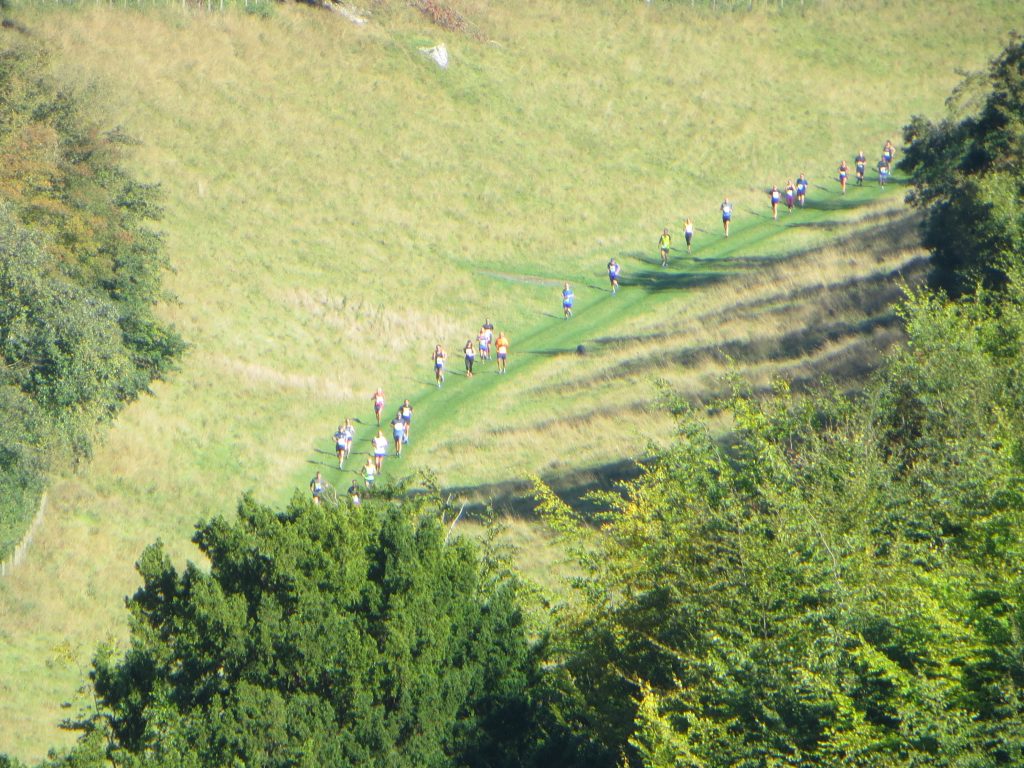 The view of runners coming down target valley before the climb back up towards Hiorne Tower.
Unfortunately Seaford managed to get their first four home ahead of Tuffs so gain the team prize this year. However it was still a great morning in the sun with some PB's and thanks to Olivia Morey, Catharine Western, Sue Simpson, Tiff Orton, Andy Gomm as Team Tuff cheerleaders. With Clive Harvey as Race Director that was an impressive 34 club members in Arundel Park – congratulations to all over scenic, but tough terrain. We are grateful to Vicki Hedger for reporting in:-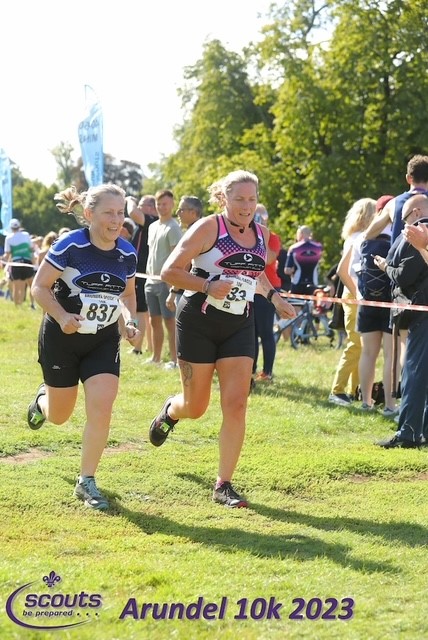 Vicki & Ness
The last time I ran the Arundel 10k it was about 20 years ago which meant the route was just a distant memory (I just wish the hills were!)
It made a pleasant change to see that big yellow thing in the sky and the forecast was perfect for an enjoyable run with my fellow Tuffs.
As per usual, I started the run with Ness. We always run together with the understanding that if either of us feels stronger then we separate and run own race. On this occasion, we ended up running together the whole way round. Correction: we talked the whole way round! (Ness had been on holiday and we had a weeks worth of catching up to do). I can totally recommend nattering your way around a tough course because the run doesn't seem so bad. What amazed us when we saw the official photos was how happy and smiley we both were – not a grimace in sight! Even our running step was in sync.
The course had some great views and the meander through the castle made it feel a bit different from your average trail run. A quick shout out to the Marshals who were excellent especially the lady at 8km. She had more energy than a Duracell bunny and really motivated us to keep going until the finish (that, and the thought of a juicy burger afterwards to celebrate Wendy K's birthday)
All in all, it was a brilliant run and the only injury I sustained was a serious case of jaw ache 🙂
Vicki
More Tuff snaps follow by clicking on the photo below to open the album:-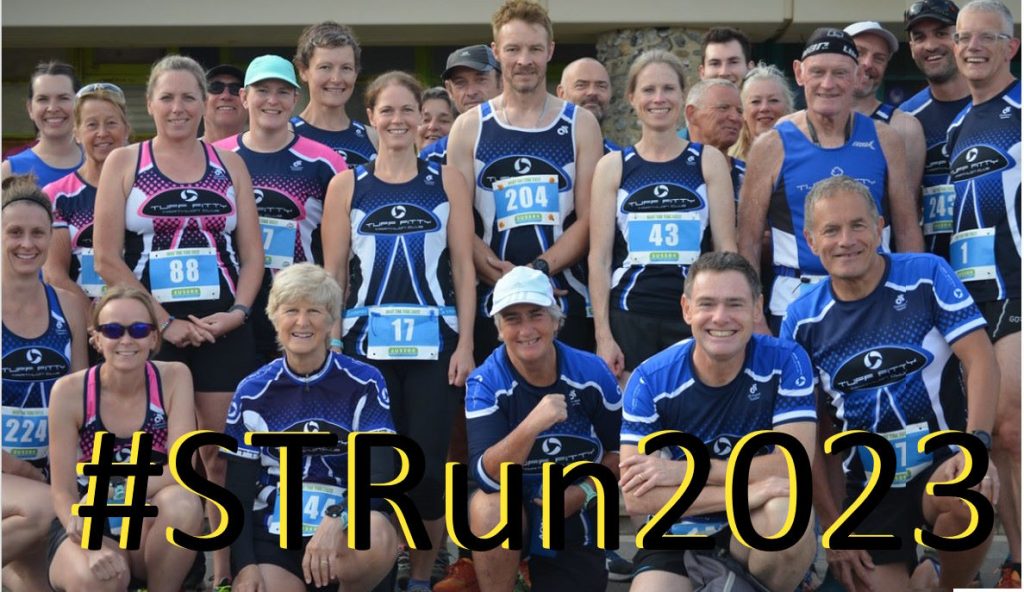 STRUN RESULTS
With Arundel 10k concluding the Summer Tuff Run series, thanks to Captain Adrian for compiling the final table. It was a closely contested series again this year with runners times graded according to gender and age. Simon Thistlethwaite is our 2023 champion, with Mark Walford in second position. This was a reversal of positions from 2022 when Mark secured the win ahead of Simon. Steve Fryer had a good series finishing in third position. Pleasing to see 51 Tuffs taking part across the series with a special mention going to Janet Shepherd who was the only participant to complete all of the five venues which comprised Littlehampton parkrun; Beat The Tide; Dawn on the Downs; Worthing parkrun & Arundel 10k. The final table can be viewed HERE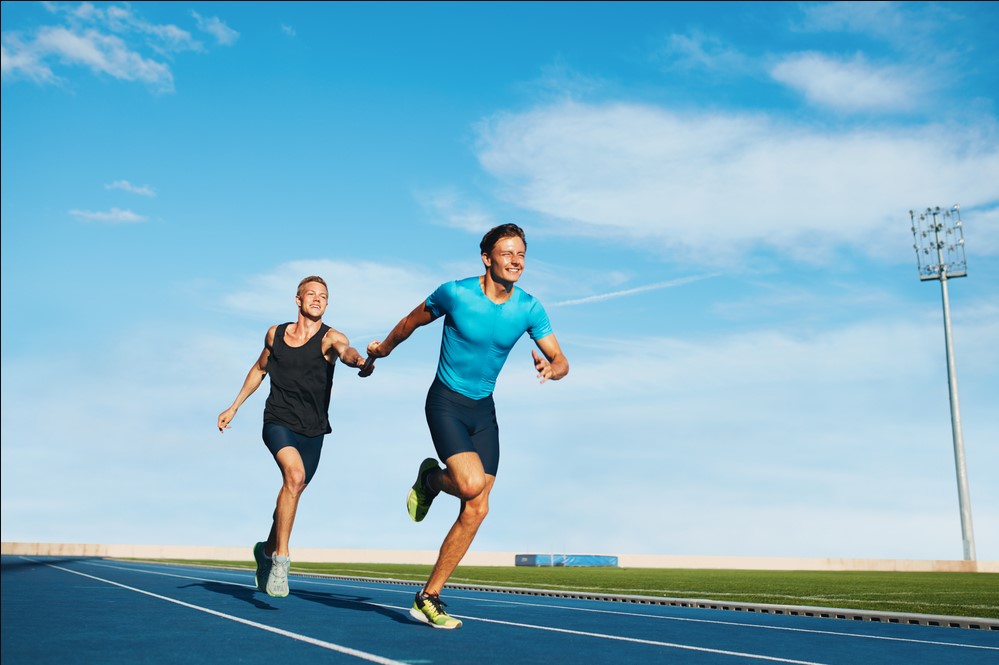 TRACK POWER HOUR
There are now less than three weeks to our first 'Power Hour', track relay being held on Wednesday 20th September. Held on the running track at Durrington as usual, the hour starts at 7pm. To enable sufficient warm up time, there will not be a strength and conditioning session that evening.
The format is for runners in teams of three with each team running relay for the hour to see which team can amass the most laps; each runner taking it in turn to complete a lap of the track.
Participants need to register on the Spond event by Saturday 16th in order that Barry & our coaches can assign runners, sorting into similar team abilities ensuring a close contest. It should be a fun evening and for one week only, track fees will be waived. Do bring a drinks bottle and any nutrition you feel you may need.
Meet up time is 6:30pm to enable a good warm up; start to bond with your teammates and discuss tactics!
It is shaping up to be a fun evening of camaraderie and banter; who will be our inaugural Track Relay winners? Well register your name – it could be you if you are present to receive your team's baton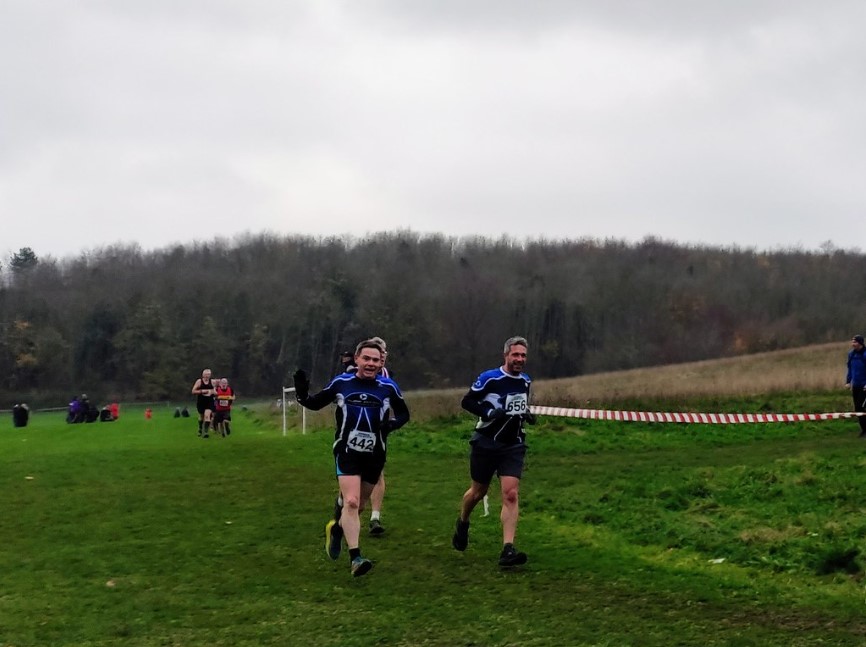 Adrian Oliver & Craig Blackman in action last season
SUSSEX CROSS COUNTRY LEAGUE
It's back! The preliminary dates have been announced for the Sussex Cross Country league for the 2023/2024 season. It is accepted that Cross Country running is very much a marmite thing, but if we can muster our running talent again, there is more than enough ability to show multisport clubs in a strong light. Traditionally Tuff Fitty have been the leading Triathlon Club taking part in the county and no doubt Team Captain Adrian Oliver will be cajoling to see we are well presented at the following venues. The dates to place in your diary are:-
Race One – Saturday 14th October Goodwood Country Park
Race Two – Saturday 11th November Ardingly Showground
Race Three – Saturday 2nd December Venue to be confirmed
Race Four – Saturday 10th February – Venue to be confirmed
To score in the league (Tuff Fitty are in Division 2) we will need to see three ladies running their race which starts at 2:20pm over a distance of 5k. For the men we would need to see four runners finish across a distance of 8k commencing at 2:50pm
On the 30th September there is the Goodwood Cross Country Relays (Sussex Championships) Goodwood Country Park. No entry form available yet, but when it surfaces if there is sufficient interest we can enter a team (s) Everyone will be eligible due to residency (living in Sussex for the past nine months).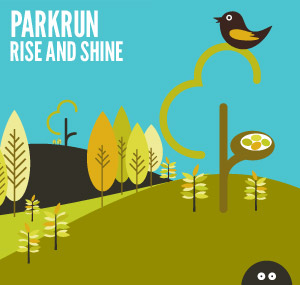 PARKRUN ROUND UP
Littlehampton parkrun saw Steve Fryer post a great time completing the course in 20:08. Colin Simpson was our next runner, clearly neither of them were 'resting up' for the challenge of Arundel 10k the next day as both of them achieved age gradings over 70% – impressive work. Next home Steve Bridgeman. Whilst feeling under the weather Sue Simpson hit another milestone as she completed her 200th parkrun -brilliant.
Whilst the promenade at Worthing parkrun was more congested with the seafront fair, this certainly didnt deter Simon Grundy who swept along the course in 20:09 getting back to his best. Next Tuff home; a strong run from Dave March Elaine Rousseau was our third runner notching up her 160th parkrun.
Bognor parkrun also had a trio of Tuffs running. First Tuff home was Nathan Bilham. Les Pearce was next moving away from his 'home run' for a week and Clive Harvey
Maidenhead parkrun saw Trevor Harvey in attendance as he undertook two roles on the organising team before taking part in the run.
Seaford Beach parkrun is Jeremy Garratt's home parkrun running here for the second consecutive week and improving his time.
There was just one spot of parkrun tourism this week and that was from Alistair Evans. Al ran at Panshanger parkrun which is held on a mix of gravel paths and forest trails through Panshanger Park between Welwyn Garden City and Herford.
Congratulations to all thirteen.