Weekend Round Up 27th 28th April (part 1)
It is pleasing to report on lots of Tuff action across the weekend, and with several roving Tuff reporters writing in, the round up is split into two. Firstly to cover the large group of club members up at the Bluebell runs and two separate Sportive adventures. This will leave Part 2 to cover our weekend's intrepid runners at two of the world's major marathons.
BLUEBELL 10 MILE 10K
Organised by our friends at Raw Energy Pursuits it was inevitable that club members would be on the organising team as well as 16 runners crossing the finishing line.
Our first report is from Andy Crawford from his perspective of racing in the 10k. It's a great read although he neglects to mention his own achievement; so this must fall to the editor to rectify. Andy crossed the line in 3rd position overall in 40:14 which also placed him as 'first Vet.'
"It was a perfect day. The bluebells were out, it was dry, and none of us had started a fight at our pre-race training hotel. Together with Andy Ward, David March has been coaching myself, Tom Gray and Malcolm Brown in running at the track for the last 5 years. It felt good then that with nearly 400 runners, mostly from pure run clubs, that we were able to run with our coach and all finish in the top 20. Tom knocked 5 minutes off last year's time! Thanks Andy and Marchy for the coaching, and particular thanks to the Tuffs volunteering and cheering- Graham Liddell, Catharine Western, Ellie Crawford, Jon and Tiff, Tom Frith, Jason Rae, Debbie Boxall, Henry Teague-Smith & Juliette Reader.
We had other Tuffs running the 10k which included in order of finishing; Paul Howie, Australian Lucy & Shelley Babbage to complete the Tuff 7. Thanks go to Jon Roper for the start line photos (above and below).
Andy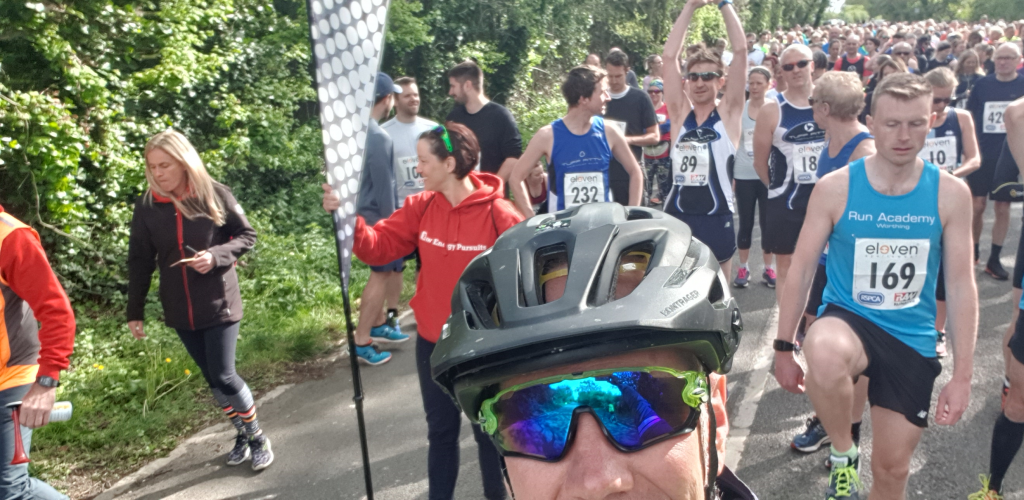 Next up was the 10 miler which started 15 minutes after the 10k and this race had 9 paid up Tuffs running. Pleasing to share two 10 mile reports; firstly from Nick Bolding who was first Tuff in 21st position and then Pete Littleboy who finished in 28th position.
Nick Bolding
"This season I decided I wanted to 'mix it up a bit' and not just do triathlons. I also wanted to dedicate a bit more time to running, which I've been neglecting in favour of trying to improve my weaker areas. With this in mind the Angmering Bluebell Trail Run seemed like an ideal candidate."
"I signed up (back in December) and opted for the 10 mile course…"
"Fast-forward 4 months and it was race day! The pre-race email had warned it was forecast to be 10-13 degrees with wind-chill dropping this to more like 7-9, though as I tend to overheat this seemed ideal".
"Milling about before the start of the 10k race I bumped into Tom Gray and had to disappoint him with the news that I was entered into the 10 mile. The atmosphere was like a big family party with kids playing on the swings, the smell of bacon butties and freshly-brewed coffee plus the commentator whipping the crowd and competitors up with tales of previous year's winners – who was back, who was missing, what the course record was… Plus cautionary tales to 'pace yourselves' on the long outward, uphill and also 'keep something in the tank' for the 'evil' short uphill a mere 200m from the finish!"
"With this in mind I revised my target time up from a hopeful 1hr 20 to a more realistic 1hr 30. The 10k runners were off, the toilet queues had died down and people were heading for the 10 mile start. I joined them, using the short walk to fit in some traditional Tuff warm-up drills… "Shoo those pigeons!".
"After a brief bit of milling about the siren sounded (with no warning) and we were off! I'd looked at the course profile and decided I would keep it moderate on the way out so after as fast first km (it's downhill) I settled in to a comfortable pace, ignoring both the 'Too slow!' warning beeps from my Garmin and the 'keen' runners passing me, including our own Pete Littleboy."
"The trails were dry and for the most part pretty stable underfoot, it was cool and there was no wind – perfect running weather. The course winds up through the woods to the North of Hammerpot then through the Angmering Park Estate. About 3 miles in I caught up with Pete and we ran together for a while taking the great views across to the Downs as we ran along the top of a ridge. We only separated at the first aid station when he stopped for a drink."
"Stayed steady on the pace, despite the protests from the Garmin that I was 'Too slow!' my average pace was sticking around the 4:47/km mark which was right where I wanted it to be. After making the turn on a little Northbound 'spike' and climbing to the top of a rise that marked the halfway mark I felt surprisingly good."
"It's all downhill from here" I thought and as I felt good I picked up the pace, flowing with the downhill and staying on the pace on the flat and uphill. Back into Wephams Wood and we were passing walkers and some of the 10k runners as the routes converged. I was reeling in a couple of runners ahead of me and no-one was passing me."
"At some point I realised 1hr 30 was 'in the bag' as was my original target of 1hr 20… in fact, if I could hold the pace I could hit 1hr 15… "Challenge accepted!". Engage the core, breathe deep, keep turning the legs over, use the quads – all the advice from Wednesday track nights was in my head as I pushed on with a new target in mind."
"Then before I knew it, there was the dreaded 'kicker' before the left hand turn into the finish… I had gas in the tank, so I put my head down, pumped my ams and charged it… I crested the top with the roar of the crowd (or was it the rush of blood?) in my ears… then as I backed off a little to make the turn, realised I'd probably overdone it a bit as I felt a bit light-headed and wobbly! Then the finish arch was in sight and I could hear the commentator calling out "Here comes number 459… looking strong at the finish!" and you know what? For the first time ever I FELT strong at the finish and even managed to pick up the pace a little!"
"Final time was 1:13:19… I was gobsmacked! I'd never have thought I could achieve that, especially without feeling like I was about to gasp out a lung and/or be reunited with the crumpets I'd had for breakfast!"
"Pete came in a shade under 3 minutes later and then it was a steady tick of blue-and-white clad Tuffs every few minutes. A great turnout. Bumped into Tom again who'd had a great race tussling with Malcolm in the 10k, whilst Andy Crawford had picked up 3rd place overall in the 10k with a blistering 40:14!"
"Well done all!"
"I've only done one trail race before this but I'd say I've caught the bug for them! I'd thoroughly recommend this course, great atmosphere, local, lovely course (not as daunting as I'd feared – in fact, I'd say less fierce than the Arundel Castle 10k route), great organisation and very reasonably priced – what's not to love?"
Nick
Our other Tuff runners included Karen McGrath who always runs well and was placed as 2nd super vet. Just behind was Jon Babbage who has had such a great debut season but unfortunately, with others, caught up with the earlier 10k runners which added time. Sharon Tidmarsh, Elle Williams & Rachel Brunning ran well and there was still Jane Bridgeman and Elaine Rousseau to complete our great Female team.
Pete Littleboy:-
"This is the most local event to me on the race calendar and with the 10miler not starting till 10am and with the weather very pleasant, I thought I would take my bike around the block for a warm up. However thinking I had more time than I did I only just managed to make the startline with seconds to spare. Having done this event previously & run these trails for decades I knew it was a down hill start from the Fox Pub. It would be undulating trails with it living up to its name in the beautiful bluebell woods in the Angmering park estate. This also takes in the sights of the South Downs which can literally be breathtaking & none more so than the finish hill. This never gets any easier and sees many competitors walk it, but with so many Tuff's in attendance not only competing & spectating but marshalling as well I wasn't about to let the side down or myself and gave a strong finish."
Massive thanks to all
Pete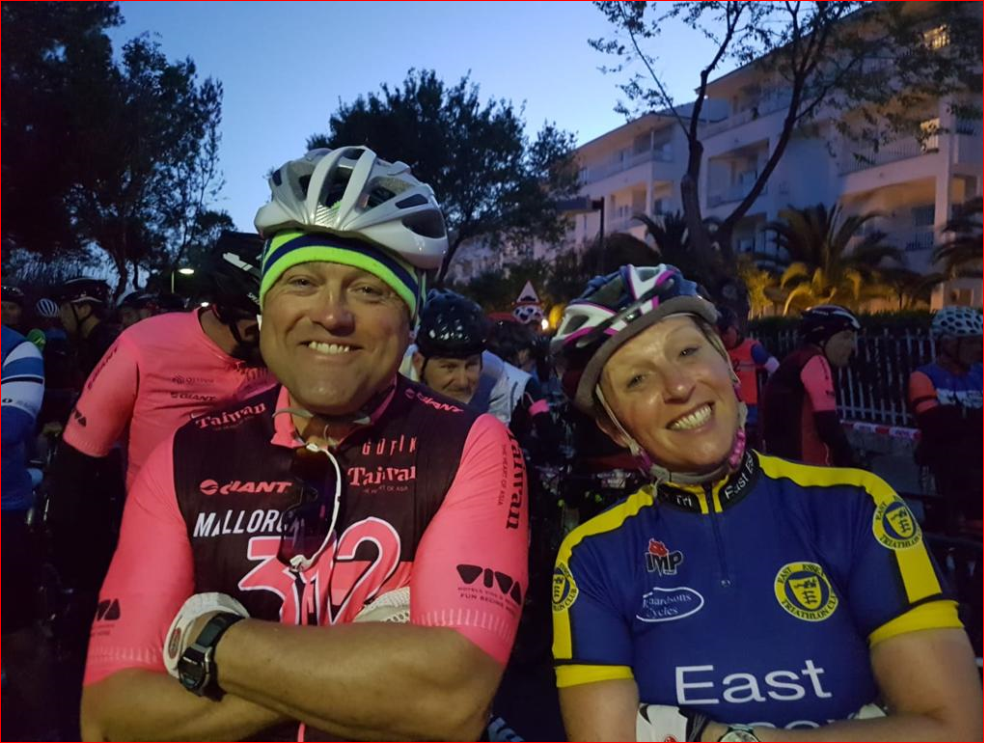 MALLORCA 312 SPORTIVE
A different event next, as Dave Priest reports from his trip to Playa de Muro in Spain. Dave stated:-
"The Mallorca 312km is a closed road cycle sportive which also includes the shorter distances of 225 and 167 km respectively. All three distances cover the first 100km stunning coastline climbs of the Tramuntana mountains."
"It sells out in a day and has 8000 Lycra clad entrants ."
"My third visit to Mallorca began with 3 days of wind and rain whilst the UK basked in glorious sunshine. Fortunately every cloud… I was accepted as social member by the East Essex Triathlon club who were also staying in the same hotel ."
"Fortunately , four glorious sunny days were spent cycling , probably too far and hard in hindsight, prior to the 312 ."
"Saturday morning arrived and in true 'Tuff' style this meant alarm call at 4am and trying to eat numerous carbohydrate snacks with plenty of tea."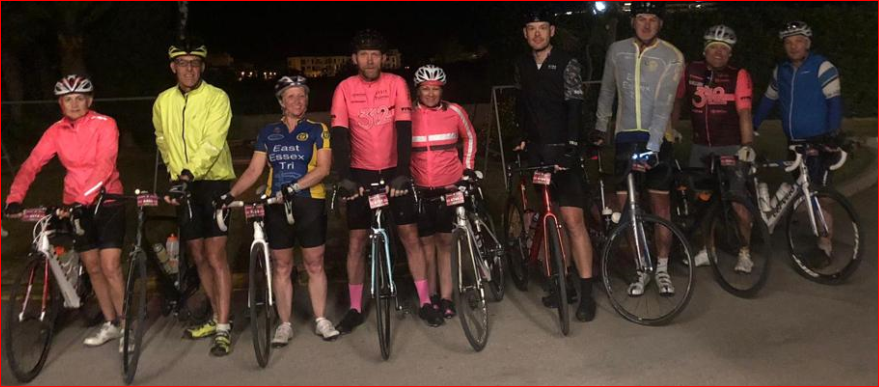 "I met members of East Essex Tri club at 5am outside and we posed for a photo " (above).
"It was at this point I realised that I did not bring any cycle lights with me , despite owning many sets I had forgotten to pack some for the 8 mile ride to the start line. I spoke with the Tri Club president who very kindly allowed me to shelter within the group ride to the start in Alucudia ".
"We arrived to the start paddock at 05:45 and waited till 07:15 to start ."
"The start was amazing, wide closed roads , riding in pelotons towards the mountains. "
"It was at this point I realised that the previous evenings leg massage was a bad idea as my legs were extremely sore from the pummelling !"
"Riding in the mountains I then realised my second mistake was not packing enough gels to make it to the first feed station. Arriving at the 100km section , riders were given the choice of turning left for 167km or right for 225 and 312 km respectively. I turned left , and arrived at the feed station 1km later . The feed station, (photo below) , was an experience with tempers running high with a few who insisted on taking their bikes to the tables !"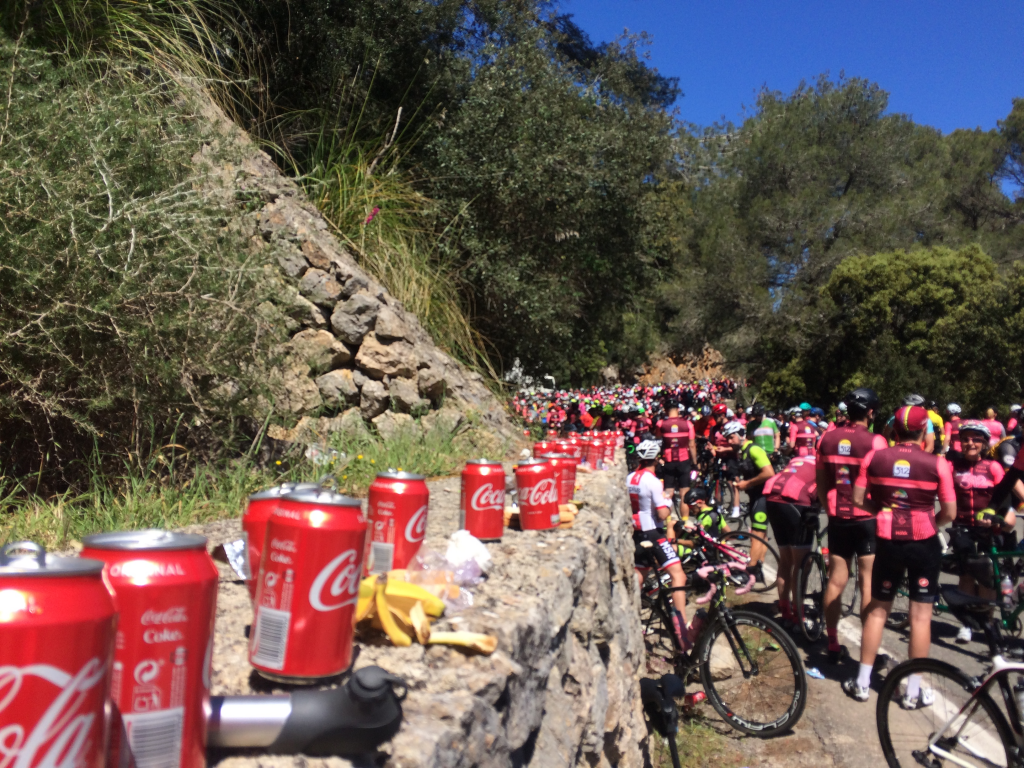 "Anyhow, 3 cans of coke , 2 ham sandwiches and peanuts later I set off and started to feel a bit more like 'Peter Sagan rather than Peter Kay'!"
"What followed was a stunning ride through orange grove fields , picturesque villages and super fast switch backs through Mallorca farmland assisted with various German , Italian and Spanish lead out groups ".
"I was satisfied with completing the 167km course , I also had a further ride back to the hotel plus the envious task of dismantling my bicycle for the flight home in the morning."
"On reflection the 225km would of been feasible had I managed my gel situation better and received a massage earlier in the week. The 312 km has to be completed within the 13 hour time limit and presently I would only be able to achieve this on a Honda 500cc."
"Overall happy memories ".
Dave aka XXXLard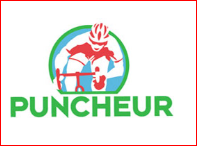 THE PUNCHEUR CYCLOSPORTIVE
It may not have been as warm in Mallorca, but our own South Downs are still scenic with plenty of undulations. Ditchling was the setting for The Puncheur Sportive. The route took in 62 miles and was described as "a rolling route, with short punchy hills, long drags and some long fast stretches on quiet road." The finish was on the summit of Ditchling Beacon. Two club members took part with John McGrath completing the course in 3 hours 9 minutes which took a superb 8th position overall attaining Gold standard. Paul Atkinson also rode and a strong ride around the tough course earnt him Silver standard in 4 hours. Congratulations to both John & Paul.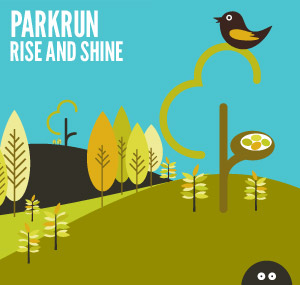 PARK RUN
Littlehampton Park Run saw three club members for this new Park Run's third event. It was courageous running from Jon Babbage who finished 5th overall in 20:39 and Shelley Babbage as both of them would run the Bluebell event the next day. Joining them at Littlehampton was Steve Bridgeman.
Worthing Park Run saw Chris Sloggett as first Tuff home, then Amanda de Ridder who was the 9th lady home. Tim Kenny and Gary Edge completed the quartet. This left one Tuff who raced at Bognor Park Run. Well done to Jason Rae on his 107th Park Run