Weekend Round Up 4th 5th January 2020
Happy New Year from everyone at Tuff Fitty. It has been a great start to our training sessions and races already this year with strong numbers, a new member, and three enquires already in the first five days. Have you set yourself any mulit-sport resolutions for the year? – well come and join the fun and let us help you achieve them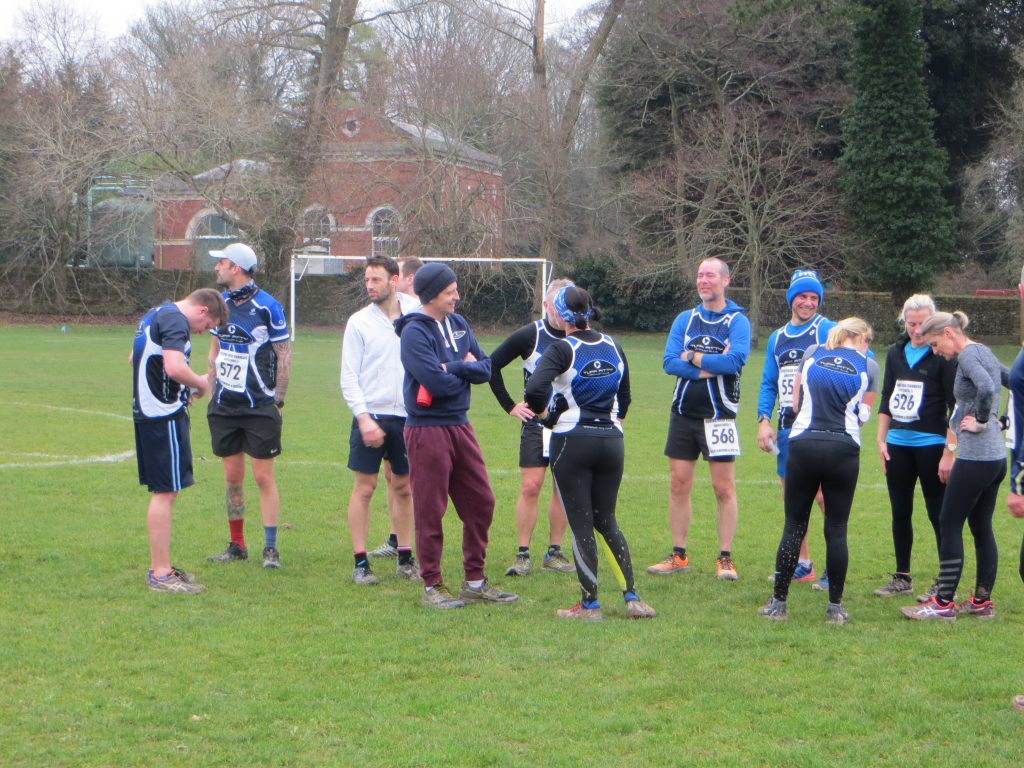 HANG OVER 5
A run on New Year's day morning, might see some runners participate after a late night as the name implies, and whilst there were 50 'no shows' who had entered in advance, 473 did start including a great number of Tuffs.
With the rain finally stopping at Christmas, conditions underfoot were better than expected, but whilst 'just' a five mile run, the terrain packs in a lot as it climbed up to Cissbury Ring and back including 624 feet of climbing.
Tuff Fitty acquitted themselves well with Jon Babbage first Tuff home. Strong running from Andy Crawford and Paul Martin were our next two home to be followed by Phil Scales. Danny Cunnett was next and then first Tuff lady Iris Bennett.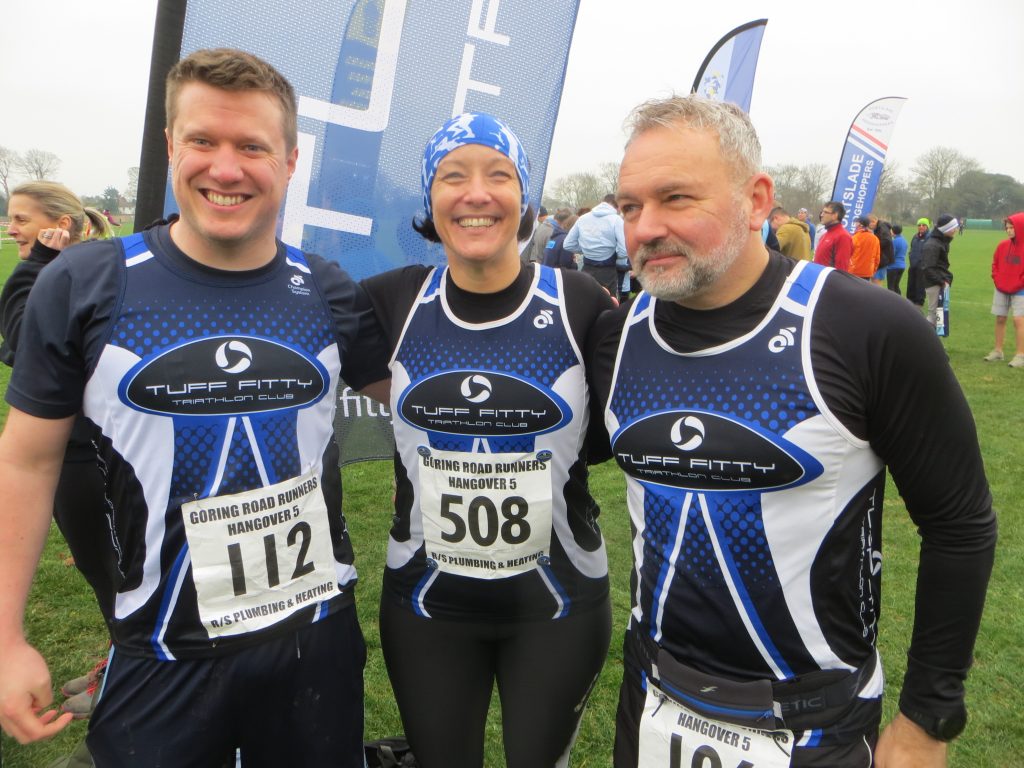 Next home was one of our newer members – Ollie Thomas. We had already found out he is a very rapid swimmer but donning a Tuff vest for the first time, proved he is useful on firmer ground as well. Michael Redgrave and Andy Heath started a steady stream of Tuffs across the finish line. Jason Rae, Glenn Parisi, Tiff Orton, Andy Vincent and Clive Harvey. Next home Charlotte Lattin-Rawstrone, Elle Williams, Clare Worgan and Nicole Ewer scoring points for her running club. Shelley Babbage and then Rachel Brunning who didn't stop, continuing to run down Hill Barn Road, so she could get home to get the kettle on. Elaine Rousseau was another one wearing her run club vest who finished just ahead of Chris Evans to complete the Tuff Runners. Thanks go to Tony Pearce and Linda Wright who both looked fetching in their yellow plastic marshal jackets and Jon Roper who cycled over to cheer. Rachel's sprint home was because she had offered open house to the Tuff runners laying on a vast array of superb cake for the hungry horde who reflected on a good mornings work – a great start to the New Year.
<
>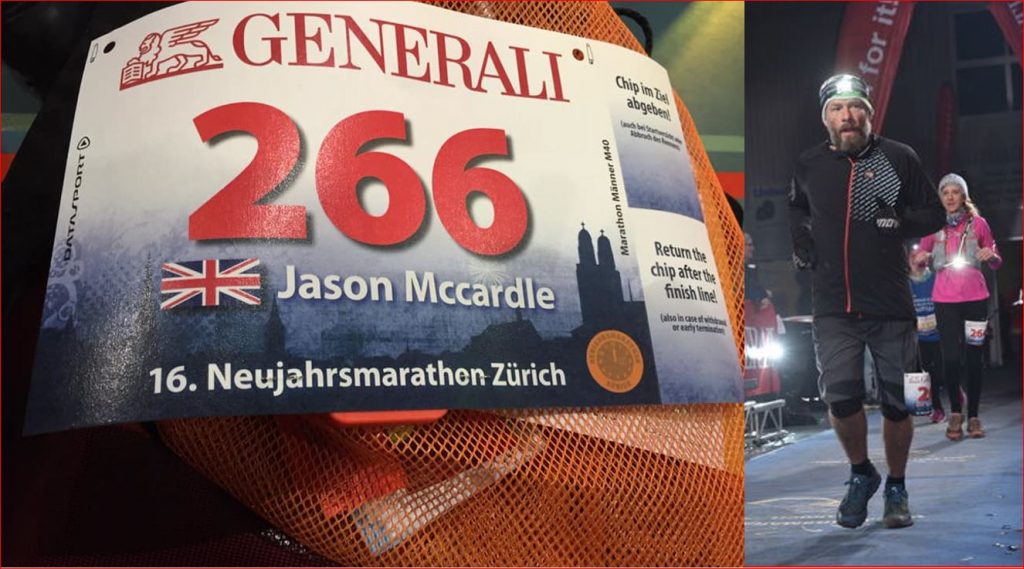 NEUJAHRSMARATHON ZURICH
The first Round Up of the year and already we have an International flavour – Jay McCardle who undertook the New Year's Marathon in Zurich. However as this is Jay we are talking about it wasn't just any marathon. This one requested runners wear headtorches because the start time was on the first second at the start of 2020! The lapped course took runners along the River Limmat in the centre of the city finishing in a Sports hall. There was a strict time limit with all runners needing to finish within 5 hours although of course this was not necessary for one of our marathon men. He reports "It was an amazing event, started at midnight so as you began all the fireworks were going off, and a very international race with runners from Japan, America and all over Europe. Great way to start a new year".
Jay
This race draws Jay inexorably towards his goal of achieving 100 marathons – he now has just six to go – what an impressive achievement.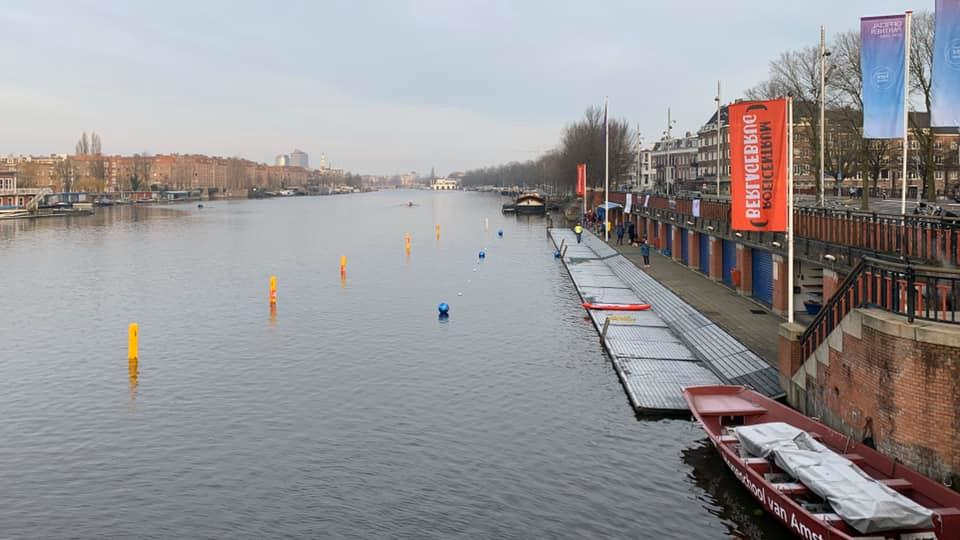 AMSTEL ICE SWIM – AMSTERDAM
Next we have a report from Susan Douglas in our second international race report already of the year:-
"Between Christmas and New Year I nipped over to Amsterdam for the Amstel Ice Swim. Quite a small competition, but part of the International Ice Swimming Association events calendar, so attracted an international field. First disappointment for the hardened ice swimmers (not me) the temperature was too warm, only 5.3c. To be properly recognised it has to be below 5c."
"First event on the Saturday were the 1k races. Being all official like you have to have a medical and ECG, so as I can't bring myself to pay for a medical, I didn't enter. This just left the 200m swim later on."
"The venue was on the banks of the Amstel River at the local rowing club. The course was a 100m circuit with buoys at 50m. The heats were grouped by your predicted time, I realised afterwards that negotiating round the buoys certainly slows you down and the others in my group obviously had taken this into consideration and whizzed off pretty quickly. I wasn't last at least and was actually 7th out of 22 and 2nd in my age group. Beaten by a tall Dutch woman (also 3rd overall) and to add insult to injury I saw her puffing away on a fag afterwards! "
"Next day I was down for 500m and 50m. Again I'd over estimated my time and found myself in a heat with a couple of ice legends Kate Steels (UK mega ice swimmer and fast) and Jamie Monahan an American lady who was the first person to complete Ice Sevens Challenge. 7 ice miles swum in various parts of the world and including one swim done in 0c water. I was less nervous than the day before, the water felt OK and I knew what I was up against with the course. Knowing I was in her heat, Jamie decided to give the swim a miss or she may have had another reason. Anyway as predicted I was in a fast heat, again not last but well beaten by Kate who came third overall. Again I was 2nd in my age group beaten by the same Dutch lady, on the plus side she'll be out of my age group next year".
"I pulled out of the 50m race as did a lot of others, 500m races had run over, so it was getting a bit late, but mostly I hadn't really warmed up and I couldn't be bothered."
"So a very pleasant outing, with a little bit of time for sightseeing and legitimate consumption of rather a lot of Stroop Waffles."
Susan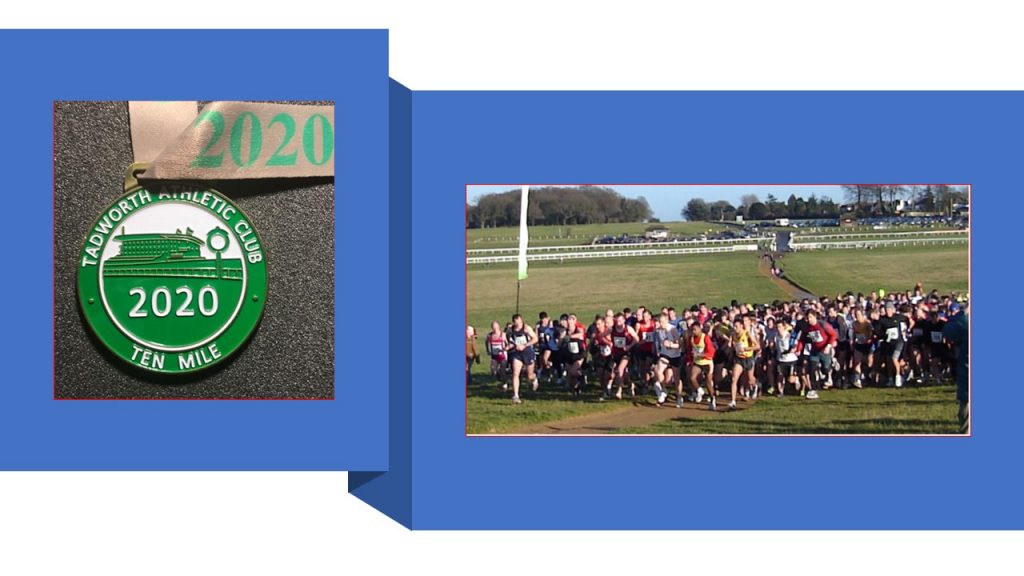 TADWORTH 10
Trevor Harvey reports in from the Tadworth Ten; a 10 miler starting at the grandstand on Epsom Racecourse.
"A very civilised start time of 11.30 meant that, for a change, you could get up in daylight, and (for me), an easy trip round the M25. Registration in the Grandstand meant that – unusually – plenty of loos with no queues!! Forming up at the top of the Downs, I met Tim McGrath in a certain orange vest, (who stormed to a PB in 1.13.18). From the start, after crossing the Downs, you descend to Walton on the Hill, back up on to the Downs to repeat that loop, and on the second loop, after the climb back up you return to the Grandstand to finish – overall a 1,000 foot of ascent".
"The fifth year I've competed, and this time a bit of bling rather than some strange memorabilia in prior years. I wasn't 'feeling it' so unsurprisingly rather a slower time than Tim's but still a good race to kick off the year.
Trevor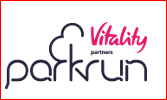 PARKRUN
Many Parkruns had New Year's Day fixtures and at Littlehampton Park Run Chris Sloggett was in action crossing in 22:26 for his 130th parkrun. Next was Edward Lay another runner who is more usually seen on the Worthing course. Emma Hinton was next home followed by Amanda de Ridder and Tim Kenny two more very accomplished Parkrunners making their Littlehampton debut; this location saw their highest number of runners ever. Well done to Adrian Oliver on the volunteer team.
So why was there so many at Littlehampton? That run continued with its traditional 9:00am start time meaning that there was still time for some to scoot across to Worthing Parkrun for 10:30am to attempt the double. Worthing attracted 513 runners, although not quite beating their total for Christmas Day and included within the results were Alice Gatland, 3rd female in 21:28 and Juliette Reader, 4th female just 8 seconds behind. Next Chris Sloggett clocking 22:14, just 12 seconds off his time from 1.5 hours earlier. Ed Lay was another 'doubler' just 4 seconds off his Littlehampton time. Amanda de Ridder doubled up for her 116th parkrun and Tim Kenny's double taking him to 77 parkruns.
——————————- Saturday 4th———————————————-
Moving on to Saturday 4th the momentum continues. At Littlehampton Park Run well done to :- Emma Hinton as 6th female home; Harry Finnigan who shaved 39 seconds off his previous PB as he continues to build. Next home was Linda Wright and then Jenny Oliver. Across at Worthing parkrun, Juliette Reader was 6th female and first Tuff home. Next home in just 21:53 considering he has only just completed his New Year Marathon was Jay McCardle – he just doesn't stop! Phil Turner was next and then clocking up his 117th parkrun – Les Pearce. Good work from Dave Priest and Tim Kenny, with Elaine Rousseau completing her 88th Parkrun. Dave March ran to accompany his son Sonny who completed his first parkrun. Well done to Amanda de Ridder who was on the volunteering team. Further afield at Maidenhead Parkrun Trevor Harvey was flying the Tuff flag prior to his 10-miler on Sunday to complete the strong turnout of Tuffs parkrunning across the New Year
MEET THE CAPTAINS
This coming Friday there is an informal evening at the Brewhouse at Crossbush hosted by our new Club Captains – Nicole Patterson-Lett & Jon Babbage. They have some ideas to share but equally important is to get feedback from yourselves in order that suggestions can be shared amongst the committee and coaches. This is an informal evening where our captains will be in situ from 7pm. All welcome, even if you are able to just pop in for a short time.